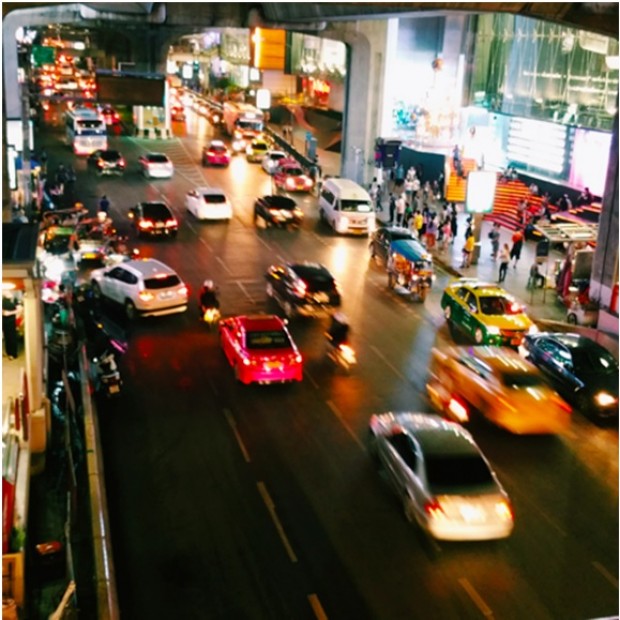 The City of Smiles, we finally meet.
After having my friends go non-stop about what an exciting destination it is, I finally booked my tickets for 4 days and 3 nights worth of shopping, eating and even more shopping. The tricky thing though? I am not a shopaholic.
Don't get me wrong, I do enjoy my occasional share of pampering myself with materials that make me look good and feel good; but I am very much someone who prefers grocery shopping to rushing down to the latest sale. I guess, it is the bustling and sometimes aggressive crowd that is a huge turn-off for me – I just don't see the point in having to squeeze my way just to get one or two items that may or may not look great on me. And because of that, I have become a creature of habit when it comes to shopping; I head to a select few retailers to get clothes of a similar cut that I know I can pull off. Coupled with my natural laziness, I don't even need to queue for the fitting room.
Yet the curious traveller in me could not help but wonder how Bangkok, a shopping destination for many, would be like for me? I certainly know that I would love the food and the bustling nightlife; but the idea of me squeezing through crowds in small alleys all in the name of finding a good buy just doesn't click. My friends and fellow travellers for this trip shared the same concern and they, who travel to Bangkok frequent enough to know where we should go, were determined to give me an enjoyable introductory trip without having to push our way through perspiring strangers haggling with shop owners. And guess what, I did have a very delightful weekend trip in this city – without having to inch my way gingerly through a crowd.
If you are just like me, and would like to experience the hustle and bustle of Bangkok without the squeezing and elbowing, here are the top 3 best shopping sites (in my opinion) for you to do a little light shopping at. Let's get started, shall we?
Also Read: Extremely Useful Bangkok Travel Guide
1. Siam Centre, Siam Discovery, Little Siam, Siam Square, and Siam Night Market
Siam is a major shopping district in Bangkok, perhaps the heart of where all great buys begin. The Siam BTS is also connected by the skywalk to Chit Lom, another shopping region where Central World is at.
I felt that Siam was a particularly enjoyable district to shop at for those who like shopping malls and boutiques. The Siam Centre and Siam Discovery are connecting shopping malls that fashionable young adults would enjoy, with affordable retailers and even local designers housed in these 2 malls. Wander around and you can find quirky items from country-style overalls to shirts planted with flamingo prints (never knew you would need that, did you?). Siam Centre and Siam Discovery are where you can find great buys that comes with a price tag decent enough for you to not hesitate too long.
Cross the road and you'll be at Siam Square home to little boutiques. It's a very lovely street, where individual stores sit side by side cosily. Here, you can find a lot of brilliant and comfortable clothes and footwear in all shapes and styles. From Siam Square, you can walk over to a tiny little alley called Little Siam.
Little Siam is by and large a street market, so this is where you would find much more lower-priced items. Tucked neatly in an alley, Little Siam is where young adults can do a little reckless shopping, as it is decked with beautiful smart-casual tops, stylish blazers, nice-fitting pants and the prettiest skirts. While it can get a teeny bit packed when people crowd around a stall to pick out a quirky accessory, it is still bearable. When I was there, most prices ranged from 180 baht to 300 baht per piece, depending on the quality of the items.
Also Read: 5 Must-Visit Markets in Bangkok
Siam is where you can shop for a whole day and when night falls, head back over to where the BTS is to shop along the Siam Night Market (after you power up with a sumptuous dinner, of course).
Trust me, shopping at the night market is so much more fun since it is much cooler. I must confess, even I was swayed to grab a few flowy summer tops and a cute little haversack – simply because the quality of the items came with a very, very reasonable price tag. Here, even the non-shopaholic in you might just be amazed at how fast you might reach for your wallet to snag that lovely dress.
2. Talad Rot Fai (Train Market)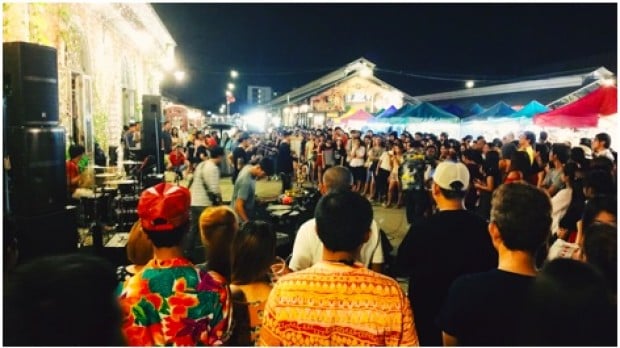 I genuinely love this place so much, I didn't even want to share it.
A train market that was initially meant for second-hand items, Talad Rot Fai has expanded to become so much more. Now located near Seacon Square, it is not the most accessible night market but trust me – it is worth hailing a cab to get away from your usual night spots for.
Not only did they have the coolest vintage cars that would inspire you to start appreciating the old school days, there is also live entertainment that engages you instantly regardless of what language you speak. When I was there, there was a huge crowd gathering and a live band playing and upon closer look then did I realise that there was actually a little friendly dance battle going on. The live band's disco-worthy tunes would make anyone want to do a little dance, and the host was so humorous, I wished I understood Thai so I can laugh along with the locals every other minute.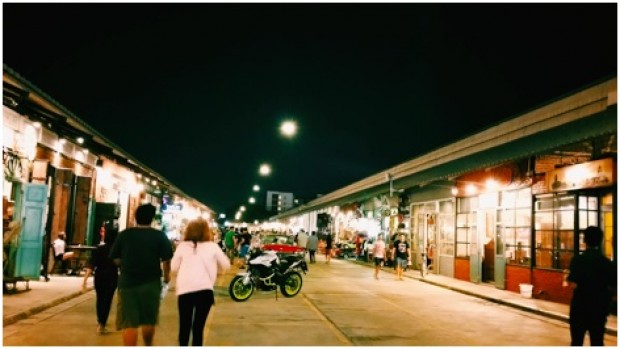 The quaint streets of Talad Rot Fai has expanded to become almost like a little 'town'. Aside from the vintage area and the second-hand stalls, there are also many different boutiques, an area selling furniture, a food area and of course, the more 'commercialised' shopping district (normal retail items, not second-hand goods). Here, you can go from store to store and look through their racks to find a simple piece that makes a statement. Prices range from 120baht to about 300baht, and clothes here belong to the smart-casual category while bordering on the formal outfits zone. While you can also get the usual suspects of strappy tops, they come in more vibrant colours and many more other prints. Also, get your hands on new accessories like a pair of new sunnies or bracelets with matching charms for your best friend.
Also Read: Bangkok Shopping Guide To Beauty Buys In Mahboonkrong (MBK) Center
3. Chatuchak Market's Dream Section
According to many of my friends, a Bangkok Trip is not complete without heading to Chatuchak. While I was not bent on the idea of going to a market known to be congregated with tourists and people squeezing even more than fresh juices (I apologise for the dry humour here), my Bangkok-savvy friends showed me otherwise by bringing me to an area not many tourists know of.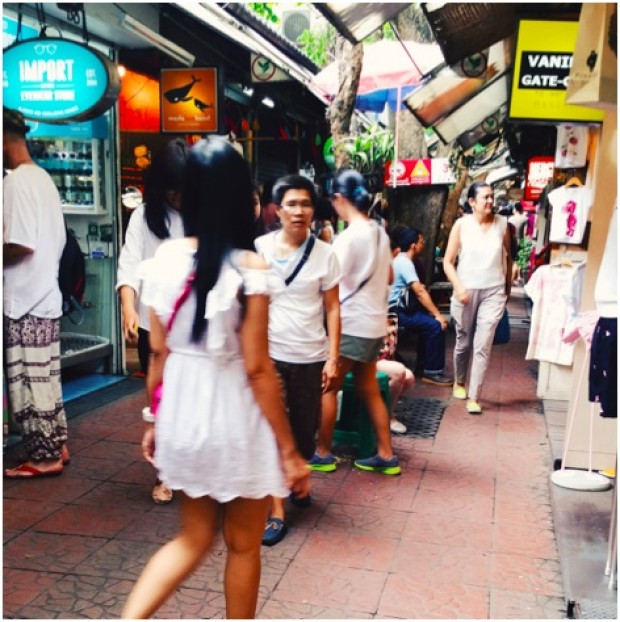 Housed along Kampaengphet 2 Road is the 'Dream Section' of Chatuchak; where you can enjoy the shopping experience without necessarily having to push your way through tourists haggling for a lower price. An area where up-and-coming local designers set up their stores at, you can find unique designs made with quality materials with a reasonable price tag here.
Aside to that, it is also home to many other typical street market stalls where you can also get your iconic Bangkok tank tops below 100 baht, a pair of basic chinos for 180 baht, some new kicks at 250 baht and so on. At the Dream Section, you will also find stalls selling other knickknacks, including aromatherapy items, jewellery, toys etc.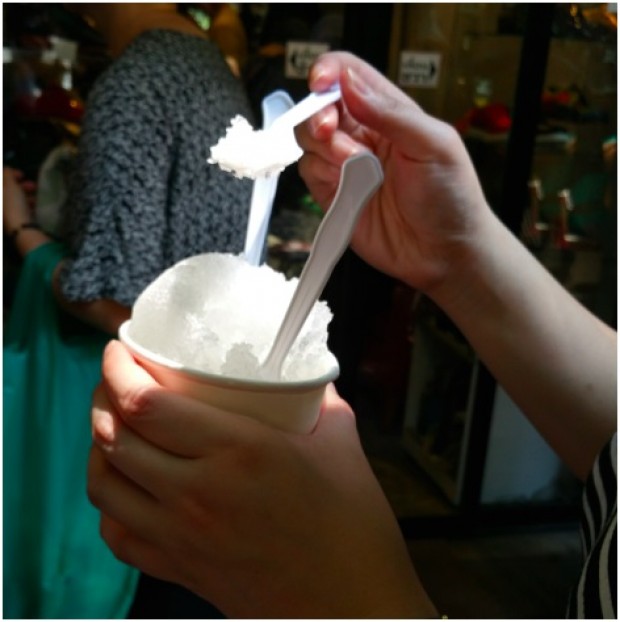 Also, do yourself a favour and give their coconut ice cream and ice shavings a go while you're here!
If at some point, you are feeling adventurous and would like to brave the crowd to have a glimpse of the authentic Chatuchak shopping experience, then you just need to cut across to the main roads and work your way through. Remember, Chatuchak is separated into different sections, and you can easily get an overview map from Google.
Bangkok is certainly an exciting destination, and it is a place where you can really pamper yourself. I would definitely miss all the earnest shopkeepers who work so hard to earn a living (little tip: there really isn't a point for you to bargain about 10 or 20 baht just to get a kick when that amount of money could actually make a difference to these stall owners. Besides, they were much more willing to give a discount when you actually did not try to bargain). I genuinely did enjoy being in this bustling city, and it certainly helped a lot that I was not caught in mass of people jostling around to get the attention of stall owners to offer them a lower price like how my friends painted the picture for me.
Well I hope that you enjoyed this little guide, and do share with us if you have any other shopping destinations in Bangkok that would be perfect for the non-shopaholics!