Ah Thailand, a known haven for short and sweet holidays — whether you're over in Bangkok for a quick shopping spree, or bumming away on the softest of sands in Koh Samui.
While we love the Land of Smiles too much to ever stay away, we think that it's high time we explore another side to the country that isn't just as popular yet. With plenty of resorts and centres around to practice yoga, heading to Thailand with the intention of focusing on your wellness may very well be a game-changer.
Before you dismiss the idea and try to reason that yoga retreats are only for the confident yogi, know that there are programmes out there for anyone to learn from and follow!
Yoga Retreats for the Solo Traveller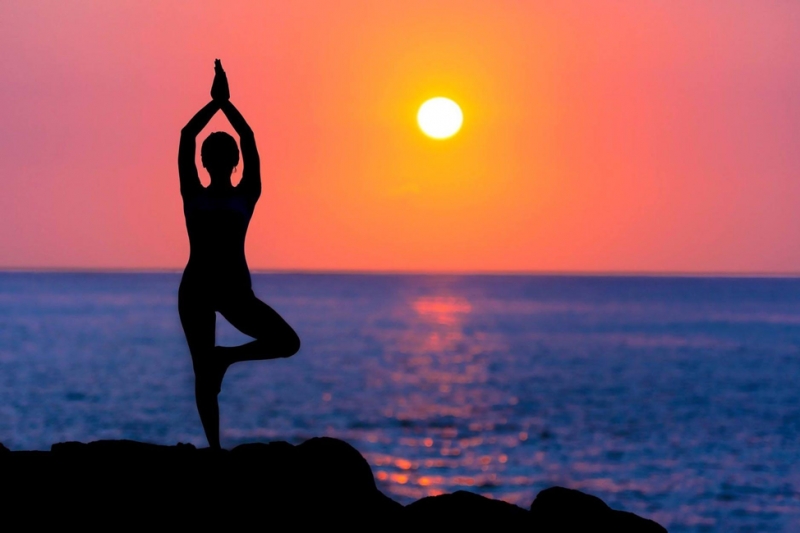 With solo travel comes the freedom to wind down on your own terms — as well as the optimal conditions for some good old soul-searching. Take it a step further and learn more about yourself through these yoga programmes that'll help you achieve greater spiritual awareness.
Mind Yoga Retreat, Pathum Thani
Escape the crowds in Bangkok and head to IngNatee Resort, just a thirty-minute drive away from Don Mueang International Airport. At this simple eco-resort, you'll enjoy being surrounded by lush greenery and calming nature, a world away from the bustling city despite its proximity.
On the Mind Yoga Retreat, take in the tranquility of the area as you practice yoga overlooking a view of the Chao Phraya River. There isn't a minimum number of students required, so you might even get to have one-on-one sessions in your private villa.
They hold classes suitable for beginners and intermediate yoga enthusiasts, incorporating different styles such as Hatha, Vinyasa, and Yin.
Address: 62 Moo 7, Chiang Rak Yai, Samkhok, Pathum Thani 12160
Museflower Yoga Retreat, Chiang Rai
Museflower Retreat & Spa in Chiang Rai nestled amongst lakes and paddy fields is the ultimate sanctuary for those wanting to reconnect with nature. Bask in the fresh air and savour healthy and organic lacto/ovo vegetarian meals made from fresh produce grown on the retreat's very own Aquaponics system and garden!
Over a period of 4 to 8 days, students at all levels will be guided by expert facilitators to help you achieve a regular routine that you can adapt into your daily life for a healthier body and mind at the end of the retreat.
When you've completed your twice-daily Hatha yoga and meditation classes, wind down at the Chi Lake platform. It's also the perfect opportunity to mingle with other travellers if that's on your agenda.
Address: 159/1 Moo 1 Ban Samanmit, Tambon Donsila,
 Amphur Wiang Chai, Chiang Rai, Thailand 57210
Retreats for Couples Who Want to Connect Through Yoga
Just like successfully maintaining a relationship requires hard work, breaking out some yoga poses together can help to build intimacy and trust. The next time you're planning a Thailand getaway together, consider slotting in a couples' yoga retreat to improve on both your flexibility and relationship!
Mahasiddha Yoga Centre, Chiang Mai
In Chiang Mai, head over to Mahasiddha Yoga for a 6-day Tantric Relationship course. On top of the couple yoga classes, gain Tantric insight into your relationship through daily lectures, interactive exercises and special meditations sessions.
Some of the popular topics they cover include secrets of long-term attraction, meditations for amplifying love, as well as manners of co-empowering your relationship. This centre located in the heart of Chiang Mai is also perfect for those wanting to stay close to the action!
Address: 49 Chang Lor Rd, Hai Ya, Amphoe Mueang Chiang Mai, Chang Wat Chiang Mai 50200, Thailand
Vikasa Yoga Retreat, Koh Samui
This next sanctuary is a favourite among many, offering a large range of yoga and detox workshops and facilities. The Vikasa Yoga Retreat is held all-year-round on the oh-so-romantic island of Koh Samui, home to vibrant street markets, and gorgeous temples and waterfalls.
At Vikasa, the choices for the styles of yoga you'd like to practice is unbeatable. The highlight of this sanctuary is also its numerous spaces for practicing yoga — including a private beach!
You could say that this yoga retreat is one that caters to any kind of traveller, but the privacy of its accommodation spaces will definitely be a plus point for couples. Imagine waking up each day next to your significant other in one of these amazing bungalows.
Address: 211 Bontji Moo 4 Koh Samui 84310, Thailand
Yoga Retreats for the Budget-Conscious
If you're planning on doing more on your trip to Thailand than just yoga, you wouldn't want to splurge all of your funds to go on a retreat. Hence, here are some wallet-friendly options!
Eco-Logic Thailand, Chumphon
Near the southern end of the country in Chumphon, Eco-Logic Thailand provides affordable packages for yoga retreats held in a resort setting!
Although inexpensive, the retreats that are being offered remain great in quality. Classes are highly personalised, capped at a maximum of 6 participants per group. Choose from several types of retreats, including Thai Cooking & Yoga, Yoga, Nature & Culture, as well as the Yoga & Permaculture Course.
A two-day retreat starts from THB 5,000.
Address: Eco Logic Resort, 71/2 M4 Paksong, Phato, Chumphon, 86180 Thailand
The Sanctuary Resort, Koh Phangan
Known as a "secret beach" to many of its regulars, The Sanctuary Resort has a magical atmosphere to it. Unlike neighbouring Koh Samui, Koh Phangan is an island only accessible by boat.
Choose from more laid-back yoga holidays or gain a new experience during an immersive yoga retreat. With accommodation settled on top of yoga sessions and massage treatments, the value-for-money packages at this resort may be just the thing you're looking for!
An immersive three-day retreat starts at THB 8,000.
Address: 6 153/14 Ban Tai, Ko Pha-ngan District, Surat Thani
So regardless of whether you're flying solo, on a romantic holiday, or travelling on a budget, there's a yoga retreat out there that will make your next trip to Thailand all the more rewarding.
For more information on how to uncover a different experience in Thailand, visit Tourism Authority of Thailand's (TAT) official website and Facebook Page!
---
Brought to you by Tourism Authority of Thailand (Singapore Office).