We gotta admit, April in Thailand gets pretty darn hot. Sweltering heat waves and the oppressive sun can bring temperatures scorchingly high, so everyone's definitely going to be working up a sweat. Yet, tons of tourists flock to Thailand during this season. Why? None other than to participate in the ultimate way to cool down during such hot weather – splashing around in gallons of water during Thailand's Songkran Water Festival to usher in the New Year!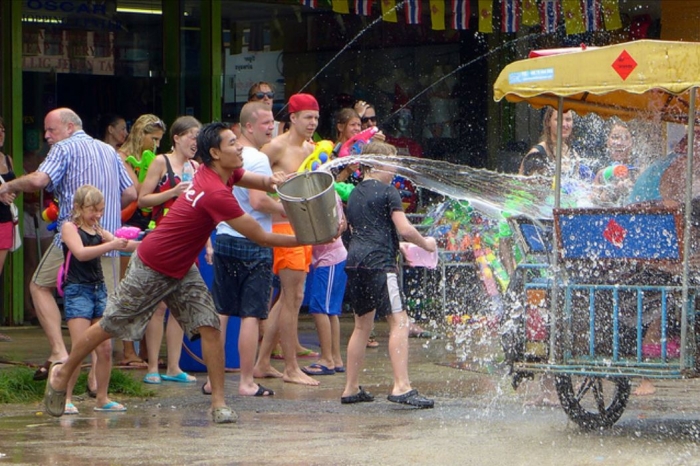 Image Credit: Madeleine Deaton
'Shooters on scooters' weave through the streets conducting drive-by splashes on unsuspecting pedestrians similarly armed with buckets overflowing with H2O armoury, all amidst honking lorries with bandana-ed "gangs" armed with water guns… Be prepared to get soaking wet walking through Thailand's watery armageddon; all around you will be scenes of utter chaos as people of all ages hose each other down in frenzied delight.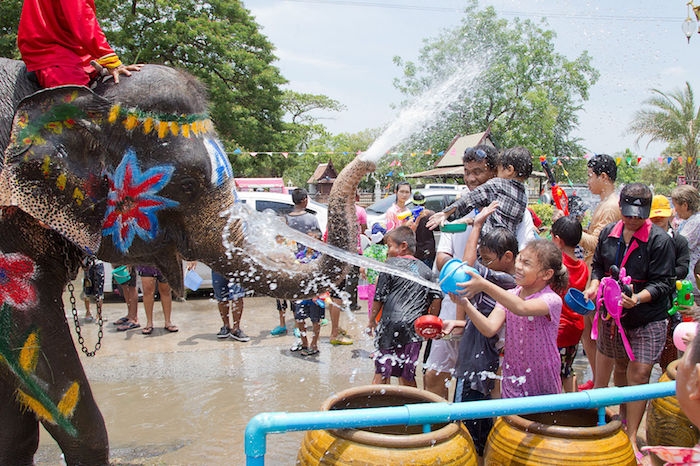 Image credit: JJ Harrison
In some cities, you can even spot super-sized elephant cavalry readying to spray you from their trunks!
So, what exactly is Songkran about and what can you expect? Arm yourself with this guide detailing tips on when to visit, what to bring and how to prepare yourself for a splashing good time!
History behind Songkran
Translating to "astrological passage", Songkran is Thailand's way of marking a period of transition. This water festival centers around cleansing oneself and starting the year ahead afresh, as people literally "wash away" past wrongdoings and misfortunes.
Houses are meticulously tidied and Buddha shrines are brought onto the street to be cleaned during Songkran. People also come home for reunions with families and to pay their respects to elders.
Traditionally, Day 1 includes the Rod Nam Dum Hua ritual, where young people pour scented water to wash the hands of their elders, humbly asking for blessing and forgiveness. Day 2 is National Family Day for households to spend quality time bonding and presenting offerings to monks and temples. A custom is to sprinkle a bowl of water gently over each other to purify the individual.
Image Credit: John Shedrick
Everything sounds prim and proper, up till the point when everyone trades those bowls in to pump water cannons at each other instead!
When is Songkran
Officially, the ceremonies commence each year on 13th April and last through till 15th April. But it is common in many regions for locals to take extended leaves for the after party. Your Songkran festival may even last up to a week especially in tourist hotspots like Phuket.
Where can you celebrate Songkran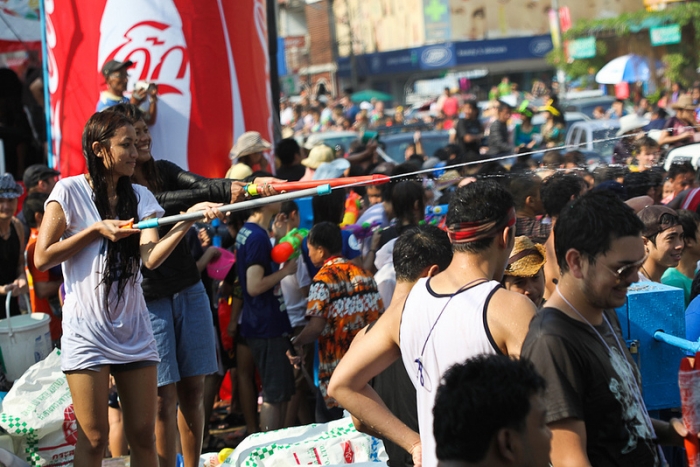 Image Credit: John Shedrick
If you're looking to dive straight into the action, then Khao San Road in Bangkok is the place for you. Don't expect anything less than extreme water fights! Expect to be soaked from head to toe with icy cold water right through to your underwear as people spray you left, right and centre with their colourful plastic water guns. You know what they say – when you can't beat them, join them! With bars along the way selling alcohol as well, Khao San Road is as lively as it gets.
For those who would rather spectate, Silom in Bangkok should be on your map. All along this five km stretch of road, gleeful youths run amok trying to hose each other down. But you can take in the atmosphere without getting that wet from the BTS skywalk above them. However, there's no guarantee that you'll stay dry – firetrucks trawl the streets, ensuring that even those that opt to stay on higher ground will join in the fun!
Chiang Mai also can get pretty crazy, especially at its Thapae Gate a.k.a. the epicenter of the action because there's even a moat to recharge your ammunition! Expect huge crowds and heavy traffic jams as people flock here to water fight. You should probably make your way there a few days in advance to avoid getting stuck. Also, the moat normally serves as a local drain so some vaccinations will probably save you from any adverse health risks.
Other Highlights of Songkran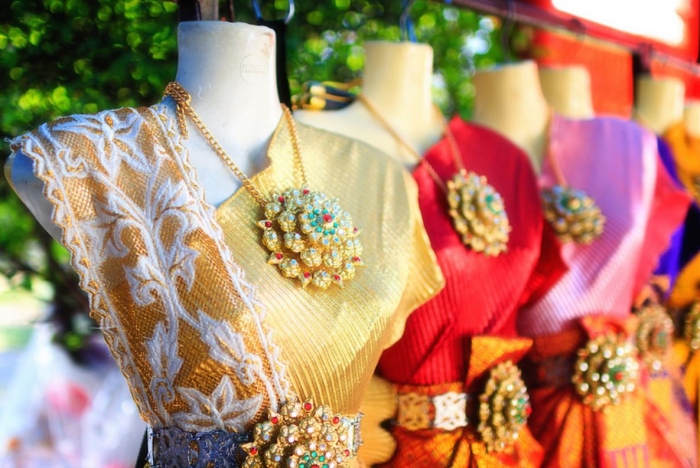 Image Credit: Ken Shirakawa
Do take note that while the water fights are the main highlight of this festival, not all of Thailand becomes a splashing frenzy. There's the Wisutkasat beauty pageants under Rama VIII Bridge, where only the most elegant and beautiful woman in her traditional Chut Thai costume is crowned Miss Songkran. There will also be a bevy of street vendors setting up stalls that sell mouthwatering local treats.
Phra Pradaeng District gives you the best of both worlds. Though you may still get splashed on a little, this district is also a cultural hotspot boasting an authentic traditional Songkran experience. Surely the Thai ancestors didn't use water guns to celebrate back then! Thai-Raman communities hold technicolour floral parades, thrilling boat races, captivating dances and their flag ceremony, where hundreds of flags are tied together in a unifying wind to be draped on temple pillars. There'll be lots of great photo opportunities for sure!
If the sheer scale of this almost country-wide water cannon hysteria has slightly startled you, don't worry because here are some simple rules to keep to for a soaking yet safe Songkran celebration.
DO's of Songkran:
✓ Use available public transportation
Some roads may be inaccessible, and perhaps even dangerous to be travelling in a private vehicle.
✓ Bring a waterproof pouch for your valuables
Without it, the chances of your belongings (especially your handphone) escaping unscathed are slim.
✓ Be cautious on the roads
The festivities can get out of hand and there may be partying drunks. Car accidents skyrocket during this 3-day period involving a great deal of casualties, most of which are motorcyclists.
✓ Watch your footing
The streets can get pretty slippery so take extra care not to end up slipping and sliding on this ice rink of a road.
DON'Ts of Songkran:
X Throw ice cubes or dirty water around
Be respectful of this age-old festival and its traditions. Although locals welcome tourists to join in with the celebrations with open arms, do exercise caution to remain respectful at all times and avoid behaving ungraciously. Also, don't splash monks, babies and the elderly.
X Drive
Streets may be cordoned off and major roads may come to a standstill. Tourists unfamiliar with their surroundings may get lost trying to redirect their routes.
X Attempt to take photos up close
Instagram addicts be warned! Songkran doesn't boast a reputation of being one of the wettest celebrations for nothing. While admittedly there are some awesome photos to be taken, unless you have a gigantic lens to zoom in from afar, your phone will likely be washed out.
X Parade down the street if you don't intend to participate
Fair warning: everyone joins in with the Songkran celebrations. Unless you're the King, pregnant or a holy monk and can exempt yourself from the good-natured fun, being anywhere close to a celebration almost guarantees that you'll get drenched.
Useful Thai Phrases
If you have the tendency to become a bumbling oblivious tourist like me, how about learning some local phrases? These will either bring you closer to the action or as far away as possible.
Sàat-nám: Splash water
Bpᵾᵾn-chìit-nám: Water gun
kᴐ̌ᴐ-tôot kâ, mâi lên kâ: Apologies, I do not wish to play (female)
kᴐ̌ᴐ-tôot kráp, mâi lên kráp: Apologies, I do not wish to play (male)
mâi lên nám-kɛ̌ng: Do not use ice
mâi lên bpɛ̂ɛng: Do not use powder
Thailand's Songkran festival is definitely one of the most unique and fun celebrations that anyone can participate in. Where else on earth will there be such a huge water fight party?!
For more information on the Songkran festival and places to visit in Thailand, check out the Tourism Authority of Thailand's (TAT) official website as well as their Facebook page. But while the wave of Songkran excitement makes its festivities infectious, remember that it is after all, a celebration and not a war. Party safely and S̄wạs̄dī pī h̄ım̀ ('Happy New Year' in Thai)!
---
Brought to you by the Tourism Authority of Thailand Singapore Office.