A vibrant holiday destination that combines several Asian influences with picturesque landscapes and mouthwatering food, it's no wonder travellers flock to Taipei to get in on all the action.
Still, Taiwan is undeniably one of the more expensive countries to visit in Asia. Fortunately, as a bustling commercial and tourist hub, Taipei offers the regular traveller many options when it comes to accommodations. Choose between five-star establishments, boutique hotels, and budget-friendly hotels along with hostels and Airbnbs.
If you're still searching for a pocket-friendly place to stay, here's our list of the top eight budget hotels in Taipei that'll set you back less than $80 a night.
1. Meander Hostel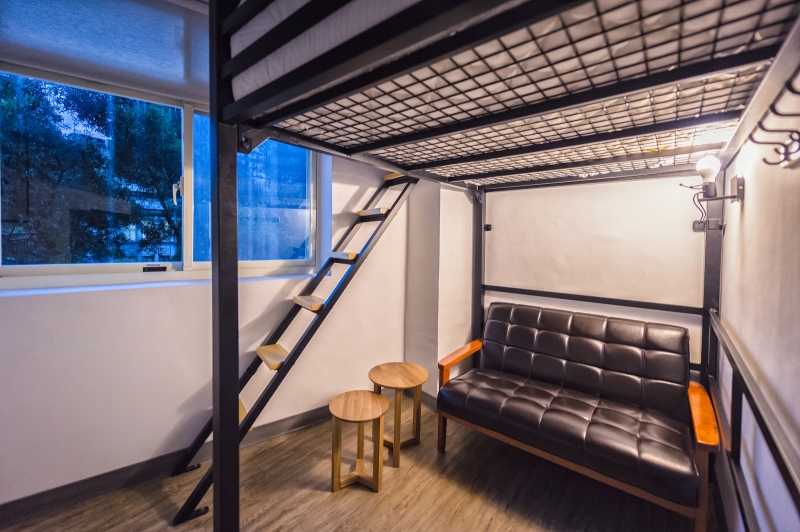 Image Credits: Meander Hostel
A short 10-minute walk away from Ximending, the central hub of Taipei, Meander Hostel offers a warm and friendly respite from the breakneck pace of the city. The staff and owners take extreme pride in keeping the spirit of backpacking alive by providing opportunities for travellers to interact with each other and share experiences.
Prices start from $60 for single rooms, but if you'd really like to experience the communal spirit here, opt for a dormitory space which starts at just $24!
Address: No.163, Chengdu Rd., Wanhua Dist., Taipei City 108, Taiwan
Contact: T: 02-23831334
2. Dongmen Hotel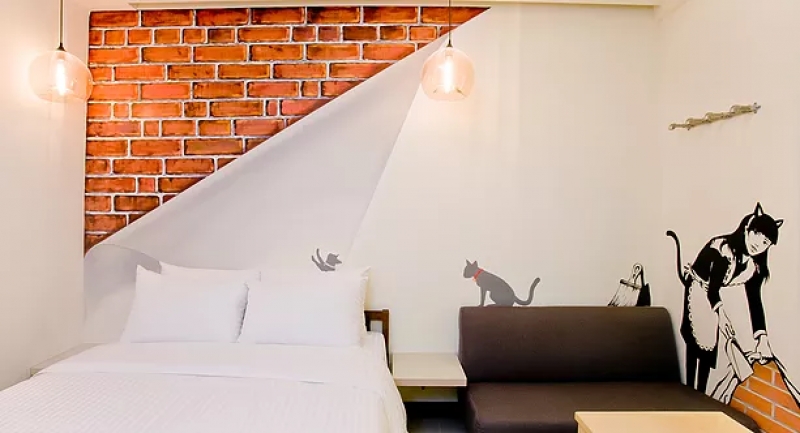 Image credit: Dongmen Hotel
Dongmen Hotel sits in the heart of Taipei just five minutes from the famous Yong Kang Street. You'll have convenient access to all of Taipei's main attractions including the National Chiang Kai-shek Memorial Hall and Da'an Park, as well as Ximending. This humble abode fulfils the three main Cs — Clean, Convenient, and Comfortable, leaving you extremely satisfied when you sink into the duvets at night.  
No two rooms are alike; they are all individually designed and decorated by artists. A simple double room starts at just $77, while the dormitories are just $30.
Address: 2F. No.76, Linyi St., Zhongzheng Dist.Taipei City 10056, Taiwan
Contact: T: 2-2356-0210, 2-2356-0211
3. Hotel Relax V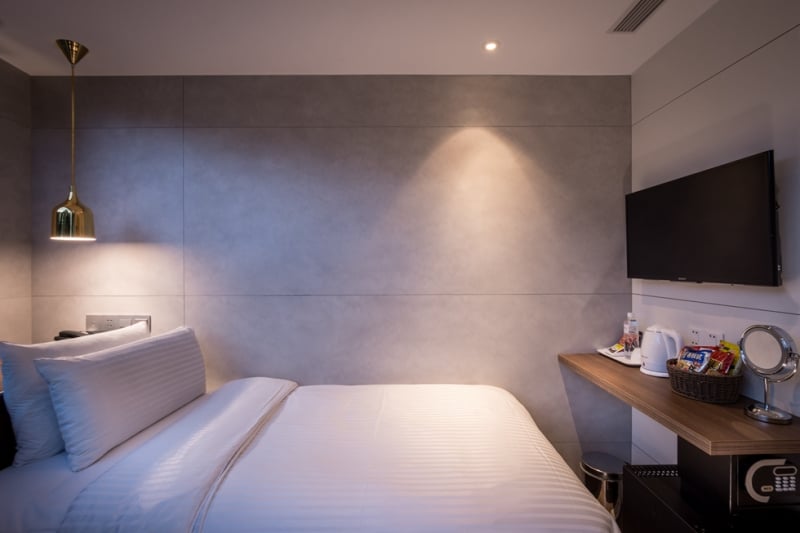 Image credits: Hotel Relax V
As part of Hotel Relax's hotel chains, Hotel Relax V is the only one that provides single rooms. Unlike most places, where such rooms have no windows and might be claustrophobic, each room is rather spacious and gets plenty of sunlight. They also provide breakfast every morning as well as a self-service drinks and snacks bar.
Their rooms may seem luxurious with heavy price tags, but prices for their single bedrooms start at only $75. If you book through Agoda, it'll just be $62, and the double bedrooms go for $66!
Address: No.20, Sec. 1, Chongqing S. Rd., Zhongzheng Dist., Taipei City 100, Taiwan
Contact: T: 2 23756777
4. O2 Hotel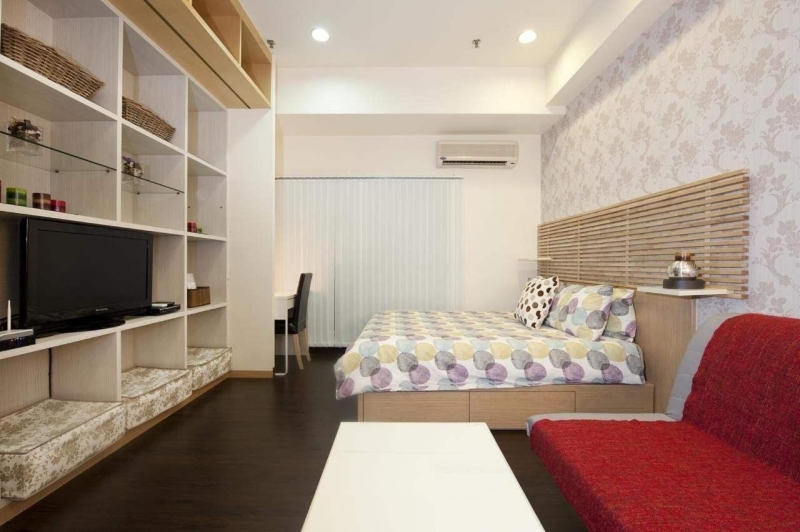 Image credits: O2 Hotel
Conveniently situated just a stone's throw away from The Red House and a short three-minute walk away from the train station, O2 Hotel offers rooms that feel more like a real home. With the cosy and plush layout of the room resembling a comfortable apartment, you'll easily forget that it's a budget hotel.
The rooms offered at O2 Hotel are an absolute steal considering their immense size. Their studio apartments go for just $60 a night, including all the necessary amenities too!
Address: No. 81, Chengdu Road, Wanhua District, 108 Taipei
Contact: T: 980 668 468
5. Design Ximen Hotel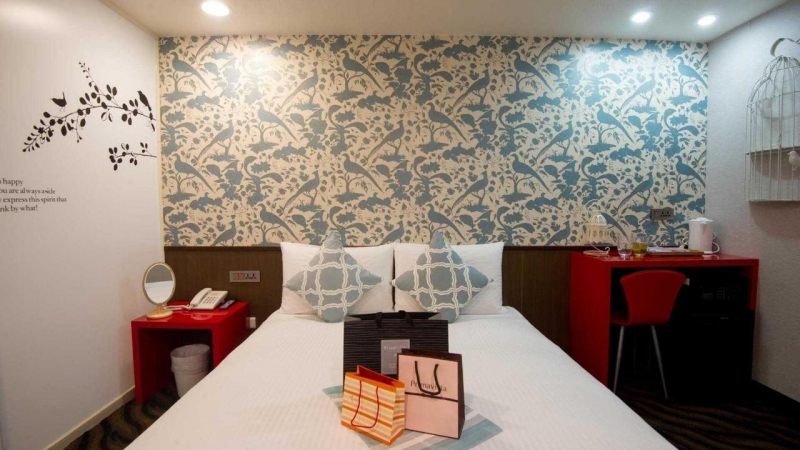 Image credit: Design Ximen Hotel
Design Ximen Hotel is perfect for culture junkies because it's situated near popular tourist attractions, such as the Museum of Contemporary Art Taipei, Taipei Arena, and the Miniatures Museum of Taiwan. The rooms are incredibly spacious and they offer options to accommodate to groups of all sizes.
The price for a night starts at only $65 (including service charge and VAT), but you can definitely opt for their larger family and deluxe quadruple rooms!
Address: 7F, No. 72, Section 2, Wuchang Street, Wanhua District, 108 Taipei
Contact: T: 2 2381 1721
6. CU Hotel Taipei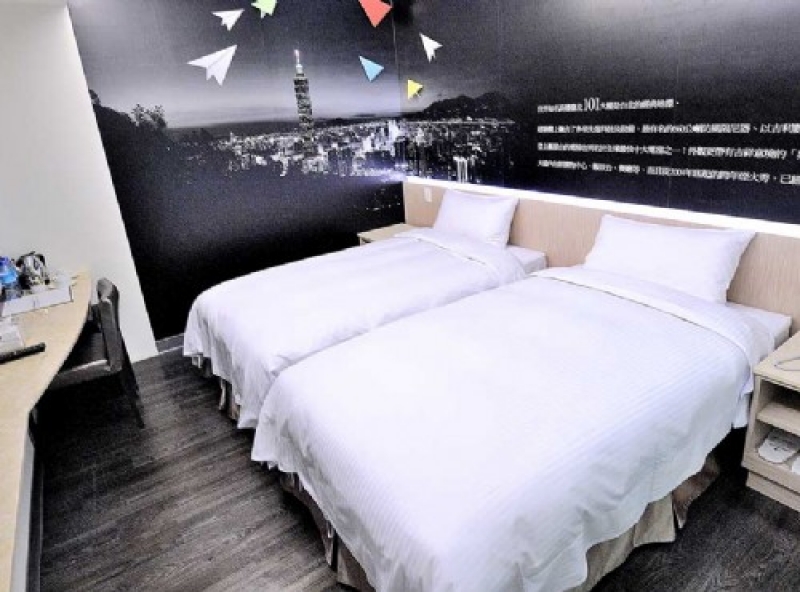 Image credit: CU Hotel Taipei
Having received the Hotels.com Excellent Award in 2016, CU Hotel Taipei prides itself as the go-to place for the most convenient and relaxing lodging experience. The hotel connects you to the best tourist attractions, with Ningxia Night Market, Dadaocheng Wharf, and Moca Taipei only a short walk away.
Their spacious twin and double rooms start at just $75, but you can enjoy a lower rate of $60 if you book via Expedia!
Address: No.198, Minsheng W. Rd., Datong Dist., Taipei City 103, Taiwan
Contact: T: 2-25585500
7. Ecfa Hotel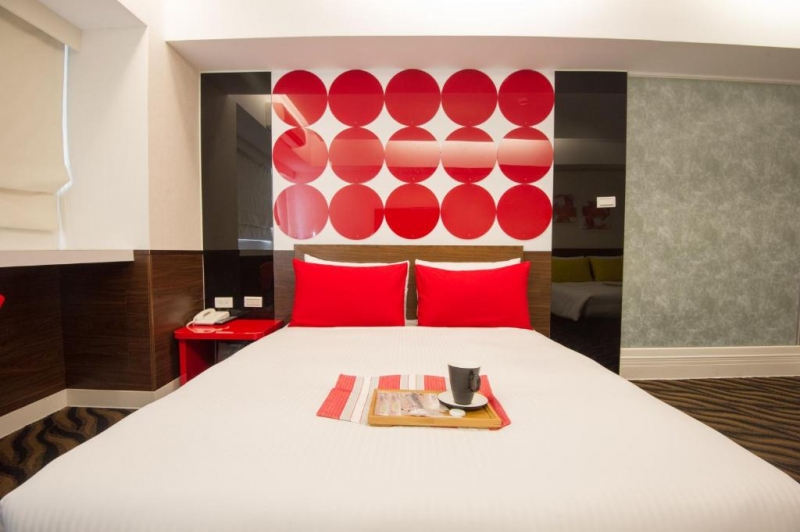 Image credit: Ecfa Hotel
Ecfa Hotel boasts chic and contemporary-styled rooms that will make you question if it's really a budget hotel. This strategically-located hotel offers easy access to all of the city's must-see destinations, such as Ximending Shopping Area and Qingshan Temple — perfect for shopaholics and culture buffs.
The room rates are particularly low, beginning at just $45, but do note that they do not accommodate children, so families would have to look elsewhere.
Address: No. 135, Chengdu Road Wanhua District 108 Taipei
Contact: T: 2 2361 1010
8. Click Hotel – Ximending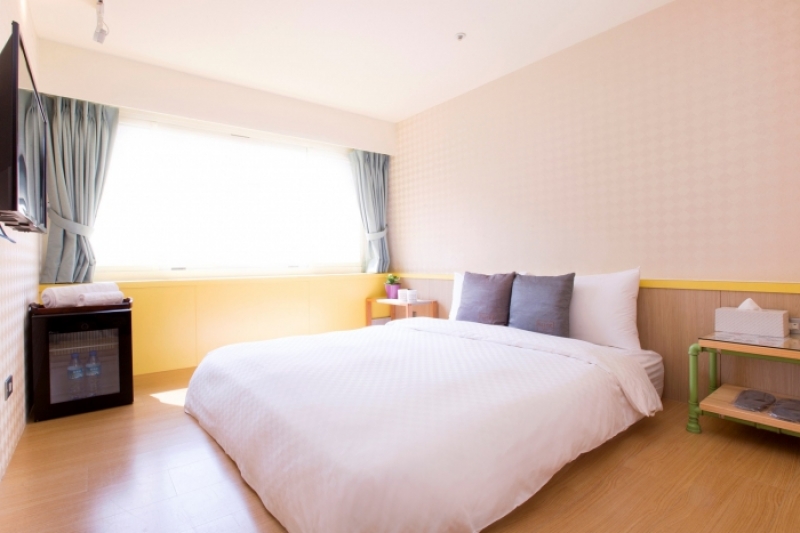 Image credit: Muzik Hotel
Click Hotel sports a classy and elegant design that's splashed with colour and playful art. The rooms are spacious and come with plenty of child-safe facilities. It's worth pointing out that the hotel is located within a shabby building, which makes it hard to find.
Considering that they offer unbelievably comfortable rooms and impeccable service, the rooms don't come with a hefty price tag. In fact, their rooms start at only $55!
Address: 10F. No.36, Xining S. Rd. Wanhua District 108 Taipei, Taiwan
Contact: T: 02-2361-8666
Spare your pocket and spend it on the things that matter!
Also read: 29 Best Things to Do & Places to Visit in Taipei