With endless stretches of gleaming coastline adorned with more beach umbrellas than you can count, it's no wonder waves of tourists flock to Krabi's beach paradise. The sun on their skin, the balmy sea breeze in their hair, the rhythmic waves soothing their ear – it's the ideal beach utopia from the usual dusty concrete grids.
But Krabi doesn't stop there. Look beyond the shoreline and find a sprawling authentic provincial scene to immerse yourself in. From Thai cuisine cooking classes to hidden hot springs, it's the gift that keeps on giving. So don't just limit yourself to the beach! I'd say it's time to go off the beaten track and discover Krabi's hidden gems.
Many of these activities can be found in our choice tour packages. Don't worry, we'll show you where to look, you just need to send in an enquiry to get your quote! 
Choose from the 3D2N Unseen Beauty of Krabi, 4D3N Krabi Discovery Tour or 4D3N Krabi-Trang Tour amongst others! 
Have your calendars on standby as you plough through our list of 10 fun things to do in Krabi. Simply send in an enquiry and you're all set to block off the next long weekend!
1. Take five in a natural hot spring
Loafing by the beach has its merits, but it gets pretty boring after a while doesn't it? So why not switch it up with a natural hot spring! Yes you heard me right, Thailand actually has its very own natural hot tub. Located at the southern edge of Krabi by the Khao Phra Bang Khram National Reserve, bubbles the Klong Thom Hot Springs. Originating from underground volcanic chambers, these thermal springs are just the refreshing change of scenery you need!
Plonk yourself along these smooth, hollow basins and space out under the cool foliage as the gushing currents drown out the peripheral noise pollution. To evade the crowd, plan your hot spring visit on a weekday and around dawn or dusk. Although it probably won't be as empty as you'd hope it to be, it's still the best time because tour groups are less likely to visit.
If you can't wait to unwind in a bubbly hot spring, but also don't want to take any chances on having to squeeze with a whole horde of tourists as well, then this
4D3N Krabi-Trang Tour
from S$248 is the deal for you. 
Not only will you get to see Krabi highlights like the Tiger Cave Temple and Marine Fish Rehabilitation Farm, you'll get to experience the hot springs in Trang as well (entrance fee fully paid for)! All you need to do is pack your swimsuit and get ready to unwind.
2. Wander through Krabi Town's extensive night markets
We often lament that too much of something is good for nothing. The tricky conundrum with tourist hotspots like Krabi is that, once they open their doors too widely to the commercial vultures, the place itself loses its identity. Local authenticity becomes lost in the sandstorm of beachfront hotels and snorkelling advertisements as tourism leaves its indelible mark on most of the landscape.
But not at Krabi Town, where its rustic finishing cements the sleepy town center's undying devotion to its roots. If you're looking to saturate in the local scene, stroll through the upbeat night markets at Maharat Soi and Khong Kha Road. When in Rome, do as the Romans do. So when in Krabi, rub shoulders with the locals' at their favourite haunts. At these markets, you can haggle with street vendors peddling their homemade wares and take in all the raw sights, sounds, smells and tastes that the beach rarely affords you. In fact, you'd probably find more foreigners than locals at these beaches.
3. Tuck into the freshest delights along Seafood Street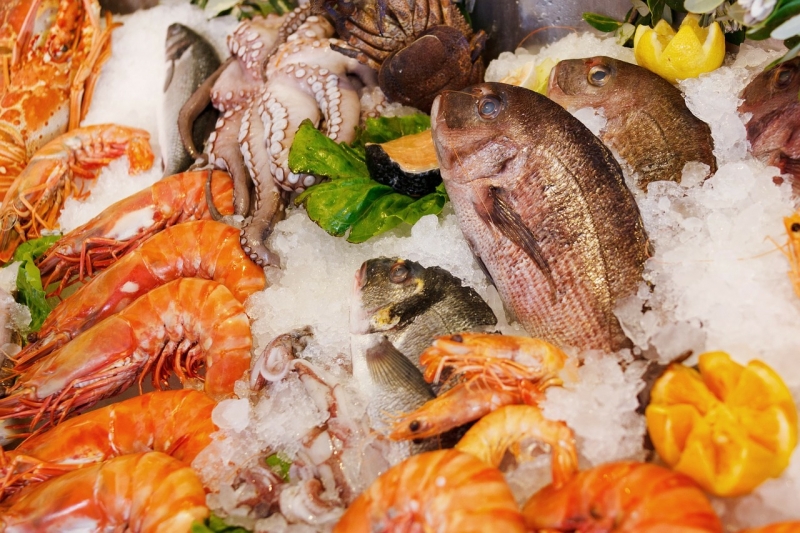 One thing the beach does bring is the freshest seafood that you absolutely must try. Seafood Street, true to its namesake, is the go-to place for the best seafood in town! With a street full of incredibly enticing alfresco establishments to take your pick from, you'll be spoilt for choice with the abundant dining options. There's no way you can resist licking your fingers and tucking into some amazing lobsters, snappers, oysters and tiger prawns.
With the impressive array of only the freshest catches, you're in for a fishy platter to savour. Ao Nang Seafood serves up a whole sea bass steamed in a cornucopia of Thai herbs and served with some tantalising fried rice. Baibuaa Thai Kitchen boasts the crispiest fishcakes served with sweet chilli and Baanlay Thai Kitchen offers great value for money with an amazing seaview to match your hearty meal.
Good food makes for a good mood. If all this talk of yummy seafood is making your stomach rumble, you've got no time to lose. Jet straight off to Krabi on this
4D3N Krabi Discovery Tour
!
From just S$258, not only will you get to tuck into a sumptuous spread of seafood, you'd also get to explore all the other food stops along the way on a complimentary city tour.
4. Indulge in a Thai massage
When in Thailand, one thing you must experience is a Thai massage. As sushi is one and the same with Japan, soothing massages are equally synonymous with Thailand. For your dose of self-indulgence, indulge in a traditional Thai massage or aromatherapy Thai massage. The former involves full body stretching and reflexology while the latter is exactly the same, but with the addition of scented essential oils.
Sprouting up in a dime a dozen, especially in the Ao Nang area, you're bound to find multiple spa and wellness centres on every block. From cool air-conditioned sanctuaries to tranquil tropical edens, the surreal ambience provides a sensory overload and is the perfect escape from the dull drudgery of your weary office cubicle. Let trained practitioners loosen your knots, pummel your feet, stretch your aches and pull your toes.
But how do you get the most bang for your buck? For starters, try avoiding the loitering beachside masseuse. Not every certification you see is exactly legitimate. Instead, try street parlours like Apple Massage. While it may lose those added aesthetics like scented candles, this no frills centre provides quality services at dirt-cheap prices; S$8 or an hour-long massage and S$20 for a full body scrub. Aonang Haven Massage is highly recommended as well. If you want to upgrade to even higher grades, walk-in hotel spas like Sunset Massage is a good bet.
5. Crash through coursing rivers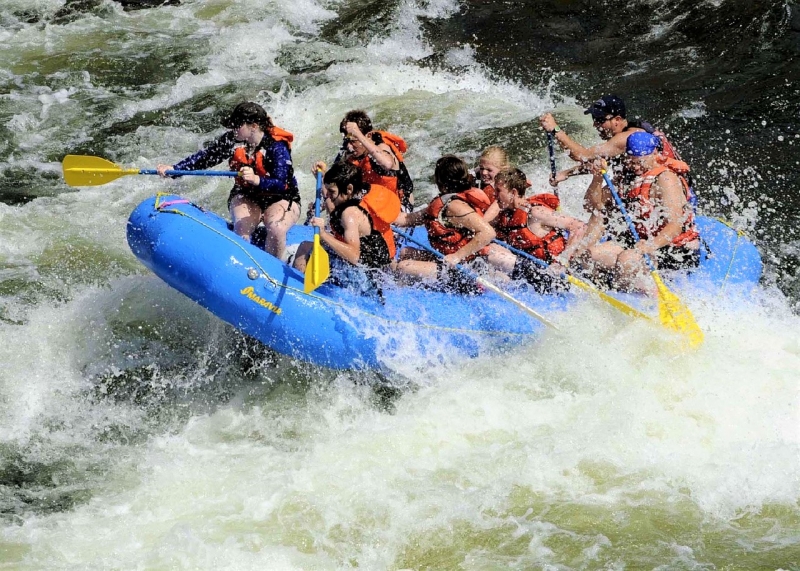 Spend an afternoon busied with a thrilling water sport experience…far away from the beach and sea. Just a simple 1.5 hour drive from Ao Nang, the Songpraek River rapids in the Phang Nga Province are fast becoming a popular off-beach attraction. White water rafting routes vary from 5km to 9km long, depending on your preference.
Paddling together with trained professionals aboard your raft is the perfect safety net; there's no need to fret over steering your raft back on course. Just focus on having a blast splashing about and absorbing the full wave of excitement crashing through the mighty currents. To add even more fun into the mix, white water rafting packages are often complemented with additional activities like elephant trekking. Book through sites like Krabi Tourism, Your Krabi, and Krabi Trek for deals ranging from THB1,000 (S$40) to THB3,800 (S$154).
Warning: Children under certain ages, pregnant women (for obvious reasons) and people suffering from chronic back injuries and ailments are prohibited from participating in this activity.
6. Careen through the jungle on a roaring ATV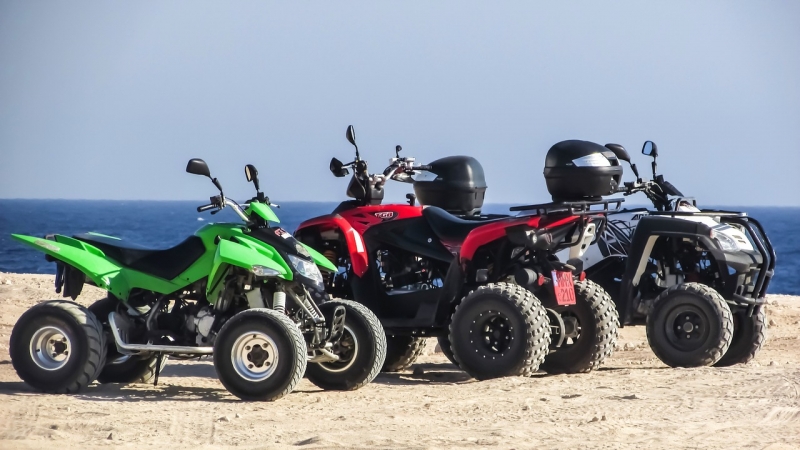 Remember how we suggested the best way to explore Krabi is beyond the conventional path? Well, zigzagging through the rugged rural terrain on an all terrain vehicle (ATV) will literally take you off the beaten track! If you're looking to pack your Krabi vacation with some extreme action adventure sports, then go stay up North after your white water rafting to screech on menacing quad bikes.
After going through a short brief on the safety aspects behind the equipment, there is a short obstacle course to test out your vehicles. Krabi Adventure brings you through a 1-2 hour session crashing through shallow rivers, spitting through mud paths and roving up steep paths. Sessions can be booked from 8am to 5pm and are priced from THB2,200  (S$89) for an hour. So buckle your seat belts, don your helmets and protective goggles, and step on the accelerator!
Tip: You'd probably want to wear your grubbiest or oldest sets of clothes. Expect to be splattered with mud and drenched in water, so donning the latest shirt in your collection wouldn't be a wise decision.
If you're not a fan of rowdy, overcrowded beaches and the thought of jostling with random strangers irks you, then try out the
3D2N Unseen Beauty of Krabi
package!
It takes you to a comprehensive tour of four secluded islands. Not only home to beautiful corals, but more importantly, these tranquil havens are miles away from those stuffy popular beaches. From just S$98, it's definitely a mega steal for the peace and quiet you deserve.
But wait, there's more – you can even choose between a free massage or dinner for two at a luxurious hotel. How awesome is that!
7. Swing along the foliage at Krabi Fun Park
Unleash your inner jungle fury and bring out the Tarzan or Jane in you at the Krabi Fun Park treetop menagerie. Opened daily from 8.30am to 5pm, the park is located in the Sai Thai area just west of Railay Beach and promises an afternoon of wholesome fun for the entire family! Besides ziplining across gigantic trees, hopping from one wobbly platform to another and even balancing along a tightrope on a bicycle, this adventure arena also gives you breathtaking vistas of the shimmering Andaman Sea.
Following an introductory lesson to learn the ropes (pun intended), kickstart your 'medium' difficulty course that spans 21 obstacles over an hour's worth of fun. If that's too simple for you, put your agility to the test and ninja through the 'hard' course, which takes about 1.5 hours to complete. You'd definitely enjoy quite the workout here.
8. Participate in a cooking class
When in Thailand, don't we all love slurping down plates of flavourful Phad Thai and mouth watering bowls of green curry? But in Krabi, why not take it up a notch and learn how to whip these classic dishes up from scratch!
Under the tutelage of seasoned local chefs, partake in a beginner's course to preparing, in theory and practice, your quintessential Thai favourites. Learn the nifty tricks behind the delicate artistry required in blending the mish-mash of fragrant spices and juicy fresh produce. Through acclaimed culinary courses like Ya Thai's Cookery School and Aonang Thai Cookery, enjoy a four- to five-hour long programme cooking up hearty recipes including Masaman Curry and Tom Yum Goong. Unlike your other compatriots, your newfound culinary skills will ensure you never have to pine for yummy Thai delights again because you can now cook up a whole menu's worth of food!  
When it comes to food, there's no place quite like home. So even before you start learning how to cook Thai food, you first have to know just how good they it is
supposed
to taste.
How on earth do you do that? Well, let the locals teach you! With the unique "Kui Lin" floating homestay experience at Phutawan Raft House in this 4D3N Krabi Surat Thani + Homestay Experience Tour, let the locals show you how it's really done as they expertly whip up tantalising dishes.
From S$348, this land tour includes a 2D1N stay in Surat Thani Dam. If you're craving to experience the raw local scene, it doesn't get any better than this!
9. Sightsee at the Tiger Cave Temple
No holiday is complete until you whip out your smartphones and cameras to capture some amazing scenery shots. One of the best places to do this is atop the Tiger Cave Temple, or Wat Tham Suea, which is 3km Northeast of Krabi Town. Walking through the cave's bulge, which strikingly resembles a tiger's paw and seeing the paw prints within the cave's walls, it's easy to see why the temple was named as such. The walls of the temples are skirted with historical artifacts from a time long before. But the biggest attraction of the temple is definitely the view at the summit.
Endure a climb up an insane flight of 1,237 steps to the colossal Buddha statue at the apex, and let the view from up there blow you away. The tiny mountains and caves dotting the Kiriwong Valley below are a great photo opportunity for shutterbugs to snap away.
Think you've got what it takes to conquer the Tiger Cave Temple? Then this
4D3N Krabi-Nakorn-Surat Thani Tour
from S$308 has just the challenge you need. Forget worrying about the transport to the temple, just don your hiking boots and get ready to sweat it out.
After your arduous climb, you can even switch it up with a refreshing dive into the Andaman Sea and snorkel along the azure waters of Tuk island and Poda island. With such a wide range of activities on offer, this deal's a steal!
10. Scale a sheer cliff before making a death-defying plunge
Ao Nang Beach reserves a special place in the hearts of all who visit. But don't be fooled, because those who visit aren't a particularly faint-hearted bunch either. It's one thing to enjoy a cool dip in the Andaman Sea, but people often charter longboat rides out here for a thunderous splash from the spectacular limestone cliffs above.
With trained instructors to ensure that all the safety precautions are taken, you don't need to be a seasoned rock climbing enthusiast to scale these towering cliffs. All you need is the adrenaline for adventure, and they'll do the belaying as you wrench and yank your way along the precarious near vertical edge. Once you reach the summit, lose all the clanky hooks and cables, and plunge into the crystal clear depths below. Amusement rides are pretty exhilarating, but a death-defying dive beats all roller coasters hands down.
But there's no need to get yourself all stressed out trying to plan your next getaway. Save yourself the hassle of booking and arranging and choose from our carefully curated packages that will have you exploring the cooler side of Krabi in no time! It's as simple as choosing your desired package and sending in an enquiry at the bottom of the page to kickstart your Krabi adventures.

4D3N Krabi-Nakorn-Surat Thani Tour

4D3N Krabi Surat Thani + Homestay Experience Tour

Promising you value for money and a memorable experience for your whole family, all you have to do is choose your desired activities or accommodation options and send in an enquiry form to get a quote for your next weekend getaway!
So there you have it – some of the most unique and amazing activities beyond the beach that Krabi has to offer. Beach please, think twice the next time you plan on packing that extra tube of sunscreen along or purchasing another sunhat, because there's way more to explore in Krabi that just the usual sun, sand and sea.
---
Brought to you by Southern Consortium Thailand.