School's out! As the September school holidays approach, children will be getting excited over all the possibilities of what they can do with their free time. If you haven't made your plans for the little ones, why not head down to Sentosa?
Being Singapore's premier holiday island destination, Sentosa has multiple attractions and activities for people of all ages to enjoy. For anyone who has visited Sentosa before, you'd definitely know Skyline Luge Sentosa. But did you know it has undergone a $14 million upgrade in recent years to expand its offerings? With a total of four tracks and two Skyride chairlifts, you should definitely give the Skyline Luge a go, no matter if you're a first-timer or a seasoned pro!
Read also: Singapore's Skyline Luge Adds Two New Tracks and a Skyride
With the annual Singapore Grand Prix Formula 1 Night Race also drawing near, bringing you the excitement of watching a race car zoom around the Garden City at heart-pumping speeds, don't you want to experience your own wave of adrenaline?
If you are still not convinced, read on for all the reasons why you should visit Skyline Luge again!
Not everyone can expertly maneuver through the streets like an F1 driver, but you can certainly course through the jungle at
Skyline Luge
!
Hit all four tracks and your favourite once more with the 5 Luge & Skyride Individual Combo, at a promotional price of just $30! This limited-time deal is available between 7 and 15 September — right in time for the September school holidays. So head down to Skyline Luge before the offer is gone!
Navigate bends and zoom past tunnels along the weaving tracks
Having a combined 2.6 kilometres across four different tracks for you to ride down, it's time to navigate through the exhilarating tunnels, twists and turns, complete with hairpin corners and beautiful lush greenery.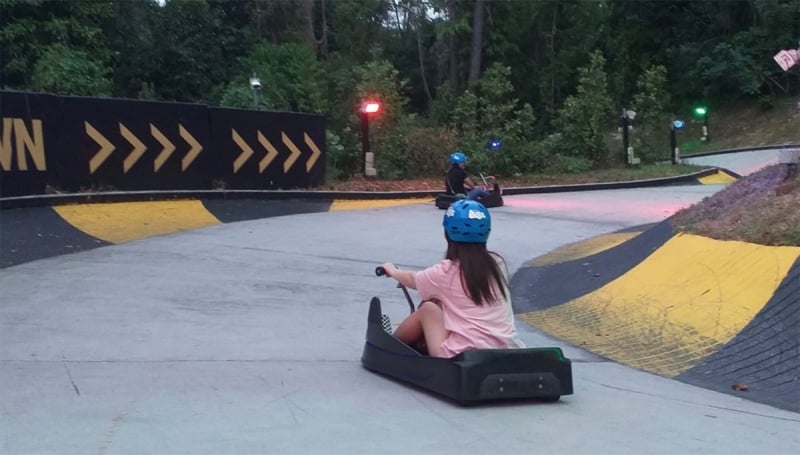 Try out each track and see which one you prefer — take on the classic Dragon Trail and Jungle Trail, or try out the newer Kupu Kupu Trail and Expedition Trail. From gentle curves to zigzag bends, there's definitely a track for everyone.
Take to the skies on the Skyride
At Skyline Luge, it's not all about the Luge ride. For those who are less inclined to heading down a slope, you can still board the Skyride for spectacular views of Sentosa and the South China Sea. Sitting up to four people per chairlift, families can enjoy the ocean breeze high above ground on the 7-minute ride each way.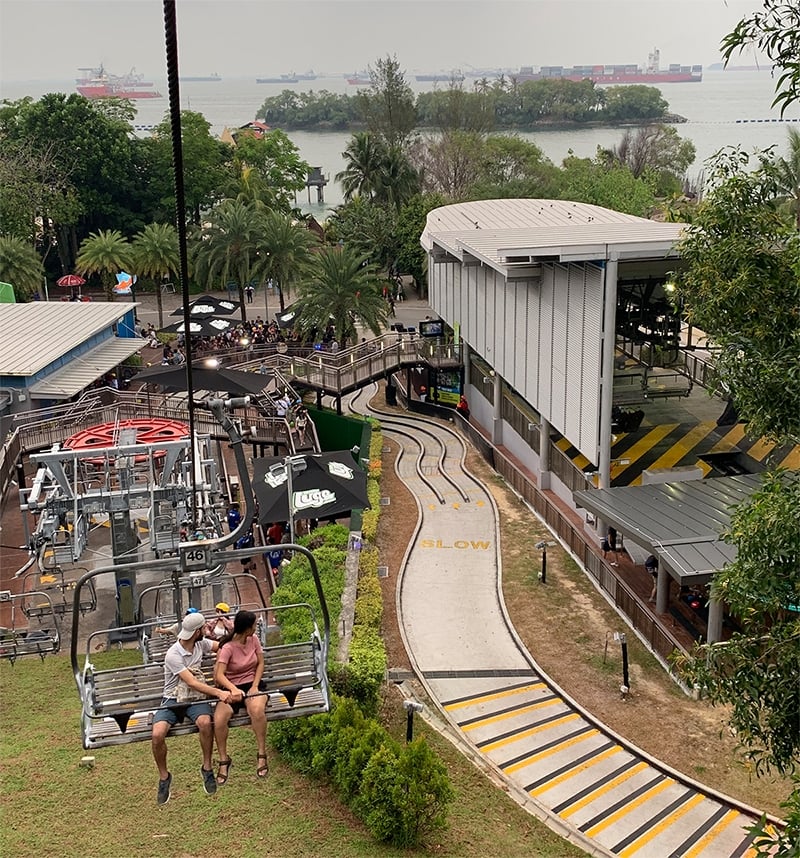 Experience an alternate perspective of the Luge tracks and watch the riders zoom right below you as you take in the lush scenery, and flash your biggest smile for the photo opportunity during the ride. Of course, even if you're planning to go for a spin on the Luge, you'll also get to take the Skyride to the top of the hill, before you brace yourself for a gravity-induced thrill ride!
Ride the Luge in a new light after sundown
Did you know that your Luge ticket is valid for the whole day? After riding the Luge in the day, we highly recommend trying out the Luge at night, which is a totally different experience.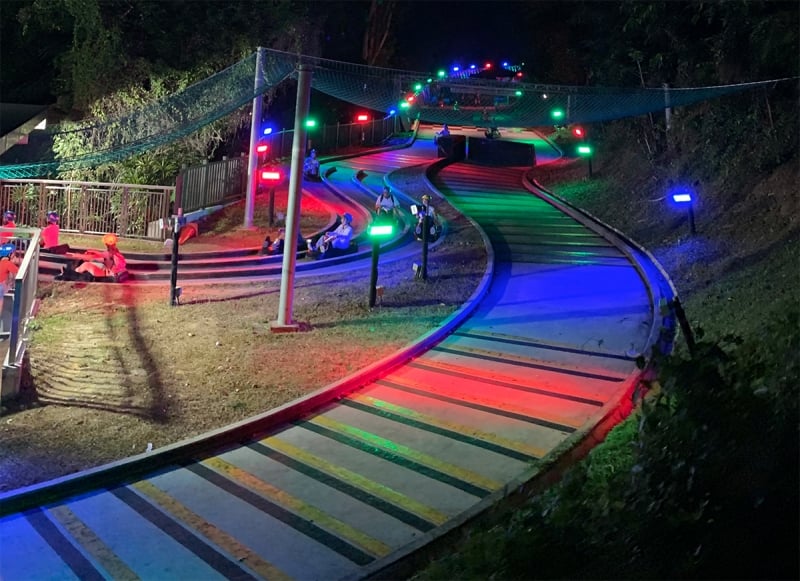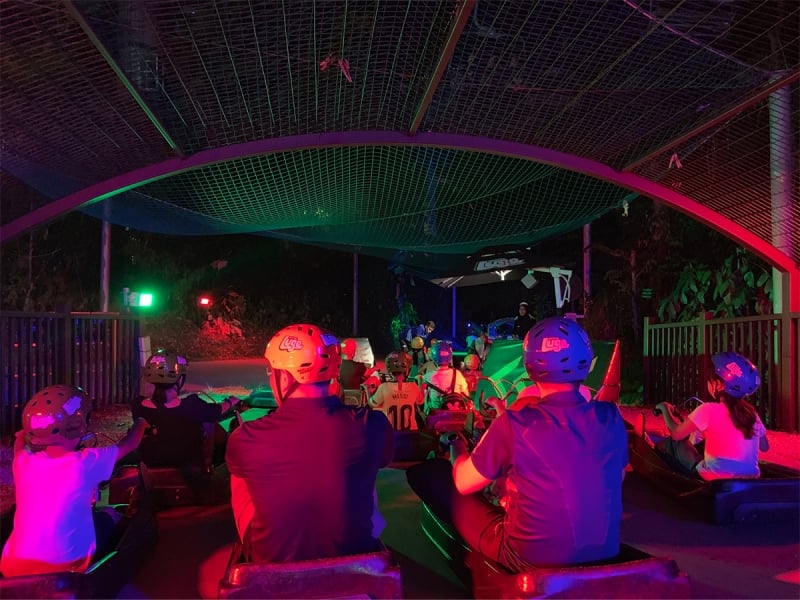 In the spirit of the F1 Night Race in Singapore, you too can showcase your vehicular mastery under cover of darkness. Besides being able to ride in the cool night breeze, the tracks are lined with coloured floodlights, making the Luge track a sight to behold.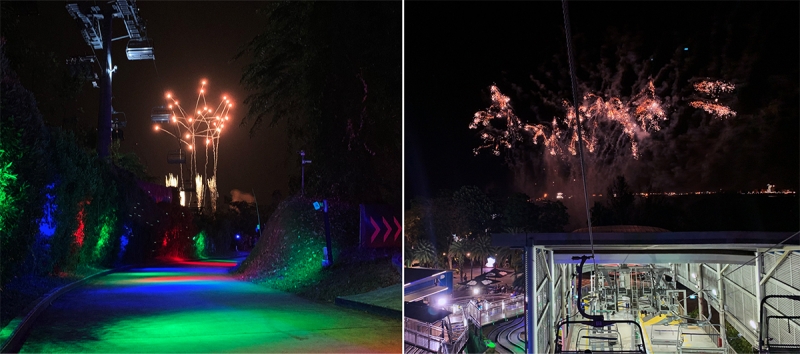 You also have a chance to catch a glimpse of fireworks from the Wings of Time show. Now that's another reason to get on Skyline Luge!
Bond with the family at Skyline Luge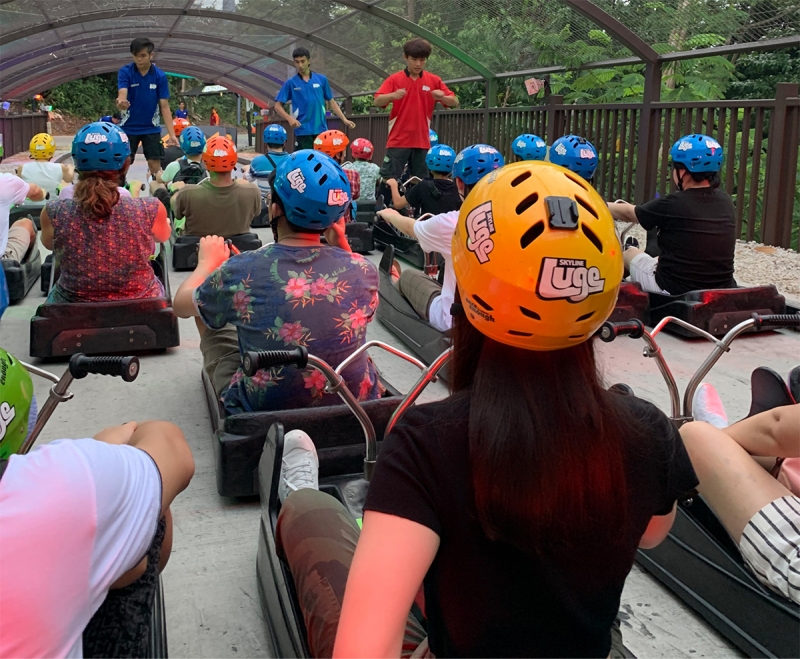 For families who want to enjoy some fun time together, you've found the right place. As long as you're old enough to walk, you're good to enjoy yourself on the Luge at this family-friendly attraction. Young children are typically not allowed to take part in such thrilling attractions, but not at Skyline Luge. For those under the age of 6 or the height of 110cm, the ticketing staff will confirm if they're eligible to ride in tandem with an adult. They won't have to miss out on all the fun!
Read also: A Complete 3D2N Family Itinerary For Exploring The Best of Sentosa – Food and Fun Galore!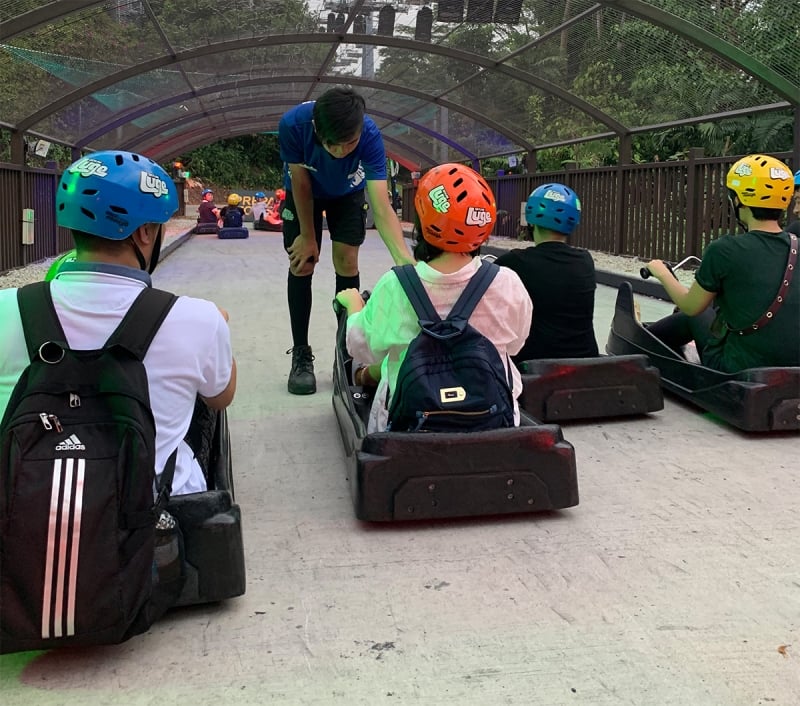 Safety is understandably a key concern for parents, especially when the kids will be in charge of controlling their own Luge. No need to worry though, as the friendly staff on site will guide your child through proper briefings about conduct, handling and safety — of course not forgetting to ensure that their safety helmets are properly fastened!
With its child doubling feature and slew of safety measures, Skyline Luge is definitely the attraction to visit for families with children. With the school holidays approaching, it's the perfect time to consider Skyline Luge's family packages for some valued family bonding!
Pick the family package that suits you, depending on your family size and the number of rides each. Not sure which option to pick? You can't go wrong with the package of 4 Luge rides each — going for just $78/104/130 for a family of 3/4/5!
Bring home unforgettable memories
Did you know that you can also rent GoPro cameras to record your Luge experience? For just $19, you get to keep an SD card containing all the footage taken, allowing you to relive the thrilling experience again and again. 
Due to safety reasons, personal cameras are not allowed on board the Luge — both your hands will be busy steering the Luge to grab onto anything else. If you wish to take photos and videos of your family having the time of their lives, we definitely recommend mounting a GoPro camera. If you don't have your own, fret not — you can rent one here. You can also purchase the photos that will be taken along the Luge track, but make sure you put your best face forward!
Experience year-round thrill with the Luge Licence
With the thrill of a gravity-fuelled ride down the slopes, once is never enough! That's why Skyline Luge offers a Luge Licence Membership for its avid fans. Don't worry, it's easier than getting a driving licence: all you have to do is to show up at their counters and ask for the membership.
The Luge Licence, which comes in individual or family options, lets you enjoy discounts on their Luge and Skyride packages for a whole year. Besides the discount on Luge rides and Express Queue privileges, the pass allows you to get discounts at multiple Sentosa attractions and dining options, such as the Singapore Cable Car and Dusk Restaurant on Mount Faber. Did we mention that the licence membership costs as low as $24 per person*? That's only $2 per month!
*based on Luge Licence membership for a family of 5 at $120.
This means that with the pass, you can literally spend a whole day on Sentosa. Take a ride on the cable car, climb to the top of the Merlion, cruise down Mount Imbiah on the Luge, and end the day with a spectacular show at Wings of Time — all on a discount, thanks to your Luge Licence.
Read also: A One-Day Itinerary for Exploring Sentosa & Its Surrounds – via Cable Car!
What are you waiting for? Your adventure starts here, at Skyline Luge!
With the school holidays and F1 Night Race coming in September, there's no better time to test your skills and have fun at
Skyline Luge
!
Hit all four tracks and your favourite a second time with the 5 Luge & Skyride Individual Combo, at a promotional price of just $30 — because once is never enough!
---
Brought to you by Skyline Luge Sentosa.