Siargao, known as the Surfing Capital of the Philippines, has been renowned not only for its massive and unforgiving waves, but for the chill atmosphere it offers the tourists. Despite being one of the top destinations in Mindanao, it is still less commercialised compared to Boracay and Palawan.
Also read: A Complete Siargao Travel Guide for Non-Surfers
However, like any other destinations in Mindanao, Siargao's tourism has been adversely affected by the recent declaration of Martial Law, putting the entire island under Military rule. This was brought about by the Marawi siege that displaced thousands of Maranaos, because of the terror attacks of the Maute group.
Several tourists have cancelled their trip to the island because they fear for their security. However, for some brave souls, they took the risk and still went on because they didn't want to miss the opportunity to experience this beautiful island!
Now, the question still remains. Is it still safe to travel to Siargao despite what is happening to the rest of Mindanao? Find out straight from these gutsy travellers!
1. Willia Cabatingan
Willia is a Linguistics and Literature graduate from the University of San Carlos in Cebu. She works part-time for their family business and contributes travel stories to TripZilla. She went to Siargao last 15-18 June 2017 to surf and enjoy the island life.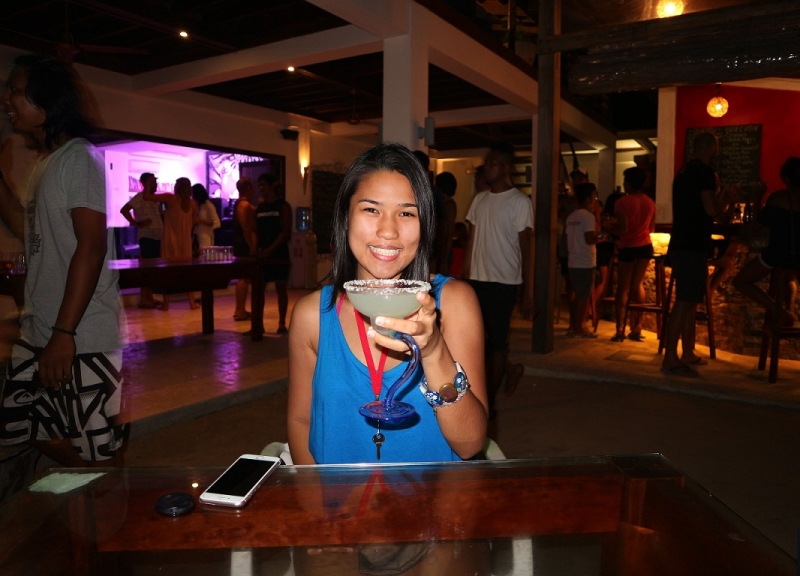 "The atmosphere in General Luna is the same as it's always been – laid back and slow. The people, both locals and foreigners, are cheerful and friendly, and seemingly content. I didn't feel like I had any reason to be worried about, and neither did everyone else. They still had parties that started at 11pm and ended at who knows what time. There seemed to be no curfew, as people would still go out past 12 midnight to look for those said parties. I didn't see any man in uniform either, or those big military trucks driving around. No random officers asking for identity checks."
Based on her observation, the entire island wasn't affected by Martial Law. However, she admits that it would have been better if there's police presence for security reasons. "Being a very paranoid person, I think that there should be at least one or two police cars moving around the area. Not necessarily to make laws stricter, but it does ease anxiety to see more police presence."
When asked if she would still recommend Siargao despite the ongoing military situation, she said, "Of course! Only because there haven't been any changes." And the best part of her Siargao trip? "It was meeting new people and starting new friendships. It's very easy to talk to the people there because almost everyone is a backpacker. They know how lonely travelling can be so they take every opportunity to have company."
2. Kristoff Lagura
Kristoff works as a hotel manager in one of the top hotels in Butuan City. It wasn't his first time in Siargao, but this time, he travelled with his life partner.
"For me Martial law is just a news in Siargao. I never felt it when I visited the island. Yes, there were checkpoints but not as strict as I expected it to be. It is still calm and I still experienced the total island vibe. I got to enjoy this amazing island the second time around, surfing, chilling, and partying even during martial law."
3. Annie Vi Sarsaba
Annie Vi is a registered nurse working in Guernsey Island in Europe. She had her homecoming in Siargao with her friends a few days after Martial Law was proclaimed in Mindanao.
"At first, we were hesitant to travel to Siargao knowing its Martial Law in Mindanao. But we arrived there safe and sound. Just few checkpoints on the way to port of Surigao. No restrictions, curfews and military men as such when we stayed there. We were able to explore the beautiful island without fear of being kidnapped / abducted. Siargao surely is one of the safest places in Mindanao."
4. BJ Mones
BJ works in the hospitality business management industry in Manchester, United Kingdom. He visited Siargao for a reunion trip with his cousins on 2-4 June 2017.
"Honestly, me and my cousins only decided a few days before we went to Siargao. The whole martial law fiasco did influence our plans but since we were all boys, we braved it through and still went. Plus the idea of being on a holiday, you'd want to visit places like Siargao so that you can make the most out of it. We drove to Siargao around 2am and there was only 1 checkpoint from Butuan to Surigao. There were few military officers who checked the 'roro' before we boarded it. When we arrived in Siargao, there were no checkpoints or even police around General Luna. When we were in Siargao, we forgot the Martial Law declaration because we were having too much fun."
5. Inna Dominique Piencenaves
Inna manages their family-owned BPO company. She went to Siargao last 8-11 June 2017 with her sister and friends from Manila for some girl bonding!
"My friends' parents honestly wanted us not to proceed with the trip because of Martial Law but we convinced them to let us go. We travelled from Butuan to the Surigao port at around 1 am and got there by around 3:30, no checkpoints along the way. Got on the boat (no security checks), got to Dapa, still no security checks. When we got to Siargao, it was as peaceful and as relaxing as described to us by our friends. We travelled to Magpupungko and to Sugba Lagoon on a trike with no worries. Despite the lack of military presence we still felt safe going around the island on habal habals clad in just bikinis. The nightlife there still thriving as ever, bar hopped from Viento to Jungle on Friday night and got home pretty late – no imposed curfews. Overall, I think Siargao now during Martial Law is still the same beautiful Siargao other people experienced before Martial Law."
6. Patricia Custodio
Patricia is currently studying Law at the Ateneo de Manila University. She and her friends went to Siargao last 24 June 2017 for a long weekend getaway.
"Honestly, I didn't feel Martial Law in Siargao at all. I didn't see any military men at all either in General Luna or in Dapa or in Pilar. If there was a curfew, we weren't informed. We were free to walk around and explore the island and neighbouring islands. As far as I could tell, Siargao is as idyllic and as laidback as it has always been."
7. Pocholo Mones
Pocholo is an owner of a popular burger joint in Butuan. He went to Siargao with his relatives, and at the same time, gathered ideas for his business venture.
"Everything is still the same, no checkpoints at all. One night we went out to rum bar and there was a fight between a local and a tourist. It lasted good 15 mins. There was no police. We went to Magpupungko from General Luna, a good 30 min motor ride, no checkpoints, no policemen or military around. Lastly, I got home 4am buzzed. So that explains there was no curfew at all."
There you go! Although they may have different reasons for visiting Siargao, they are in unison in saying that Siargao remains a safe haven not only for surfers and beach bums, but for any kind of traveller who is looking forward to a laidback adventure.
Also read: 3 Days Siargao Itinerary for Your Next Barkada Getaway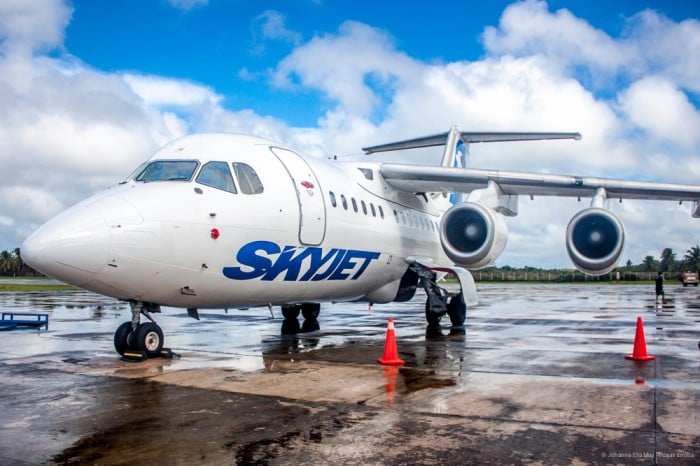 If you are still doubting the safety and security in the area, especially if you opt to travel through the Butuan-Surigao route, the safest and the highly recommended way is to book a direct flight from Manila to Siargao through SkyJet Airlines. They offer daily flights with a travel time of one hour and 15 minutes only, and fares starting from as low as ₱3,800. This already includes free snacks and drinks, 10kg baggage allowance and 5kg hand carry. With this, travelling to and from Siargao is more convenient and cost-effective.
For bookings and reservation, visit www.skyjetairlines.com.
---
Brought to you by SkyJet Airlines.