Are you up for a challenge? Do you want to conquer the best of East Asia ALL AT ONE GO?
Forget about getting the best of both worlds guys, it is entirely possible to get the best of FIVE worlds, or cities in this case. This EPIC three-week itinerary to conquer the best destinations in East Asia is only for the truly passionate adventurer and crazy go-getter at heart.
The itinerary goes as follows: Hong Kong > Macau (Day trip) > Taiwan > Seoul > Tokyo!
ARE YOU UP FOR IT? Let's go!
1. HONG KONG: DELECTABLE DIM SUM AND DISNEYLAND
Time needed: 3 days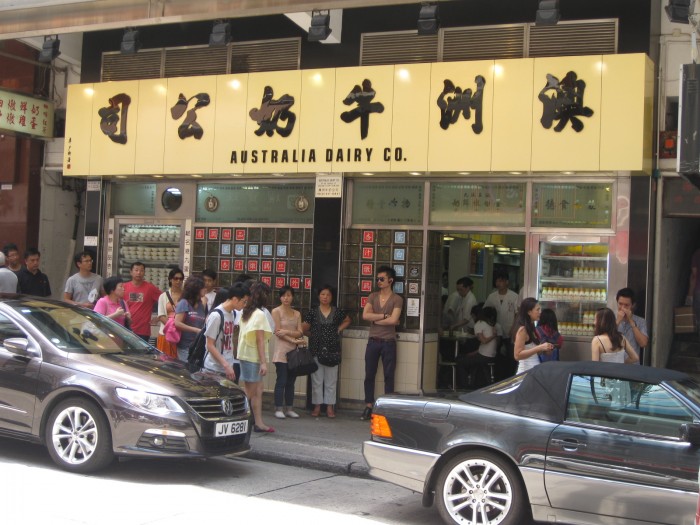 Image credit: Wikipedia
When you go to Hong Kong, your stomach is in for a treat! Pay a visit to the Australia Dairy Company for some delicious scrambled eggs, toast, milk tea and macaroni. Hong Kong cafes, or the cha chaan tengs which are in a league of their own as they serve cheap yet hearty breakfasts that warm your soul. For a unique dining experience, go over to Dim Sum Icon for adorable Gudetama or Kobitos dim sum dishes with a fun twist. Feel free to indulge and let your waistline run wild~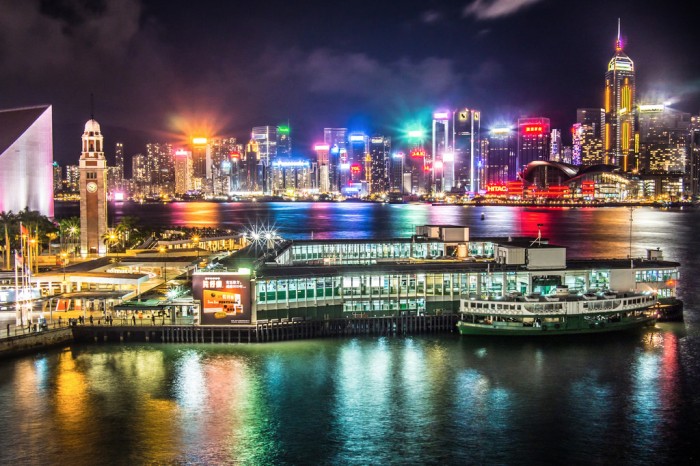 Image credit: Luftphilia
Tsim Sha Tsui is also another hotspot every tourist has to visit in Hong Kong. Explore Hong Kong's biggest shopping mall, Harbour City, as well as many other malls in the area like Heritage 1881, iSQUARE, The One, and K11. Besides being a shopping district and entertainment hub, Tsim Sha Tsui is also home to Victoria Harbour, which offers you a breathtaking panoramic view of Hong Kong's skyline. In the evening, you can even catch The Symphony of Lights, a spectacular 13-minute multimedia show that celebrates the diversity and energy of Hong Kong.
Pro-Tip: You definitely have to capture Hong Kong's scenic skyline from Victoria Harbour with mesmerizing colourful lights at night, and add it to your Instagram page!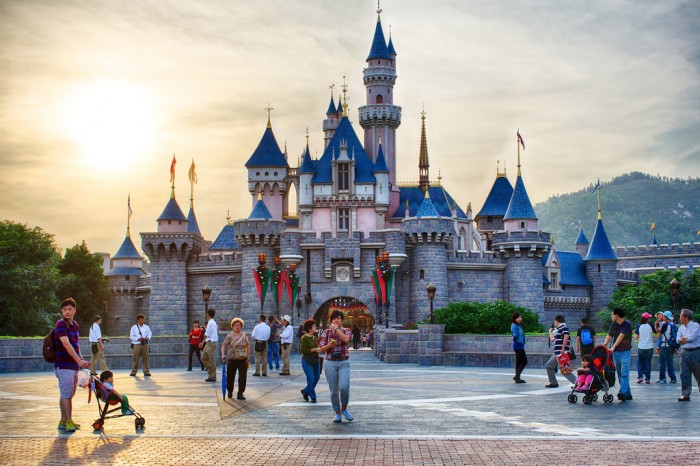 Image credit: Scott Cresswell
Of course…Hong Kong Disneyland is not to be missed! This fantasy theme park that brings out the inner child in everybody is a must visit for sure. After all, it is the happiest place on earth for a reason. Have tons of fun screaming your heart out on roller coasters, taking photos with Disney princesses, and munching on churros or popcorn. When night falls, feast your eyes on the magnificent display of fireworks that are bound to light up the sky.
Pro-Tip: To get Insta-worthy pictures, use a selfie stick to capture a panoramic view of the castle and majestic fireworks without the crowds!
Hop onto a Ngong Ping 360 cable car and escape the city by going to Lantau Island, Hong Kong's largest outlying island. With the Big Buddha and Po Lin Monastery, Wisdom Path, and beautiful beaches around, you will be able to embrace the serenity and calmness of the surroundings as you explore the island. Tai O, a small fishing village off Lantau Island, allows you to better understand the lives of fishermen who've built their houses on stilts for generations.
2. MACAU: AWESOME ACROBATICS AND YUMMY PORTUGUESE EGG TARTS
Time needed: 1 day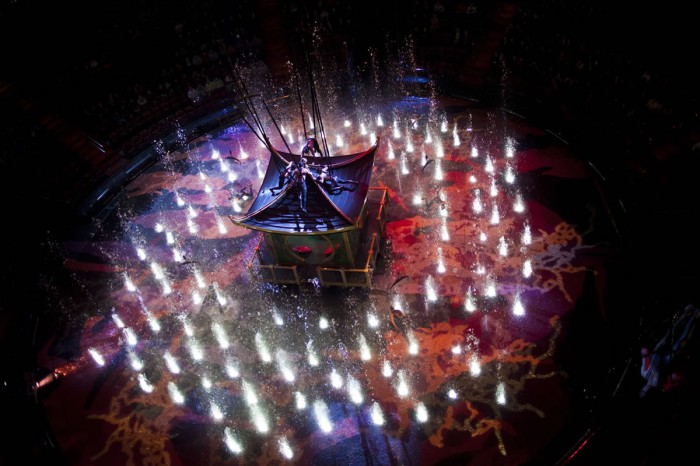 Image credit: House of Dancing Water
From Hong Kong, take a day trip out to Macau! Home to all the gold and glitzy glamour, Macau is the Asian version of Las Vegas with its numerous casinos. Be sure to book your tickets for the House of Dancing Water Show as soon as you arrive! An amazing acrobatic performance of intense choreography coupled with elaborate stage effects combining water fountains, this is one show that will BLOW. YOUR. MIND. Every cent spent on the ticket will be worth it, trust me.
Pro-Tip: You'd better be spamming photos during this performance, because every minute is not to be missed! Or better yet, impress your Insta followers with a cool Boomerang capture of the intricate water effects in this show.
Image credit: Wikimedia Commons
When you're hungry, head to Senado Square for all the local food products and the famous portuguese egg tarts! Once you have a bite of that delicious goodness, you won't be able to stop. Macau is also famous for its fragrant and chewy beef jerky, crab porridge, almond cookies and beef brisket noodles. Don't forget to visit the Ruins of St Paul's, Macau's most iconic landmark which is recognized as a UNESCO World Heritage Site. If you have time, and empty space in your stomach, go to Taipa Village for even more feasting! We highly recommend the famous pork chop bun from Tai Lei Lok Kei Bakery.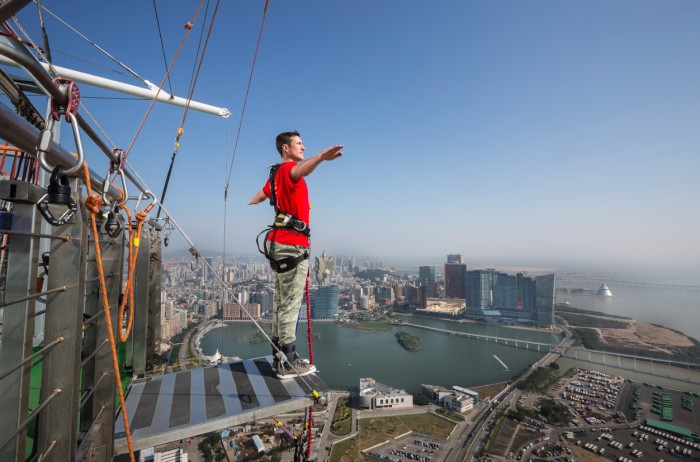 Image credit: Macau Tower
Calling all adrenaline seekers! Head over to the Macau Tower, and choose from a range of exciting activities, such as Skywalk, Skyjump, Bungee Jump or Tower Climb, all at dizzying heights. Definitely not for the faint-hearted, these once-in-a-lifetime experiences are a MUST TRY to strike them off your bucket list! As they say, why live on the edge when you can jump off?
Pro-Tip: This is a great spot to up your selfie game by taking a fearless selfie for Instagram and show the insane view from above!
3. TAIWAN: FLUFFY SHEEP AND NIGHT MARKETS
Time needed: 5 days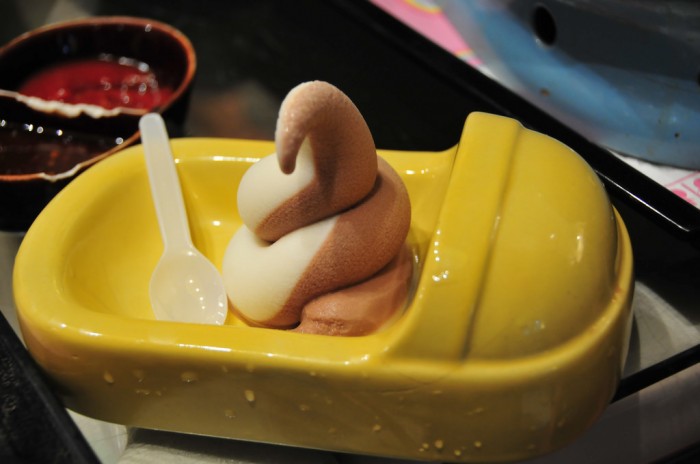 Image credit: Rinux
Aside from the usual favourites like Ximending and Shihlin Night Market, you've got to head down to one of the most unique restaurants ever. The Modern Toilet Restaurant is best known for their attention to detail and quirkiness, by presenting your food in miniature toilet bowls. Yes, toilet bowls! The restaurant's decor is also whimsical and colourful, where even the customers dine by sitting on actual toilet bowls with patterned covers for a wholesome experience.
Pro-Tip: Gross your friends out or make them lose their appetite when you upload a picture of your meal at the Modern Toilet Restaurant during meal time!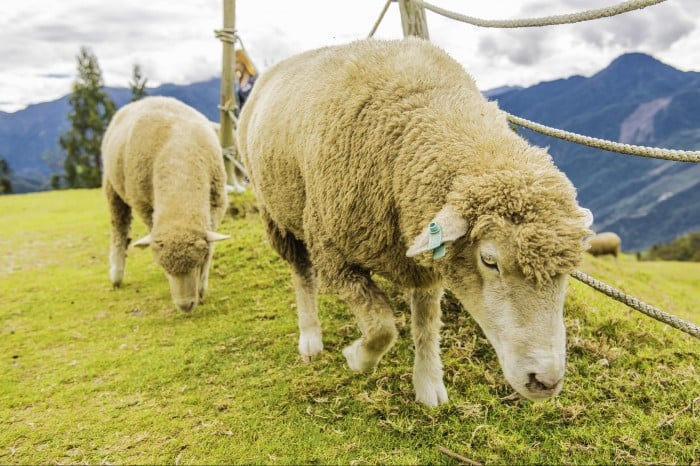 Image credit: Bryant Wong
A perfect escapade away from the hustle and bustle of city life, the Cingjing Farm is a lush and picturesque place with fresh air and endless greenery. The highlight of the trip would definitely be getting up close and personal with herds of adorable, fluffy sheep grazing on the land, coupled with azure skies and the refreshing breeze being atop a mountain. We challenge you to try grabbing a selfie with one of the sheep – it's not going to be an easy task for sure!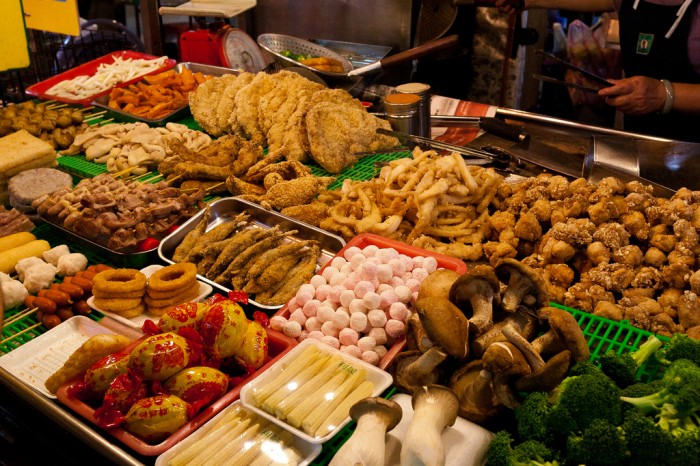 Image credit: Lian Chang
Shop till you drop for more apparel and accessories than you can handle at Wufenpu Clothing Shopping Outlet! I'm sure your luggage will be bursting with your fruitful shopping haul after this visit… Once you're hungry, skip over to Raohe Night Market, another highly raved about night market that you must visit because of the mouth-watering delicacies available, especially if your stomach is a bottomless pit. Have a taste of the juicy Taiwanese Lu Rou Fan, black pepper pork buns, cuttlefish skewers, stinky tofu, flaming beef cubes, steamed crabs, braised meats and more!
Pro-Tip: Get all your Insta followers hungry and jealous with pictures of all these delectable food that they can't taste but you can!
4. SEOUL: EAT SHOP PLAY ALL DAY
Time needed: 6 days
Image credit: Korea Tourism Organization
If you're an avid fan of Korean dramas or pretty/handsome idols, I bet you've been dying to visit Korea! Well, when you come to Korea, all you have to do is to eat, shop, and REPEAT. Aside from the usual tourist favourites like Myeongdong, Hongdae and Ewha Women's University Street, one of the best and affordable places to shop is at the Express Bus Terminal Underground Mall.
Don't underestimate the size of Korea's underground malls, because it will surely shock any first-timer to the country. The underground mall is MASSIVE, and stretches from one end to another in a straight line, filled with rows and rows of clothes, accessories, shoes, bags, beauty, and even home decor products. You can buy the most trendy and fashionable Korean apparels right here, and at really wallet-friendly prices too!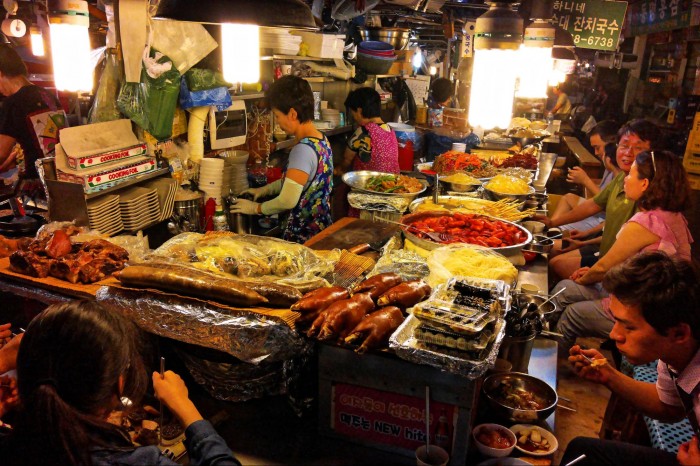 Image credit: Tongeron91
To have an authentic taste of Korean street food, you have to head to Gwangjang Market, one of the oldest traditional markets in Seoul. Feast on a variety of delicacies like chive pancakes, kimbap, live octopus, dumplings, stir-fried spicy rice cakes and more! I particularly like the bustling atmosphere of the market, where people are happily eating while conversing with the friendly ahjummas who cook and serve the finger-licking good street fare to us. The market instantly lights up with the warm atmosphere and the sounds of bubbly conversations that reverberate all around.
Pro-Tip: Grab pictures of the unique Korean delicacies at the market and pique the interest of  your friends via Instagram!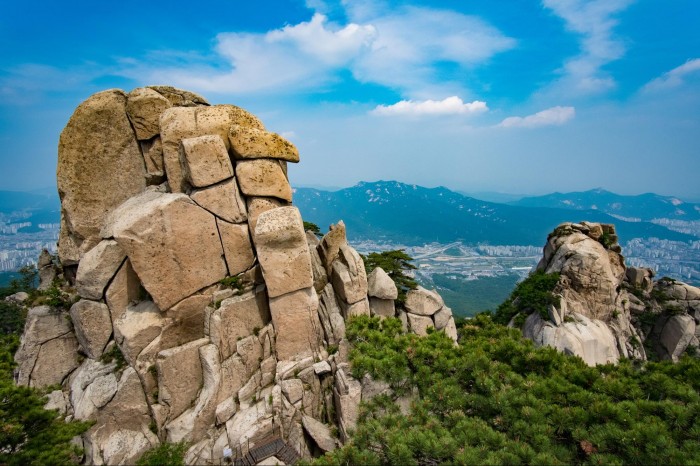 Image credit: Jaakko Lintula
To burn off all those calories you've gained, how about going for a hike at Bukhansan National Park? There are three peaks and hiking trails suited to hikers of all levels, so you don't have to worry. Besides, the national pastime for Koreans besides eating kimchi is said to be hiking. Koreans LOVE hiking, and even ahjummas and ahjussis come in droves all equipped with full hiking gear and colourful jackets, ready to tackle the mountain. So this is a perfect opportunity to immerse yourself in nature, get some exercise done, and converse with some local Koreans as well!
Pro-Tip: Please bring a thermos filled with any hot drink, as well as kimbap or dumplings along so you can enjoy the view from the summit with a satisfying meal!
5. TOKYO: OKONOMIYAKI AND RELAXING ONSENS
Time needed: 6 days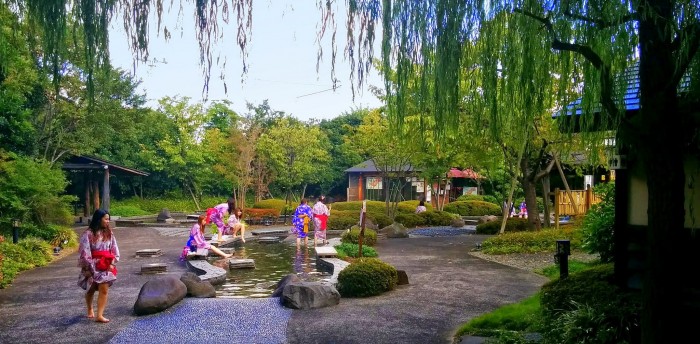 Image credit: Wikimedia Commons
We've finally reached our last destination! Aside from the famous Shibuya and Shinjuku districts, go off the beaten road by heading to Oedo Onsen Monogatari, an onsen theme park near Tokyo Bay. Get to experience 13 different types of baths and stroll around in patterned yukatas. You will be able to feel thoroughly refreshed and recharged after taking a relaxing dip! For those who like having a foot massage, they even have a fish bath for your feet where small fishes will eat away at your dead skin cells and leave you feeling ticklish.
Pro-Tip: Here's a perfect place to grab a selfie of yourself in a yukata, chilling at the onsen! Ah, that's the life.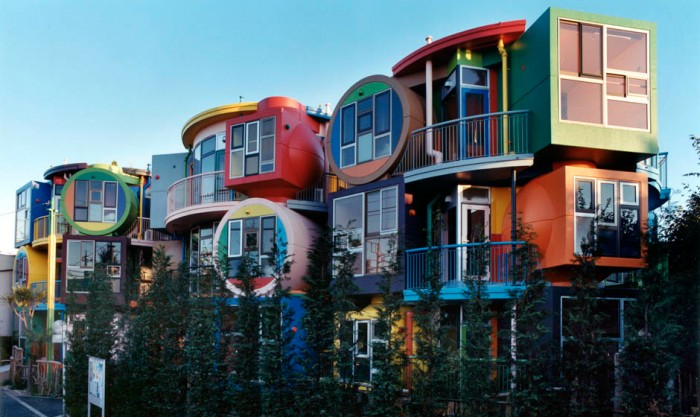 Image credit: Mitaka Reversible Destiny Lofts
When in Tokyo, be sure to take a tour of the Mitaka Reversible Destiny Lofts! Creatively conceptualised by designers Shusaku Arakawa and Madeline Gins, these unique apartments push the boundaries of how living spaces function. Besides its colourful facade, there are small lofts and larger spaces used for short-term or long-term stays. The open nature of these enclosed spaces creates a flow within the house and challenges the user to think out of the box. A truly interesting experience that you must not miss!
Pro-Tip: This colourful building is definitely an Insta-worthy backdrop for an impromptu photoshoot or OOTD shot!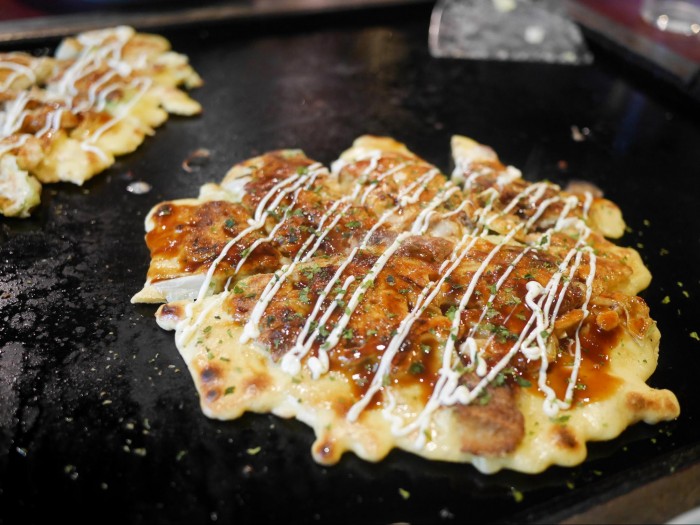 Image credit: Kevin Yank
When your stomach starts growling, you can go to Sometaro Okonomiyaki for a delicious meal! Sometaro Okonomiyaki has been in business since 1937. You will have a fun and authentic culinary experience while sitting around the okonomiyaki pan watching your food sizzle and cook. Also try out Ichiran for ramen, Katsukara for tonkatsu, Mentsu-dan for udon, Tsunahachi for tempura, Kyubey for sushi, and Hajimeya for yakitori.
Last Pro-Tip of the Day:
WHAT AN ADVENTURE! And you know what's the best part?
Singtel's ReadyRoam deal
now gives you 1GB across 11 popular countries over 30 days! That's right, so you can travel through Macau, Hong Kong, Taiwan, Korea and Japan without having to sign up for multiple roaming plans! Just ONE plan will keep you covered for a whole month, perfect for the globetrotting traveller.
Instagram your pictures on the go, check Google maps so you'll never get lost, and more! What else are you waiting for? Grab your Singtel's ReadyRoam deal now to Travel Bravely!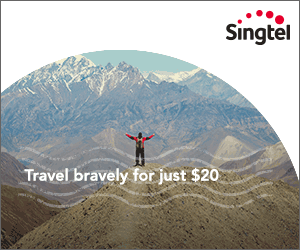 ---
Brought to you by Singtel.