Attention fellow foodies! If you haven't already heard, the annual Singapore Food Festival (SFF) is back in full swing once again.
Rooted in the theme of "Savour Singapore in Every Bite", the SFF has kicked off to a great start last weekend in various locations across Singapore. This festival will run till 29 July 2018. You can expect the event to be brimming with feasts, intriguing programmes and immersive experiences that exhibit Singapore's diverse offerings of culinary flavours. Look out for both familiar favourites and refreshing interpretations that will leave locals and foreign visitors alike hankering for more of Singapore's culinary gems!
Sample traditional classics: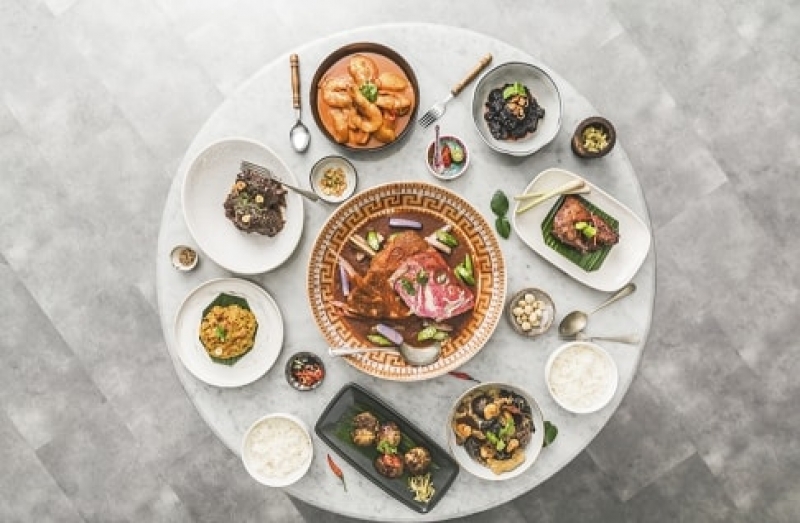 Don't fret if you've missed the annual STREAT event last week — there's still a bonanza of treasures for you to discover. The beloved 50 Cents Fest returns (28 – 29 July) where sumptuous delights can easily be found for half a dollar. Savour authentic Kerabu Bee Hoon (tossed rice vermicelli) and wash it down with a piping cup of Kopi Gu You (butter caramelised black coffee). While you're digging in, be entertained by acts such as Taxi Girl and traditional opera.
For anyone looking for a new place to dine, the Singapore Restaurant Festival is still going strong until 30 September. There will be more than 60 restaurant brands islandwide to bring you exceptional dining experiences such as Steamed Pork Patty with Salted Fish from Gold Leaf and Claypot Curry Fish Cheek from Straits Cafe.
With the launch of the SRF 2018 Rewards card, you can now earn stamps at any six participating restaurants and stand a chance to win attractive dining vouchers!
Kueh enthusiasts can sign up for the remaining two workshops in BACK TO BASICS – Savour Your Heritage Kuehs by Rainbow Lapis. Learn how to make a traditional kueh and discover more about these heritage confections.
For those in search of more modern culinary delights:
Hungry for the likes of Laksa Seafood Paella or some Har Cheong spring chicken served with herb potato and spinach? Celebrating Singapore Food Festival at AccorHotels by Accorhotels should be right up your alley! Enjoy a line-up of sumptuous dishes which pay tribute to local flavours at each participating Accorhotels property. If not, drool over the Park Bench Deli x Rumah Makan Minang collaborations happening on 29 July, featuring Minang's well-loved classics like beef rendang and nasi padang – in a sandwich.
And loyal fans of the big Mac, you must have seen the new Ha Ha Cheong Gai Chicken Burgers, Chicken Drumlets and the (in)famous D24 Durian McFlurry, right? What better way to pay homage to local flavours than sampling them in the form of an affordable Asian-fusion twist as part of the Love Local Campaign?
For both foodies and art lovers:
Also, do remember to catch this performance: A Samsui Love Story: A Food & Dance Affair by Project Plait and Tung Lok. Dine through a five-course modern Singaporean blend while embarking on a sensory journey with a contemporary dance showcase. This performance tells the story of a pair of star-crossed lovers, the Samsui woman and the Satay man, set in the darkness of war-torn Singapore in the late 1930s.
Catch them this week between 17-20 July, 7:30pm at Caldwell House Alcove.
If a five-course dining experience is a little too luxurious for you, then settle down at the Screening Room. This July, film lovers and foodies can now unite whilst relishing the flavours of popular local dishes such as crispy soft shell chilli crab ragu or hawker-style BBQ chicken wings. Attend food film screenings such as Eat Drink Man Woman as well as Like Water for Chocolate while you're tucking in.
Check out Celebrating all-time favourite Food Films and Local Cuisine from now until 29 July.
Who said beer and yoga couldn't be friends? Beer Yoga & Citylights by District 1 Yoga has put together a strangely liberating experience of yoga and beer, in an amalgamation of these two ancient spiritual therapies. Chill out after an invigorating bridge pose with a limited-edition SFF-branded beer in hand at Clifford Square during the next two Fridays (20 & 27 July).
For hungry tummies in search of an adrenaline rush:
The airport might be an unlikely place for foodies to frequent, but with the LoveSG Food Trail in Changi Airport event, you'll get more than just mouth-watering flavours. Go on a trail to navigate a scrumptious line-up of SFF exclusive dishes and sampling activations. Participating outlets include TWG Tea Boutique (T4), Asia Favourites (T2), Fragrance (T3) and Black Barista Coffee World (T2).
Race against time and other challengers to complete the trail with 1) a minimum spending of S$200 in a single receipt and 2) a purchase of at least one LoveSG product. This entitles you to redeem limited-edition complimentary Singapore-themed souvenirs like travel adaptors, umbrellas and adorable plushies!
For those who absolutely love BBQ delights:
Sentosa Grillfest is among one of the top favourites to return for this year's SFF, where Siloso Beach will be transformed into a 1km food street. Bop to trendy beats and sway with the soothing sea breeze as you sink those choppers into local BBQ delights at the Sapphire Pavilion. Pick out your desired raw ingredients and have them prepared on the spot for a fresh meal like never before.
And if you're itching to bring back the curry movement, usher in Curry Day 2018 with Old Chang Kee! Dig into a smattering of delectable curry dishes and snacks including curry puffs, curry buns and curry chicken, as well as participate in an exciting range of activities such as curry cooking demonstrations and even spice art lessons for the younger crowd. Be sure to look out for the special curry puff that Old Chang Kee will be rolling out in conjunction with SFF 2018!
The SFF is also about the celebration of different cultures, so why not hop over to A Taste of Eurasian Heritage, where Chef Quentin brings mouth-watering Eurasian culinary curations to the table after a tour of the Eurasian Heritage Centre. Think: prawn bostador and meaty cutlets with steamed rice and sambal belachan! There will also be a special sale of Eurasian craftwork made from crocheting, knitting and tatting, and a photobooth.
Bonus:
You can't say you've been to a festival without festival-exclusive merchandise! Festival-goers can now enjoy limited-edition SFF branded beers and waters produced in collaboration with local craft brewery, Trouble Brewing.
If you've caught yourself with longing tummy rumbles, it's time to mark your calendars for a gastronomic adventure featuring the many facets of the Singaporean cuisine. Whether it's a fine-dining experience or an economical trawl through the 50 Cents Fest, SFF has got it all.
---
Information extracted from a press release issued by Edelman for Singapore Food Festival.