Looking for the perfect destination for your next getaway? With the weakening exchange rate of the Australian dollar, heading Down Under is a perfect choice! There's plenty to explore from the Great Barrier Reef to the Great Ocean Road and adorable wildlife like koalas and quokkas. But apart from popular destinations like Sydney, Melbourne, and Perth, did you know that Darwin offers the ideal balance of sun, sand, culture, and fun for all travellers too?
From taking part in a beer can regatta – yes, you heard that right – to eyeballing the ferocious saltwater crocodile from the safety of the "Cage of Death" and exploring sunset markets, a trip to Darwin will be full of memorable experiences that will stay with you forever. We've curated a power-packed 5D4N itinerary for you to explore Darwin and the Top End with, so you can skip all the hassle of planning and research. Grab your summer clothes, and get ready to plunge headfirst into a fun-filled adventure!
To make things even sweeter, you can enjoy
all-in return fares to Darwin from just S$399!
Isn't that just absolutely tempting? Besides, Darwin is the closest Australian city from Singapore – a mere 4.5 hour flight away! That's just incredibly convenient especially if you're looking for just a short getaway.
What's more, SilkAir is the only full service carrier to fly to Darwin with 4 weekly flights, so you can enjoy your journey there without having to compromise on comfort and style. There's no time to lose.
Day 1: Darwin Waterfront Precinct & Mindil Beach Sunset Market
Welcome to Darwin! We're sure you must be well-rested after that short 4.5 hour flight from Singapore, so why not channel those positive vibes into a laidback day at Darwin Waterfront Precinct? Go for a well-deserved dip at the refreshing wave lagoon, or simply enjoy a good sun tanning session under the Australian sun, with a good book and tropical smoothies in hand.
On Thursdays and Sundays from April to October, visit Mindil Beach Sunset Markets along Mindil Beach, offering seemingly endless selections of food, beverage, and novel handicraft stalls lining the beach. If you're already missing Asian food, have no fear. The food stalls offer a range of cuisines from all over the world, including the mouthwatering Indian butter chicken curry, savoury Vietnamese spring rolls, and even Sri Lankan cuisine!
Alternatively, slurp up some freshly shucked oysters, and wash them down with a pint of good old beer. Once you're done stuffing your bellies, browse through an array of stalls selling artisanal soaps, handcrafted boho jewellry, leather goods, Pinterest-worthy furniture, and even collector's items such as crocodile skulls!
And of course, don't get too carried away by shopping – catch the breathtaking sunset at Mindil Beach and watch as the sky is lit ablaze with golden hues in the horizon.
Day 2: Explore Darwin City
If you're up for a sensational sight-seeing and historical tour of Darwin, get on board the Darwin hop-on hop-off bus tour for a quick and fuss-free guided tour of this magnificent city! The bus takes you through twelve must-see spots in Darwin.
We recommend checking out the Crocosaurus Cave, and hop into the Cage of Death to experience the thrill of coming face-to-face with a five meter long saltwater crocodile. If that's not enough to get the adrenaline coursing through your veins, keepers will feed the hungry crocodile while you're in the cage – just so you can get a closer look at their big, sharp teeth. You can visit the Crocosaurus Cove website for more details and ticket prices for this exciting yet terrifying experience!
Once you've safely completed that death-defying experience, hop back onto back to the Darwin Bus and scoot on over to the Museum and Art Gallery of the Northern Territory (MAGNT) to calm your heart rate down. Visit Sweetheart, an exhibition in loving memory of a massive crocodile that spanned more than five meters long! Or head over to Transformations, where you trace the sweet beginnings of evolution from the very moment our solar system was created, to the most majestic animals that roamed the region. Check out the MAGNT website for the latest updates on any special exhibitions too!
If you decide on taking the afternoon Darwin Bus that runs from 12.30pm – 4.15pm, you have to make a stop at the Darwin Military Museum which is located at East Point Reserve. Be prepared to witness a glimpse of the World War II bombing in Darwin, as you watch a fascinating short film that uses actual footage of Darwin's demise during the bomb attacks. Walk through lush gardens as you marvel at powerful military artillery and vehicles, and venture beneath the gun emplacement deck for a glimpse of some Vietnam War artifacts, weaponry, and photographs. If this doesn't get your inner military geek riled up, we don't know what will.
Day 3: Jumping Crocodile Cruise and Kakadu National Park
If you haven't gotten enough of majestic crocodiles, make a pitstop along the Adelaide River and hop on board a Jumping Crocodile cruise to spot these elusive wild creatures launch themselves at their prey. Remember to keep your hands and feet in the boat at all times, and get your cameras ready to snap this iconic moment! Watch in awe as they open their large jaws and chomp away on that thick slab of meat ferociously – it's gone in an instant.
Can't wait to witness this incredible scene with your very own eyes? Then don't miss
all-in return fares to Darwin via SilkAir from just S$399!
Darwin is just a mere 4.5 hour flight away from Singapore, and that's plenty to explore.
What's more, SilkAir is the only full service carrier to fly to Darwin with 4 weekly flights, so you can enjoy your journey there without having to compromise on comfort and style.
Continue over to Kakadu National Park, Australia's largest national park, for a multitude of activities that will please all nature lovers! This national park is well known for ancient Aboriginal rock art, which showcases the rich Aboriginal history and the close relationship that the Bininj and Mungguys shared with their land and spiritual heritage. The rock paintings date back to 20,000 years ago; depicting the Aboriginal lifestyle and their stories, including objects they used, animals they hunted, and activities they did. Run your fingertips against these intricately carved rocks as you take in their prehistoric beauty. Pop by the Warradjan Aboriginal Cultural Center to find out more about the Aborigines from the very people themselves!
Avid swimmers will feel right at home in one of the seven natural water holes and waterfalls, such as the Gunlom, Jim Jim Falls and Maguk in the National Park. The Gunlom Plunge pool in particular, is an idyllic, natural infinity pool that boasts resplendent views and crystal clear waters. If you're up for a hike that will bring you to gorgeous falls many overlook, go on a four-hour trek from Jim Jim Falls to see Barrk Marlam. Though the journey up is rather steep, you will be rewarded with a refreshing swim in a deserted paradise. The sweeping vistas from this vantage point are simply breathtaking, and you will feel on top of the world as if the rest of the world has been left far behind you.
Other popular routes also include the Nawurlandja Lookout Walk, where you'll be greeted with sweeping vistas at the peak. Offering splendid views across Anbangbang Billabong to Burrungkuy (Nourlangie Rock) and the Arnhem Land escarpment, no matter which time of the year you visit, you are bound to be blown away by this impressive sight. It is an ideal place to chill at for a peaceful moment, and just take in the sheer beauty of Kakadu's grand horizon. You can even listen to kookaburras and cockatoos at sunset as they settle in for the night.
Retreat to Cooinda Lodge to spend the night after a long day of exploring. Treat yourself to an alfresco dining experience at the Barra Bistro, where you can find tantalising dishes such as barramundi and chargrilled buffalo sausages. For those who would like to take their meal options up a notch, go for the tender kangaroo fillet, or the smoked and marinated crocodile meat!
Day 4: Yellow Water Cruise and Nitmiluk National Park
Get up bright and early in the morning to catch the sunrise, then get on board a morning cruise that will take you along the remarkable palm-fringed Yellow Water Billabong. Journey deep into the wetlands as you watch the calm morning burst to life with sightings of saltwater crocodiles, wild horses, buffalos, and a diversity of birds including the magpie geese, jabirus, and the whistling kites.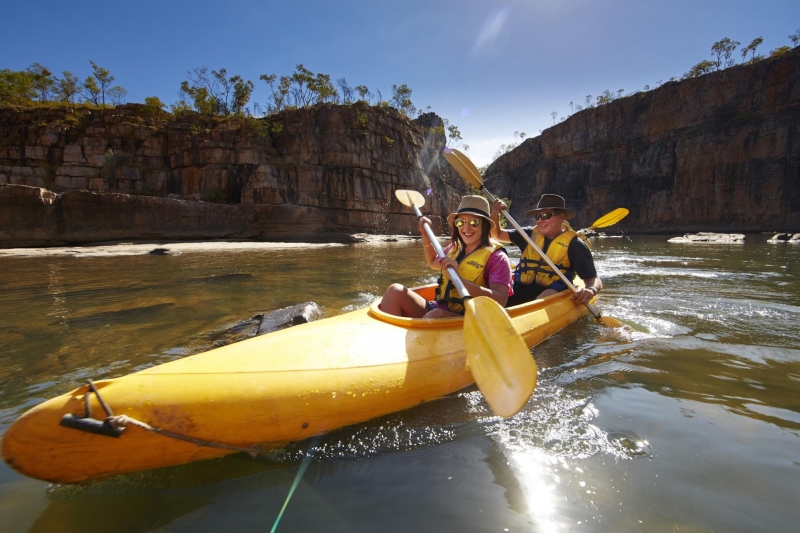 After breakfast, start making your way to the Nitmiluk National Park in Katherine, home to the magnificent Nitmiluk (Katherine) Gorge. Snap as many photos as you can here, and feast your eyes on this beautiful attraction. You can either catch a cruise, take a hike, or go on an exhilarating helicopter ride as you glide through the Nitmiluk Gorge. If you're up for a little workout, rent a canoe and paddle through the gorges instead!
If time permits, head over to Mataranka Thermal Pool and soak in the hot springs to relieve your muscles and recharge from the last few adventure-packed days, before returning to Darwin for the night.
With so many gorgeous sights and secret waterholes in the National Parks around Darwin, aren't you just tempted to fly there right now? Then don't miss
all-in return fares to Darwin via SilkAir from just S$399!
Darwin is just a mere 4.5-hour flight away from Singapore, so it's incredibly convenient for a short getaway.
What's more, SilkAir is the only full-service carrier to fly to Darwin with 4 weekly flights, so you can enjoy your journey there without having to compromise on comfort and style.
Day 5: Litchfield National Park & Sunset Dinner Cruise
On your last day in Darwin, take a quick 90 minute drive to the Litchfield National Park, nature's very own stunning water theme park. Saunter through ever-changing landscapes as you trudge deep into the Litchfield National Park; stumble across majestic cascading waterfalls – Florence Falls and Wangi Falls – that will stop you in your tracks and beckon you to plunge into the crystal clear water holes; or seek refuge from the unforgiving Australian summer under the lush rainforest canopy.
At Litchfield National Park, you cannot miss out on the larger-than-life termite mounds! It's what many deem as the most exciting sight to behold in this national park with over hundreds of these termite mounds, some proudly standing over two meters tall! These genius little architects build their mounds in a way to minimise their exposure to the sun, so as to keep their homes cooling throughout the day. Now if that isn't the perfect showmanship of how clever these creatures are, we don't know what is!
Head back to Darwin for your final dinner, replete with a spectacular view. Soak in the mesmerising sunset as you cruise along the Darwin Harbour on board a Darwin Harbour Sunset Dinner Cruise. The cruise offers a 3 course dinner that is served buffet style. The best thing about this dinner cruise is that the dishes also cater toward vegetarians and gluten free guests! If you're lucky, you might even spot dolphins, turtles and even dugongs while on the dinner cruise. What a treat for your last night in Darwin!
BONUS: FESTIVALS IN DARWIN
Beer Can Regatta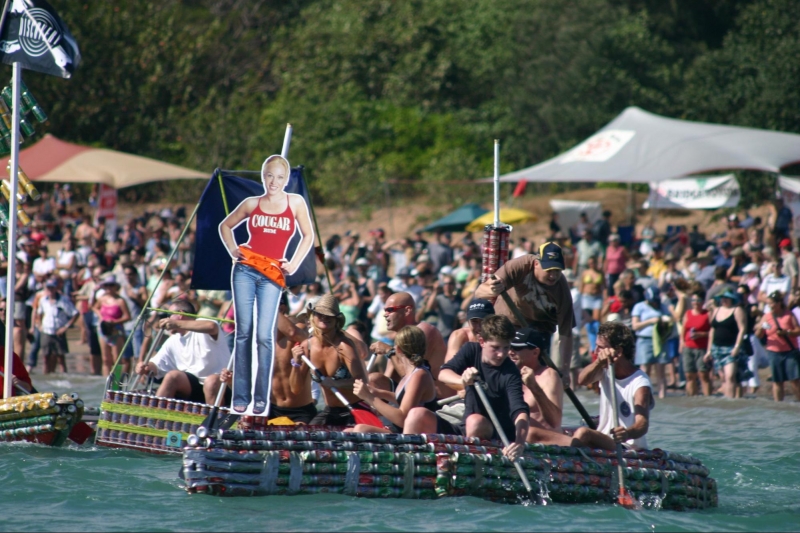 In a bid to recycle drink cans and breathe new life into them, the Darwin Lion's Club's beer can regatta returns this May with a bang! The event will see people competing in fun categories such as "best soft drink can boat", "best beer can boat", and thong (slipper) throwing. The only catch is that you have to either collect your own beer cans, or you can opt to purchase 1,000 cans of your liking for a small fee of AUD 100 from the recycling centers at Pinelands, and then proceed to build your own boat with the cans! Alternatively, you can also use milk cartons to build your noble steed – just make sure it floats!
This year's beer can regatta will happen on 22nd July 2018, at the Mindil Beach, from 10am to 5pm. So if you want to take part in this quirky festival, you better start packing your bags and book that round-trip SilkAir flight from just S$399 to Darwin right now.
Darwin Festival

The Darwin Festival is a full-fledged 18 day long festival, packed with free outdoor events, amazing music, theater, dance, and sensational food. What started as a humble festival parade to bring the community together has since come a long way, boasting international acts who proudly grace this event. If you're looking for a quintessential bustling and vibrant festival, then this is the place you have to be. Chill along the large communal tables as you make new friends and share about the shows you've seen, while indulging in Darwin's legendary Asian food spread.  
The Darwin Festival will happen from 9 – 26 August 2018 at the Frog Hollow Center for the Arts. Since there's still a couple months to go before the festival, you won't have any excuse to sit this one out!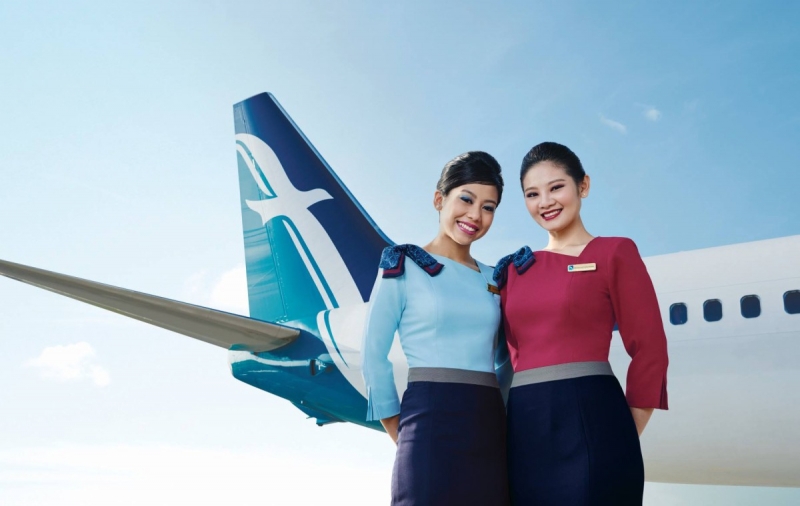 You can't participate in these cool festivals unless you're in Darwin! So hurry and book your flight tickets now. SilkAir is the only full service carrier that flies to Darwin four times weekly, from just S$399 for a round-trip! Plus, it's just a mere 4.5 hour flight away from Singapore, which makes it so accessible for an awesome vacation Down Under.
The lesser travelled region of Darwin and Top End is one that deserves much more love from travellers heading to Australia. So remember, if you're ever planning a trip to the land of kangaroos and crocodiles, pop by Darwin and the Top End to discover the Northern Territory instead. The adventure of a lifetime awaits!
---
Brought to you by SilkAir and Tourism Northern Territory (Australia).