If there's one thing the quaint little town of Cairns is known for, it is definitely its status as the gateway to the Great Barrier Reef. Cairns is not just all about the Great Barrier Reef though, there is so much more to explore while you're there! From exploring a World Heritage rainforest to ziplining above massive crocodiles, Cairns is full of highlight-worthy experiences that guarantee a vacation unlike any other.
Did you know that Cairns is not only for divers or water babies after the Great Barrier Reef? It is a great destination for the ultimate mind and body detox too. Whether you're seeking some family-friendly fun, travelling with your best friends, or enjoying a romantic vacation with your partner, Cairns has something for everyone. Keep reading to discover the beauty and diversity that Cairns has to offer!
For Families: Escape The City & Immerse in Nature's Beauty
1. Expedition to the Great Barrier Reef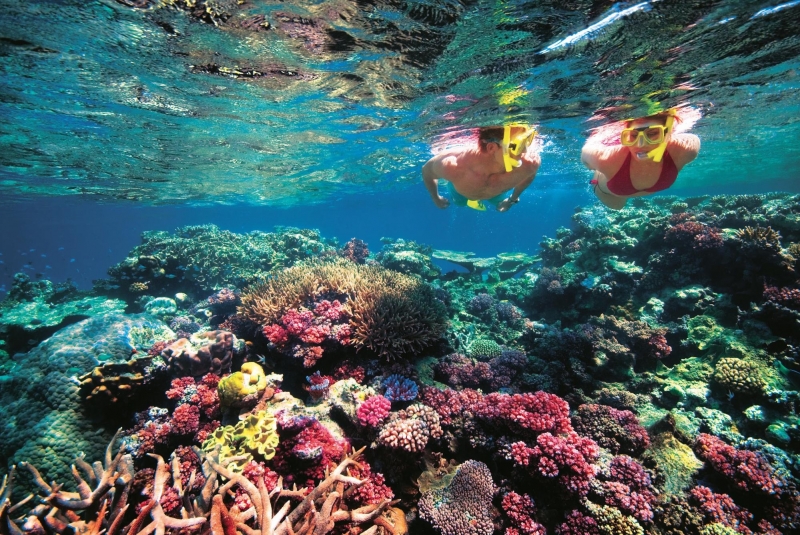 A trip to Cairns is not complete without exploring Australia's national treasure – the Great Barrier Reef. The world's largest coral reef is a breathtaking sight to behold, no matter how much you're used to marvelling at Mother Nature's remarkable creations. And what better way to explore this than with your loved ones?
Exploring this underwater world of technicolour that spans over 3,000 reef systems would definitely be a great option for a dose of family fun! Chance upon hundreds of varieties of corals, giant clams, colourful reef fishes and even sea turtles as you snorkel through the crystalline turquoise waters.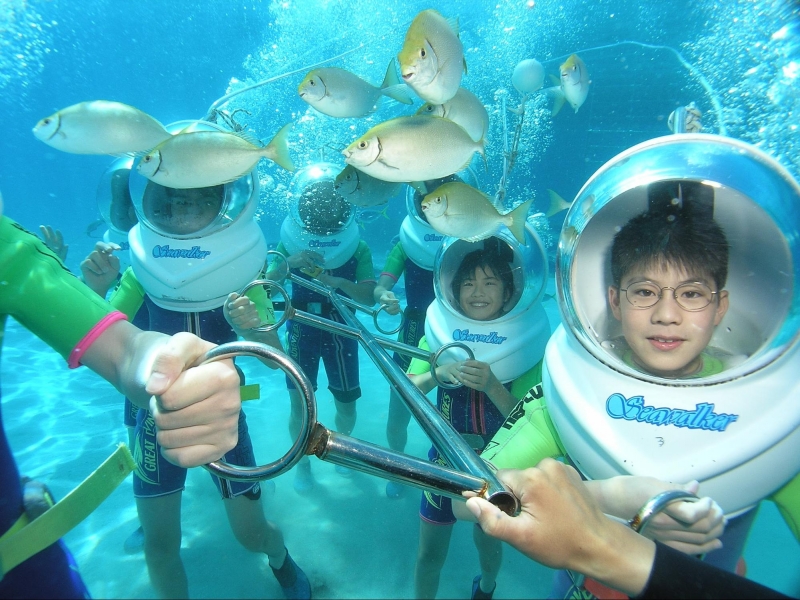 Older parents or young children don't have to worry about their swimming capabilities as there are glass-bottomed boats and semi-submersibles available to tour the massive coral reef! Try out the Seawalker experience where you'll put on underwater helmets and be guided along a route on the seabed while surrounding yourself with coral forms in all kinds of psychedelic colours. Don't forget to pack your underwater camera and be prepared to get hypnotised!
2. Enjoy a bird's eye view of Barron Gorge National Park
An adventurous trip to explore Australia's World Heritage rainforest doesn't get any better than hopping onto one of Skyrail Rainforest Cableway's gondolas and taking in the stunning panoramic view of Barron Gorge National Park. Plus, gondolas are the perfect size for fitting in the whole family! The glass-bottomed gondolas will certainly add more excitement and thrill to your ride as you gaze straight down into the verdant forest canopy.
Take the opportunity to learn more about this preserved forested area during the two stopovers at Red Peak and Barron Falls Stations, where there will be guided tours through the tropical rainforest. Get ready to be dazzled by the grandeur of Barron Gorge and Barron Falls!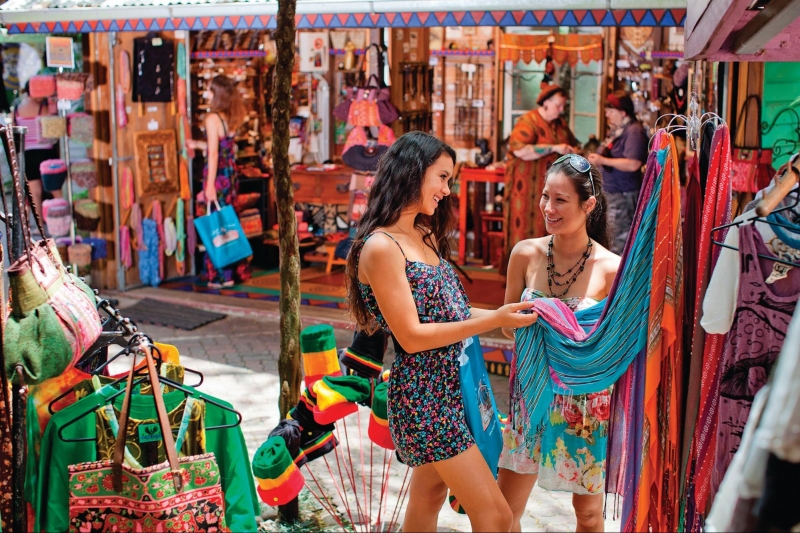 Don't forget to alight at Kuranda Terminal for an indulgent shopping spree! This is the perfect time for some mother-daughter bonding, as you pick out unique Aussie souvenirs, vibrant dresses, and authentic indigenous crafts at Kuranda Heritage Markets. Next, stroll down to the Kuranda Koala Gardens to get up close and cuddle with Australia's iconic fluffballs! We're sure the young kids will absolutely love them. But koalas aren't the only native animals you'll be visiting – you'll also get to meet wallabies, kangaroos, wombats and saltwater crocodiles too!

If you're feeling peckish, drop by Frogs Restaurant in Kuranda for some impressive curries. Accompanied by an array of red and white wines, this restaurant also offers a taste of kangaroo, emu and even saltwater crocodile meat! It's going to be an unforgettable family meal for sure.
3. Explore Kuranda's Rainforestation Nature Park
What better way to learn about Australia's natural landscapes and native culture than journeying through Kuranda's Rainforestation Nature Park? Parents, this is also a great way to tear the kids away from the electronic devices they fawn over so much and experience interesting lessons in the real world instead! Traverse the park with Army Duck Rainforest Tours, and hop onto the amphibious World War II Army Duck to explore the jungle. Your informed host will guide you through land and water to learn about the variety of flora and fauna that inhabit the region.
The entire family will certainly be fascinated by the Pamagirri Aboriginal Dance Show and get to learn about the ways of the Australian Aboriginal natives. Hosted by the Rainforestation National Park itself, this indigenous adventure will bring you on a Dreamtime Walk where you will learn the customary practices, strong beliefs and ancient tribal implements that were, and some of which are still, used by the Aboriginal people. Try your hand at boomerang-throwing, spear-hunting and playing their unique instrument – didgeridoos! These fun activities will certainly delight the kids to no end.
For Adrenaline Junkies: Exciting Activities Unlike Any Other
1. Zipline above saltwater crocodiles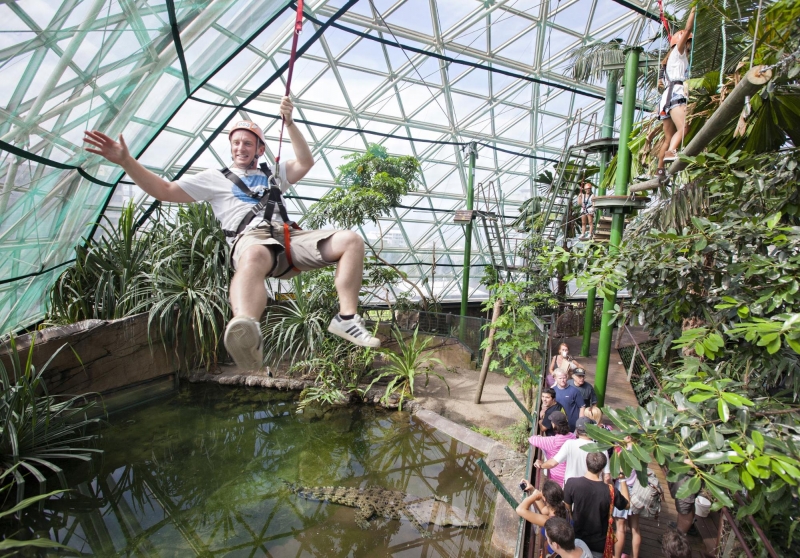 Do you love the feeling of adrenaline coursing through your veins? Cairns isn't just about trekking through forests on land and swimming amongst corals at sea. The town also offers thrilling activities that adventurous souls will love! Get your much-needed dose of thrills at The Cairns Zoom and Wildlife Dome, the world's first Challenge Ropes Course in a wildlife immersion enclosure!
Offering two difficulty levels in Mid-Zoom and Hi-Zoom, the whole course entails over 50 features of zip lines and crossings. The Hi-Zoom even includes a zip line that catapults you across the top of Goliath, a majestic 4-metre long saltwater crocodile! Crikey! If that doesn't get your heart thumping and adrenaline rushing, what will? This is surely a one-of-a-kind experience that shouldn't be missed!
Besides, you'll also get to dive into a world of rainbow-coloured birds at the Rainforest Aviary and be dazzled by these birds from the Wet Tropics as they fly freely above and around you! You'll also get to interact with animals such as turtles, pythons, freshwater crocodiles, curlews, bettongs, frogmouths, and kookaburras.
2. Get a different perspective of the Great Barrier Reef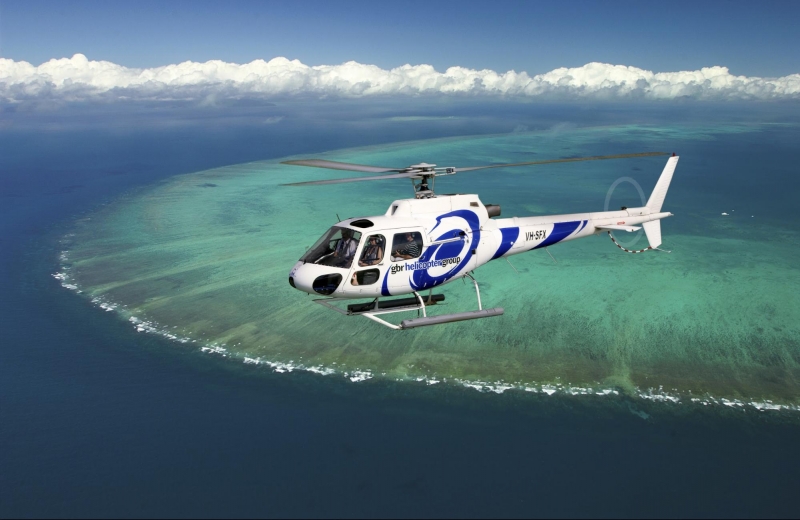 Although cruises, snorkels and dives are indeed the more popular routes to explore the crowning jewel of Cairns, they cannot beat the thrill and stunning sight of the Great Barrier Reef when looking down from a helicopter. Besides, what else can beat the incredible feeling of flying, hundreds of metres above the ground?
Hop aboard a chopper and be spellbound by the aerial view of the world's largest coral reef bed! The euphoria you experience will be indescribable. Perfect for adventurous souls, this is an experience to cross off your bucket list.
For Explorers: Venture beyond Cairns and head to Port Douglas!
1. Discover the jewels of Port Douglas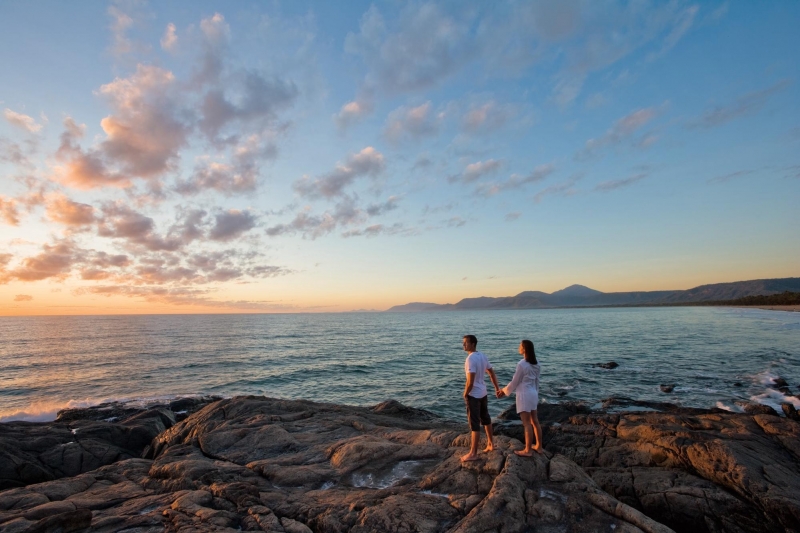 Looking to explore more than what Cairns has to offer? Port Douglas is an hour's drive up north from Cairns, via a coastal route surrounded by lush forest foliage and the Coral Sea. With its seductive climate and speckled stunning shoreline, this quieter neighbour of Cairns is a sophisticated town that beckons! For couples who are on a self-drive road trip, it's the perfect destination for you. Plus, it's so convenient to get around Port Douglas via car.
Head to the tropical paradise of 4 Mile Beach where you'll be able to swim in the crystal clear waters or take a romantic, languid stroll down the beach. Sink your toes into the soft golden sand, watch the ebb and flow of the waves as they kiss the shore, and be refreshed by the gentle sea breeze as it caresses your face. Diving and snorkelling tours to the Great Barrier Reef are also available.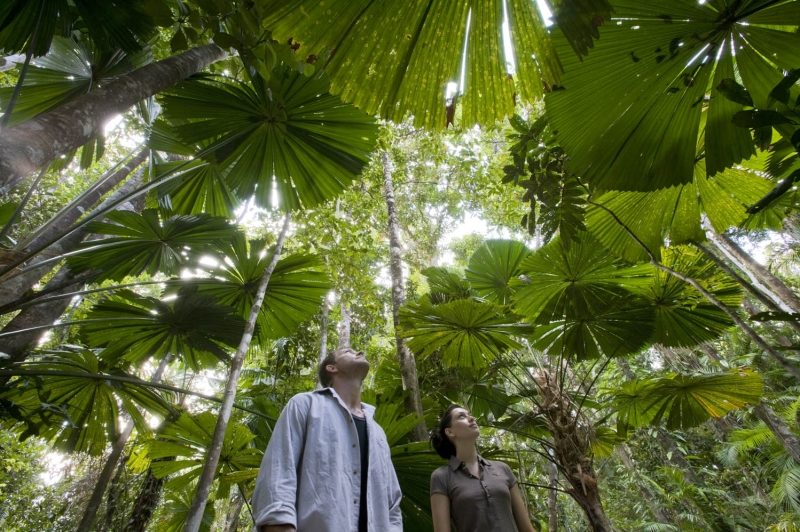 Next, delve into the pristine hinterlands of Port Douglas with the Daintree Rainforest. A 1.5-hour drive away from 4 Mile Beach, you'll come across incredible floras, remarkable faunas (even Cassowaries!) and stunning landscapes right here, such as the Cooper Creek and Mossman Gorge! Snap some great photos together as you explore the rainforest.
You can explore the grounds using various methods, including safari trips, hiking and mountain biking. Don't miss out on a horse riding adventure as well, as you trot your horse down a trail in Cape Tribulation, the only place on Earth where the two World Heritage sites, Great Barrier Reef and the Daintree Rainforest meet. Cool, huh!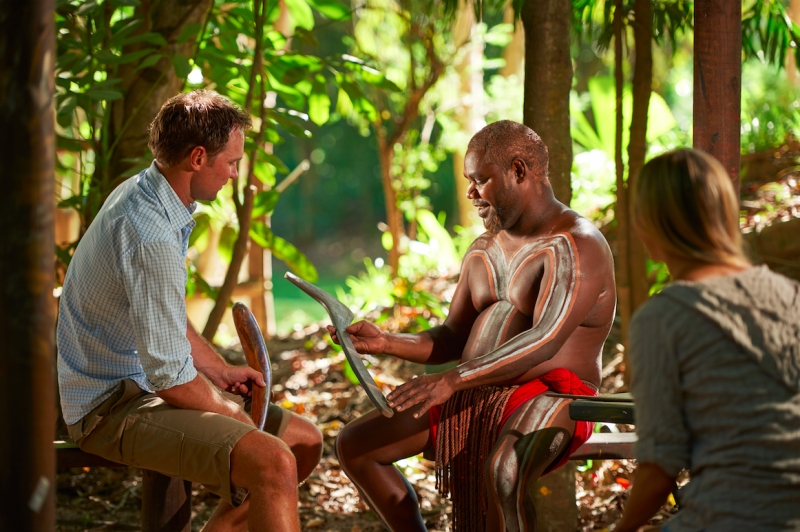 A trip Down Under is incomplete without interacting with the Aboriginals and learning about their rich history. As such, when in Port Douglas, don't miss the chance to immerse yourselves in the culture of the Kuku Yalanji. Take part in an indigenous tour and learn about the traditions and spectacular past of this 4000-year-old tribe from the Mossman rainforest!
Apart from being a cultural hotspot and offering a plethora of nature-based activities, Port Douglas is also an upmarket town with dozens of shopping avenues and eating spots. The best part about being on a self-drive road trip is that you get the choice to go anywhere you want to, anytime. Shopaholics, feel free to shop to your heart's content at Mossman Markets and the Port Douglas Sunday Market. Treat yourselves to a much-deserved spa session as well to revitalise and rejuvenate.
2. Meet Australia's wildlife at Hartley's Crocodile Adventures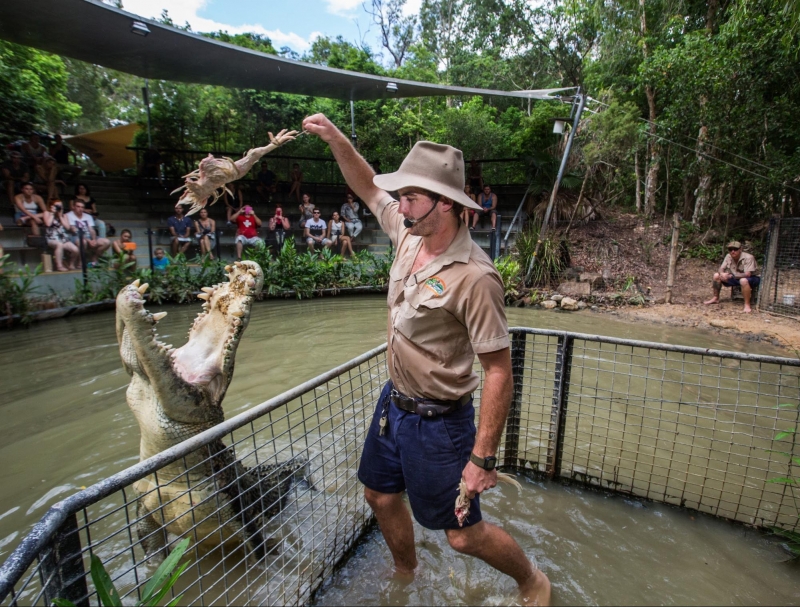 Crocodiles are no doubt one of Australia's iconic animals (thanks to Steve Irwin!). If you've always been fascinated by these strong and majestic animals, make a beeline for Hartley's Crocodile Adventures. Decked with a 2,100m long boardwalk and pathways trailing through the park, you'll not only get to walk above crocodile-infested waters but also get to meet other residents, such as snakes, cassowaries, koalas, wallabies and more.  
But the main highlight of the wildlife park is none other than its crocodile feeding show! How's that for a unique experience outside of Cairns? Watch closely as the crocodile handlers tease them with bait and be awestruck as they leap high up in the air to catch their feed. A handful of lucky visitors can even try feeding the crocs themselves as well (under the guidance of a handler, of course!).
All in all, the small coastal town of Cairns is not to be underestimated. Brimming with natural wonders, thrilling adventures and cultural insights, this Australian destination has so much more hidden besides being the ultimate gateway to the Great Barrier Reef. The trip of your lifetime awaits!
---
Brought to you by Tourism and Events Queensland & SilkAir