Seattle is best known for housing global tech giants Amazon and Microsoft, but its citizens prefer to embrace their home as the hippie-grungy central of the United States' West Coast. After all, Nirvana and Jimi Hendrix wrote some of their most iconic tunes in the Emerald City.
It's really not hard to see why the city has inspired some of the most beloved music in history. Seattle is a treasure trove of beautiful sights, especially for travellers looking for a picture-perfect holiday. A delightful union of natural and man-made beauty, the sprucing concrete jungle is nestled among the most beautiful natural wonders the Pacific Northwest has to offer. Whichever look you prefer, Seattle's surely got an Instagram-worthy view to show of it.
Thinking of putting Seattle on your travel radar for 2019? We've compiled some of the best spots to meet all your feed goals for the new year.
Explore the picture-perfect city of Seattle with
Singapore Airlines' non-stop flight to Seattle, commencing from 3 September 2019.
On the world's most awarded airline, you can enjoy a wide range of 1,800 in-flight entertainment options to keep you occupied throughout the 14hr 40min flight to Seattle.
With all-in Economy Class fares starting from SGD988, your American dream is that much closer than you could imagine!
1. Capture the gorgeous Seattle cityscape at the Space Needle
Arguably the most iconic structure in Seattle, the towering height of the Space Needle makes it easily visible from a mile away as you take in the incredible Seattle skyline.
The building makes for a gorgeous architectural shot in itself but the Space Needle's greatest treasure is what it holds inside. On the 52nd floor and overlooking the entire city is The Loupe – the world's first 360-degree rotating glass observation deck. Just recently opened after the Space Needle's latest large-scale renovation (the "spacelift") in August 2018, The Loupe allows visitors to feast their eyes on the best panoramic views of the Seattle cityscape from all angles!
2. Revisit coffee history at the Starbucks Reserve Roastery & the world's first Starbucks store
Starbucks coffee aficionados will be in for a treat at the massive Starbucks Reserve Roastery and Tasting Room in Seattle. The first of its kind, this Starbucks concept store is as much a place of worship for coffee-lovers as it is a place to get acquainted with the ins and outs of the art of coffee-making.
Here, visitors can witness first-hand the steps that go into making the best coffee. You can also taste-test the Reserve Roastery's specialty beverage menu and sample a range of rare brews from all around the world, all at the heart of coffee innovation.
If coffee's not your thing, not to worry, the breathtaking design of the space will certainly be. The classic Starbucks warm wooden furnishings are tastefully rendered at the Reserve Roastery, and they sit under a sprawling high ceiling that will surely be top gram material for you.
But that's not all that the coffee giant has to offer in the Emerald City. In complete contrast to the chic and modern Reserve Roastery is another outlet found just 9 blocks away – the first and oldest Starbucks store in the world. Affectionately known as The Original Starbucks, or First & Pike, this quaint hole-in-the-wall spot opened way back in 1971.
Opting to retain the original interior of First & Pike, the outlet's appearance is nothing like any other Starbucks you've seen before. It's the perfect place to travel back in time and capture the vibes of the early 70s on camera!
3. Feast on both food and tradition at Pike Place Market
One of the oldest continuously operated farmer's markets in the US, Pike Place Market retains much of the character and architecture of the early 1900s when it was first built and is another highlight of Seattle. More than just a marketplace, Pike Place is Seattle's cultural hub, home to some of the best locally grown produce, fresh seafood, specialty food, handmade gifts and independently owned shops and boutiques.
With over 500 stores jam-packed in the 9-acre grounds, bring your empty stomachs and explore some of these famous spots in Pike Place Market.
The Pike Place Fish Market is home to the now world-famous fish-throwing culture. Walk in during the day and you'll see the fishmongers putting on quite the show for visitors by tossing their produce across the stands – a perfect boomerang moment!
Visit DeLaurenti, a famous Italian grocery, for some amazing meats, cheese and wines, and drop by Daily Dozen Donuts for their signature mini fried donuts, great for those of us with a sweet tooth. Be prepared to grab these glazed treats for the perfect flat lay moment!
The Pike Brewing Company is also not to be missed for a late-night drink, as it is open until midnight. If you're into trying a local brew, the Pike Ale offered is said to be pretty fantastic. One of the more unique bars in town, its interior is decorated with a ton of character and its walls are lined with all kinds of beer-related paraphernalia. For all the beer junkies out there, this is one must-have conquest to brag about on your Insta-feed!
4. Get your picture taken at the bizarre "Gum Wall"
Just outside the main entrance of Pike Place Market is Seattle's infamous "Gum Wall", which has become somewhat of a cult attraction since it was started back in the 90s. It is said that the patrons of Market Theatre were warned not to stick their gum under their seats, and as a result, began sticking them on the brick walls outside the theatre instead. For some bizarre reason the trend took, and today the theatre's walls are completely covered in a visually-stunning layer of coloured gum.
Perhaps unsurprisingly, the Gum Wall was voted the top 5 germiest tourist attractions in 2009. While it's cleaned and pruned regularly by the local government to prevent the erosion of the bricks, the build-up always returns and the wall's appeal never fades. Just remember to keep your distance when you're trying to capture a selfie for the gram!
5. Take a look inside the crystalline Amazon Spheres
A botanical-like workspace for their employees, the Amazon Spheres is both an office and a piece of art. This gorgeous and other-worldly structure was built with 2,600 panes of glass arranged in five-sided panels and its futuristic appearance has often been compared to Seattle's other iconic structure – the Space Needle. If you're looking for another cool and funky architectural shot to add to your feed, this is absolutely the place to head to.
6. Enjoy the beauty of art at Chihuly Garden and Glass
Known for his wildly imaginative and technical glass sculptures, Dale Chihuly is a born-and-bred Seattle artist. After achieving success exhibiting works around the world, some of Chihuly's finest pieces have now found a dedicated home at the Chihuly Garden and Glass. Chihuly's museum is a great hit for those who are looking for something bold and vibrant in Seattle.
It's certainly a lot more interesting than the traditional museum, as many of the exhibits are placed outdoors in the garden. Head over for a nice stroll through the garden compounds and snap some photos of where modern art and nature intersect.
7. Marvel at the landscapes of North Cascades National Park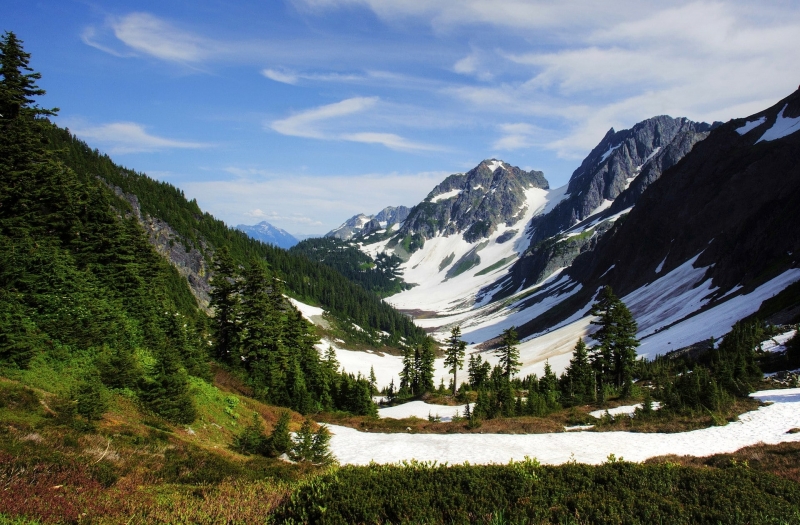 Perhaps the most famous of the natural sights within a few hours' drive of Seattle is North Cascades National Park, and not without reason. The views are incredible, practically begging to be photographed. The temperate climate means we get to drink in the sight of snow-capped mountains draping over lush alpine forests and pristine lakes, much like a painting.
Take a short hike through the Trail of the Cedars
Those up for a good workout can check out the many short to mid-length trails in the area that range in difficulty from beginner-friendly to pros-only. For a day trip, we recommend one of the park's short trails, perfect for families with children and those wanting to check out the landscape and get some good fresh air in their lungs.
A great trail to start with is the Trail of the Cedars, just under 1 kilometre in length with interpretive plaques along the way that introduce the flora, fauna and history of the grounds that you're walking on.
Opt for a Scenic Drive along Route 20
If a hike is not your thing, fret not – the North Cascades National Park is easily accessible by car, so you can still get a good scenic drive in your itinerary. The expressway Route 20 passes through the park and along the way, you can make convenient pit-stops to see some of the best views that North Cascades has to offer. Here are our top picks:
Diablo Lake Overlook
Without a doubt, one of the most beautiful lakes in the area is Diablo Lake. It's hard to tell that it's actually a man-made reservoir, with how it blends seamlessly into the mountain range behind. The famous emerald waters are a result of glacier-ground rock silt, carried down via streams from the mountains. The lake is best seen from higher up, and for that, you can head to the Diablo Lake Overlook, which is a short drive off Route 20. Talk about a view!
Washington Pass Overlook
If you're tight on time, this is one other overlook you cannot miss. At over 1,600 metres in altitude, the Washington Pass Overlook is the highest point along Route 20. What makes it such a great spot? Definitely the views of Liberty Bell Mountain, one of the most beautiful of the mountains in North Cascades.
8. Shoot your own scenes of the cult show Twin Peaks
Aside from a day trip out to North Cascades, Seattle's suburbs offer another very different kind of adventure. For those familiar with David Lynch's 90's cult classic Twin Peaks, many of its most iconic scenes were shot in various spots just outside of Seattle.
Reinig Bridge
Perhaps one of the most iconic of all Twin Peaks scenes is the bridge scene in the pilot, where Ronette Pulaski is filmed walking dazedly across a beautiful copper bridge after being brutally assaulted. That bridge is, in fact, Reinig Bridge, now a popular tourist destination just a 40-minute drive from Seattle. It's chilling to think of the events that unfold after Ronette's walk across Reinig Bridge, but the scene has become so iconic that the bridge is now dubbed Ronette's Bridge by fans.
Snoqualmie Falls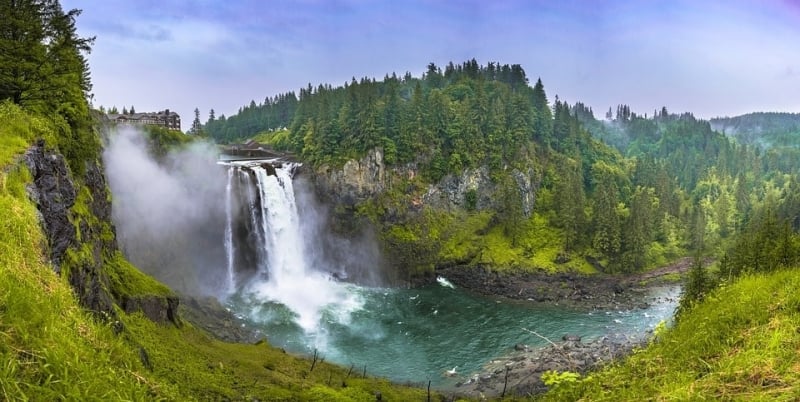 This 82-metre tall waterfall is also a 40-minute drive from Seattle and was at one point most famous for appearing in Twin Peaks' opening credits. Yet the beautiful view of the falls has now become vastly well-known, attracting a large number of visitors yearly. A must-see, visitors can drive to an observation deck just across the falls to get the best view.
Twede's Cafe
Another iconic set on Twin Peaks is the Double R Diner. While Double R does not exist in real life, the scenes were shot at Twede's Café, in North Bend, Washington. The café now has a large sign saying "Home of Twin Peaks" at their entrance and if you're a Lynch fan, Twede's Café will be your place.
City bustle, mountains and film sets – Seattle certainly has no shortage of interesting things to see and do. For that, this city should definitely come out top in your list of places to visit for 2019.
Explore the Emerald City with
Singapore Airlines' non-stop flights to Seattle
,
commencing on 3rd September 2019.
With
3 times weekly flights
, which will be increased to 4 times weekly in October 2019, enjoy
all-in Economy Class fares starting
from SGD988
.
Just
14hrs 40mins
away, enjoy world-class comfort and service on the Airbus A350, fitted with Business Class, Premium Economy Class and Economy Class seats.
---
Brought to you by Singapore Airlines.