Its streets lined with store after store selling skincare and cosmetic products, it's no secret that South Korea has become the epicentre of beauty. Epic Korean beauty hauls are common practice for many of the country's visitors — whether it's to stock up on their own supplies or to bring home as gifts.
But when we say that Korea's a mecca for beauty lovers, we're not just talking about the shopping. It's also home to the most innovative spa centres and traditional saunas — among a plethora of other opportunities for the most incredibly healing experiences. For these reasons, it's the perfect location to head to for the ultimate beauty retreat.
Before thinking you'll need to spend exorbitant amounts of won to treat yourself to a good pampering, think again. Here are our secrets to enjoying a Korean beauty retreat for less!
1. Browse in-store, but
DON'T
purchase immediately
Not going shopping while in Korea might be unheard of, especially for beauty junkies, but that's exactly why it's a secret.
Feel free to window-shop; check out the feel of the products in person and try on testers, but exercising self-control in-store. Instead, shop on The Shilla Duty Free website and save up to 30–50% on even your holy-grail beauty products.
Shop on The Shilla Duty Free Website
You have up to three hours prior to leaving Korea to make your purchase, before collecting them at the airport. By saving both time and money, you now get to experience more of what Korea has to offer!
2.  Luxuriate in anti-aging treatments at Sulwhasoo Spa
For those already in tune with Korean beauty brands, the name Sulwhasoo wouldn't be unheard of. This high-end beauty label has the swankiest flagship store in Gangnam that skincare enthusiasts would fall head-over-heels for. What many do not actually know is that it's also home to Sulwhasoo's very own spa!
Reserving a spa session certainly wouldn't hurt if you've been wanting to sample their highly-raved products! Enjoy being under the care of experienced therapists as they work their magic using Sulwhasoo's special beauty tools and formulas bearing amazing anti-aging properties.
Prices start at ₩60,000 and discounts are unheard of — unless you're a Shilla Duty Free member! Your treatment at the Sulwhasoo Spa gets even sweeter with an exclusive 10% discount!
3. Experience a True Red Ginseng Ritual at Spa 1899
If you're seeking something more unique, Donginbi Spa 1899 might do just the trick.
Incorporating the health benefits of red ginseng produced by world-famous brand and leading experts Cheong Kwan Jang, the Donginbi skincare line used at Spa 1899 makes for some of the most distinctive and rejuvenating treatments you'll receive in Korea.
What makes the programs at Spa 1899 so special? Donginbi products are made using the true essence derived from six-year-old red ginseng, and they target the deepest layers of skin when applied. Such nourishing ingredients help to promote balanced treatments that aim to nurture beauty in both mind and body.
Plan a visit to the Daechi-dong (in Gangnam) and Haeundae outlets for facial, body or foot treatments.
Shilla Duty Free members get to enjoy the benefits of red ginseng at a fraction of the cost, with treatments starting from ₩96,800 (original price ₩121,000)!
4. Rejuvenate and relax at the local
jjimjilbang
You're in Korea, after all. A trip to the jjimjilbang (public bathhouse or sauna) is as mandatory of a beauty-and-wellness experience as it gets!
A popular jjimjilbang of choice in Seoul is the Dragon Hill Spa and it's for good reason, because it's the most complete bathhouse you could ask for. From a traditional charcoal kiln to an ice room, an outdoor swimming pool and cinema, you could really spend the day just going from one facility to the next across its eight floors — all in the name of R&R.
Needless to say, an abundance of health and beauty rituals can be done at the jjimjilbang. Just in the face department, they offer basic facials, resizing (lifting), and even shaving services! Even if you don't end up going for any special treatments, a good old sweat or scrub-down sesh at the sauna will leave you feeling refreshed.
From the original fee of ₩11,100, enjoy exclusive KKDay discounts for Shilla Duty Free members and pay only ₩9,436 to enter the Dragon Hill Spa & Sauna Rooms!
5. Get a good night's rest at Shilla Stay
When self-care ranks high on the agenda of your holiday, you'd want to stay in accommodation that'll afford you with the most comfortable and restful nights. Whether you're staying in Seoul, Busan or Jeju, Shilla Stay will ensure that you'll be well-rested throughout your nights.
Through its sleek and modern design, the hotel provides you with a minimalist environment to truly let you achieve a peace of mind throughout your trip. After a day in the city, retreat to your room and doze off on quality bedding made with 100% Hungarian goose down.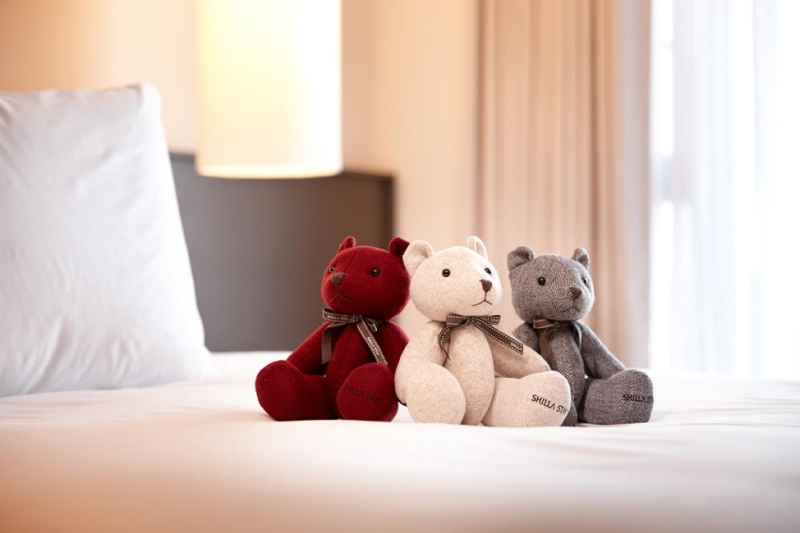 Book a room at any Shilla Stay branch from now until 30 Jun 2019 at exclusive promotional prices. Room rates start at only ₩63,700 instead of regular rates which can go up to ₩515,000.

On top of enjoying these unbeatable rates, receive an adorable Shilla Stay Bear as a gift!
6. Take in Korea's beautiful scenery
Even as you're having your fill of beauty-related activities, your time in Korea wouldn't be complete without spending some time visiting the country's stunning sights and attractions.
On your journey towards looking and feeling beautiful, gain inspiration from your surroundings — be it by taking a trip to the ethereal Nami Island or cruising around the Han River.
Other than appreciating the nature of beauty, you might want to experience healing through activities like going on the Gangchon Rail Bike or having a jolly time at the Running Man Experience Center!
Enjoying day trips and activities doesn't have to be costly. Shilla Duty Free members receive additional discounts of up to 20% on KKDay Korea travel deals, including all the above attractions.
You can even get travel essentials like a SIM card, portable WiFi and airport transfer services for cheaper!
Get more of Korea's beauty as a Shilla Duty Free member
On top of travel benefits, beauty buffs enjoy savings of up to 50% OFF when buying cosmetics and fashion items from The Shilla Duty Free website! The best part — your shopping list doesn't have to be limited to Korean beauty; these international brands go for much cheaper as well.
From Korea's best spas to its breathtaking scenery, going on that Korean beauty retreat of your dreams isn't unattainable when you're enjoying exclusive discounts as a Shilla Duty Free member. So what are you waiting for? Korea, here we come!
---
Brought to you by The Shilla Online Duty Free store, part of Samsung Group.