"I'm driving on sunshine… ooh ooh" – This song perfectly sums up Sunshine Coast in a heartbeat. The beautiful Sunshine Coast, with its endless coastline, fresh local produce, lush hinterland villages and coastal resort towns, is absolutely perfect for self-drive holidays!
The Sunshine Coast stretches from Noosa in the north, to Mooloolaba in the middle, Caloundra in the south, and the rolling hills of Maleny and Montville in the east. True to its name, any road trip along Sunshine Coast is guaranteed to bring a smile to your face! Follow this itinerary to ensure that you will be refreshed and recharged to tackle anything life throws in your way. Let's gooooo!
Embark on the Caloundra Coastal Walk
Image credit: Australia's Nature Coast
Your journey starts with the Caloundra Coastal Walk, which stretches 25km from Golden Beach in the south to Mooloolaba Beach in the north! Don't worry, you don't have to complete the full course – simply start off with a short 3.4km walk along the coastline from Golden Beach. Ahhh…Strolling along at a leisurely pace and basking in the bright rays of sunshine is one of the simplest pleasures on earth. How lovely it is to just revel in nature and all your worries will naturally melt away!
Drive along Oceanic Drive to Point Cartwright
Point Cartwright is situated at the northern end of Kawana Beach. High cliffs in the coastal headland reserve offer 360 degrees of unparalleled, spectacular views of the Mooloolaba River, Mount Coolum in the north, and Kawana Beach in the south. If you're lucky, you might even be able to spot migratory humpback whales and turtles in the distance! P.S. You can even get married right here at this picturesque place. Just picture your spouse and you saying your vows against that dramatic backdrop – it's just like a dream come true!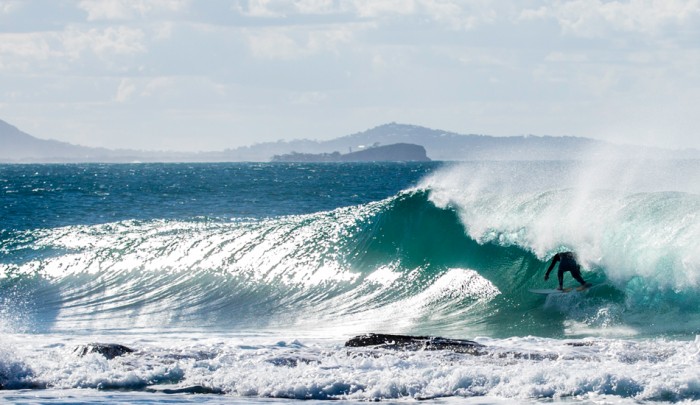 Image credit: The Inertia
In addition, Point Cartwright is also a popular surfing point among the locals! If surfing isn't your thing, don't pass up the valuable opportunity to just lie on the beach with a cocktail in hand and watch cute surfers ride the waves…Watching the waves crash against the rocks is also strangely hypnotising and soothing to the ears!  
Stuff yourself with fresh seafood at Parkyn Parade

Image credit: Seafood Cruise
Your trip to the Sunshine Coast is not complete without tasting the freshest and juiciest seafood in the region! So head down to the numerous fisheries at Parkyn Parade to reward your tastebuds with quality seafood cooked and prepared for you, right from the trawlers. Crabs, lobsters, prawns, oysters, mussels…You name it, they have it! Or even better, reward yourself with a delectable seafood buffet on a cruise PLUS a breathtaking sunset view! Feels like paradise on Earth.
Go hiking at Mount Coolum National Park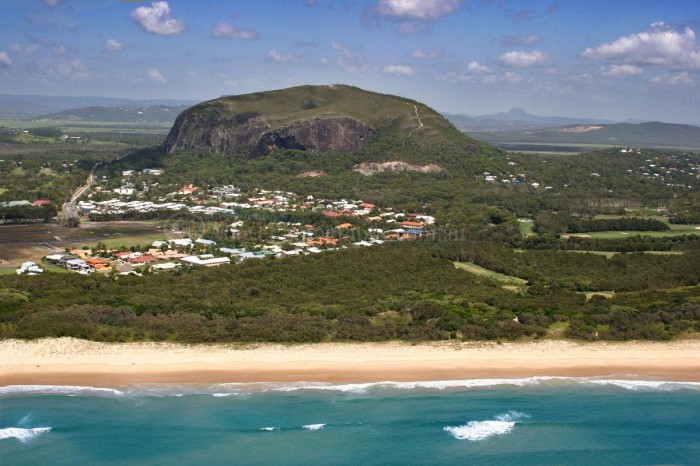 Image credit: Above Photography
Take a challenging trek up to the summit of Mount Coolum National Park for a spectacular panoramic aerial view of Sunshine coast! Did you know that Mount Coolum is an extinct volcano? Also, endangered species such as montane heath and she-oak grow on Mount Coolum, so be sure to check them out. Nothing is more refreshing that a good hiking workout to burn off some calories!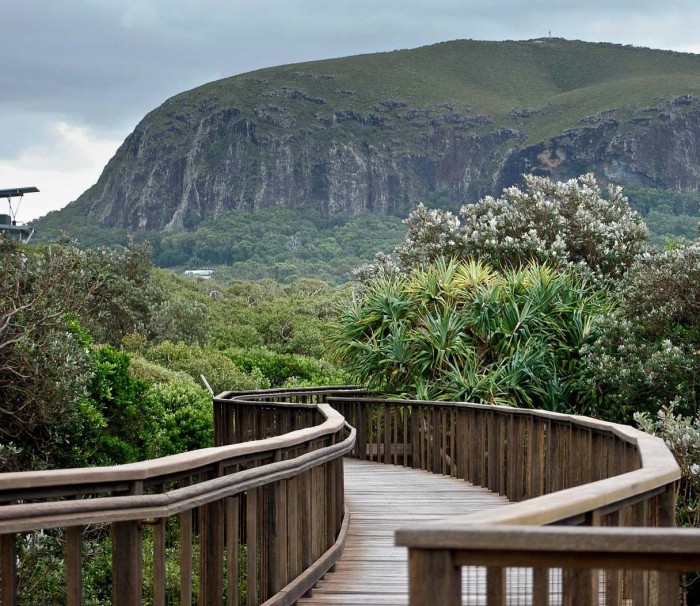 Image credit: Coolum
In addition, Mount Coolum is home to a range of beautiful species. They include colourful golden whistlers, scarlet honeyeaters and magnificent Peregrine Falcons! Grab this great chance to do some exercise while admiring the rare flora and fauna in the national park. Don't forget your binoculars – you're going to need them!
Spot wildlife at Noosa National Park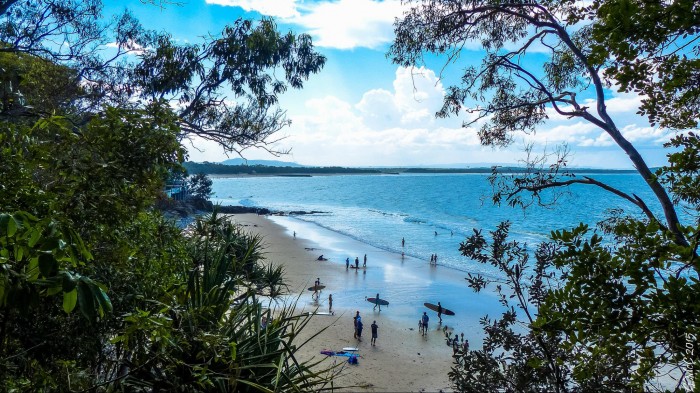 Image credit: Pursuedbybear
Another place popular with locals and tourists alike, Noosa National Park has so many activities and walking trails that you'd be simply spoilt for choice! Start off at Tea Tree Bay, and enjoy unfiltered views of the vast, emerald ocean right in front of you. Giant curling waves and the absence of rocks also make it a hotspot for surfers. Another place for you to let your mind wander off and relax – just let go and be awed by the picture-perfect view!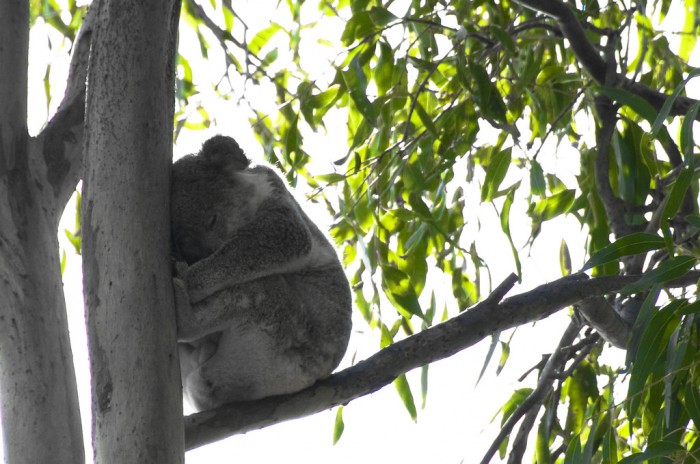 Image credit: Nathan Siemers
Also, make sure you open your eyes wide, and look out for anything that is grey and furry…Because if you are lucky, you might be able to spot adorable wild koalas hidden high up in the trees! Walk further along the coastal track and make your way to Dolphin Point. Remember to get your cameras ready… for some dolphin action!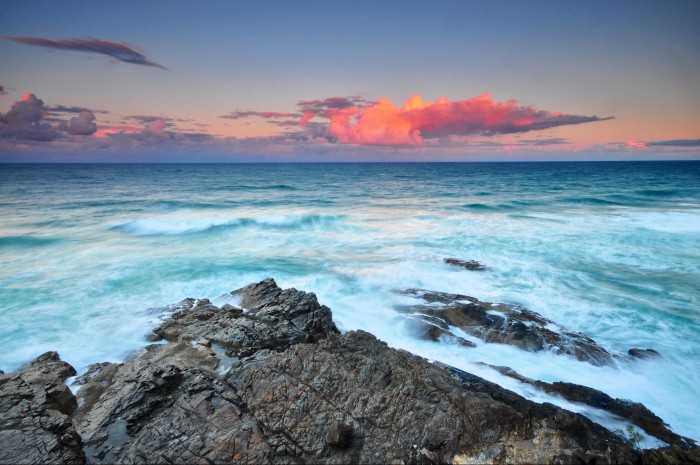 Image credit: Jenkinson2455
Next, head to Hell's Gates, a precarious V-shaped cliff not for the faint-hearted. Here, enjoy majestic views of the coastline and spot sea eagles hunting for fresh fish to eat.
Continue the trail to get to Alexandria Bay,  which plays host to an annual beach carnival with various sporting events and fun activities. Most importantly…clothes are optional here! *GASP* That's right. If you are feeling courageous enough and want to have a unique nudist beach experience, go on and enjoy the feeling of soft sand on your bare skin!
Get sun-kissed at Noosa Main Beach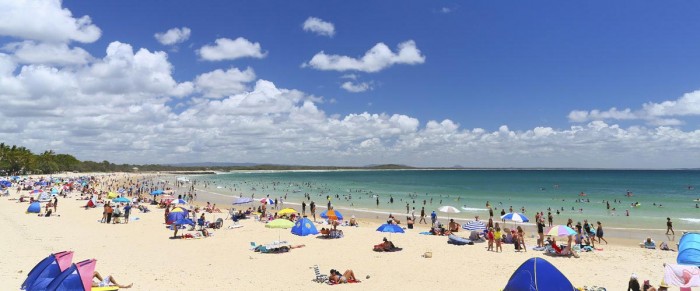 Image credit: Seahaven Noosa
For a perfect chill day at Noosa Main Beach, we recommend you to eat as much fish and chips as you can, build plenty of sandcastles, get a deep brown tan, or simply lie back with a book in hand! If you are feeling more active, you can go kayaking, jet-skiing, diving, snorkelling, kite-boarding, wakeboarding, sailing, fishing, and many more – knock yourself out! Water activities also always oh-so-fun and exhilarating, you'll never want to stop.
Once you've had enough sun sea sand, head over to explore the hinterlands of Sunshine Coast, Montville and Maleny, perfect for escaping the hustle and bustle of everyday life!
Shop till you drop at the Eumundi Markets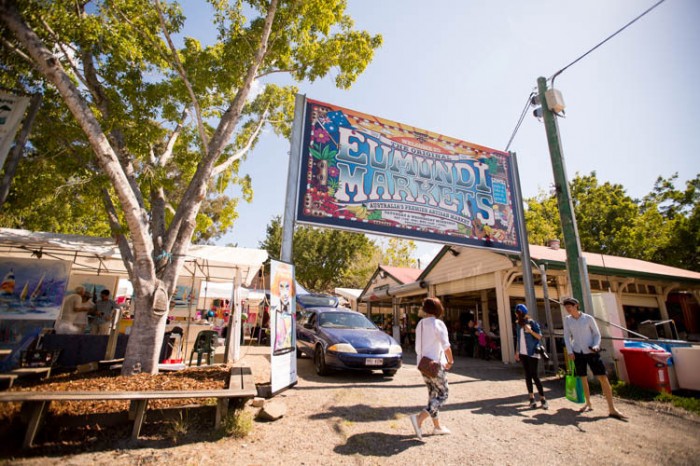 Image credit: Sunrise Odyssey
Showcasing more than 500 arts, crafts, and produce stalls every Wednesday and Saturday, the Eumundi Markets is a shopping haven for everyone! You will be able to find quaint and wonderful artisanal products, including artworks, sculptures, homewares, fashion, jewellery, and much more. Aside from selling fresh fruits and vegetables, you can also buy locally made cheese and yoghurt, or feast on cakes, paella, calamari and not forgetting quality brewed coffee. YUM YUM. Unleash your inner shopaholic right here!
Indulge in wine-tasting at Flame Hill Vineyard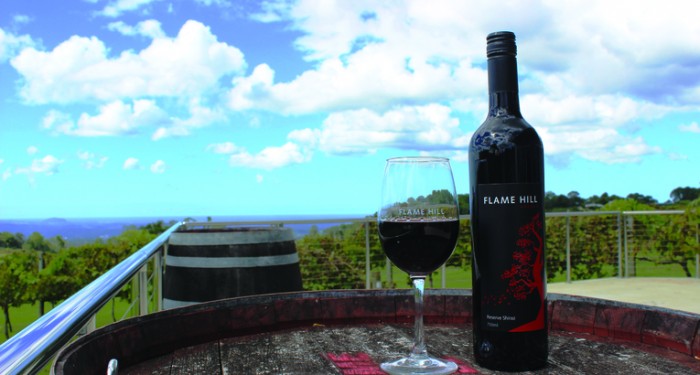 Image credit: Hotel-R
The Flame Hill Vineyard in Montville is a must-go especially for wine connoisseurs or wine lovers! They have a unique range of Queensland wines made from locally produced grapes. Offering a true paddock-to-plate experience, soak in the stunning view of the rolling green hills and blue sea while sipping on a glass of aromatic wine. How relaxing…Don't you wish time would just stop right here?
Spend a Day at Kondalilla Falls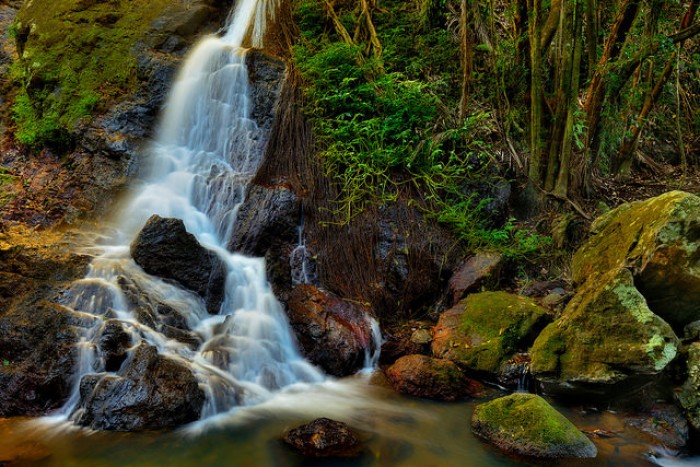 Image credit: Andrii Slonchak
Head to the Kondalilla Falls for some hiking and swimming amongst lush greenery and panoramic views! Trek to the summit, or take a refreshing dip in the waters, under a cascading waterfall that culminates into a rock pool. A tranquil place to immerse yourself in nature and relax with friends and family, this idyllic swimming hole is a definite MUST-visit!   
Milk cows at Maleny Dairies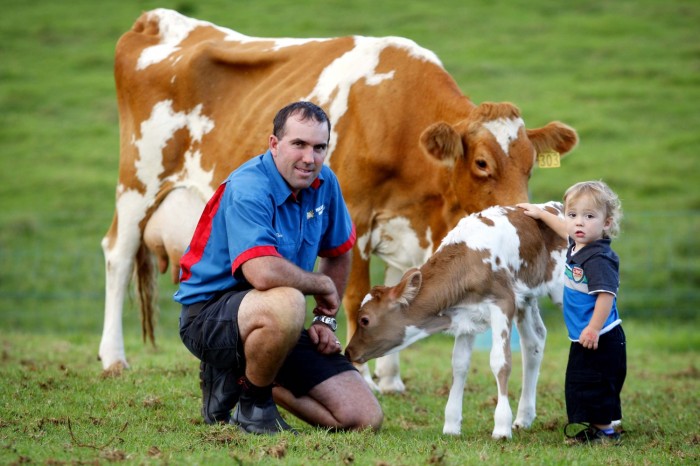 Image credit: Maleny Dairies
Pop by Maleny Dairies, a family-owned business, for some delicious dairy products! You get the rare opportunity to CUDDLE and feed farm animals, watch the cows being milked, and enjoy some taste-testing! Aww, what a great chance to experience the peaceful farm life in the countryside, a refreshing escape away from urban life in the city.
Get cheesy at Maleny Cheese Factory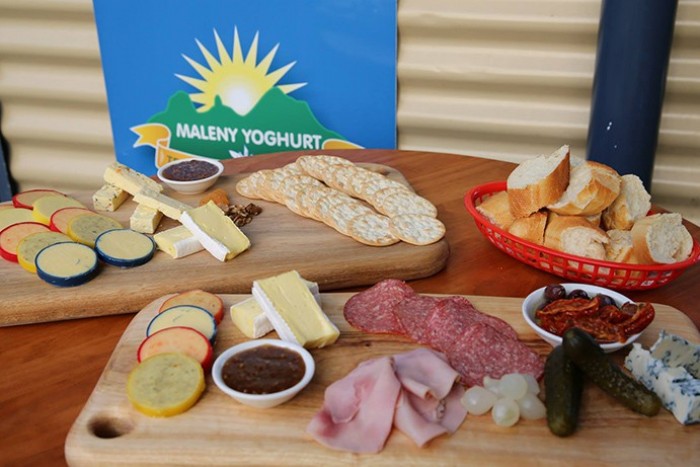 Image credit: Maleny Cheese
SAY CHEEEESE! That's right…Made from fresh local milk, the Maleny Cheese Factory produces 19 flavours of cow and buffalo milk cheese, a range of 12 flavoured Greek and Swiss style yoghurts, and many more! Go crazy taking your pick from their diverse range of dairy products in store! Warning: don't eat too much though…Or else you might turn too cheesy. Sorry, we just couldn't resist!
Explore Maleny Botanic Gardens & Bird World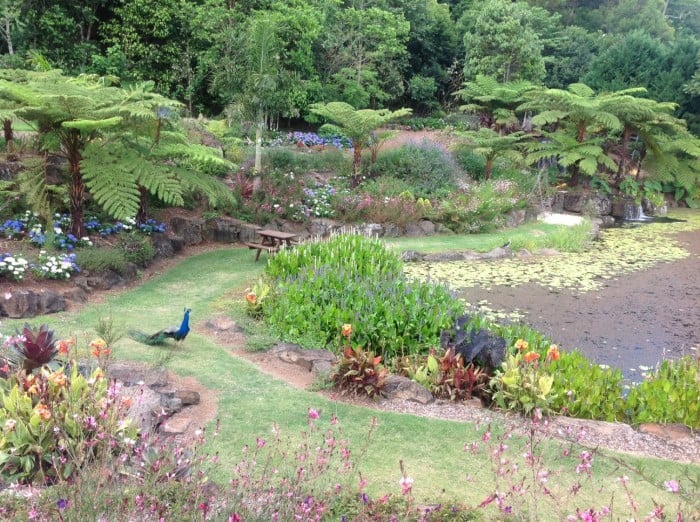 Image credit: Maleny Botanic Gardens
Let's dive straight into nature with a visit to Maleny Botanic Gardens! Follow any of the walking paths available and admire the colourful and diverse species of flora and fauna all around you. Complemented by peaceful lakes and huge waterfalls, every corner is a good chance for PHOTOS!

Watch the sunset at the Glasshouse Mountains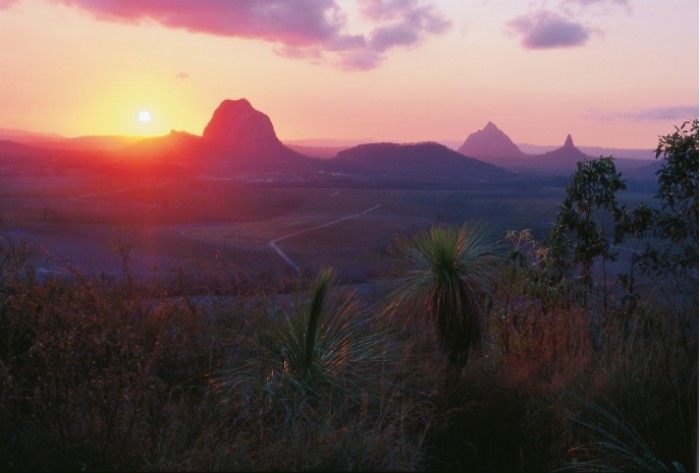 Image credit: Queensland
Last but not least, head to the Glasshouse Mountains National Park! WOW just look at that view – what a magnificent sunset. You can even go hiking, rock-climbing, or abseiling against this beautiful backdrop of 11 dramatic volcanic peaks. Also, you can choose to stay at campgrounds, farmstays, B&Bs, or eco-lodges. How awesome is that!
So what are you waiting for? Scoot your way to the Sunshine Coast and have the best self-drive holiday of your life right now!
---
Brought to you by Scoot and Events & Tourism Queensland.