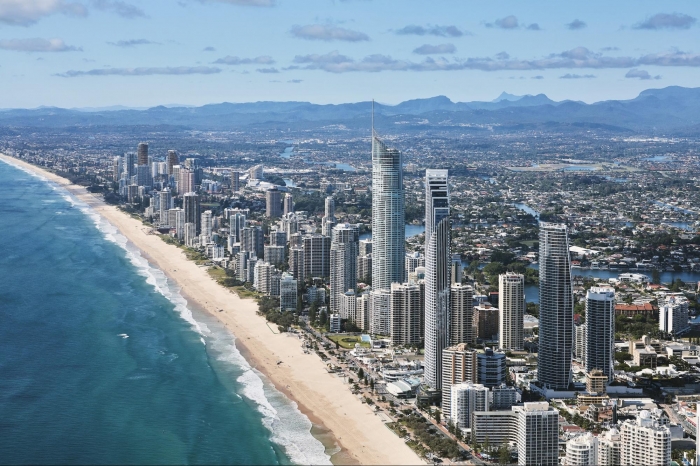 The Gold Coast is a perfect place for a family vacation, especially with its multitude of family-friendly attractions. On top of that, the scenic Sunshine Coast is only a short drive away! To help with the planning, simply follow this 7D6N Gold Coast + Sunshine Coast itinerary for a trip that the whole family can enjoy:
DAY 1:
Arrive at Gold Coast in the morning and drop off your luggages at your choice of accommodation. You'd probably want to get a good rest after your flight! There are many airlines that fly to Gold Coast – but we highly recommend Scoot, especially since they have a great ongoing deal! 
When you're in Gold Coast, Elite Holiday Home offers the perfect place for the whole family – luxurious waterfront living at an affordable price tag. Their rooms or villas can accommodate up to 16 people, so be rest assured that there's ample space for the entire family, even if all your relatives came along.  All their properties are in excellent locations, and even include facilities such as private pools and home theatres! Awesome or what?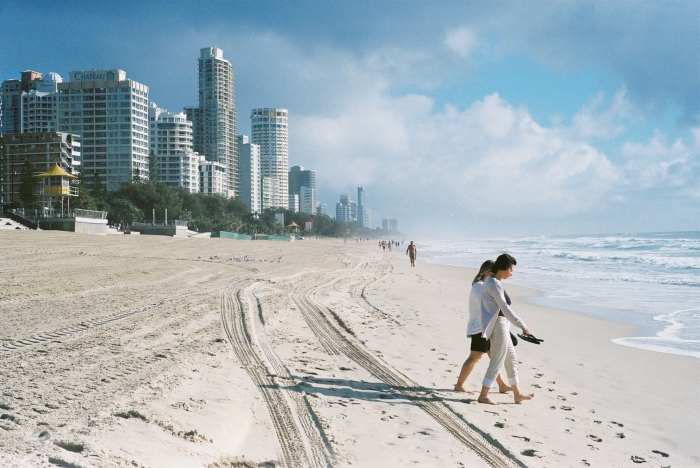 After an overnight flight, it is wise to have a slow start to the day and spend it at… the beach, of course! With over 52 kilometres of beach along the coastline, including the world-famous Surfers Paradise, you're in for a good time. Alternatively, head south to Burleigh Beach which are less crowded, providing ample space for the kids to run around. Currumbin beach, even further south, is also a good choice for families thanks to its calmer waters protected by a lagoon. If your family is planning to swim in the sea, be sure to keep within the yellow and red flags as this is marked out as the 'safe' areas monitored by lifeguards.
DAY 2: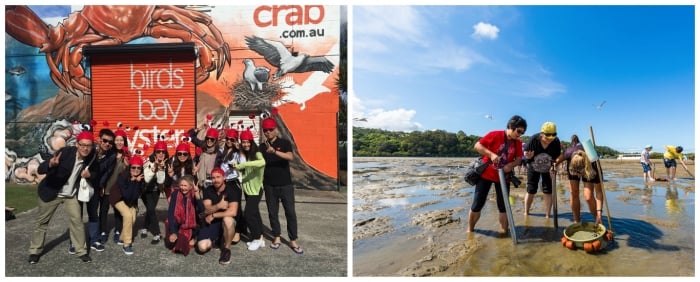 Start the day early by heading out of town to Tweeds Head for an award-winning experience at Catch-A-Crab Tours. They serve up a mean dish of seafood platter for the entire family to feast on! Enjoy an immersive time catching crabs and pumping yabbies – activities that both kids and adults alike can enjoy. It's possible to even cook and eat what you've personally caught for lunch! 
After your hearty seafood lunch, proceed for a farmstay right here in Gold Coast City! Paradise Country provides glamping experiences for the whole family, with a number of accommodation options from eco tents to onsite caravans, leaving you spoilt for choice. The entire family can also join in the nightly campfire to experience that authentic camping atmosphere.
Paradise Country also offers packages that pair the farmstay with tickets to SeaWorld, Warner Bros. Movie World and Wet'n'Wild Gold Coast. This is highly recommended given the farmstay's proximity to all of these theme parks!  
DAY 3:
Wake up to fresh country air and complete the farmstay experience by joining the Children's Sunrise Farm Activities to interact with the farm animals. Your kids will get to try their hand at feeding the animals, egg collection and even milking! It's a precious chance for them to get up close and personal with unique Aussie wildlife and adorable farmyard friends.
After that, pick from one of the two theme parks nearby – Warner Bros. Movie World and Wet'n'Wild Gold Coast – for some thrilling family fun; however, there's unfortunately no way your family can complete both in a day,  as much as you'd like to do so. Warner Bros. Movie World boasts rides based on movie franchises produced by the Warner Bros. Company, while Wet'n'Wild Gold Coast is a theme park with waterslides and other water-based rides to ensure a splashing good time!
This will definitely make for a memorable holiday experience. Besides, who travels to Gold Coast without visiting at least one of its theme parks?
DAY 4:
After an exciting day out at the theme park, it's time for a road trip! Get some snacks and your speakers ready, as your family embarks on a drive up to Sunshine Coast. The various car rental companies do provide for pick-up points not only at the airport but also in the city centre, so check out their websites for such options.
For nature-lovers in the family, there are plenty of attractions along the way not to be missed, such as Glasshouse Mountains National Park and Mary Cairncross Scenic Reserve. Hiking trails and stunning viewpoints await! The Glasshouse Mountains National Park in particular, boasts 11 dramatic volcanic peaks and views that will take your breath away.
Continue your way and make several stops at charming towns like Maleny, Montville and Eumundi. Maleny is home to many craftspeople, and a great place to pick up a unique souvenir that is truly Australian. Visit a vineyard in Montville, where you can get a taste of Queensland wines made from locally produced grapes. Or head over to the hinterland town of Eumundi, which has a good selection of cafes. After that, roll into Hastings Street in Noosa Heads for a sumptuous dinner. This bustling street is directly in front of the Noosa Main Beach, so sink your toes in soft sand and take a leisurely stroll along the beach as the waves crash incessantly against the shore. Stay at Noosa Heads for the night, so you'll be refreshed and recharged for the long drive tomorrow!
DAY 5:
Don't miss a visit to the Australia Zoo – a trip to Queensland is simply incomplete without it. Australia Zoo is made famous by none other than its late founder – "Crocodile Hunter" Steve Irwin. The zoo is still run by his family, and is bound to provide the entire family with an experience like no other. Where else can you take a walk on the wild side with majestic tigers, cuddle a koala, hand-feed a red panda, enjoy dingo kisses and more? Hang out with wombats, lemurs, otters, cheetahs, echidnas and a dozen other animals!
After spending the day at the zoo, we all need a coffee or two to recharge. Stop over at South Bank to enjoy a coffee by the Brisbane River, or hop on the City Cat and cruise down the river instead. If the family still has some energy left, take a shopping jaunt at Queen Street Mall, before continuing on your sunset drive back to Gold Coast.
DAY 6:
Now it's back to more city fun in Gold Coast. If your holiday coincides with the whale watching season from June to November, you're in luck! It's great fun, and on a giant scale. Get up close and personal with these gentle creatures of the sea; humpback whales are famous show-offs and acrobats, and will put on an amazing show. Grab this chance to catch these majestic animals in action, which will leave you with tons of unforgettable memories!
What better time to visit Sea World than this? Sea World is all about the conservation of the environment and wildlife through education, and the rescue and rehabilitation of sick and injured wildlife. Comprising a marine park, oceanarium and theme park, it is one of the most popular attractions in Gold Coast.
Be prepared to spend the entire day at the theme park! Despite long queues for some of its attractions, Sea World is a must-visit on any trip to Gold Coast. There is also an on-site resort – Australia's only theme park resort – for those who would like to spend more than a day here.
DAY 7:
What an incredible week of non-stop exploration and enthralling activities for the whole family! I'm sure you'd be extremely reluctant to leave the splendid haven of Gold Coast, but all good things have to come to an end, no? Grab some breakfast before heading to Gold Coast's Coolangatta Airport for your journey home!  
Aren't you incredibly tempted to head to Gold Coast right now? Get this: Scoot flies directly to Gold Coast 4 times a week from Singapore, so you can skip the transit and jump straight into exploring the wonders of Gold Coast.
For overnight flights, we recommend opting for Scootbiz – it is certainly worthwhile to pay for extra comfort so you and your family will be well rested and ready to go upon arrival. ScootBiz perks include seat selection, double legroom space, priority check-in and boarding, and 30kg check-in luggage allowance. In-flight wifi is also available, ensuring that everyone can stay constantly connected, even when you are 40,000 feet up in the air!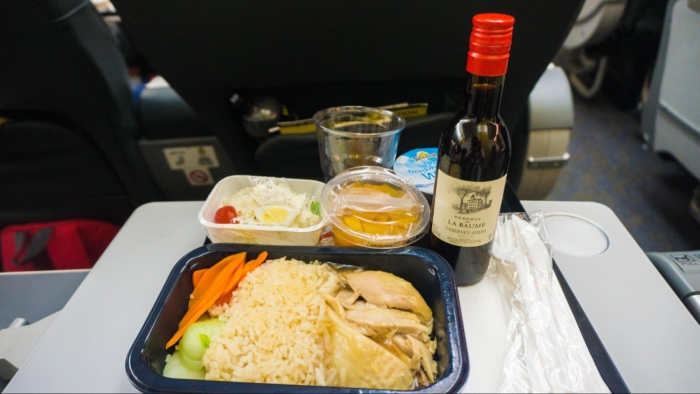 On top of complimentary drinks, you'll also get in-flight meals. With Scoot's wide selection of delicious meals, cooked only with the finest ingredients, even the pickiest of family members will be satisfied.
We don't know about you, but we're scooting the whole fam bam to Gold Coast right away. Seize the day, and head over to Scoot's website to start booking right now. It's time for some good ol' bonding and a much-needed getaway with the whole family!
---
Brought to you by Scoot