Going on a trip with the entire family is a lot of fun — until it isn't. Believe it or not, but the hardest part about planning a family trip is putting together an awesome itinerary that can actually please every single member. Every single one!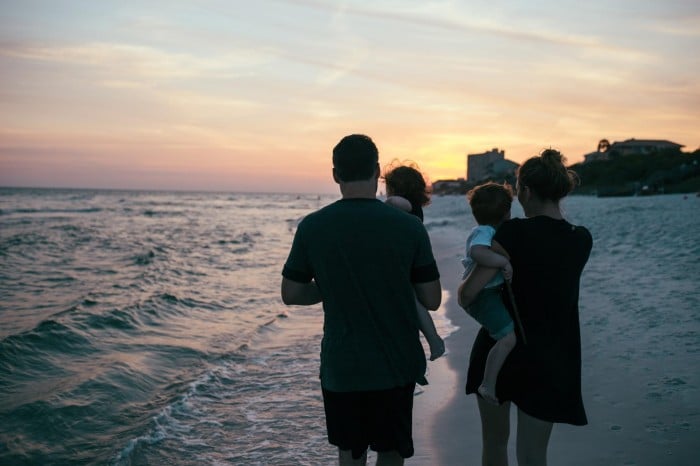 The younger kids want some place they can run around while the older kids want some place where they could just escape from their folks. The grandparents obviously can't keep up so they would much rather do things slowly. Meanwhile, Mum wants to check out the best shopping destinations but Dad wants to do some action to show the kids who's the awesome one! How does anyone please all of them all at once?!
Whew. Just thinking about it is exhausting enough, but what if we told you that there is actually a solution to all those problems? Check out this perfect itinerary we've put together for you!
The Overview
Australia is known for its epic road trips and the World Heritage Drive in Queensland is one of them.
Basically, you will be starting at Gold Coast, then driving north to Sunshine Coast, Hervey Bay, then Fraser Island and, finally, the Southern Great Barrier Reef. What's even more awesome is that this ultimate family road trip includes the best of family fun, natural encounters and the natural wonder of the Great Barrier Reef!
Just a tip: we suggest that you head there around the end of the year (November or December) since it's school holiday season — and there are a lot of activities to do during that time too!
Destination #1: Gold Coast
You can fly in from Singapore to Gold Coast via Scoot. For a budget airline, the 34-inch leg room is definitely a welcome luxury!
But, before you head on out on your rented car towards the north, spend a day or two in the city. With five major theme parks including Dreamworld, Sea World, Warner Bros. Movie World, Wet n' Wild Water World and WhiteWater World, Gold Coast is a haven for kids and the kids-at-heart.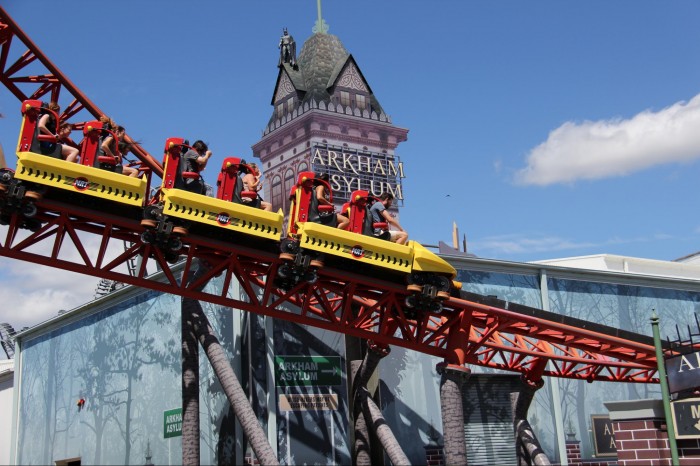 Image credit: Gary Bembridge
If you have water babies, you can also make your way to any of the beaches along more than 50km of stunning coastline. Teens will love conquering the surf breaks including those in Surfers Paradise, Main Beach, Mermaid Beach, Burleigh Heads and many more.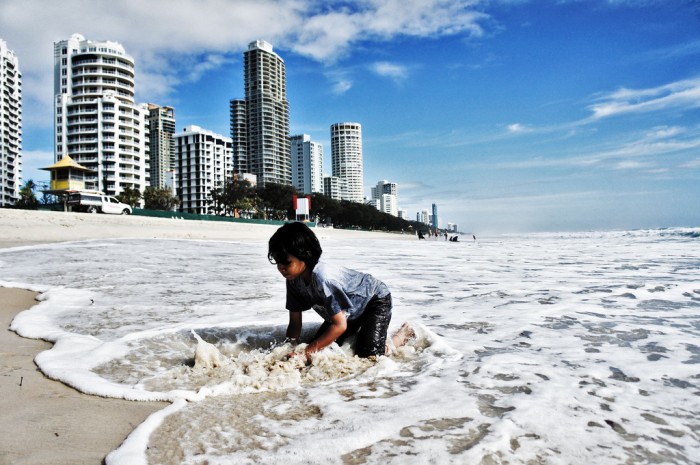 Image credit: Widhi Rachmanto
You can also hop on board a helicopter to get the best view of Gold Coast.
For the Kiddos: Visit any of the five major theme parks or surf in any of the beaches along the 70-kilometre coastline.
Destination #2: Sunshine Coast
Once everyone has had their fill of Gold Coast, it is time to head to the next destination.
Drive your way to Maleny, which is part of the beautiful Sunshine Coast Hinterland and stop over at the Maleny Botanic Gardens and Bird World.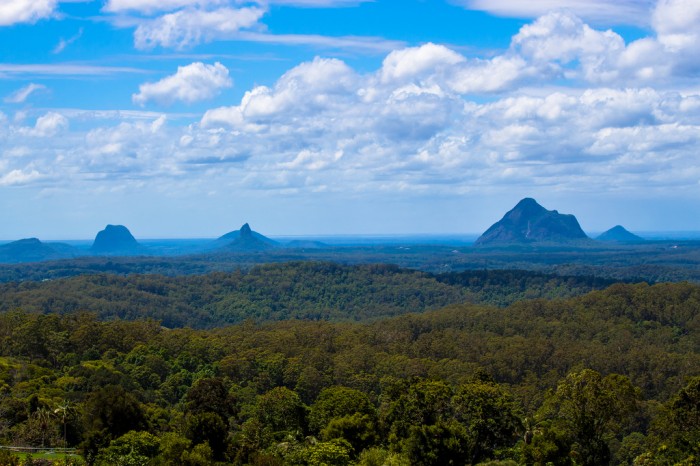 Image credit: Andy Hay
The garden offers the Devonshire Cream Tea at AU$11, which includes two scones with jam and cream as well as a choice of coffee or tea. It is the perfect place for the grandparents to unwind while the rest of the family enjoy the sights in the area. You can even bring your own picnic for the entire family to share.
Although the scenic drive to the town of Montville, which is the next suggested stop for this trip, is already a treat to everyone's eyes, you can also check out the coffee spots and craft shops in the area.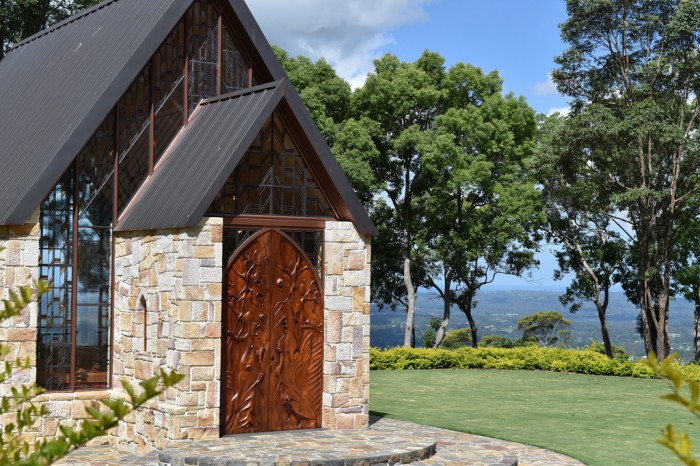 Image credit: Pete Bartel
The family can then hunt for fresh food and local handicrafts at the Eumundi Market, which is available on Wednesdays and Saturdays, or the Noosa Farmer's Market, which is open on Sunday mornings.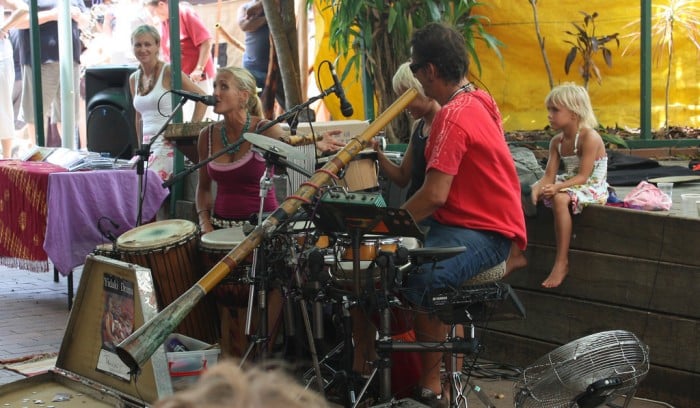 Image credit: Robyn Jay
For the little ones, you can also check out Strawberry Fields in Palmview, which has a Pick Your Own (PYO) Season open from June to November. The Ginger Factory, open all throughout the year, is an iconic tourist destination in Sunshine Coast and offers fun rides and educational tours for kids.
For the Grandparents: Have a taste of the Devonshire Cream Tea at Maleny Botanic Gardens. Enjoy the scenic drive to Montville.
For Mum: Get fresh food and local handicrafts at Eumundi and Noosa Farmer's Market.
For the Kiddos: Ginger Factory in Yandina; strawberry picking at the Strawberry Fields in Palmview
Destination #3: Fraser Island
After taking a dip at Noosa Beach or watching the sunset at the Noosa National Park, get ready to head to the most gorgeous and largest sand island in the entire world via Hervey Bay.
The 120km-long Fraser Island has a dramatic landscape that changes from ancient rainforests to mighty sand dunes, beach highways to crystal clear water lakes.
Of course, the family may not opt to follow the route and start or stop anywhere.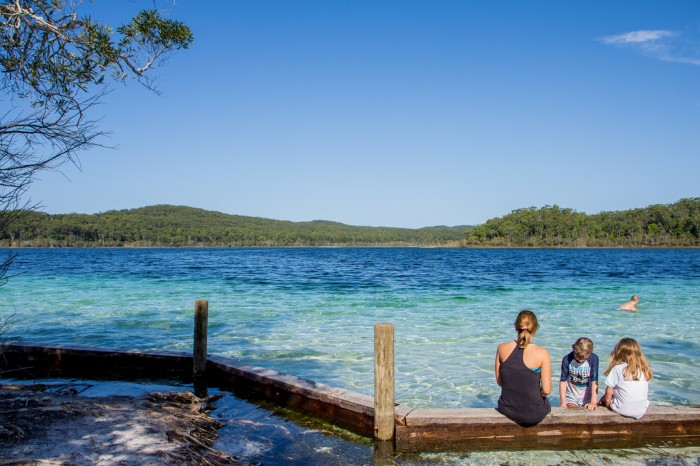 Image credit: Vincent Lee
After the long beach drive, everyone may choose to take a dip at Lake McKenzie, trek to the look-out point at Indian Head, go beach fishing or swimming and watch the sunset.
P.S. you might also want to drop by Hervey Bay where you see whales swimming close by! Note: In Hervey Bay, Whale watching season happens from August to October.
For Dad: Go fishing and four-wheel driving by the beach.
Destination #4: Southern Great Barrier Reef
Image credit: I.DeSouza
Finally, the last leg – but definitely not the least º of our ultimate family road trip itinerary! The Great Barrier Reef is sure to be on everyone's bucket list and this is the chance to check it off the list.
So, where do you go? Lady Elliot Island and Lady Musgrave Island should be on the top of your priorities! Bundaberg is the gateway to both these islands: you can ride on a catamaran to get to Lady Musgrave or experience a scenic flight to get to Lady Elliot.
Oh, and did we mention that you can swim with manta rays and turtles all year round in Lady Elliot? You might also want to take note that the annual turtle nesting and hatching season at Mon Repos near Bundaberg happens between November and March. And, if your family is adventurous enough, you can even snorkel or pitch a tent for the night at Lady Musgrave.
For everyone: Witness the turtle nesting and hatching season and swim with beautiful marine creatures in the Great Barrier Reef!
That was one awesome road trip, wasn't it? Everyone's happy –  it's the perfect itinerary for the family! So, don't just let it remain a dream for everyone; why not book a flight to Gold Coast with Scoot right now? Scoot's seats may be offered at low prices but it certainly comes packed with a lot of value from huge leg room to inflight WiFi, in-­seat power outlets and more. There are also two classes of travel, Economy FLY and ScootBiz, so there is something for everyone!
Stop procrastinating – time to bring your family over to Australia and have the adventure of a lifetime!
---
Brought to you by Scoot and Tourism & Events Queensland.