Yes, Sydney is amazing. Climb the Sydney Harbour Bridge, take in spectacular views of the Sydney Opera House, go cafe-hopping… but that being said, there's just SO much more to explore than the city of Sydney itself!
Why not upskill your holiday and go beyond Sydney to explore the regions of the Hunter Valley and Port Stephens? #DoNSW with new experiences you've never done before! Located north of Sydney, these two destinations make for an exciting road trip, and you can get from one location to the next in less than 1.5 hours by car.  
Learn to escape from the vicious work cycle and pedal away from the rat race, as you head to Hunter Valley for wine-tasting, horse-riding and more! Bring out the inner adrenaline junkie in you and be a leader in trailblazing by riding off into the horizon with gusto atop a 4WD across the Stockton Sand Dunes.  Pack your bags and get ready for an epic vacation from Sydney to Hunter Valley and then Port Stephens, because when you #DoNSW you'll be in for some upskilled fun ahead!
With 5 to 7 non-stop weekly flights to Sydney on the smooth Boeing 787 Dreamliner
TM
, Scoot is the best choice for any traveller heading Down Under. 
Book your flights now for an upskilled vacation!
Sydney > Australia Walkabout Wildlife Park > Hunter Valley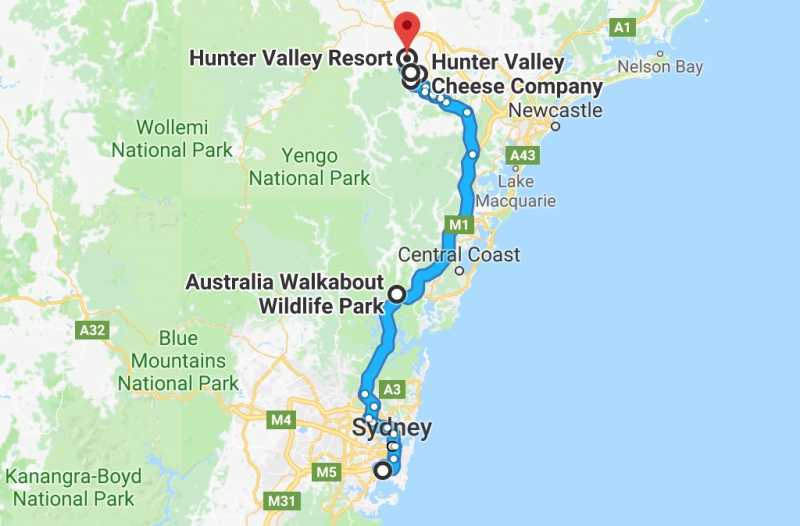 Here's an overview of the route you'll be taking for the first leg of the journey. From Sydney International Airport, collect your rental car and set off for your first stop en-route to Hunter Valley: the Australia Walkabout Wildlife Park, which is just a short one-hour drive away from Sydney!
Australia Walkabout Wildlife Park
Nothing excites animal lovers more than fascinating wildlife, and that's why if you're an avid fan of Australia's diverse animal kingdom, the Australia Walkabout Wildlife Park is a must-visit. Spot free-roaming animals, explore ancient Aboriginal rock art sites, and revel in lush greenery all year round. Oh yes, it's opened to the public every day!*
*Except for Christmas Day.
Plus, you can spot most of Australia's iconic animal species all at this destination! From Wombats to Koalas, Tasmanian Devils, and more – these species all cared for by the rangers in a variety of natural camps. For the truly passionate wildlife lovers, you can even choose to be "A Ranger For A Day" and get behind-the-scenes access to your favourite animals, as well as gain first-hand experience of how it's like to be a ranger in a wildlife sanctuary. How cool is that? Try out this unique experience today!
HUNTER VALLEY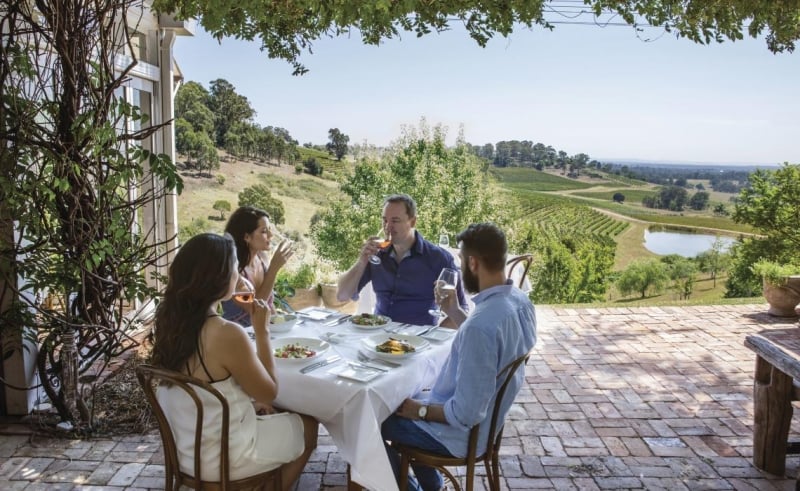 After an invigorating time hanging out with adorable Australian wildlife, make your way down to Hunter Valley! Hunter Valley is one of Australia's oldest premium wine regions dating back to the early 1800s, and it is particularly known for its Semillon and Shiraz. A filigree of narrow lanes intersect each other in this verdant valley which offers the finest wine, gourmet restaurants, premium cheese, olives, beer – you name it! In order to pedal away from the rat race, your experience here will entail visiting picturesque wineries, indulging in glasses of wine along with cheese, horse-riding through vineyards and more.
Proposed route: Audrey Wilkinson > Hunter Valley Cheese Company > Tyrrell's Wines > Hunter Valley Resort
Welcome to some of the best vineyards in the Hunter Valley, which produce some of the world's most highly-acclaimed wines. Even Sydneysiders come to Hunter Valley over the weekend for an intoxicatingly good time! With more than 150 wineries to choose from, you'll be thoroughly spoilt for choice on which one to visit.
1. Audrey Wilkinson
Rated as one of the Top 10 Cellar Doors in the country by Gourmet Traveller Wine, Audrey Wilkinson Vineyard is hands-down one of the most picturesque wineries in New South Wales. The vines are perched amidst the foothills of the scenic Brokenback Mountain Ranges and spans over 109-hectares of land. While their Semillon is an award-winning standout, you will also fall for their Chardonnay and Shiraz! Be sure to explore their museum, which is housed in the original winery, and enjoy a bottle of wine on the verandah as you take in the views of the vines and paddocks of Hunter Valley.
2. Hunter Valley Cheese Company
A boutique cheese producer and retailer, The Hunter Valley Cheese Factory commenced their operations in April 1995 to complement the vibrant and thriving cellar doors of the Hunter Valley. After all, who doesn't love a good wine and cheese night?
Cheese tasting sessions are available all day from 9am to 5.30pm, and you may also choose to go for their complimentary cheese-making tutorials which are held twice daily at 11am and 3pm. Cheese tasting boards are available from only AUD$6.95 (~SGD$7), and even cheese tasting notes are prepared for you while you savour and dissect the flavours of their cheese.
3. Tyrrell's Wines
Established in 1858, Tyrrell's is one of Australia's highly distinguished family-owned wine companies, and is renowned for its iconic Vat 1 Semillon. Spanning five generations, Tyrrell's is managed with the simple philosophy of commitment to traditional family values in their products and service. The bitumen road to the cellar door is flanked by Hunter Valley's oldest vines, a must-see for wine enthusiasts. They conduct a cellar tour and tasting tour daily at 10.30am which is not to be missed!
Can't wait to have an intoxicatingly good time in the Hunter Valley? Unleash your inner wine connoisseur and
fly to Sydney
to #DoNSW at irresistible prices with Scoot!
Scoot flies to Sydney 5 to 7 times non-stop weekly on their 787 DreamlinerTM so there's definitely a day and time to suit your schedule! Escape from upgrading for work and travel to #DoNSW.
Contrary to popular belief, Hunter Valley is not just about strolling amidst idyllic vineyards and wine-tasting! There's a myriad of activities here to keep you occupied for a truly authentic New South Wales experience.
4. Hunter Valley Resort
Segway Tours, Horse-Riding and Electric Biking
More of an outdoorsy, thrill-seeking adventure junkie? Well, Hunter Valley Resort conducts Segway tours, horse-riding lessons in the vineyards, and also has electric bikes available for hire. A special feature of their Segway tour is that it is also a kangaroo-spotting nature tour. Explore the region and take in the spellbinding views of the Brokenback Mountain Ranges, and don't forget to keep your eyes peeled for kangaroos or even the elusive wombat!
Hunter Valley Resort's horse riding sessions are also not to be missed! Running daily between 8am and 5pm, there are various trails to suit the most novice of beginners up till the seasoned horse-rider. Saddle up for a truly unforgettable riding experience Down Under.
HUNTER VALLEY > PORT STEPHENS

Now that you've conquered some of the best spots in Hunter Valley, it's time to hone your charisma and leadership skills to explore more at Port Stephens, which is a short and scenic 1 hour drive away!
PORT STEPHENS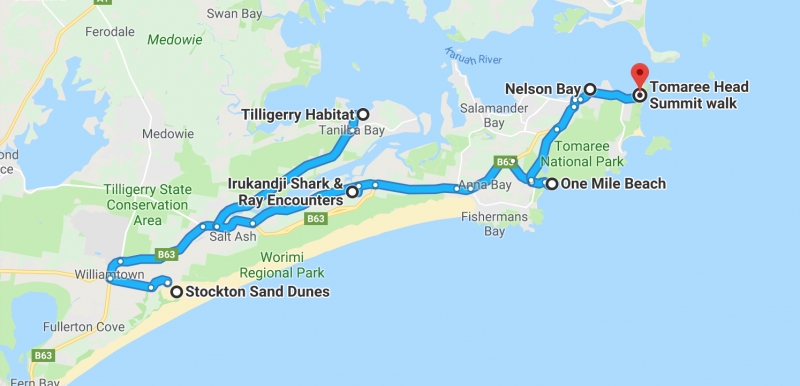 Here's the route you will be taking after arriving in Port Stephens – start your journey at the Stockton Sand Dunes and scour through the hottest spots in the region.
Port Stephens boasts 26 pristine beaches and a bay twice the size of Sydney Harbour – but more importantly, it is known as the dolphin capital of Australia! Home to a large pod of more than 150 adorable bottlenose dolphins, it is truly a blue water paradise with its glorious marine surroundings and vibrant coastal scenes. This region entails amazing experiences from koala-spotting to snorkelling, glamping, whale-watching, sandboarding and more.
Proposed route: Stockton Bight Sand Dunes > Tilligerry Habitat State Reserve > Irukandji Shark & Ray Encounters > One Mile Beach > Nelson Bay > Tomaree Head Summit Walk > Sydney
1. Stockton Bight Sand Dunes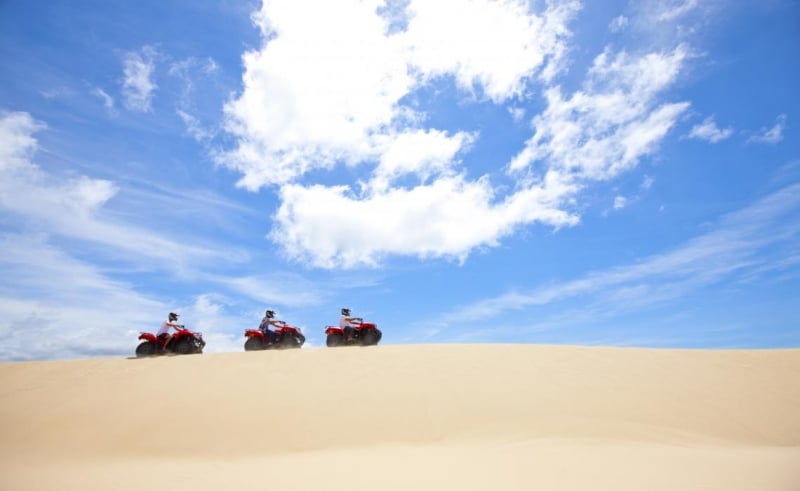 Stockton Bight Sand Dunes is the largest moving coastal sand mass of its type in the Southern Hemisphere. It stretches for about 32km, all the way to Newcastle! There's a multitude of ways to enjoy the sand dunes. You can choose to explore by foot, or steer your way through the desert in your own 4WD! Get your heart racing as you ride across the dunes on a quad bike, before sliding downhill on a sandboard from dunes as high as 50 metres. Your visit to the Stockton Bight Sand Dunes promises to be a truly extraordinary experience.
2. Tilligerry Habitat State Reserve
Fancy seeing adorable, sleepy koalas out in the wild? Well, you can do just that at the Tilligerry Habitat State Reserve at Tanilba Bay! The reserve occupies over nine-hectares of flora and fauna with a range of scenic forests and wetland environments. Koalas feed and rest in this reserve where Eucalyptus trees can be found. Get your cameras ready to snap these cute creatures the moment you spot them!
Get yourself a free guide from the information centre and go for a trek along the raised timber boardwalk. Keep your eyes wide open and try to spot as many types of birds as you can from the 109 different species that have been sighted in the reserve.
3. Irukandji Shark and Ray Encounters
Australia's eastern coast is vast, dynamic and diverse, and it is home to a dizzying array of marine wildlife species. Get intimate with various types of sharks and rays at one of Port Stephen's most popular wildlife attractions, Irukandji Shark and Ray Encounters. Their primary mission is to allow visitors to experience ocean life in an interactive fashion while educating them on Australia's delicate marine ecosystem and pollution.
Be sure to visit their Ray Lagoon which features the Southern Eagle Rays, Blue Spotted Mask Rays, and Australia's largest ray species, the Smooth Rays. If the touch pools don't provide enough interaction, those brave enough can opt to cuddle with their resident stingray, Raspy, which weighs a staggering 325kg! It'll certainly be an experience you'll remember fondly for years to come.
Can't wait to interact with these majestic rays? Let Scoot bring you one step closer with their flights to Sydney on the Boeing 787 Dreamliner
TM
. They boast quieter engines that'll provide you much needed shut-eye, and features such as mood lighting and 4X cabin moisture. You'll definitely have a comfortable flight with Scoot!
With 5 to 7 non-stop weekly flights to Sydney, Scoot is the best choice for any traveller heading Down Under. 
It's time to #DoNSW and explore the beautiful attractions it has to offer!
4. One Mile Beach
One Mile Beach is just adjacent to Tomaree National Park, so it's incredibly convenient to get here after your hike. One of the more popular beaches in Port Stephens, it boasts spectacular surfing breaks and marvellously clear waters. Go fishing, swimming, diving, snorkelling, whale-watching, and dolphin-watching here, or spend a languid afternoon just chilling at the beach.
Camping is also popular amongst locals and tourists alike, and Ingenia Holidays One Mile Beach offers various types of accommodation from beachfront apartments to caravans and tent sites! Doesn't glamping on the beach sound absolutely inviting?
5. Nelson Bay
Nelson Bay is the largest coastal town in the Port Stephens area and it treads a fine line between tourism and charm. With a great variety of accommodation and dining options, it would be difficult to find anywhere else that's better equipped for aquatic pursuits.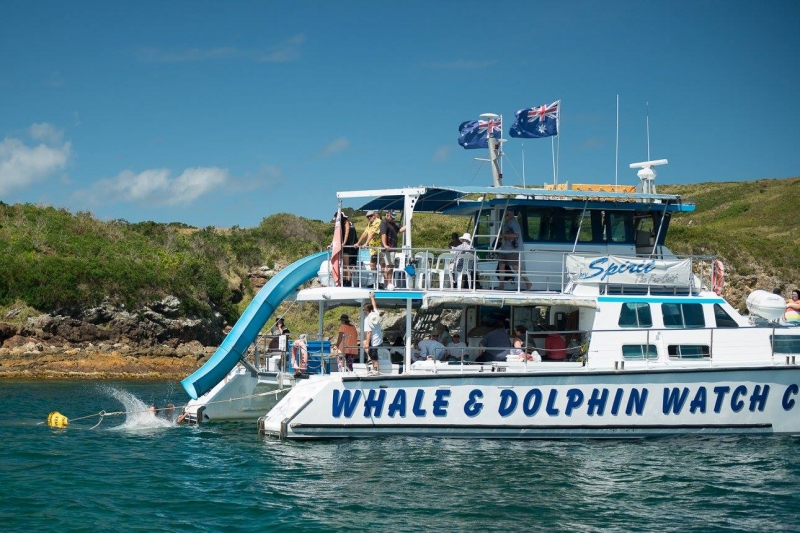 You'll have a whale of a time (pun intended!) at Nelson Bay, which is the top spot to watch the Humpback and Southern Right whales passing through during their annual migration. Swimming with the dolphins is also a popular activity, and there are several reputable companies offering dolphin and whale-watching cruises. Be sure to check out Moonshadow Cruises and Imagine Cruises for an unforgettable trip out at sea. Whale-watching cruises in particular, are available from May till November, so now's the best time to head Down Under and #DoNSW!
Diving and snorkelling at Nelson Bay are simply exceptional too. The tiny promontory called Fly Point, just east of Nelson Bay, is teeming with marine wildlife that'll leave you enthralled!
6. Tomaree Headland Hike
Train your quads on a short but steep hike up the Tomaree Headland situated near Shoal Bay. Once you reach the top, panoramic views of Port Stephen's stunning coastlines await you! From the north platform, take in the breathtaking scenery of Yacaaba Head, Cabbage Tree, Boondelbah and Broughton Islands.
Don't forget to pack along your camera and binoculars, as the summit is an amazing spot to observe migrating humpback whales and their calves, especially between May and November. Wildlife lovers will definitely enjoy this walk as the Tomaree National Park houses the nesting grounds for the endangered Gould's petrel seabird. There are picnic tables at the top as well, so pack a sumptuous lunch to refuel after the hike up, as you soak in the resplendent views!
There's no better time to #DoNSW with Scootitude! Catering to the no-frills, adventure-seeking traveller, Scoot is the ideal choice for your flight to Australia. 
With 5 to 7 non-stop flights weekly from Singapore to Sydney on board the Boeing 787 DreamlinerTM, there will definitely be a flight that fits your schedule. Give yourself that much-needed break from work and head to Hunter Valley and Port Stephens for a short road trip vacation!
New South Wales is a region that's just waiting to be explored, and it certainly oozes serious vacation vibes. The regions of Hunter Valley and Port Stephens offer all kinds of novel activities and bedazzling sights for the ultimate blend of excitement and serenity – that's exactly what you need for a rejuvenating vacation. And there's no better way to explore this region beyond Sydney than driving, so pack your bags, grab your driver's license and #DoNSW! You can brag all about your upskilled NSW holiday experience after returning from your trip.
Don't forget to tag your pictures on social media with the hashtag #DoNSW! For more options about the New South Wales experience, be sure to check out Destination New South Wales' website.
---
Brought to you by Scoot and Destination New South Wales (DNSW)