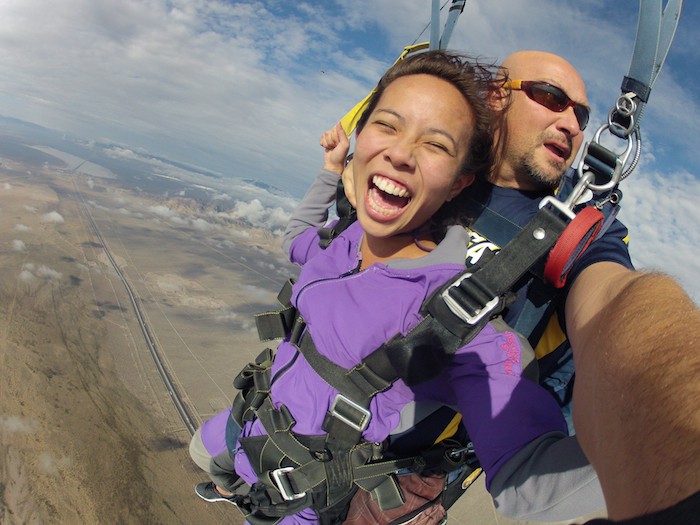 When I embarked on my first road trip with some of my closest friends to the United States in 2014, we collectively decided to check something off our bucket list together – skydiving. It sounded like a pretty crazy idea back then, but here are 5 reasons why it was one of the best decisions that I have ever made in my life. Take that leap of faith, you won't regret it!
#1 It is a once-in-a-lifetime adventure.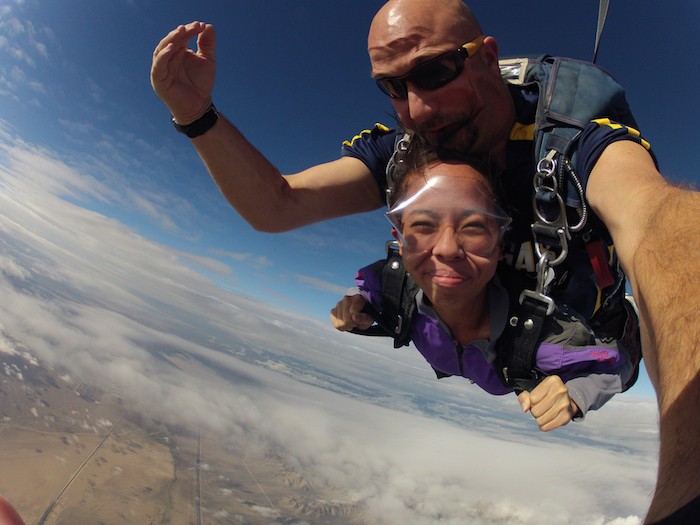 Remember to take a deep breath and TRY to keep it cool while smiling at the camera!
As quoted by Michael Curtiz, the only things you regret are the things that you didn't do. Yes, it definitely takes a lot of guts to jump out of a plane and plummet 15,000 feet through the sky for approximately 30 seconds before the parachute (finally!) opens up. But it is extremely exhilarating, and trust me when I say you'll definitely want to do it again.
Warning: Skydiving is not for the faint-hearted. But unless you are medically incapable of doing so, everyone should totally give it a try!
#2 You get to enjoy incredible scenery from a bird's eye view.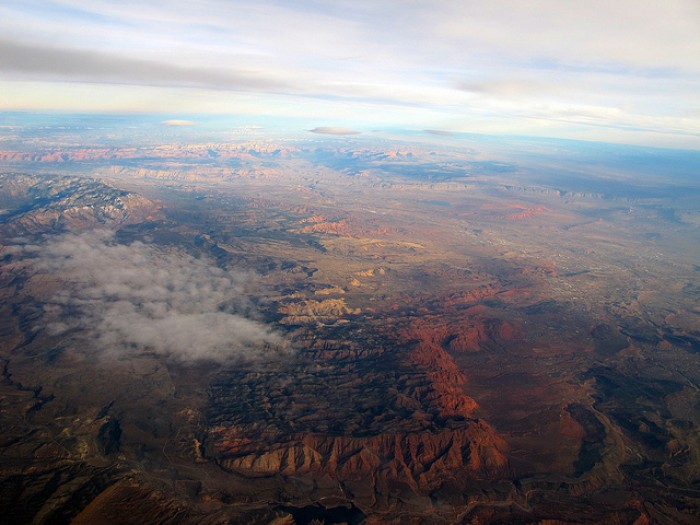 Image credits: Alison Mickelson
The fun part about skydiving is not just the free-fall, but you also get to take in breathtaking sights of the Hoover Dam, Lake Mead, the Colorado River, the Las Vegas Strip, Valley of Fire, Red Rock Canyon and Mt. Charleston. After the parachute opens up, you will get to feast your eyes on such amazing views for about 5-7 minutes before you reach the ground.. At this point, you will feel a profound sense of peace and wonder, and what's more – you will also get to control the parachute and turn about in the sky. Sounds like fun?
#3 It is incredibly safe, and no experience is necessary.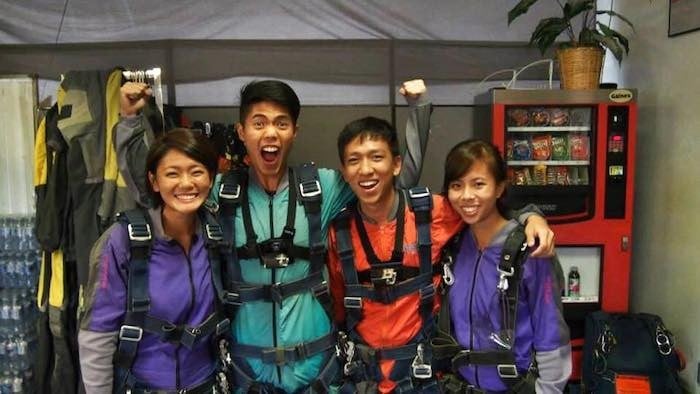 All geared up in our funky skydiving suits!
If you are skydiving for the first time, you will have to sign up for a tandem dive. There will be a safety briefing on what to do from the start to the end, but your assigned instructor will be doing most of the work. The staff are a fun bunch and love to tease, but they are very experienced and professional, and will be more than willing to clarify any queries that you have. Afterwards, all you have to do is to go with the flow, strap yourself in and enjoy the ride!
#4 It is cheaper to skydive here than other parts of the world.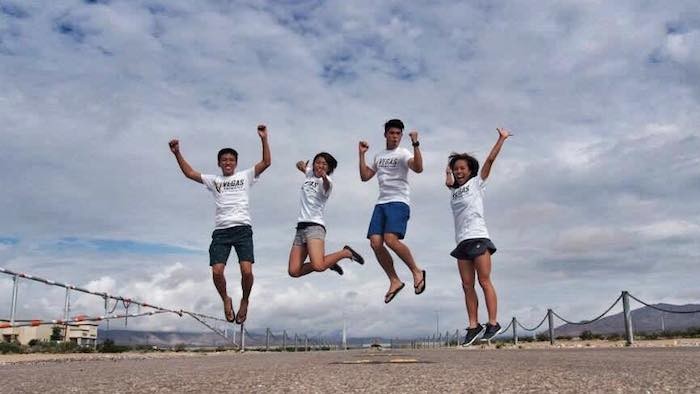 Wearing our Las Vegas Extreme Skydiving t-shirts!
I signed up for an amazing skydiving package with Las Vegas Extreme Skydiving. It cost USD249, which included complimentary return shuttle bus transfers, all the necessary training and equipment and a cool T-shirt. Most importantly, I was given a DVD of my entire skydiving journey from start to end. Trust me, you're getting yourself a great deal for the price that you are paying – this could easily cost so much more at other locations!
#5 IT'S VEGAS, BABY! Need I say more?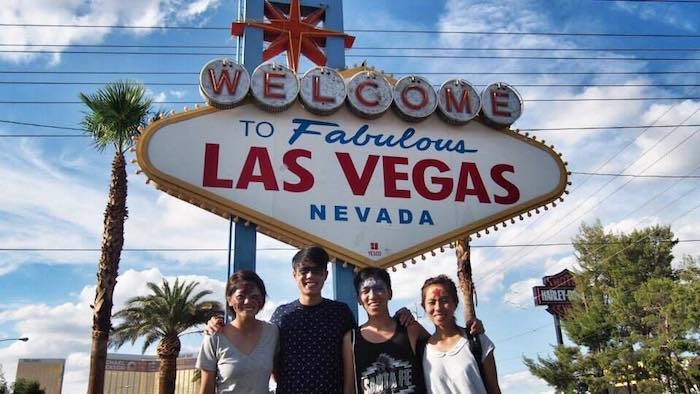 Posing in front of the famous "Welcome to Fabulous Las Vegas" sign
For lack of a better description, Vegas is a magical wonderland where everyone goes to get high and crazy – Where better to take the jump of a lifetime?
Get your adrenaline levels pumping, and say YES to skydiving because IT'S VEGAS, BABY!
Also read: Leap off a Plane: 10 Stunning Places Around the World for Skydiving