Everyone has been to Tokyo or Osaka, so why not visit Okinawa for a change? Okinawa is known to be vastly different from the other parts of Japan; it's no wonder that its food is also delightfully unique! A fusion of Eastern and Western cultures, Okinawa's home to many quirky delicacies that can only be found on that island. Interesting point to note as well, Okinawa is known for its superfoods — food that are very nutritious and good for your body.
Here are 16 must-try foods in Okinawa (other than sushi!) to get your stomach rumbling.
1. Salt Ice-Cream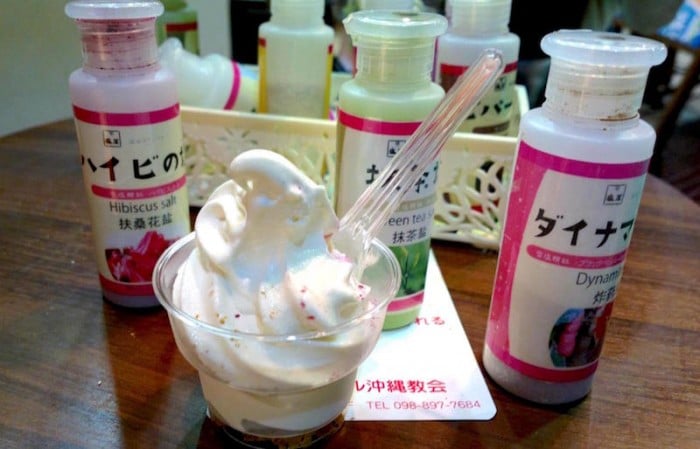 Ice-cream with… salt? It may sound strange but when in Okinawa, you just HAVE to try this Yukishio Soft Serve Salt Ice-Cream only available at Yukishio Saltworks. 'Yukishio' means snow salt, and is considered to be a health food from Miyako Island in Okinawa. It is said to contain the most variety of minerals in the world and comes in a selection of funky flavours — hibiscus, cocoa, wasabi, pepper, black sesame, green tea etc.
Surprisingly, the wasabi flavour goes best with the ice-cream. It gives an initial kick but doesn't overpower the vanilla, enhancing the sweetness of the ice-cream. Mmm… refreshing!
Price: 350¥ (S$4.60)
2. Sata Andagi (Okinawa Donuts)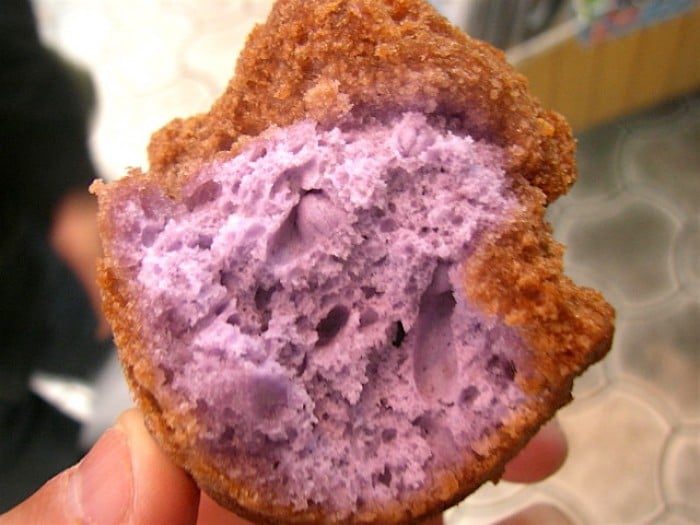 Image Credit: Hajime NAKANO
Sata Andagi is a sweet, round doughnut deep-fried to perfection, so its outsides are nice and crisp, while the insides are light and fluffy! This sweet snack, native to the Okinawan prefecture, is also very popular in Hawaii and come in various flavours — sweet potato, red bean, sugar (most popular) and brown sugar.
Price: 80-100¥ (S$1.06-S$1.32)
3. Taco Rice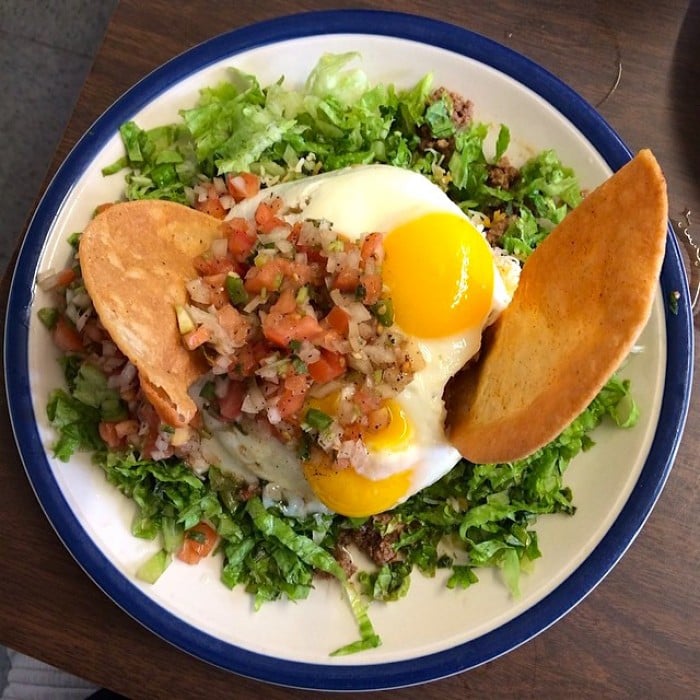 Image Credit: Arnold Gatilao
Taco, rice, cheese, lettuce, ground beef, chopped vegetables, put them together and BAM, you get a delicious mix of tangy goodness! This longstanding favourite of the U.S. Military stationed in Okinawa, you can choose to have it with or without salsa.
Price: 500-800¥ (S$6.70-S$10.60)
4. Sweet Potato Tart

Image credit: Okashigoten
The sweet potato tart is one of the must-have tidbit souvenirs from Okinawa. The traditional store, Okashi Goten Sweets Palace is frequented by both visitors and local alike. You can even make your very own batch of sweet potato tarts at the Onna Store Branch. You can register for classes just one day before and can choose from 10am, 1pm and 4pm time slots.
Price: 2,160¥ per box of 12 (S$28.80)
5. Umi Budo (Sea Grapes)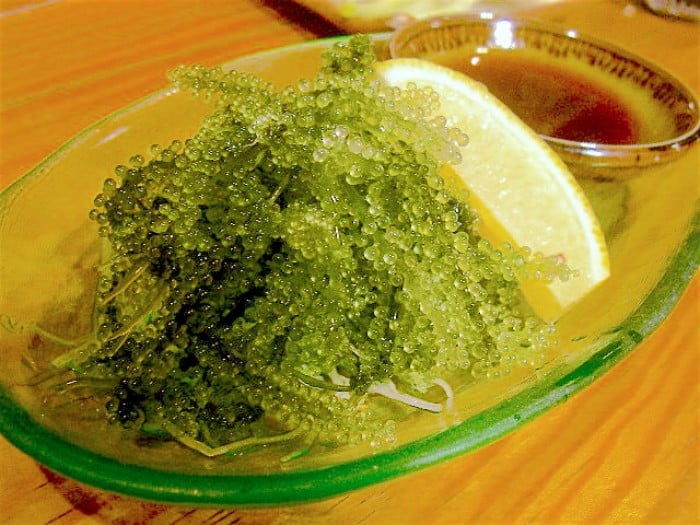 Image Credit: Hajime NAKANO
Sea Grapes is a kind of seaweed with little bubbles at the end of the stems. They are best eaten chilled dipped in soy sauce and vinegar, making it the perfect succulent snack with a cold beer! There's a slightly refreshing salty taste to it that will keep you wanting more and more. It's also been known to be a health snack rich in minerals.
Price: 1,000-1,500¥ per meal (S$13.20-S$19.90)
6. Rafute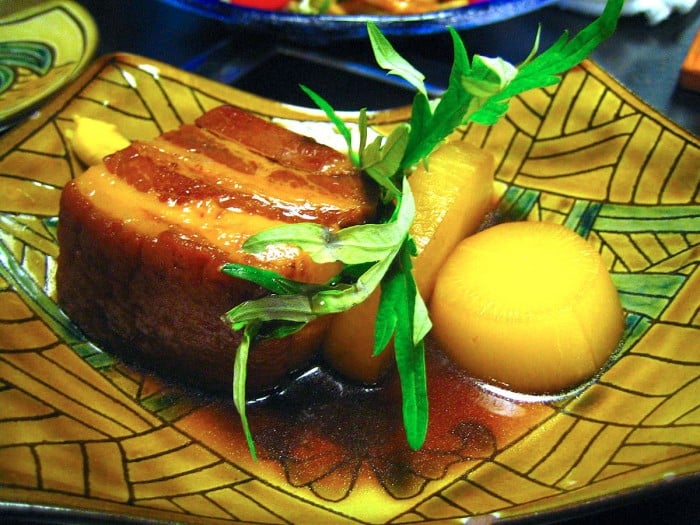 Image Credit: ayustety
Rafute is a pork rib dish that's a hit with locals and visitors alike. Stewed in soy sauce and fish broth, the locals believe that it's supposed to help with longevity. It's known as "Shoyu Pork" in Hawaii and was brought over to Hawaii since 1900. It's either served dry, with a bit of sauce and radish, or even skewered over a grill. Personally, I prefer the one stewed to perfection and melts in your mouth. But you take your pick!
Price: 1,000-1,500¥ (S$13.20-S$19.90)
7. Okinawa Soba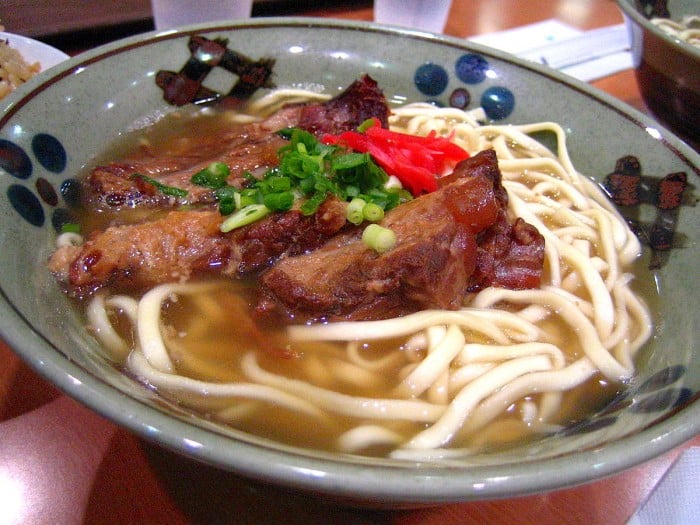 Image Credit: ayustety
This dish's name is rather misleading, and can be quite confusing if you're more used to the standard definition of soba! For one thing, even though it's called Okinawa Soba, its noodles are more akin to that of the traditional udon. For another, the soup base is much more similar to that of the ramen soup base than anything else! And so widely regarded are these noodles in Okinawa that there is even a special day (17 October) put aside just to celebrate this dish. So if you happen to be in Okinawa on this day, keep your eyes peeled for discounted rates, unique twists to this dish, or even free bowls of Okinawa Soba!
Price: 500-800¥ (S$6.60-S$10.60)
8. Awamori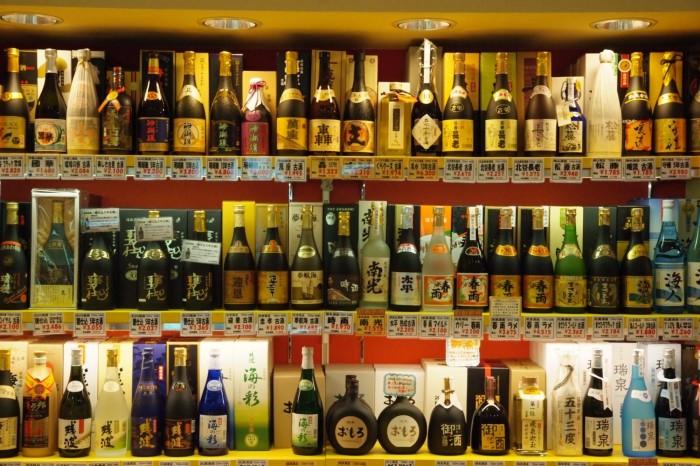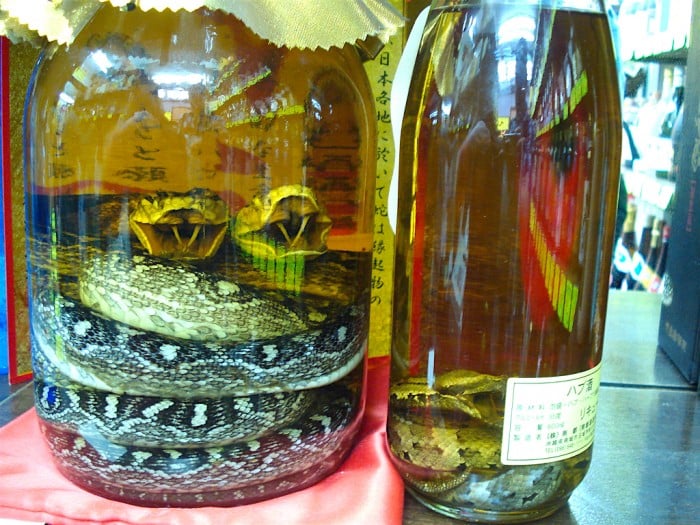 Image Credit: OCVB / OPG (top), Scott R (bottom)
Everyone has heard of sake in Japan, but did you know that Okinawa has its very own version of an alcoholic beverage made of long grain indica rice called 'Awamori'? Typically containing 30-43% alcohol, Awamori is aged in traditional clay pots to improve the mellowness of the flavour. It's most commonly drunk with ice and water. There's also a nifty version of Awamori that's bottled with habu vipers called Habu-shu. Best part? It's pretty cheap!
Price: 500¥ per 750ml bottle (S$6.60)
9. Goya Champuru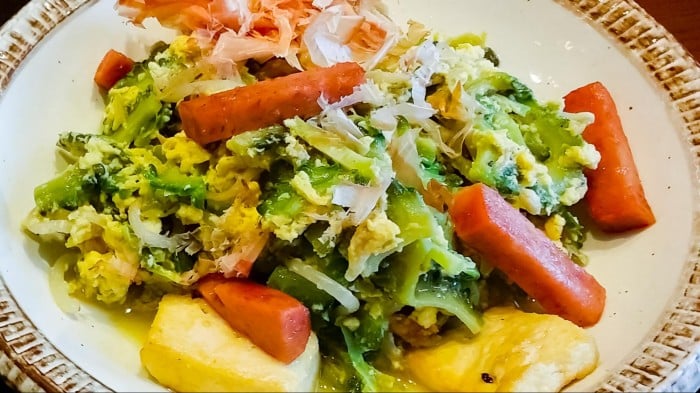 Image Credit: OCVB / OPG
Bitter melon, tofu, egg, and sliced pork and spam… While the ingredient list may sound kind of shabby, trust me when I say that this really tastes like heaven in your mouth. After all, with over a thousand years of history, the residents of Okinawa definitely have had a lot of time to perfect it. An iconic Okinawan dish that's rather different from the typical Japanese cuisine, you simply cannot leave this island without trying a bowl of Goya Champuru!
Price: 980¥ (S$13)
10. Yagi Sashimi (Raw Goat Meat)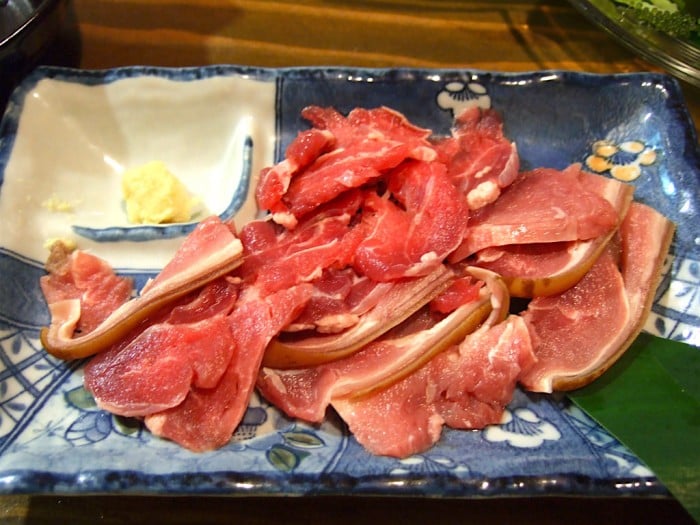 Image Credit: Pelican
Cooked goat meat can be found in some places in Japan, but raw goat meat is probably unique to Okinawa. One of the best places to eat it at would be at Nanzan, a goat-specialty restaurant and one of the top 100 restaurants in Kyushu and Okinawa. Rather chewy and with a strong, goaty flavour, this is definitely not one for the faint-hearted! Or rather, faint-stomached. Proceed with caution!
Price: 1,200-1,500¥ (S$15.90-S$19.90)
11. Mimiga (Sliced Pig's Ears)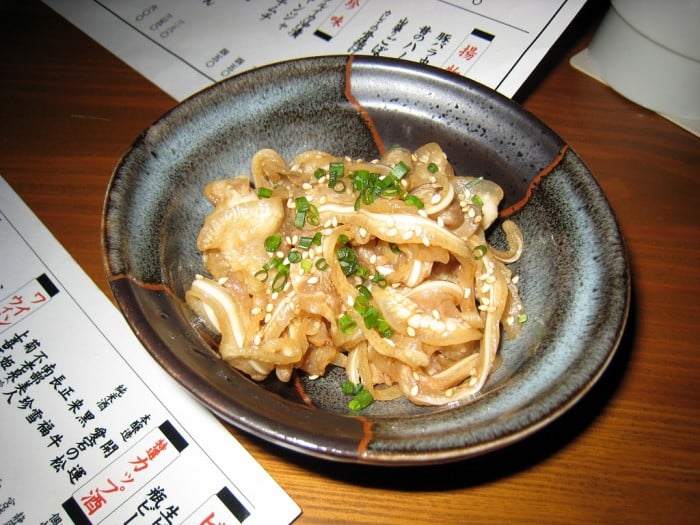 Image Credit: Ryosuke Hosoi
Okinawans sure love their pork. While you usually wouldn't think of eating pig's ears as a delicacy… This dish might just change your mind! Either steamed or boiled, and then thinly shredded, enjoy it with toppings such as vinegar, peanut butter, and hot miso. This dish isn't popular with the locals just because of its deliciousness, though: apparently, mimiga is loaded with collagen so it's pretty good for your health and beauty, too!
Price: 1,000¥ per plate (S$13.30)
12. Shikuwasa (Citrus)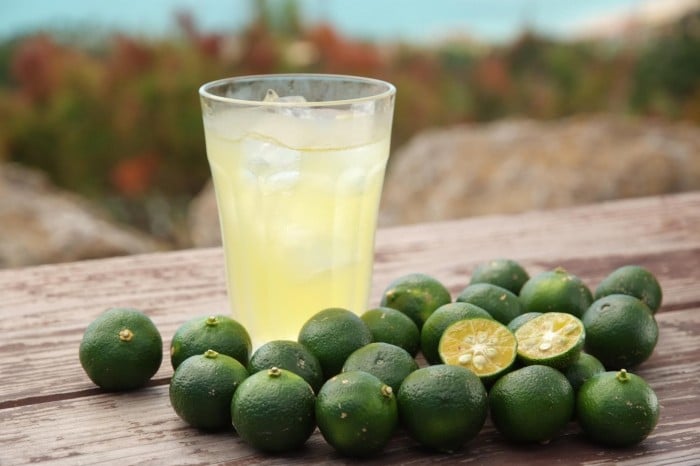 Image Credit: OCVB / OPG
A native fruit of Okinawa, Shikuwasa is famous throughout the whole island for not only being super tasty, but for being a total power fruit as well! Packed full to the brim with vitamins, minerals, and even touted as being able to relieve fatigue, Shikuwasa is used in a variety of products, from being flavouring savoury dishes to being produced as a canned drink. So don't give this miracle fruit that is found in abundance in Okinawa a miss when you're there!
Price: 150¥ per can (S$2)
13. Agu (Okinawa Pork)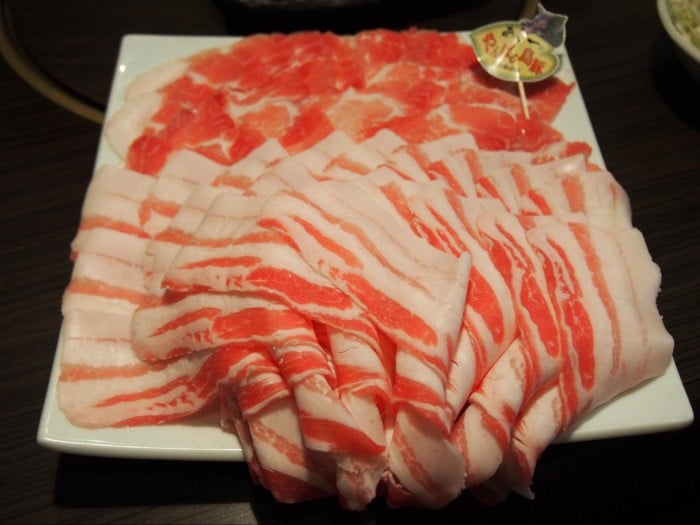 Image Credit: OCVB / OPG
The "Wagyu Beef" of pork, Agu is taken from a breed of pig that has black hair like a wild boar and is known to be tender and very sweet. It's known for its rich taste and tenderness which melts in your mouth, making it ideal for Shabu-Shabu (steamboat). Agu is said to have been imported from China some 600 years ago and is highly nutritional containing plenty of collagen.
Price: 3,500¥ (S$46.70)
14. Chinsuko (Shortbread Cookies)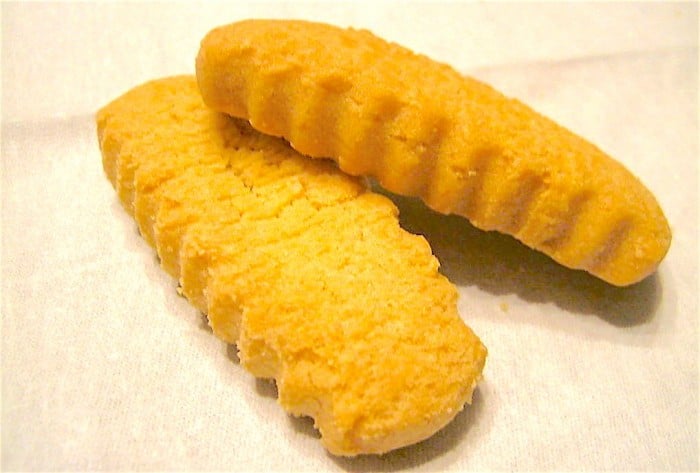 Image Credit: Kkkdc
A traditional Okinawan treat, and the most famous cookie on this island, these nuggets are pretty simple, but totally delicious and would make a good souvenir for back home! Indeed, step into any Okinawa souvenir shop and a box of these biscuits will probably be there to greet you. What's so special about Chinsuko? Well, lard is used instead of butter, giving it a unique taste that gives this treat its own special unique flavour. Mmm… Tasty.
Price: 1,600¥ per box of 12 (S$21)
15. Orion Beer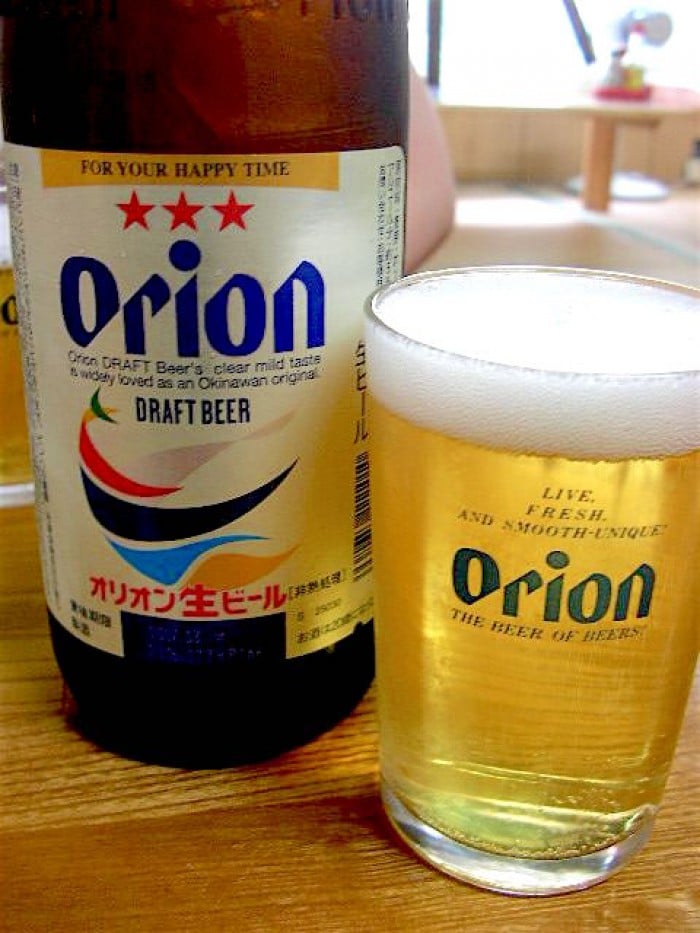 Image Credit: Hajime NAKANO
Why, this beer dominates in Okinawa. Beer lovers, you'll totally be letting yourselves down if you don't chug down at least one (or a few!) of this beloved beer brand when you're here. What's so special about this beer? Oh, nothing much, other than the fact that they use fresh spring water from the mountains just behind the brewery! Like, woah, how much fresher can water get?? So to get some Japanese Rice Lager style beer that's fresh off the rack, very literally, indulge in some Orion the next time you find yourself here.
16. Blue Seal Ice-Cream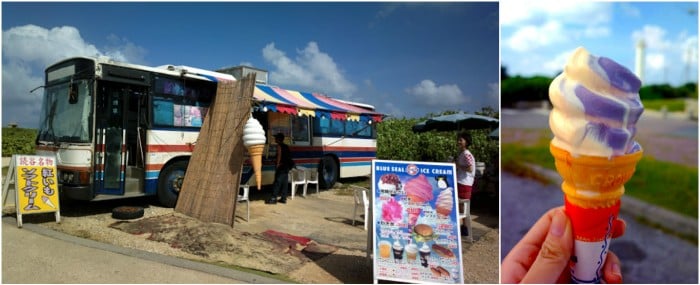 This isn't your ordinary, everyday ice-cream, no siree. Blue Seal Ice Cream can only be found in Okinawa, and is a perennial favourite amongst the locals! Indeed, this beloved sixty-eight year old brand has earned a permanent place in Okinawa's heart, and is definitely a must-try when you're here. Their ice creams are famous for having an amazing melt-in-your-mouth texture that simply can't be found anywhere else in the world! And with unique flavours such as sweet potato, Okinawa salt cookie, and strawberry cheesecake, this is one pit stop that definitely you have to make when at Okinawa!
Price: 280¥ per ice-cream cone (S$3.70)
You've been warned: Visit Okinawa only on an empty stomach. Can't wait to get started? Click HERE to find out more about this exciting island!
Also read: A 7D6N Okinawa Itinerary: How to Explore One of Japan's Hidden Gems
Book your trip to Okinawa through these travel agencies now:
---
Brought to you by Okinawa Prefectural Government Singapore Rep Office.