We must admit – it is no easy task compiling a list of breathtaking sights in Australia, simply because Australia is just too beautiful! No matter which part of the country you're in, you'll be surrounded by dazzling ocean views coupled with the most mesmerising beaches that will make your heart, naturally, skip a beat.
If you're looking for a fuss-free way to get to your destination, see more of Australia with Qantas! Fly with Qantas from just S$690 – this fare is only valid till 23 July 2017*, so grab them while they last!
*unless sold out prior to end date. Selected travel dates, days and conditions apply. Visit Qantas' official website for more information!
For those experiencing Down Under for the very first time, we've put together a very special list of must-see sights that are accessible, yet breathtaking, in their own unique ways. So grab your cameras and head out with us as we encounter the ravishing beauty of Australia!
1. Wineglass Bay, Tasmania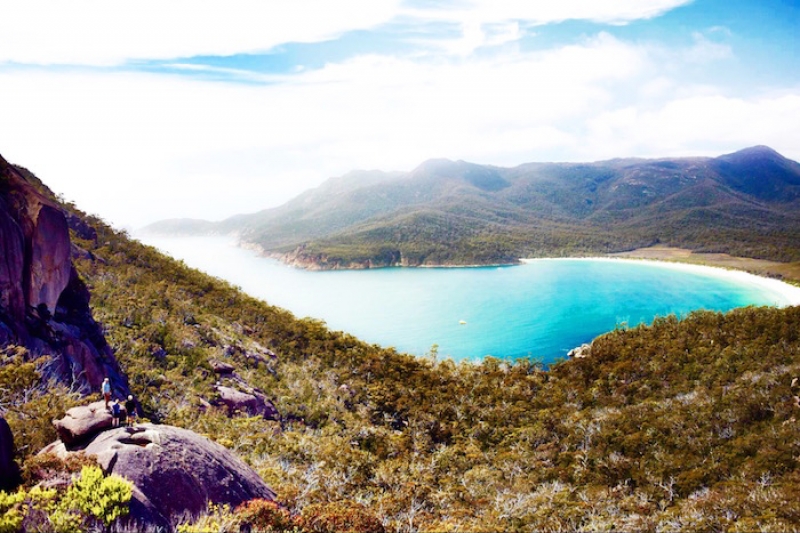 Located in Tasmania's Freycinet National Park, Wineglass Bay's exquisite beauty is pristine and untouched. Its perfectly curved beach and sapphire-coloured waters create the perfect scenery for an amazing landscape photograph – one that you definitely don't want to miss out on on your first trip to Australia! To get there, take a short hike from the Freycinet National Park carpark to The Lookout. With this breathtaking view awaiting you, the scramble to the top will definitely be worthwhile.
How to get there: Fly directly to Hobart with Qantas, and Freycinet National Park is just a two-hour drive away.
2. Great Barrier Reef, Cairns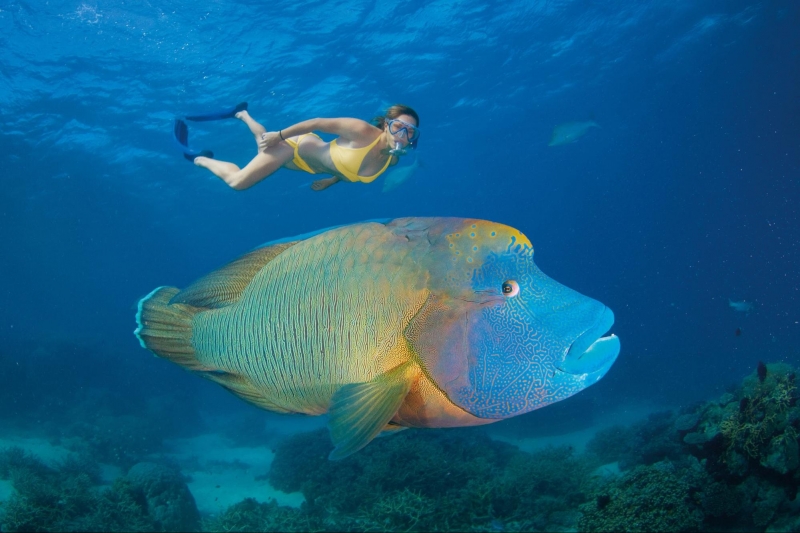 No photograph can ever do the Great Barrier Reef enough justice, because the beauty of the world's largest coral reef system simply has to be experienced personally! Home to a plethora of coral, fishes, turtles and even dolphins, there is no better place to get up close and personal with marine life than at this UNESCO-listed marine park. On your virgin Australia adventure, be blown away by the grandeur of nature's creation by going for a diving expedition at the Great Barrier Reef! It'll be a once-in-a-lifetime experience that you'll remember for years to come.
How to get there: Fly directly to Cairns with Qantas, and the reef boat journey to Great Barrier Reef is between 45 to 90 minutes depending on your island destination.
A good or bad flight can very well make or break a holiday. So why settle for anything less when you can have the very best with Qantas? Experience the best of Australia from start to end! Book your flight to Australia from just S$690* with Qantas, and you'll see exactly what we mean.
*Sale ends 23 July 2017, unless sold out prior to end date. Selected travel dates, days and conditions apply. Visit Qantas' official website for more information!
3. Yarra Valley, Melbourne
Home to over 80 wineries, the picturesque Yarra Valley allures avid photographers and wine enthusiasts alike. Apart from its tranquility and lush greenery, this region is also particularly known for Australia's finest chardonnay, pinot noir and sparkling wine. Pair your first visit to Yarra Valley with a special dawn experience on a Hot Air Balloon, where you can enjoy the morning breeze whilst ushering in the morning sun over a spectacular panoramic view of the wineries and vineyards. The feeling of the world beneath your feet is indescribable!  
How to get there: Fly directly to Melbourne with Qantas, and Yarra Valley is just an hour's drive away.
4. Uluru, Northern Territory
If you stare at Uluru long enough, the majestic and bewitching sandstone emits a somehow magnetic pull that gravitates travellers towards it. Sacred to the Pitjantjatjara Anangu (the aboriginal people), the rock is known to change its colour throughout the day, becoming red at dawn and dusk! From now till February 2018, visit the Field of Lights festival at Uluru. As darkness befalls the region, watch an entire field of flower stems crowned with frosted-glass spheres light up the mysterious Uluru – such a sight will be sure to steal your breath away! But do be warned, don't pocket any rocks from the formation! Legend has it that those who do so will be cursed with misfortune…
How to get there: Fly directly to Ayers Rock (Uluru) with Qantas, and Uluru is a 10-minute drive away.
5. Bondi – Bronte, Sydney
For those less keen to travel all the way to the Outback, fret not. There's a stellar and scenic view of Australia's coast right in Sydney! With golden-grained sand and rugged shores, it is no wonder that even the locals are a huge fans of Bondi Beach. To experience the famous Bondi Beach's in its full glory, go on a leisure coastal trail from Bondi to Bronte. Catch exhilarating views over the Pacific Ocean as you stroll along the rocky and rustic cliffs. In November, you can even wander among the intriguing sculptures of the Sculpture By the Sea exhibition! Fall in love with Australia all over again as you embark on this captivating trail.
How to get there: Fly directly to Sydney with Qantas, and Bondi Beach a half hour's drive away.
6. The Twelve Apostles, Victoria
What do you get after eons of waves and winds battering into cliffs? Awe-inspiring limestone pillars, known as the 12 Apostles, that reach up to a height of 45 metres! Take a road trip along the Great Ocean Road to see these impressive lone figures which broke away from the mainland cliffs. Each apostle stands stubbornly against the roaring winds and strong tides, exuding the same tenacity as the predecessors whom it was named after. Interestingly, its name is a misnomer because there are in fact only eight pillars. Wonder where the rest went, huh!
How to get there: Fly directly to Melbourne with Qantas, and drive along the Great Ocean Drive to see the Twelve Apostles.
7. Rottnest Island, Perth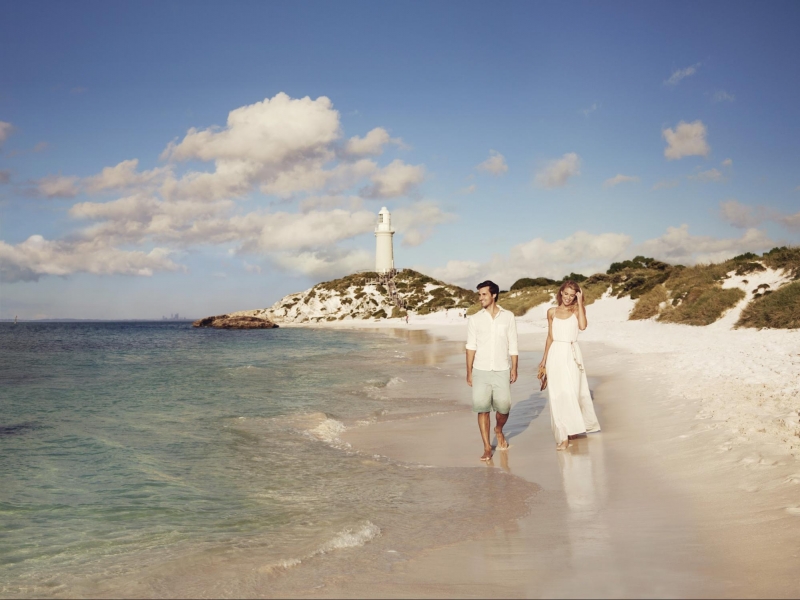 Affectionately known as "Rotto" by the locals, Rottnest Island has some of the prettiest sea views in Western Australia. With clear blue skies and turquoise oceans, soft fine sand and lovely lighthouses, the island is a must-see on your first trip to Australia! In addition, Rottnest Island is also a super family-friendly destination with a wide range of activities, including snorkelling, fishing and even surfing! Hop onto a bicycle for a day's cycle as you explore the gorgeous island, Oh, and remember to snap some selfies with the island's cute furry inhabitants, the happy Quokkas!
How to get there: Fly directly to Perth with Qantas, and Rottnest Island is a 25-minutes ferry ride from Fremantle Harbour.
8. Clare Valley, Adelaide
Nestled amidst a quaint and quiet countryside, this dazzling charmer is one of Australia's oldest wine regions. Best known for the Australian Riesling, Clare Valley is unparalleled in beauty, culture and heritage. Architecture left behind by early English, Irish and Polish settlers in the 1840s have been converted into guest houses and premium restaurants, adding onto the rustic feel of the charming valley. When you are there, be sure to visit the Jesuit Winery at Sevenhill to taste some of the best Riesling wine in the area. It was in this very winery where the region's first grapevines were planted in 1851.
How to get there: Fly directly to Adelaide with Qantas, and drive for two hours to reach Clare Valley.
If these breathtaking sights have tempted you to embark on your first-ever adventure Down Under, then flying to Australia on its flag carrier – Qantas Airways – is the way to go! With Qantas, your holiday never has to end – continue experiencing the Australian hospitality, complete with world class inflight dining and an extensive menu, all the way home.  In addition, pre-order your meals online and choose exactly what you wish to dine on on your return flight from Australia to Singapore!

In addition, Qantas has partnered with PressReader to allow their flyers complimentary access to thousands of newspapers and magazines from all around the world! Use the Qantas app to gain access to a 12-hour download period before your flight, where you can download your choice of reading material directly to your mobile or tablet to read at your leisure.
You must experience the captivating beauty of Australia for yourself at least once in your lifetime! Look at it this way – if not now, then when? For more information, bookmark Tourism Australia's official website and Facebook page, as well as Qantas' Facebook page. Hesitate no longer and fly to Australia from S$690* with Qantas for an unforgettable vacation Down Under!
*Sale ends on 23 July 2017, unless sold out prior to end date. Selected travel dates, days and conditions apply. Visit Qantas' official website for more information!
---
Brought to you by Qantas and Tourism Australia.