Sydney is a vibrant city known for its iconic landmarks – think: the Sydney Opera House or the Sydney Harbour Bridge – and spectacular scenery but above all that, the city's pretty much a paradise for any self-professed foodie.
Not convinced? Here are 10 reasons why Sydney is an absolute Food Paradise. Visit with a full wallet, an empty stomach and a loose waist belt – you'll need them all!
So Sydney has …
1. Some of the most Instagrammable desserts
Image credit: (left) Black Star Pastry Facebook (instagram): @lukewmangan; (right) Aqua S
Strawberry and watermelon shouldn't taste this good together, boy do they do. The strawberry-watermelon cake from Black Star Pastry doesn't only taste good, but looks absolutely terrific as well. The cafe is a nondescript outlet located in the heart of Sydney's artsy Newtown district, and is full of Instagrammers clamouring for a shot of the cake against the cafe's rustic brick walls. And don't get us started on Aqua S' super Instagrammable ice cream. The cotton candy has a certain WOW factor and adds that much needed 'oomph' to the dessert. Make a beeline for their signature blue sea salt flavour – it's surprisingly addictive.  Anyone, and we do mean everyone, who has been to Sydney has taken a picture-perfect shot of either of these desserts. Simply magnifique!
2. The world's best gelato – even better than those in Italy!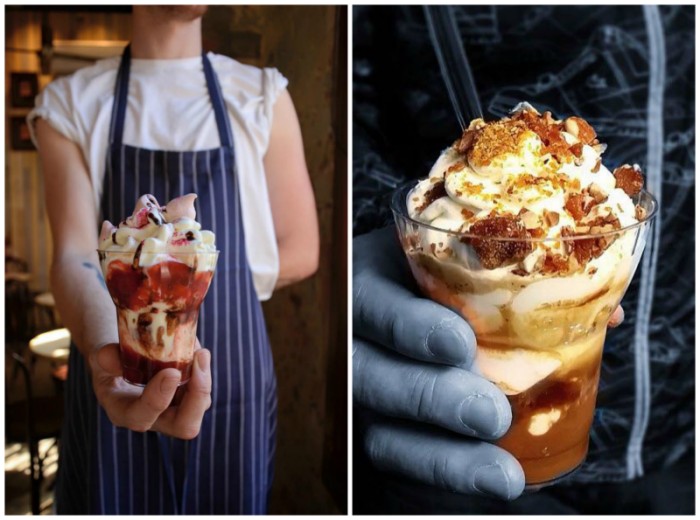 Image credit: Cow and the Moon – Gelato/Coffee/Dessert Bar
You might think that we're exaggerating, but we're not. This humble gelato offered by 'Cow and the Moon' in Sydney actually trumped all of Italy's finest artisans to emerge champion of the World Gelato Tour back in 2014. We know, we can't believe it either! A definite crowd-favourite is the Madorla Affogato flavour, which literally sells like hotcakes. Best gelato in the world? It's your call. One thing's for sure – we're definitely heading straight to Cow and the Moon the next time we're in Sydney!
3. The largest working fish market in the Southern Hemisphere – the Sydney Fish Market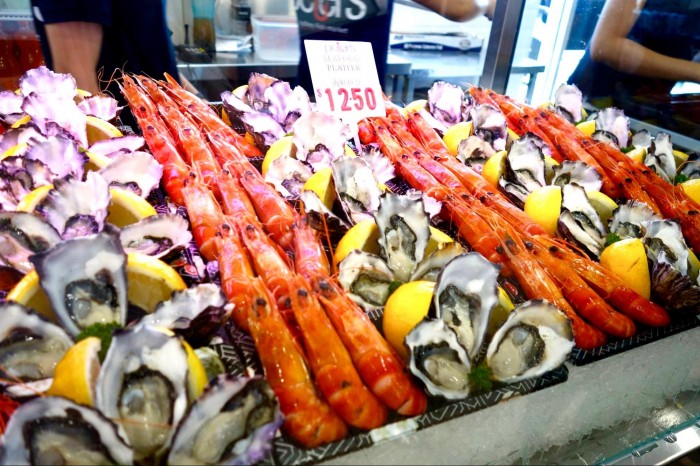 The Sydney Fish Market is a bustling hub of fishmongers, where hordes of locals and tourists alike hunger after what's possibly the freshest seafood in the region. Here you find every variety of seafood imaginable – prawns, oysters, fish, crayfish and the like – either served fresh as sashimi or cooked however you like. The Sydney Fish Market is the largest working fish market in the Southern Hemisphere, and the market with the third largest variety of seafood in the world. Opt to witness the daily wholesale auction, or participate in one of the classes offered by the Sydney Seafood School where you can try your hand at creating your own culinary masterpiece.
4. Lots of bustling weekend farmers' markets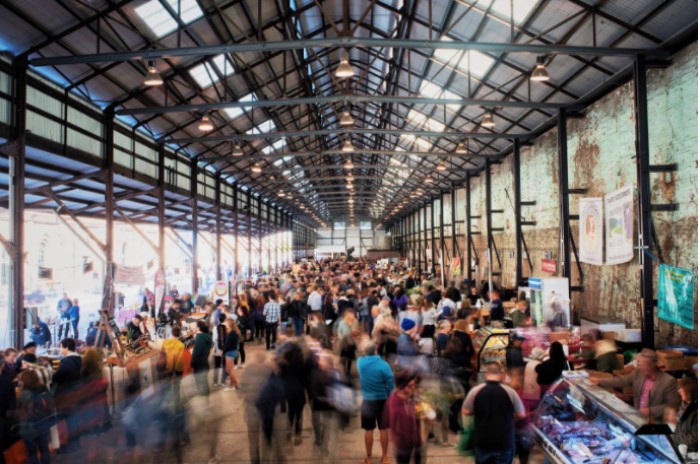 Image credit: Carriageworks
Weekends are when locals come out to discover the city as they know it; ditch the usual tourist guides and go where the locals go. And every Saturday, the Carriageworks Farmers' Market is a usual haunt, overrun with stalls peddling an eclectic mix of trinkets, souvenirs as well as fresh produce. In fact, Carriageworks is known for offering seasonal produce that is brought in from all over New South Wales! Venture here with an empty basket and fill it up with fresh ingredients perfect for whipping up a storm for dinner.
5. A vibrant cafe culture
Image credit: four.ate.five
Sydney's local café scene is brewing and you will find yourself totally spoilt for choice with your caffeine fix. Surry Hills is a district in Sydney filled to the brim with a patchwork maze of cafes, each offering a brunch menu more delectable than the last. Our favourite was 'Four Ate Five', a cafe known for serving up a mean coffee and a creamed corn dish. Frankly, the name intrigued us at first, but interestingly, the cafe is indeed located at 485 Crown Street. Coincidence? We think not. The entire area is lined with cafes, so take your pick!
6. Literally pancakes of every variety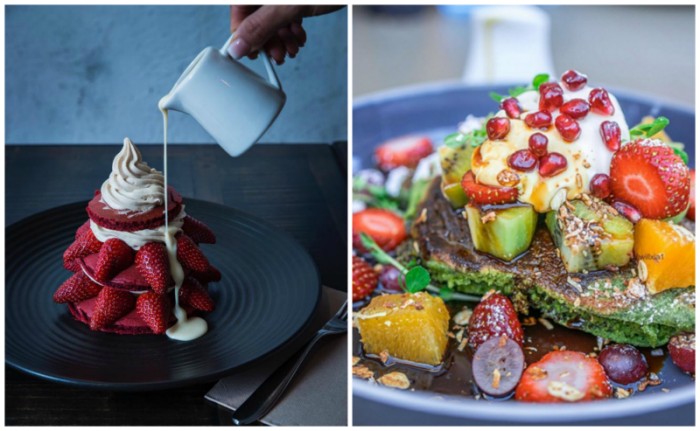 Image credit: (left) The Local MBassy; (right) Le Monde Cafe
Here in Sydney, normal pancakes just don't cut it. Introducing: red velvet pancakes, matcha pancakes, and butter pancakes covered with every kind of topping imaginable! Pancakes on the Rocks are a regular go-to for many locals, with cafes like Le Monde Cafe and the Local MBassy enjoying overwhelming popularity as well. What we love about pancakes are that they can either be eaten as a dessert, or simply as a main itself!
7. Close proximity to Australia's Oyster Coast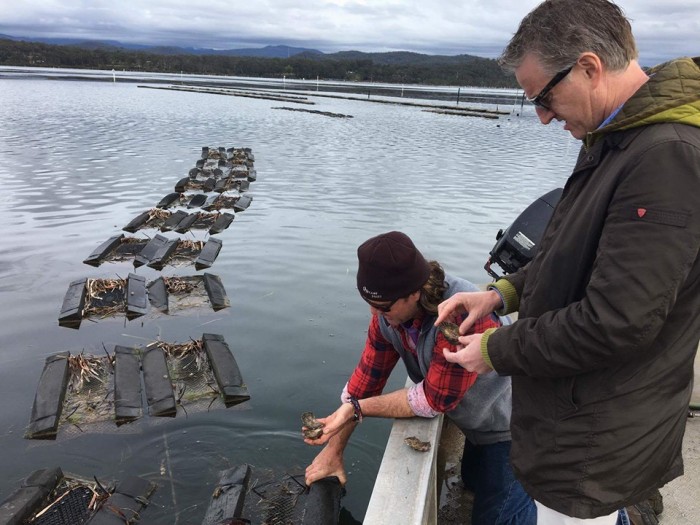 Image credit: Australia's Oyster Coast
This makes for an easy day trip; located just 2.5 hours away from Sydney, Australia's Oyster Coast is a stretch home to big juicy oysters and plenty of world-class oyster farms. Explore the Oyster Trail, stretching from Shoalhaven to the Victorian border, home to eight estuaries that each produce different types of oysters. While you're there, make sure to sample the Sydney Rock Oyster, an oyster is found only along the south-eastern Australian coastline.
8. Close proximity to Australia's oldest wine-growing region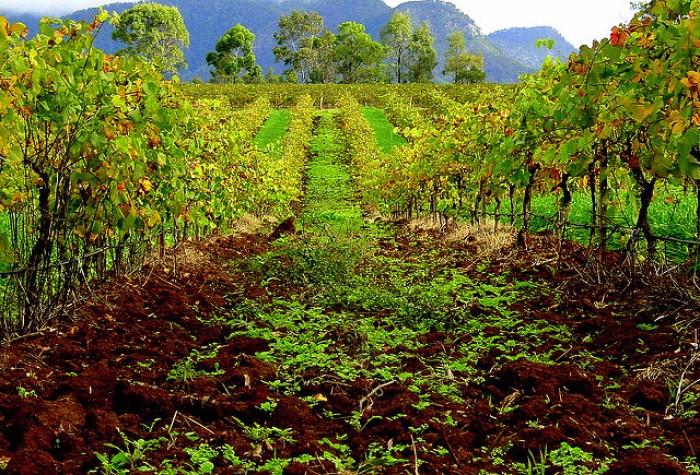 Image credit: F Delventhal
Located 2.5 hours North of Sydney, wine connoisseurs flock to the Hunter Valley in search of premium vintage wines, tangy cheeses and fresh produce. Wander along the never-ending rows of grape vines and take deep breaths as you go along – the air here somehow seems fresher and crisper, with the weight of morning dew hanging in the air. Besides all these gastronomic delights, you can choose to take to the skies at the crack of dawn in a hot air balloon and have stunning views of the valley from a unique vantage point.
9. Many orchards that let you pick your own fruit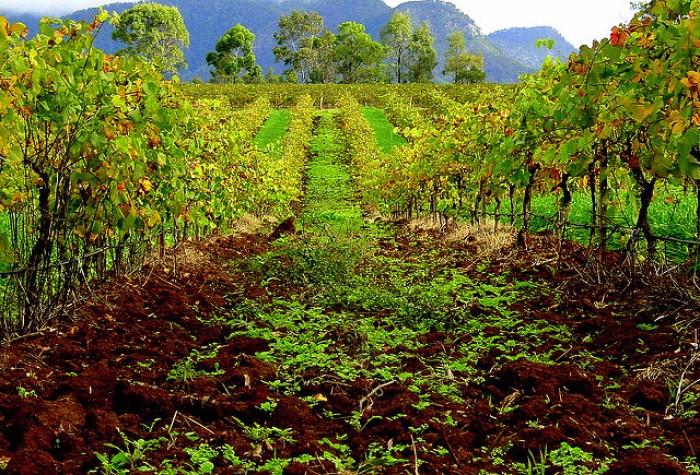 Image credit: vijay chennupati
There's nothing better than savouring the fruits of your own labour; roll up your sleeves, for the fruit picking season is almost upon us! Fruit picking season starts in November – venture out of Sydney to any of its nearby orchards where you can spend an afternoon idly picking fruit off trees. Delight in picking peaches, nectarines and strawberries till December, then apples and raspberries from January to June.
10. Home to stunning 'three-hatted' restaurants
So we've all heard of michelin starred restaurants, but Sydney has its own version – every year, the Sydney Morning Herald Food Guide grants select restaurants across Sydney and New South Wales either one, two or three chef's hats as a mark of being one of the region's top food establishments. Few restaurants attain the coveted three-hat status, our favourite among which being 'Quay'. Quay is located right at the harbour, offering its diners a spectacular view of the Sydney Opera House. Visit just before sundown to enjoy your meal against the dramatic backdrop of a fiery sunset! A meal at Quay is the quintessential end to any trip to Sydney – ask any foodie and they'll tell you the same.
Can't wait to explore this humble little food paradise down under? Start your foodie adventure by flying to Sydney with Qantas – every in-flight meal offered literally tastes like it came straight out of a Masterchef kitchen. Cut short the wait and fly directly from Singapore to Sydney twice daily. Book your flights now from just S$659 return Economy – food glorious food awaits!
---
Brought to you by Qantas Airways.