Ever heard of Fly-Cruise? This up-and-coming method of travelling is one of the best ways for holiday-goers to make the most of their travels!
Also read: Fly-Cruise? What's That? — A New Way of Travel You Never Even Knew Existed
A Fly-Cruise involves taking a flight to the cruise's port of departure, whereupon you embark on your wondrous adventure across the sea. You have a choice of taking a round-trip cruise which takes you back to the same location where you started, or a one-way cruise whereby you fly to one country and disembark in another. All these means that a Fly-Cruise gives you extreme flexibility in planning your holiday: with the flight and cruise aspects independent from each other, you can arrange your 2-in-1 trip however you want it. There are various destinations to choose from, some of which are far-flung and hopelessly exotic, so take your pick!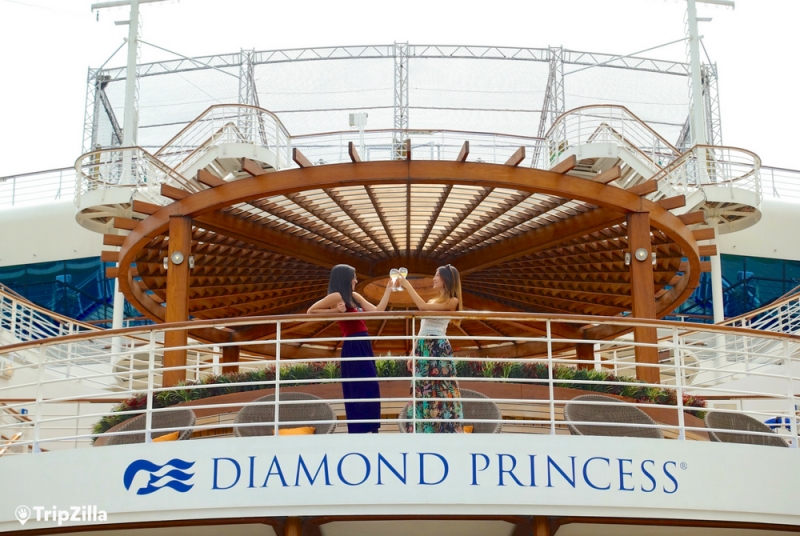 "What's there to do on a Fly-Cruise?" you might ask. Well, if you take a cruise holiday with Princess Cruises, there are plenty of activities to participate in! I embarked on the 7D6N Ryukyu Islands and Taiwan cruise holiday, where I flew to Tokyo and cruised through parts of Japan.
My time on the Diamond Princess, one of Princess Cruises lovely ships, was chock-full of interesting activities, and I was kept entertained throughout my entire holiday.
From shore excursions to body massages, here's what you'll enjoy:
1. Adventure into exotic lands
Cruises aren't all about journeying across the deep blue sea – there are shore excursions available too! Cruises do call into ports during their journey, which means that the ship would spend some time docked in the harbour. During these periods, shore excursions are available for those desiring to explore the area. You can spend an afternoon visiting the city's various places of interest, become acquainted with the local street food, or even do some shopping.
What's great about shores excursions is that you get to skip the hassle of planning what to do ashore!  Each shore excursion has a specific itinerary, and, in the case of Princess Cruises, led by highly knowledgeable guides, making your time on dry land definitely worth it. All you have to do is just sign up or book the shore excursions in advance – it's that simple! During my shore excursion in Okinawa, I opted for a Shurijo Castle, Gyokusendo Cave & Okinawa World Cultural Village shore excursion, where I got to explore the UNESCO World Heritage Site at Shurijo Castle, immerse myself in Okinawan culture and even got to sample Awamori, a spirit belonging exclusively to the region.
2. Feast on top-class cuisine
One awesome thing about cruises is that your meals are either buffet spreads (which are excellent feasts) or immaculately-prepared dishes! Princess Cruises takes it to a higher level, with the onboard culinary team offering a wide range of international cuisines, ranging from Italian to Japanese.
For those wanting finer dining, check out the ship's speciality restaurants instead! The selection of speciality restaurants differs from ship to ship. The ship that I was on, Diamond Princess, had three! Of the three, I especially loved Sabatini's, an Italian restaurant renowned for its signature pastas, seafood and Italian wines. Our gastronomical experience at Sabatini was complete with gorgeous furnishings, cosy layout and marvellous food – we definitely got more than what we bargained for, especially when we only had to pay a nominal cover charge of S$29! We unfortunately didn't have space to try out another speciality restaurant, Kai Sushi, but we'll definitely be back for its renowned Ala Carte offerings. Exclusively found on Princess Cruises, their traditional sushi and sashimi menu definitely caught our eye!
3. Pamper yourself with the 24-hours room service
Feeling a bit lazy to get out of your comfortable cabin? Try Princess Cruises' signature FREE 24-hr room service! This service allows you to order food into your cabin, at any time of the day.  Enjoy a slice of chocolate fudge cake, or a warm bowl of soup, all from the comfort of your cosy confines. There's hardly a better way to tuck into breakfast than by your private balcony in the company of the swooshing sea breeze and awakening sunrise. The menu selection is also sufficiently wide, ranging from delicious sandwiches to addictive desserts. If you want to make the best out of the room service, fill up the form for breakfast to be sent to your cabin! Just specify the time you want your meal to be delivered and hang it at your door – the staff will handle the rest.
4. Relax in a luxurious Japanese bath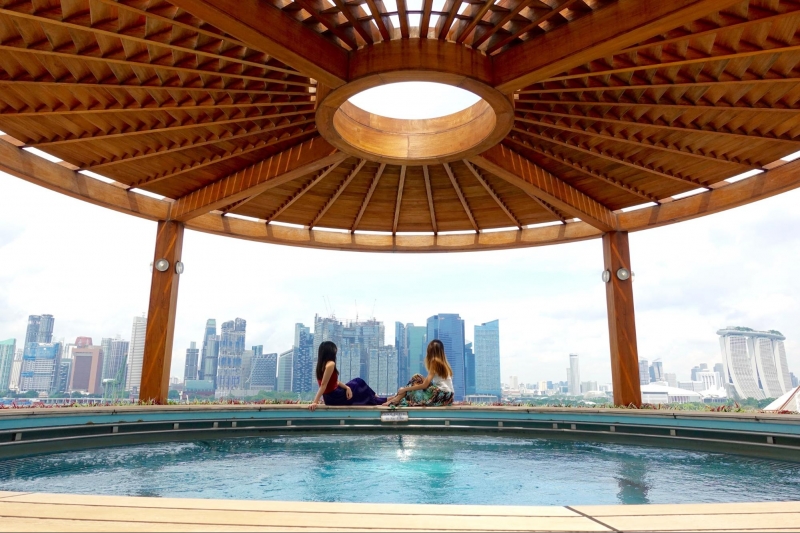 With the 24-hr room service, it's easy to blink past an entire day just lazing about in your cabin. But if you do that, you'd miss out on arguably the biggest highlight onboard. At a staggering 8,800 square-feet, the Izumi Japanese Bath on Diamond Princess is the largest of its kind at sea and provides the ultimate channel to destress. For a small sum of $15, you get to enjoy the full Japanese Onsen experience with unparalleled views of the ocean. Under the mesmerising blanket of a star-streaked night sky, I couldn't resist indulging in a languid dip in one of the two open air hydrotherapy pool.
If it gets too chilly outside, I'd recommend switching it up in the bath's indoor section! Here, you can loosen all those knots in the sauna and rub down your aches under the soothing Utaseyu, which is a seated waterfall massage. In the adjacent indoor whirlpool, the misty, eucalyptus-infused sauna was also therapy at its finest. Since the Izumi Japanese Bath is a feature unique to the Diamond Princess, you'd be a fool if you blink past the chance to luxuriate in it.
5. Take your pick from the slew of exhilarating activities aboard
Aboard Princess Cruises, there's just so much to be done in so little time! Activities range from the mild to the extreme; if the brain-teaser trivia or bingo sessions organised at various lounges don't fit your fancy, you can always head out to the deck and participate in gripping golf putting tournaments and exhilarating obstacle course challenges. Fretting over all those extra pounds gained from all the feasting and lazing around? Check yourself into one of the fitness activities available like zumba or pilates to burn those calories away.
Take advantage of the gorgeous ambience when night falls and snuggle up with cosy blankets as you watch a movie under the stars. With complimentary popcorn thoughtfully provided, what better way to spend quality time with your loved ones under the serene starlight cast upon the open deck?
Apart from this, you can also sign yourself up for photography, latin dance, arts and crafts, hula dancing and even ukulele strumming classes! Who knows, you may even uncover some hidden prodigious talent from one of these. It's hard picking from the extensive list of activities, so be sure to keep your eyes peeled for the Ship's activity schedule, which will be available a day in advance.
6. Find your inner peace at the top deck retreat
For those of you desiring a quiet place to read or meditate, head towards The Sanctuary at the top deck of each ship! A nominal fee grants you access to an adults-only retreat furnished with comfortable deck chairs and cabanas. With tranquil music playing in the background, you can sit back and soak in the sun, or nap with the sea breeze caressing your hair. The Sanctuary even has an attentive steward service, which is perfect if you love to enjoy a drink or two in peace.
7. Unleash the masterchef in you with culinary demonstrations
If you aspire to be the king in the kitchen, or just love your food, check out Princess Cruises' culinary demonstrations! Available on long voyages, these gastronomical events give you the opportunity to glimpse what goes on in the ship's galley. During my time onboard the Diamond Princess, I attended a live cooking demonstration by the chef onboard. The demonstration was extremely informative, and I learnt how to easily prepare a starter, main course and dessert in a fun and entertaining way. Now you don't just savour delicious food onboard a cruise – you learn to prepare one too!
8. Unlock those knotted muscles with the onboard spa
One does not simply go for a cruise holiday with Princess without enjoying the onboard spa facilities, also known as the Lotus Spa! Awarded the Best Spa on a Cruise Ship by Spa finder
Wellness 365™, the Lotus Spa is available on every Princess Cruises ship, and offers a spread of wellness treatments, such as aroma stone therapy massages and ocean wraps. You can also give yourself a makeover at the salon, with the manicure, pedicure and hair treatment services available. If you are still feeling stiff, treat yourself to a full body massage!
Whether it's learning how to cook exquisite dishes or just simply unwinding at the Japanese bath, you will be thoroughly entertained onboard a Princess Cruises ship! If you've been dying to go on a holiday but haven't decided what you want to do, why not sign up for a cruise holiday with Princess Cruises and embark on your very own Fly-Cruise? With the amount of amazing activities onboard, your vacation will certainly be nothing you have ever experienced before!
---
Brought to you by Princess Cruises.