Have too many places you're dying to visit? Then it's definitely a smart move to combine Australia and New Zealand in one trip. Not only is it a cost-savvy decision to explore more of the region in one holiday, you'll be able to indulge in a wide variety of experiences across both countries!
Australia and New Zealand both offer spectacular coastlines, fascinating wildlife, iconic architecture and dynamic rich cultures. Each country is known for so many things: Australia for its rich aboriginal history in the Outback as well as its outstanding gourmet food and wine scene, or New Zealand for its Lord Of The Rings filming locations and its vibrant Maori culture that remains an integral part of Kiwi life.
Visiting both countries at the same time will give you a sheer whirlwind of an experience; however, there's just one teeny-weeny problem – they are not land-linked!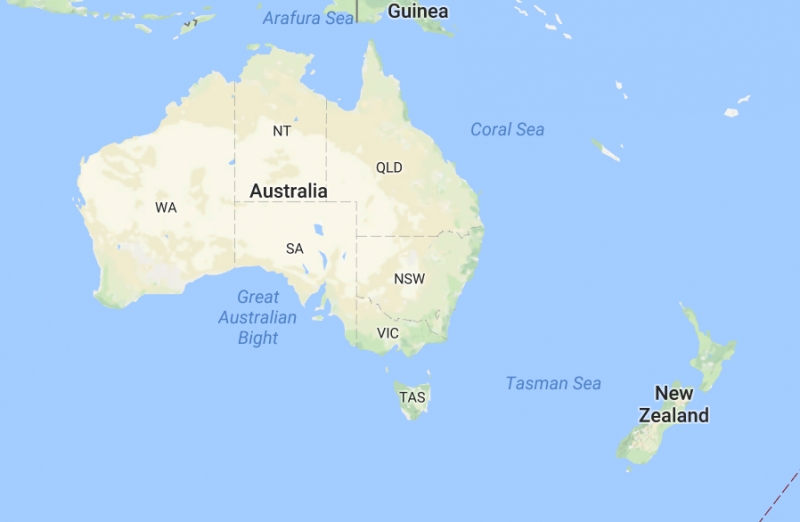 If you're already fussing about those multiple flights plus car bookings, fret not for we've got a solution for you: have the best of both worlds when you choose to embark on a Fly-Cruise with Princess Cruises!
If you're not sure what a Fly-Cruise is, read this and get acquainted with this new revolutionary way of travel.
The best way to kickstart your Fly-Cruise trip would be by starting your journey from Melbourne or Sydney, Australia. With a multitude of international flights arriving each day into each city, start your holiday on a high with convenient flight bookings all at your whim. Besides, with a Fly-Cruise, you'll be able to see both Australia AND New Zealand within a cruise itinerary that ranges from 1-2 weeks long! Rather than flying all the way from Singapore to New Zealand, it makes perfect sense to combine your exploration of the region all in one trip.
Going on a Fly-Cruise to Australia and New Zealand not only allows you to explore both countries seamlessly, it also allows you to enjoy travelling in itself – hop on board one of Princess Cruises' magnificent cruise ships, and enjoy all various activities and cuisines on offer.
On a Fly-Cruise, here's a breakdown on what you can enjoy 1) in Australia, 2) in New Zealand, and 3) onboard the cruise ship:
1) Things to Do in Australia
Dandenong Ranges' ornamental gardens are a sight to behold, along with its verdant fields and vast national parks. Spend your time on board Puffing Billy, Australia's old-fashioned steam train and breathe in crisp fresh air, as you journey through the temperate rainforest. Also, check out the quaint town of Belgrave, where you can indulge in some divine Devonshire tea and admire intriguing Aboriginal sculptures at William Ricketts Sanctuary.
Cruise along the cool, sapphire seas (Wineglass Bay, Tasmania)
Synonymous to Tasmania's most breathtaking beach, the sight of Wineglass Bay's lapis lazuli waters fringed by its crescent pearly-white shore is truly spellbinding (yes, this sight is not an illusion!). Boasting serenity all around, this alluring beach in Freycinet precinct simply glitters in the sunlight. Ranked impressively as one of the world's top ten beaches, the pristine coast's refreshingly cool waters are irresistible especially during the blazing summer heat. With the pink granite peaks of The Hazard mountain ranges engulfing the bay, postcard-worthy Wineglass Bay is nothing short of extraordinary.
One of the best things to do at Wineglass Bay is to take a cruise around the scenic waters. Instead of booking this cruise as a separate activity, make it part of your whole holiday experience with this Fly-Cruise departing from Sydney or Melbourne. It's completely hassle-free!
The 18-acre organic lavender fields magically paint the vast tracts of land a gorgeous shade of lilac; this surreal backdrop is probably every photographer's dream! Favour some lavender-inspired cuisine? Treat yourself to some delectable lavender ice cream and relish a sinful authentic lavender fudge bar. If you don't have an adventurous palette, wander around the lavender trail instead and marvel at one of nature's most fragrant flowers. Complete your experience by walking away with some dreamy shots and taking home a calming essential oil or two.
Explore an underwater wonderland (Great Barrier Reef, Queensland)

– A Discovery Recommended Tour
Believe it or not, this UNESCO world heritage site is the only living thing on Earth that can be viewed from space! With a conglomerate of over 3000 coral reefs, 600 continental islands and depths extending to more than 2000m, the exotic Great Barrier Reef houses a prolific marine biodiversity range from shallow estuarine waters to deep oceanic waters. The sheer grandeur of this reef will leave you mesmerised before you can even explore the bustling underwater metropolis.
Excited to snorkel or dive to this underwater paradise? Hop on the 8D Queensland & The Great Barrier Reef cruise, and you'll be able to go on this iconic Great Barrier Reef shore excursion when the ship ports at Cairns! This is one of their Discovery Recommended Tours so you definitely can't miss out on it for sure.
After an eye-opening snorkelling session, why not continue on a scenic cruise and admire the fascinating Coral Sea Islands territory? Try to spot Willis Island, with a population count of 4 inhabitants – 4 weather forecasters to be exact! The comprehensive 8D Queensland & The Great Barrier Reef itinerary nicely incorporates the most picturesque cruising spots to ensure that you don't miss out any noteworthy sights. If you prefer a return trip back to Sydney, the 10D cruise option will settle that easily.
– An Animal Planet Recommended Tour
A haven to one of Australia's largest mobs of free-ranging kangaroos (yes, you may feed them!) and wallabies, this wildlife refuge also provides critical relief to orphaned and recuperating animals. Bonorong makes for an excellent family trip as the young tots can discover and interact with some of Tasmania's rarest species. Meet the popular locals – wombats, koalas, Tasmanian devils – and delve deeper into the pressing issue of our wildlife's fragility. This enriching visit will indeed leave you empowered to make a significant difference.  
Be enchanted by the surreal Blue Mountains (Sydney, New South Wales)

– A Discovery Recommended Tour
Fret not, the blue haze that you see is not signs of blurry vision. Eucalyptus oil droplets when combined with dust and water vapour, result in short wavelengths of blue light. The majestic mountain range hence goes under the moniker of the 'Blue Mountains'! Marvel at the spectacular native bushlands, be impressed by the staggering rock formations (The Three Sisters!) and explore the intriguing Jenolan caves. If you can spot the Giant Staircase, the famous Jamison Valley is a 916-step descent from there.
If the Blue Mountains left you enchanted, can you imagine how spellbinding some of the other hidden gems are? In all honesty, paying homage to just one scenic natural formation can never do justice in encompassing Australia's brilliant natural landscapes. With these Fly-Cruise options (7D Tasmania, 11D Australia & New Zealand, 10D Queensland & The Great Barrier Reef – all of which departing from Sydney), you'll be able to view all of these natural splendours whilst travelling in style!
2) Things to do in New Zealand
Explore an absolute MUST-SEE for Lord of the Rings fans (Hobbiton Tour, Wellington)
Lord Of The Rings fans, rejoice! Get ready as you journey from Middle-Earth to Tracy Island in New Zealand's movie capital. Check off those famous scenes from the highly acclaimed trilogy as you cross Hobbiton Woods, witness the 'Frodo Tree' and relive numerous other epic moments such as the 'Shortcut to the Mushrooms'. To make things even sweeter, enjoy a PRINCESS EXCLUSIVE visit to Weta Studios – the physical side of the film production company! Savour this precious opportunity and get a glimpse into the action behind-the-scenes, as you sift through the awesome props used during the filming and take home some insightful LOTR secrets while you're at it! Experience J.R.R Tolkien's masterpiece in the most surreal way possible right at Hobbiton.
Even though New Zealand is dubbed "Middle-earth", there are so many other intriguing parts to explore. Journeying by land would mean tons of pit-stops and it can also be extremely taxing. As such, you might not be able to fully appreciate and revel in the beauty of some of the attractions. Why not indulge in a well-mapped out cruise that takes you effortlessly there? Whether you wish to return to the port of Sydney or Melbourne, the Fly-Cruise routes are equally exceptional.
Visit the glow worms' Milky Way (Waitomo Glow Worm Grotto, Auckland)

– A Discovery Recommended Tour
As you glide silently through the pitch-black cave, a spectacular galaxy greets you. With a jaw-dropping history dating back to some 30 million years ago, Waitomo is now home to massive limestone pillars that house thousands of magical luminescent glow worms. These fascinating creatures are found exclusively in New Zealand! Meander along the ancient Waitomo River and immerse yourself in the tranquil ambience. Fun Fact: Many of the employees today are direct descendants of the cave's original Maori founder, Chief Tane Tinorau, back in 1887.
On board the Fly-Cruise, this is one of the most unique shore excursions you can partake in. With everything booked in advance, you just have to make sure your camera batteries are fully charged and you're all set for your glow-in-the-dark adventure! Easy-peasy, ain't it?
Rendezvous with Mother Nature (Waimangu Volcanic Valley, Tauranga)
Rotorua welcomes you with its rich Maori history and fascinating geothermal activity. Your eco-tours might get a tad steamy, thanks to the volcanic crater lakes ("Inferno Crater"), thermal hot springs ("Frying Pan Lake") and bubbling geysers. Invigorate your soul with a hike through one of the youngest eco-systems in the world and be rewarded with beautiful panoramas. Keep your eyes peeled for native wildlife and discover rare botany, all within this magnificent valley.
New Zealand's South Island is one of the most sought after destination for holiday-goers from all corners of the globe. The best way to optimise your incredible South Island adventures? Embark on an exquisite cruise holiday that takes you from point to point while you marvel at a palette of dramatic sea and landscapes. Kill two birds with one stone in your practical approach to viewing New Zealand's reputable South Island. Hop on a 11D Australia and New Zealand cruise holiday through the impossibly blue seas, or slow down the pace with a 13D New Zealand option.
Scenic cruising at Fiordland National Park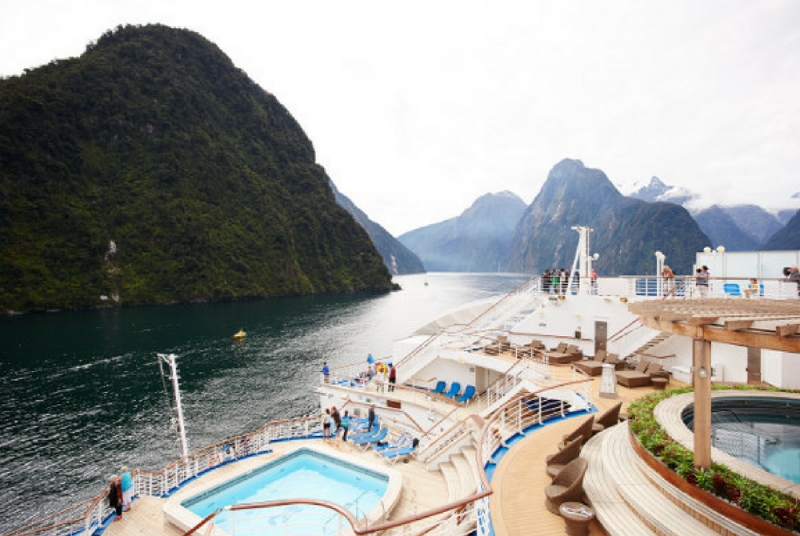 There's one name that's become almost synonymous with New Zealand, and that's none other than Milford Sound. Situated at the heart of Fiordland National Park, you'll be thoroughly awed by the majestic cliffs of the Southern Alps. Soak in the glorious scenery that stretches before your very eyes, from lush rainforests to stupendous waterfalls, you'll find yourself falling helplessly in love with this picturesque sight.
For the adventurous souls, head to the resort town of Queenstown, renowned for exhilarating activities such as parasailing, bungee jumping, and more. Located on the shores of New Zealand's longest lake – Lake Wakatipu, you'll also get majestic alpine views to boot. There's no better way to admire these natural wonders than a scenic cruise. Set sail on board a 12D Australia and New Zealand cruise today and witness these incredible views for yourself!
Visit your woolly friends and muster up some courage to take part in a sheep-shearing demo! New Zealand is approximately home to 3 million people and 60 million sheep, hence a visit to a farm is quintessentially Kiwi. Interact with the warm and hospitable 5th generation farmers and witness the sheepdogs hard at work as they round up the flocks of sheep on the steep slopes. The brief respite from the hustle and bustle of the concrete jungle will help to clear your mind and ease any pent-up tension.
Swim with Hector's Dolphins (Akaroa Harbour, Akaroa)
Named after New Zealand's most influential scientist, these endangered miniatures take the cute level up a notch! Spanning a maximum length of just 1.4 metres and endemic to the waters of New Zealand, the Hector Dolphins are a true sight to behold. Grab this once-in-a-lifetime opportunity to swim and interact face-to-face with the world's smallest and rarest dolphin species. These adorable sea creatures, with their signature rounded dorsal fins and distinct 3-colour markings, will leave you beaming whilst having a ball of a time.
Upon arrival at Akaroa, just double check that you've packed all your swimming essentials and you'll be ready for your Akaroa Harbour Swim with the Dolphins shore excursion. With the main focus on offering fuss-free travels, a Fly-Cruise really takes care of everything for you, down to the tiniest detail! Don't you just feel like royalty already?
3) Onboard the cruise ship
On board, there's also no lack of things to do! From tantalising dining choices and top-notch entertainment to a slew of exhilarating activities, you'll never be bored. Unwind and catch a blockbuster film screening on the giant open-air poolside amphitheatre or check out the various restaurants onboard… there's something for everyone!
Currently, there are four cruise ships deployed to Australia and New Zealand – the Sun, Sea, Golden and Diamond Princess, so take your pick! Come 2018, Majestic Princess will also be joining the fleet deployed there. With unique features aboard each ship, you'll be thoroughly spoilt for choice on your next cruise vacation!
Check out some of these unique onboard specials that vary based on your route:
Embrace the festivals of the world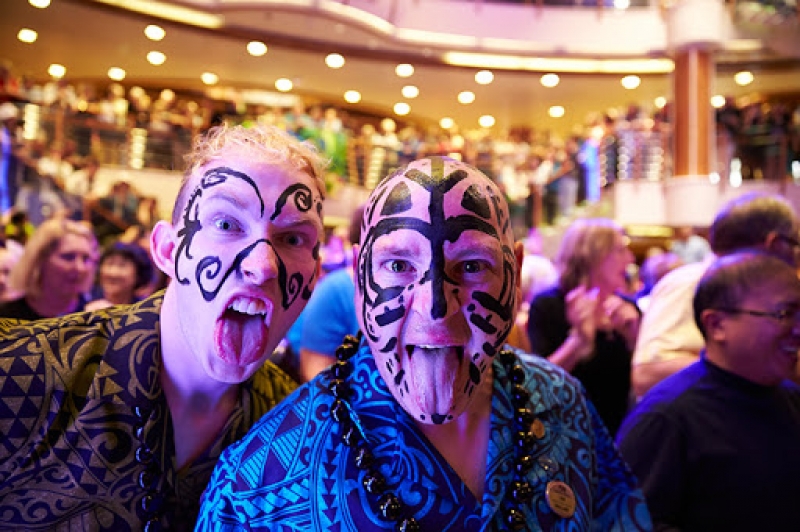 Exclusive for South Pacific sailings, immerse in some of New Zealand's culturally rich heritage through lively performances and enriching activities. The Matariki Festival pays special homage to some of the country's greatest traditions through the vibrant Kapa Haka Performance, Poi Ball dance class as well as the Maori Face Painting. Partake in an exciting line-up of fun-filled programmes and gain valuable insights into the unique Maori culture, all on board your lavish cruise.  
Indulge in the finer things in life at Share Restaurant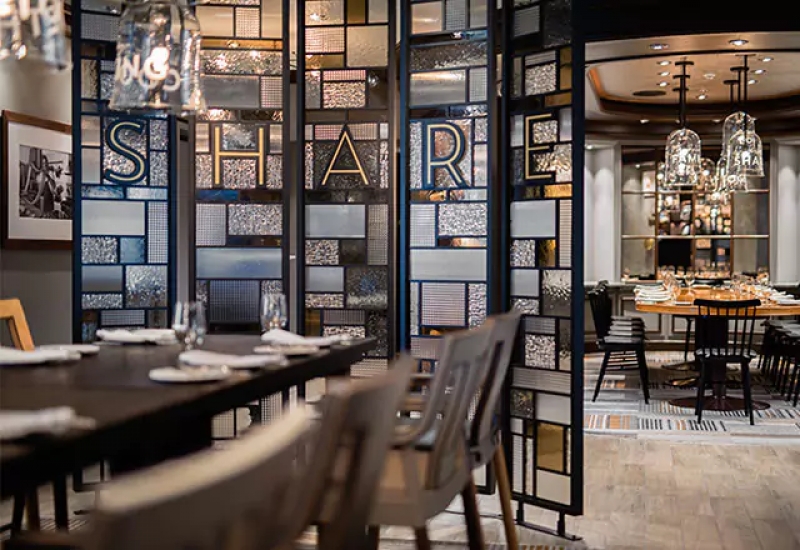 This top-class specialty restaurant is helmed by renowned Australian chef, Curtis Stone. Get ready for a contemporary dining experience onboard the Sun Princess which will will leave your taste buds well-pampered as you delight in an exquisite range of mains and desserts. Tuck into delectable charcuterie, hearty salads, melt-in-the-mouth meat entrees and scrumptious desserts all in a warm and ambient setting. The carefully-curated dishes feature only the freshest catch of the sea, and will leave you and your tummies very satisfied indeed.
Soak in the Izumi Japanese bath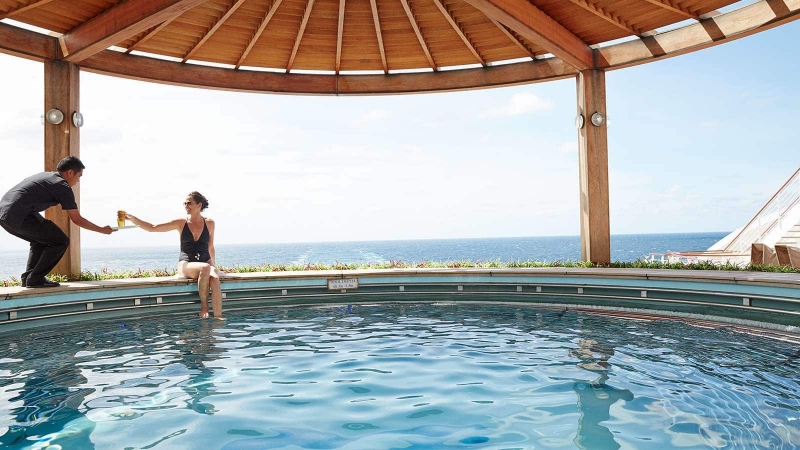 An outdoor hydrotherapy pool with an extraordinary view? Yes, please! The Diamond Princess features the Izumi Japanese Bath that allows you to soak in the phenomenal endless sea views, all from a therapeutic warm bath. Ranging from steam rooms and saunas to hot tubs, experience this favourite Japanese pastime in one of the largest Japanese baths at sea. Unwind in the four heated whirlpools and watch your worries melt away as your tense muscles get the relaxation they truly deserve.
Extend your Discovery at sea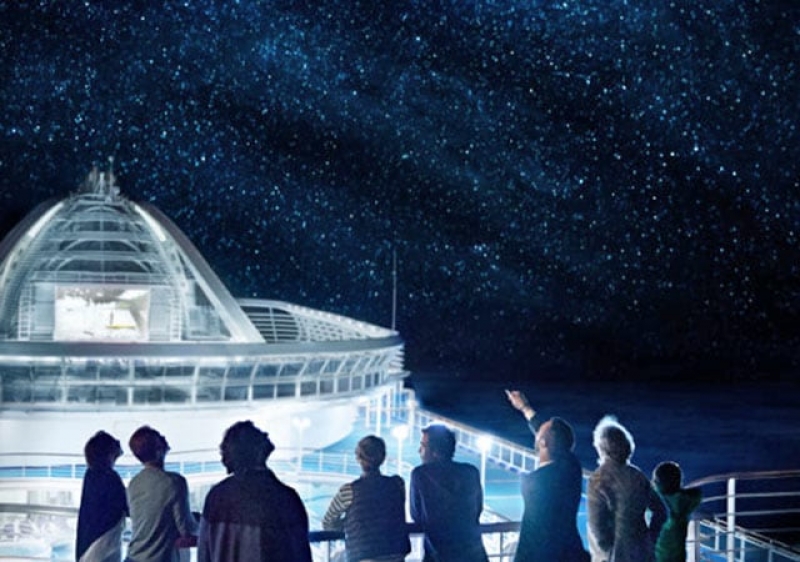 Take your vacation experiences up a notch with these superb (and highly informative!) programmes, rolled out as part of a collaboration between Princess Cruises and Discovery Communications. With a myriad of shore excursions, enthralling activities and uber-cool experiences, you will be in for an unforgettable treat. Have a captivating stargazing session or join in the fun activities featuring hit shows like MythBusters, Deadliest Catch and Shark Week.
Sit back, relax and enjoy movies under the stars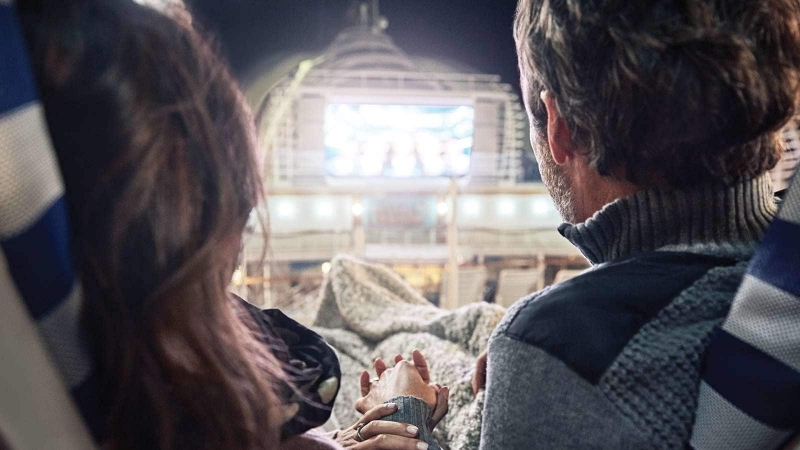 This one is a reel treat for sure. The stunning open-air poolside amphitheatre is your go-to for live football matches, exciting concerts and blockbuster film screenings. As you lounge comfortably and bundle up with a fleece blanket, enjoy fresh free popcorn (in the evenings) and tasty cookies paired with milk during the day. Bid farewell to traditionally dark cinemas, Princess Cruises just redefined the ultimate viewing experience for you.
Are you raring to explore the region already? There's clearly a plethora of things to do and see in Australia and New Zealand, all of which cater to both the young, and young at heart. And with time and convenience at stake, travel smart and hop onto a Fly-Cruise that offers various routes covering all of the above sights – depending on which you pick!
Let Princess Cruises take you directly to the most iconic sights of each port. At the port, maximise your time with shore excursions, which are specially curated experiences that are designed to show you the best of the location.
On top of that, some of these are recommended by Discovery Tours and Animal Planet Tours; these special tours cannot be booked independently and are only available through Princess Cruises. Talk about exclusivity! Nab the golden opportunity to attain precious knowledge on your voyage, through two of the most trusted brand names in exploration.
Also read: 2018 Bucket List: Dare to Be Different & Go On a Fly-Cruise
THIS is the new and revolutionary way to travel. Kickstart your adventure from Sydney or Melbourne, and check off these spellbinding places Down Under – one Fly-Cruise at a time. Are you ready?
---
Brought to you by Princess Cruises.