Vietnam has so much to offer – from breathtaking sceneries to a storied past and intriguing culture to diverse landscapes. This safe tourist destination is fast becoming a top travel spot in South East Asia and can be fit into any budget.
As the COVID-19 risk abates, you can consider a trip to Vietnam when it is safe to travel again. Here's where in Vietnam you should pay a visit for a relaxing post COVID-19 getaway!
Sign up for the Wyndham Rewards to enjoy 10% OFF the best available rate on all properties across the globe.  For every dollar spent on Wyndham Rewards hotels, you'll earn 10 points, or 1,000 points per stay, whichever is greater. Plus, you can redeem a free night stay at one of the properties with the points accumulated. Sounds like exciting perks you wouldn't want to miss out on!
Hanoi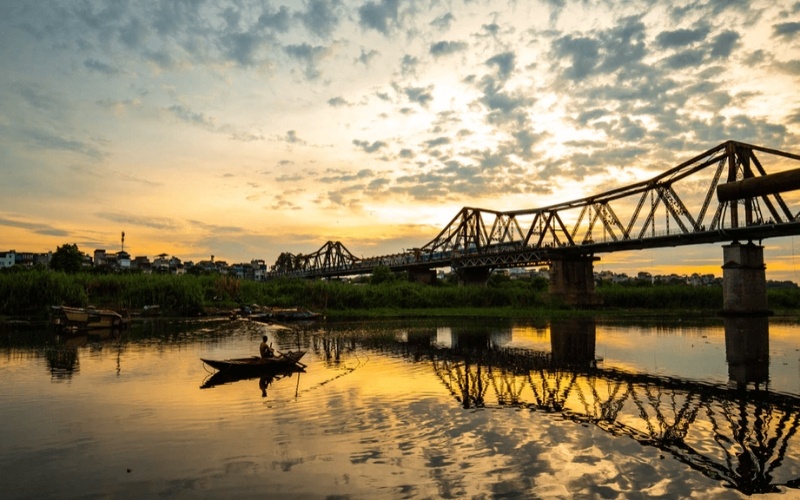 Hanoi, the capital of Vietnam, exudes an archaic charm while brimming with modern delights. Its resilience during the Chinese and French occupation is still palpable in every district of the city. Well-preserved colonial buildings, ancient pagodas and imposing citadels will give you a poignant snapshot of its history. You will be amazed to spot towering edifices dotting the city centre starkly juxtaposing the precious relics even though the city is more than a thousand years old.
Make sure to visit the Old Quarter to soak up the sights and sounds of the ancient city. The maze of streets also brims with instagram-worthy cafes for you to spend time sipping away a cuppa while idly observing Hanoians getting about their day.
Well after the sun sets, Hanoi has a myriad of attractions to beguile locals and tourists alike. Groove the night away at one of Hanoi's glitziest nightclubs. If partying is not your thing, make your way to Dong Xuan market instead. The oldest and largest market in Hanoi, you can get your hands on a plethora of wares and fares without burning a hole in your pocket. 
Also read: Top Things to Do in Hanoi
Where to stay
1. Wyndham Garden Hanoi (Open)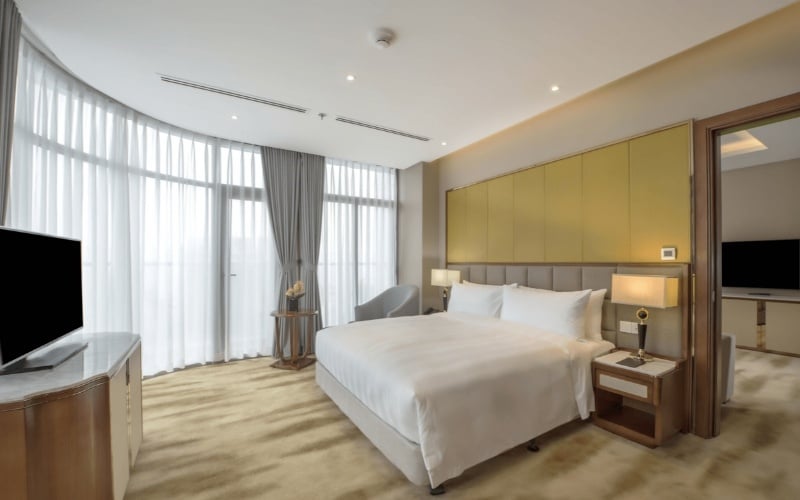 Wyndham Garden Hanoi is a hassle-free option if you are looking to pack in as much sightseeing as possible. This newly opened hotel features stylish modern design and is a stone's throw away from places of interests like the Van Phuc Silk Village. You can enjoy a stroll along the winding alleys to uncover Hanoi Museum, Temple of Literature, and Ho Chi Minh Mausoleum.
After an eventful day, you can treat yourself to the amenities available at this contemporary urban hotel. Enjoy a well-deserved spa treatment to relax your body at the wellness centre emanating a zen-like ambiance. If you fancy a dip in an indoor heated swimming pool, this modern hotel has just that. Grab some keto-friendly meals from the all day dining fusion restaurant boasting a stunning vista of the skyline before slipping away into a restful sleep in their spacious rooms.  
Phone: +84-24-36666655
Address: HH01 To Huu Street Van Phuc Ward, Ha Noi, Vietnam 100000
Website
Enjoy up to 15% OFF Wyndham Garden Hanoi!
2. Dolce By Wyndham Hanoi Golden Lake (Opening soon)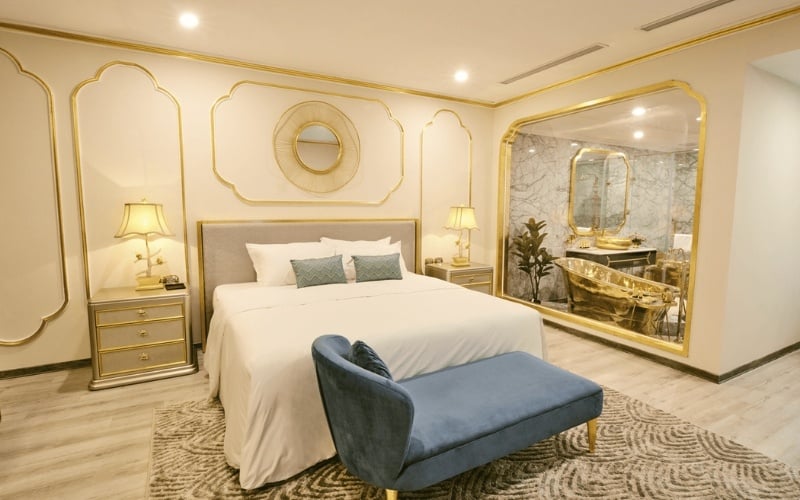 If you are looking to sample the lifestyle of the rich without breaking the bank, Dolce By Wyndham Hanoi Golden Lake doles out the ultimate luxury experience. Not only is the hotel facade glistening in gold, it boasts rooms and suites with a modern interior and just the right touch of golden accents to offer guests unparalleled luxury. The hints of gold and glitz add allure to the visual space. In addition to that, the ensuite bathroom equipped with gold-plated appliances looks like it's straight out of a palatial home. 
Every hour is 'golden hour' at this opulent hotel. Soak in the rooftop infinity pool decked out in 24K gold tiles reflecting the dazzling sunlight while taking in panoramic views of the reposeful Giang Vo Lake. Even the dining option at this glamorous hotel is fit for royalty. Illustrious chefs dust mouth watering dishes with gold while the dining table features dazzling gold wares – the epitome of extravagance. 
Phone: +84 24 3365 9999
Address: B7 Giang Vo, Ba Dinh, Ha Noi
Website
Enjoy 10% OFF as a Wyndham Rewards Member!
3. Wyndham Sky Lake Resort & Villas (Opening soon)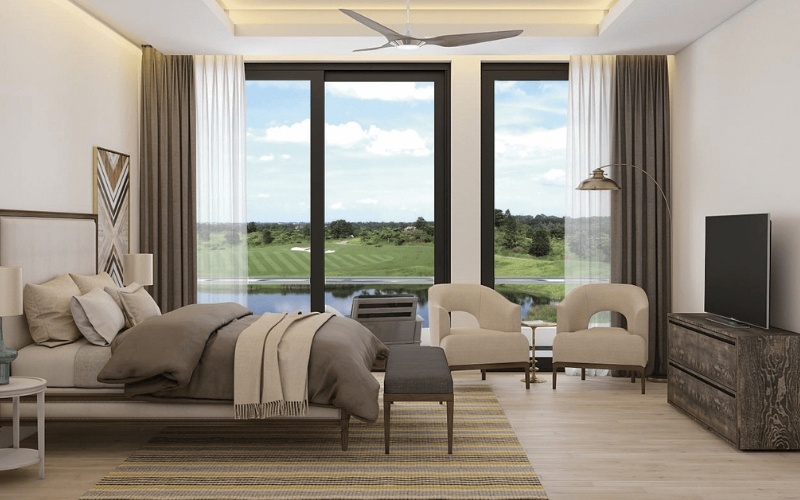 Tucked away in the Van Son Lake district – away from the hustle and bustle of city life – Wyndham Sky Lake Resort & Villas is where you need to be to unwind and recharge. This untapped staycation spot is surrounded by a large natural lake with awe-inspiring views of towering mountains in the distance. At this premier lifestyle destination, you can be at one with nature to revel in the beauty of your surroundings amid this pandemic.
If you are craving for a challenging activity during your getaway, Wyndham Sky Lake Resort & Villas offers one of the best golfing experiences in Vietnam. Put your golf mechanics to test at the practice facility which combines two 18-hole championship courses. There is nothing like perfecting your swing amidst verdant greenery.
Phone: +84-24-33593838
Address: Van Son Lake Area Hoang Van Thu, Chuong My, Vietnam 100000
Website
Enjoy 10% OFF as a Wyndham Rewards Member!
4. Wyndham Grand Flamingo Dai Lai (Opening soon)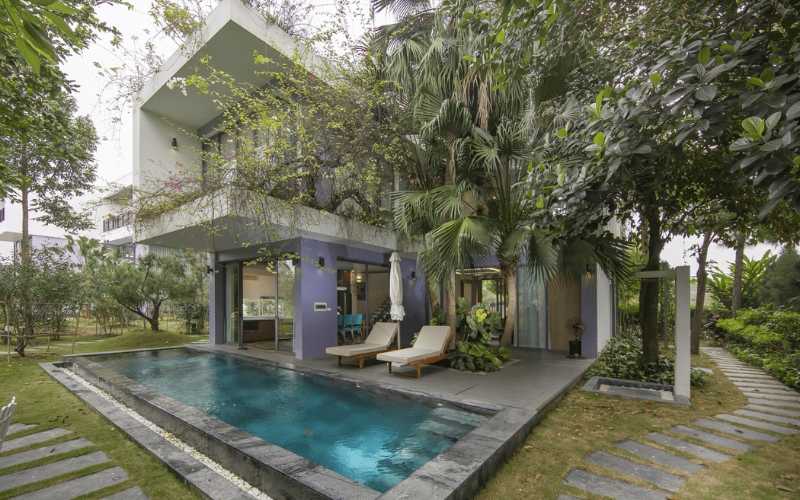 Discover Hanoi's off the beaten path and leave the flocks of locals behind for a secluded escapade. Nestled on tranquil Dai Lai Lake with mountains dominating the horizon, Wyndham Grand Flamingo Dai Lai, seamlessly blends into the natural setting. At this eco-friendly resort, privacy is the ultimate form of indulgence. 
You can put up at one of the commodious villas with your very own pool and decking area. The exclusivity of your own residence means that you can expect impeccable service and best off all; you do not have to scramble for a poolside lounger. To top it off, there are various other diversions at your disposal to make your staycation more fulfilling: spas, restaurants, VR game park, movie theater, playground, and karaoke rooms to name a few.
Phone: +84-221-6266666
Address: Ngoc Quang, Ngoc Thanh, Phuc Yen Town, Vinh Phuc Province, Vietnam, 280000
Website
Enjoy 10% OFF as a Wyndham Rewards Member!
Halong
A UNESCO World Heritage Site, Ha Long Bay is a glorious seascape with limestone karsts sprouting impressively from the deep emerald waters of the bay. The billion-year-living proof of Earth's formation is an epitome of ethereal beauty.
'Ha Long' Bay which literally translates to descending dragons is imbued with mythology. Paddle around distinctive limestone crops and through caves of all shapes and sizes to revel in the stunning scenery. 
Aside from island-hopping, head to Cannon Fort to enjoy astounding views of the jungle-clad and deep-sea circumambient. Fret not, there are well-labeled path guides to steer you towards the two prominent viewpoints. When night falls, satisfy your palate under the shimmering stars overlooking the tranquil bay. At a floating restaurant at Ben Beo Pier, you can feast on generous servings of fresh seafood grilled to perfection while enjoying the cool sea breeze – a wholly different dining experience. 
Also read: Things to Do in Halong Bay: A 3D2N Guide
Where to stay
1. Wyndham Legend Halong Hotel (Open)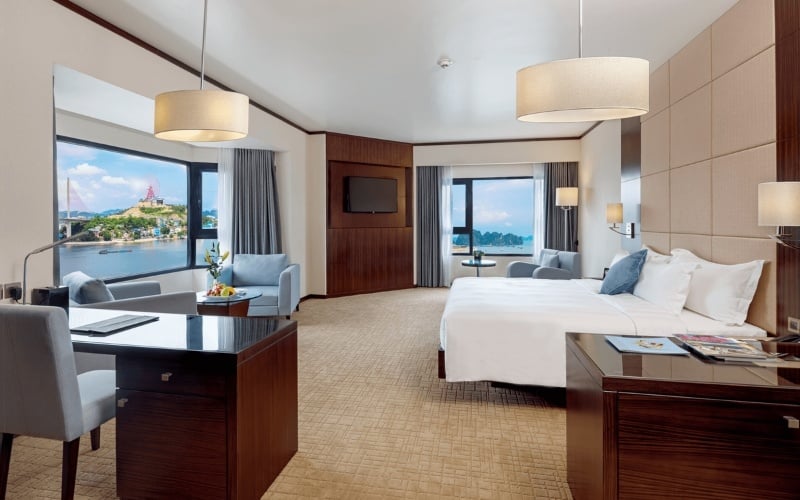 Overlooking the spectacular Ha Long Bay and Bai Chay Bridge, Wyndham Legend Halong Hotel has rooms and suites where you can marvel at the staggering beauty of the natural wonder from the private balcony. The accommodations with sophisticated interior designs come with crisp linens and cooling mattresses that are sure to make you sleep through your alarm. Staff are trained to carefully anticipate your needs and offer personalised services that surpass excellence. 
Make use of the rental car service, hotel vehicle, or free parking to travel worry-free as you make your way to downtown Halong and Bai Chay Beach located  within close proximity to the hotel. With a plethora of restaurants serving a range of cuisines, you can indulge in mouth-watering dishes that are sure to tantalise your taste buds.
Phone: +84-203-3636555
Address: No 12 Halong Street Bai Chay Ward Quang Ninh, Halong, Vietnam 200000
Website
Enjoy up to 15% OFF Wyndham Legend Halong Hotel!
2. Ramada by Wyndham Halong Bayview (Opening soon)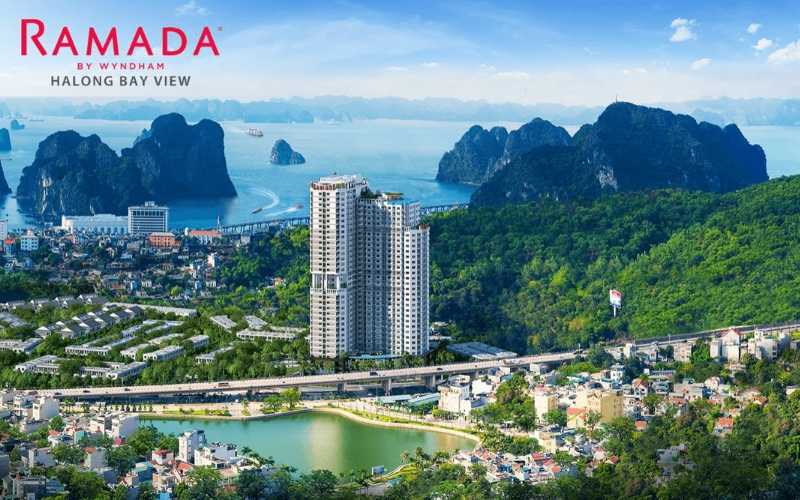 Ramada by Wyndham Halong Bayview situated in the heart of the city offers easy access to Bai Chai Bridge, Bai Tho Mountain, and Cong Vien Hoa Ha Long. These iconic locations can also be admired from every of the cozy rooms in the hotel. At the sky bar perched on the 34th story of the stylish hotel, you can sip on a refreshing cocktail and nibble on light snacks while taking in the stunning vista of Hanoi's skyline silhouetted by the majestic Ha Long Bay.  
Among other amenities are retail outlets within the expansive hotel space, a restaurant with its own wine and cigar lounge, an infinity pool with panoramic view of the majestic Dragon Bay, and a fitness centre where you can keep fit during your staycation. Food options are aplenty so you will never hear your stomach grumbling. There is even a restaurant which offers all-day-dining so that you can match the food to the mood. 
Phone: +84-797-400000
Address: Hien Thanh Tran Hung Dao Thanh Pho, Ha Long ,Vietnam 200000
Opening: September
Website
Enjoy 10% OFF as a Wyndham Rewards Member!
Cam Ranh
A hidden gem in Vietnam, Cam Ranh is ideal if you wish to escape to a different world. This coastal town with year-long salubrious climate makes for the quintessential beach holiday sans the thronging crowds. Unspoilt sandy beaches and mesmerising sunsets are a perfect respite from Vietnam's bustling cities. 
When in Cam Ranh, you could well be in beach haven. Float in one of the pristine oceans dotting the island as the sun shines off the lapping water. If you are looking for something exhilarating with a dose of adrenaline, Sealife Amusement Park will ensure you have a splashing good time. With a multitude of sea sports like jet skiing and parachuting, you can experience the thrill of speeding across the pristine ocean while uncovering Cam Ranh's best kept secrets.
Renowned for its lobster, there is no better place in Vietnam to enjoy the sweet and tender meat of the crustacean than at Cam Ranh. Benevolent locals over at Vinh Hy Bay will gladly prepare a tantalising lobster dish for you upon request. That's not all, you can slurp on the mild briny juices of raw oyster and enjoy succulent prawns cooked in a variety of ways. 
Where to stay
1. Wyndham Grand KN Paradise Cam Ranh (Open)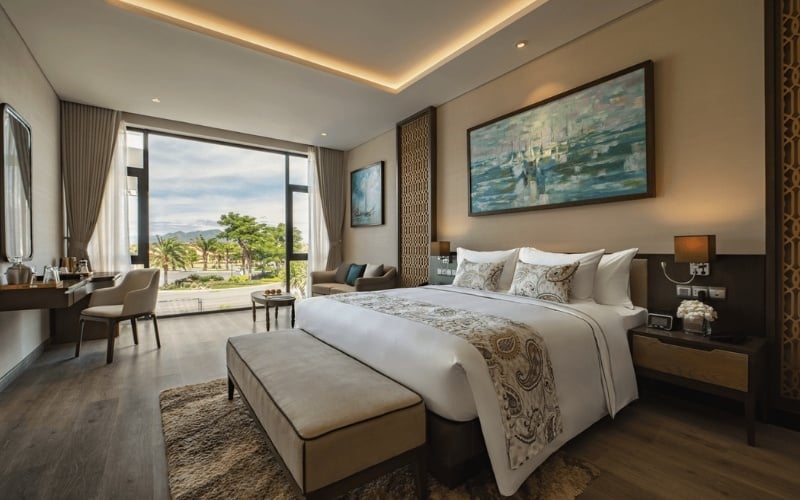 Wake up to the sound of the waves kindling its own symphony and the most stunning ocean views when you stay at Wyndham Grand KN Paradise Cam Ranh. Its prime position on the Cam Ranh peninsula places it within sniffing distance of Long Beach. Not only is the scenery captivating, the interior of the accommodation tastefully features an amalgamation of modern and Vietnamese décor. With Netflix-enabled HDTV, there is a perfect excuse for you to stay in and catch up on your favourite shows.
There is also a wide range of activities to complement your stay. Perfect your swing at the golf course offering a phenomenal view of the sea or keep fit at the state-of-the-art gym. Soon, you will be able to drink, dine and dance while basking in the glorious sun as a beach club is slated to open in the precinct come September. 
Phone: +84-258-3999288
Address: Long Beach Cam Nghia Ward, Cam Ranh Peninsula Khanh Hoa, Cam Ranh, Vietnam 650000
Website
Enjoy up to 15% OFF Wyndham Grand KN Paradise Cam Ranh!
With so much Vietnam has to offer, it beckons to be explored. Make sure to consider Vietnam for your post Covid-19 getaway!
Make the most of your staycation with the Wyndham Rewards Membership Promo and enjoy 10% off the best available rate on more than 9000 properties across the globe. Psst you can even get a FREE nights' stay with your Wyndham Rewards points, now doesn't that sound like some staycation worthy perks!
---
Brought to you by Wyndham Hotels & Resorts