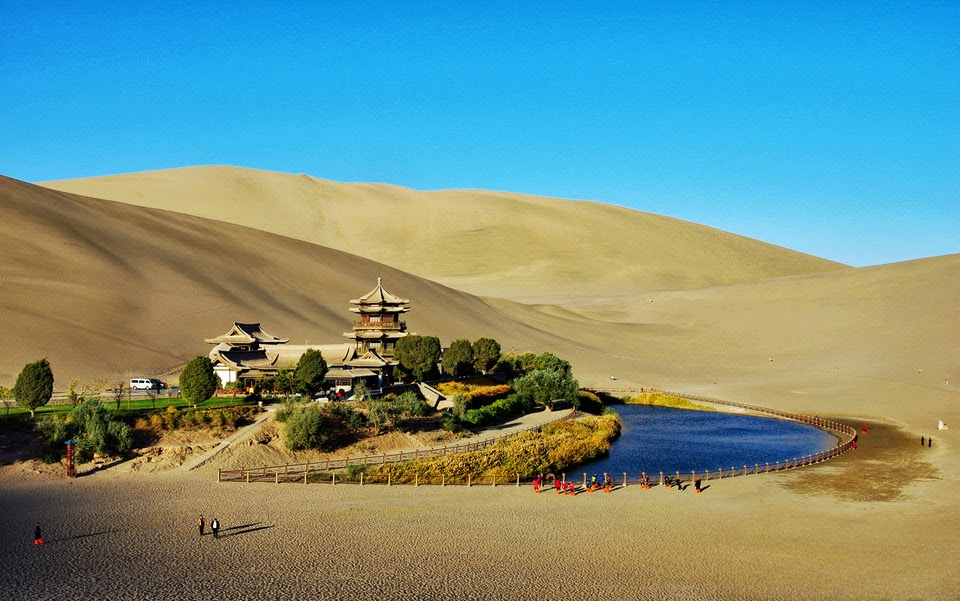 The last thing you probably expect to see in the middle of a field of desert is the slightest traces of life. Yet in China, such wonder miraculously exist, and has its place even during the Qing dynasty.
In the midst of deserted sand and high mountains of barely a living activity in sight lies one of the World Heritage Site, Yueyaquan (translated as Crescent Spring). It is a isolated oasis situated south of the city of Sunhuang in China's Gansu Province. The name came about during the Qing dynasty when travellers recorded sighting of a lake shaped like the eyes of a beautiful woman – clear and beautiful and sensual. Others described it as the shape of a woman's lips – seductive, lush and pouty.
It's almost impossible to resist wondering how this spring never dries up when surrounding it is sand and mountains and even under the direct line of blistering heat of the sun.
For this reason, Crescent Spring is labeled a natural wonder in the Gobi Desert.
So why hasn't this special landform being engulfed by sand? Researcher has discovered that the wind direction has refrained the sand from burying this natural beauty. Due to wind direction, the falling sands from the surrounding mountains would be sent back to the other side of nearby Mountains. Thus, prevented it from smothering the spring. This particular earth movement keeps the sand dunes and spring eternally harmonious and almost baffling.
Formally an important stop on the silk route, this 218m long lake has become a popular tourist attraction.
However, due to climate changes and other natural causes, the lake has been reporting of shrinking in depth, with it remains only one third of the original depth. The government is stepping up their efforts to preserve the site and restore the depth go the lake to its original level. Before this alluring site suffers the fate of permanently closure from tourist visiting, visit this site and be enchanted.
Inspired? Here's how you can make your travel happen:
TripZilla Travel Packages to China
Image credits: http://bit.ly/1ohSwE8