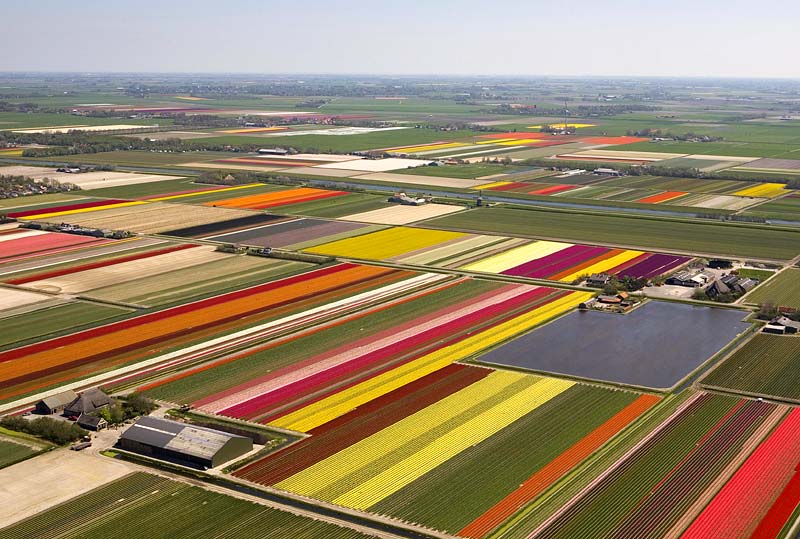 At first glance, this looks to be perfectly laid carpets taking advantage of the heat for a short sunbathing. However, believe it or not, these beautiful blankets of colours that look like something out of The Wizard of Oz are actually fields of tulip.
Every year as the first sign of spring dawns on Amsterdam, the pastureland right outside of Amsterdam's bustling city will magically metamorphose from dull sandy patches of dreary grassland into strips of green sprouts followed by sudden bosom of rainbow colours that swathed the entire vast pasture into red, pink, purple, orange and yellow bloom as the season is in full swing.
Tulip is one of the leading businesses in the Netherlands from the moment the first Tulip was planted by the Dutch in 1590s. Ever since, the Dutch has been holding a strong hold of the horticulture industry, turning their lowland fields into blanket of radiant blooms dazzles even the dullest person.
Getting to Tulip field is relatively straight forward and easy. Multilingual tour guide to Tulip Fields are conducted on a seasonal basis from March through May.
If you want to get the most of flowery season, visit during April and May when Spring is exerting its fullest dominance. The most attractive is that you can catch the whiff of tulips, hyacinths, narcissi, and daffodils everywhere you saunter amidst the floret.
Choose between a calm, morning stroll or happy, afternoon walk. Travel to this tulip field by comfortable coach followed by a three hours of walkthrough of this vibrant flowery field at your leisure before enjoying what is probably the most fantastical picnic lunch you can ever get in a special exhibition that keeps you sheltered from the direct sunlight while in the middle of a vibrant display of millions of Tulips at their heyday.
Inspired? Here's how you can make your travel happen:
TripZilla Travel Packages to the Netherlands