Whether you own an RV or rent one during your road trips, nothing's more fun than having your furry friend join you on the journey. After all, one of the reasons people use an RV for their trips is to have plenty of room for their family, friends, or their pets.
There are also lots of benefits to RVing with your pet. One, this will give your pet an opportunity to travel and explore the great outdoors with their favourite person (you). Moreover, they get to sleep in the same bed space every night, making it easier for them to develop a new 'road trip routine.' Sooner or later, you and your pet will be the best road trip duo once your pet treats your RV as their second 'home.'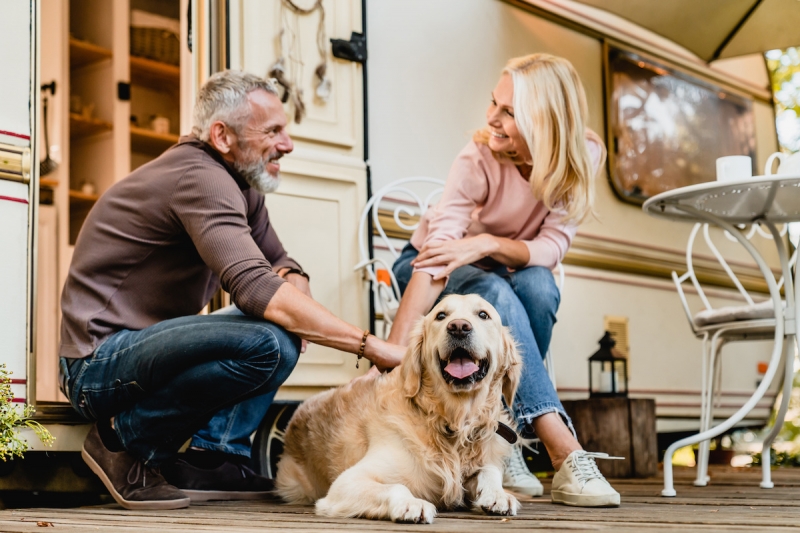 Benefits aside, RVing with your pet may also present some challenges, especially if it's your pet's first time. The experience will be entirely new to them, and both of you will be unsure what to expect in the beginning. Thus, preparedness is crucial when deciding to take your pet with you for an RV trip.
Are you planning to let your furry friend tag along with you? Here are some steps you'll need to take note of when preparing your pet for your upcoming RV trip:
1. Introduce your pet to your RV
If it's their first time going RVing, you need to help them adjust to the feeling of your vehicle. Riding in an RV is completely different from your typical car that your pet may have gotten used to. So, bring them inside your parked RV and let them sniff and take in the new sight and smell of its interior.
If you're renting your RV from RVnGO or other RV rentals within your area, it's ideal if you rent it a few days in advance before your actual trip so you can go for a test drive on short distances with your pet. This will allow them to familiarise the feeling of riding on a moving motorhome and reduce their anxiousness during the actual trip.
Meanwhile, if you're travelling with a travel trailer or fifth wheel, a test drive with your pet may not be necessary since they'll have to be seated inside the truck with you. Your truck won't feel too different for them, especially if they've ridden on it before.
2. Designate a specific place for your pet
Just like at home, you'll also need to choose a specific space inside the RV for your pet. It's a lot easier for them to feel at home and be comfortable when they're in their usual spot. When creating your dog's RV spot, consider taking their favourite bed with you and placing it somewhere near you. This way, it'll be easier for you to watch over them while you're driving, and they'll also feel more relaxed being near you. The smell of their bed will also remind them of home, reducing their anxiety and nervousness.
3. Pack for your pet
While you pack your clothes and travelling gear, you also need to do some packing for your pet. There are some things that your pet certainly couldn't travel without. Here's a travel guide for the things you must bring along for your pet:
Collar with their name tag and ID
Leash
Toys
Treats
Beddings and pet pillows
Food and water bowl
Cleaning supplies
Crate
Pet first-aid kit and medication
Preferably, list these things down and tick them off when you've finally packed them in the bag you're preparing for your pet. Make sure you also recheck their stuff before you drive off so you won't miss anything important.
4. Load your RV with pet food and water
Besides the things listed above, it's also vital that you pack your pet's daily food and water. While it's possible that you can find some pet food and water alternatives at every destination, keep in mind that RVing is never a good time to change their diet or introduce them to new food. Doing this might upset their digestion, leading to diarrhea, bloating, vomiting, or dehydration. To be on the safe side, load your RV with enough pet food and water that can last for the entire trip duration.
5. Take your pet for a vet checkup
A few days before your scheduled road trip, take your pet to the vet for a thorough health check. This is to ensure that your pet is healthy and fit for travel. Make sure your pet is also fully vaccinated with the necessary vaccines to ensure they're safe from contracting viruses and possible illnesses on the road. Furthermore, it's ideal to have a copy of your pet's vaccinations, latest health certificate, and other medical records, as some states may require you to present them when crossing their borders.
You can also have them microchipped or tagged with a GPS so you can easily locate your pet in case they get lost during travel or run away after chasing a squirrel.
6. Buckle up your pet
You may want to let your pet sit beside you on the passenger seat during your road trips. However, seat belts aren't exactly designed for pets and are only fully functional for humans. For optimal safety, prepare your pet's seat belt harness or, better yet, crate them when you're driving. The crate should be tucked in place to prevent it from sliding up and down during the trip.
Leaving your pet on the loose inside your RV while you're driving can pose serious threats for both you and your pet. Not only will they get injured from the moving vehicle, but you could also get distracted, putting you at risk of road accidents. Therefore, take safety precautions and buckle up your furry friend when you're on the road.
7. Check the campground's pet policies
As most RV travellers do, they usually make their campground reservations in advance to ensure they have a place to park and sleep for the night. While making reservations, make sure you check their pet policies and see if they're pet friendly. Keep in mind that some campgrounds prohibit any pets in their area, while others may allow pets but only for specific breeds. Most importantly, always pick up after your pet, regardless of whether you're at the campsite or not.
If they allow pets on their campsite, the next thing you'll need to check is their local emergency information. Besides asking the number of the nearest hospital or police station, make sure you also ask if there's a nearby vet clinic or pet hospital in the campground. Having these essential details prepared in advance will be helpful in case you or your pet have an emergency.
8. Bring your pet's protective gears
The outdoors can be unpredictable even if you've done your weather check. Thus, it's a good idea to come well-prepared for your pet. Don't forget to bring protective items like paw booties to protect their feet from the sand, uneven terrain, or other grounds you may take them on. Furthermore, buy a pet raincoat to protect them from unexpected showers. The last thing you want is your furry friend to get sick during travels. Make sure you also bring some dry and clean towels to wipe their paws off before taking them back to the RV.
Have a safe and happy road trip with your furry friend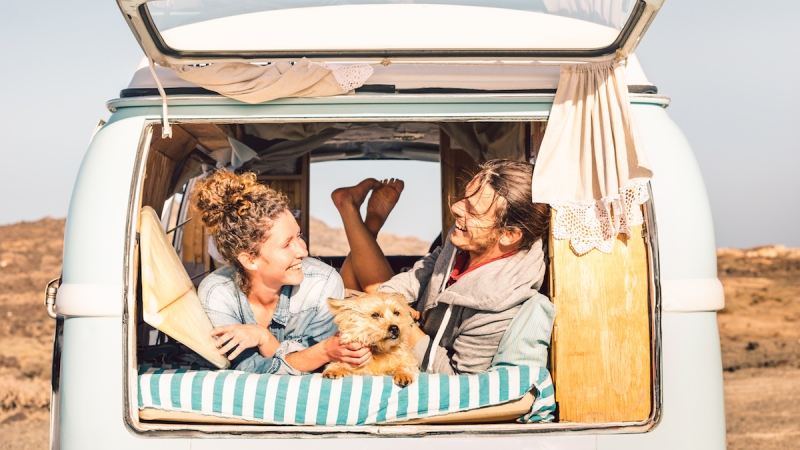 Following the steps above will ensure you and your pet will have a safe and relaxing time in your upcoming road travels. Soon enough, when your pet has adjusted well into your travel routine, you can take them along with you during your beautiful adventures and strengthen your bond with each other.