As a new year begins, so does the era of Pantone's Colour of the Year for 2020: Classic Blue. According to the Pantone Color Institute, this hue was chosen for the way it inspires "calm, confidence, and connection." Calling to mind the sea and the sky, it speaks to "our desire for a dependable and stable foundation on which to build." Alternatively, it is also the colour of healing and renewal.  
From a sturdy pair of jeans to standout accessories, this particular shade of blue never gets old. Here's how you can pull off different style combinations for your travel wardrobe, influenced by the trendiest colour of the year!
Also read: Winter Style: How to Mix and Match Your Winter Outfit to Look Classy
1. Light jacket
When everyone else seems to be wearing either black or tan jackets, why not switch things up a bit? Put on a lightweight jacket in a soothing shade of Classic Blue, which Pantone describes as a "reassuring" and "restful colour" that encourages introspection. We love that it adds just the right amount of elegance, without looking too ostentatious or flashy. 
2. Casual shirt
When it comes to picking out t-shirts or blouses, you simply can't go wrong with blue! Pantone's Colour of the Year for 2020 appears "elegant in its simplicity," a quality that's essential for any travel wardrobe. But more than a versatile piece of clothing, the Classic Blue shirt instills a calming energy that its owner can't help but bask in. That's what we love about this colour, it's so effortless and easy to wear!
3. Dress
There's something so soothing about this shade of blue when it is gently billowing in the wind. Call it grace or the reassuring mood this colour brings — whatever it is, we're digging the Classic Blue dress! From solid frocks to stripes, you can bring this dainty piece with you to the beach. Or, take this dress for a whirl at a coffee date with your friends. It's up to you! 
4. Scarf or shawl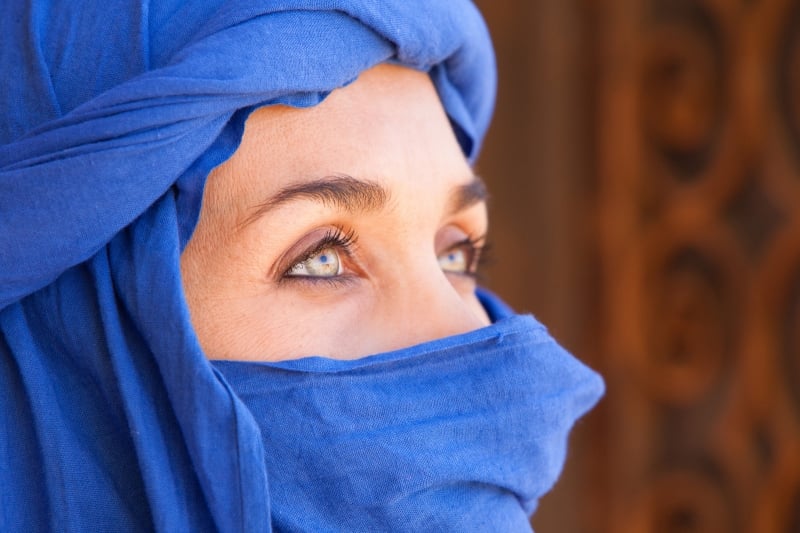 Scarves always seem to elevate any outfit. True to the spirit of Classic Blue, which Pantone praises as a "dependable" colour, a garment of this hue evokes balance, rejuvenation, and mindfulness. This fashion accessory accentuates the beauty of your eyes, while lending your face and neck warmth on cold nights. 
5. Beanie
Beanies may as well be the crowning glory of any style ensemble. Why? They add an extra layer of vibrancy and playfulness to any look. And if you ever find an opportunity to match your outfit with the painted walls in Morocco's famous blue city or visit the blue-and-white domes of Santorini, that rich saturation of blue will certainly bring a special oomph to your #OOTDs! 
Also read: 12 Most Colourful Natural Attractions Around the World
6. Hoodie
Few clothing pieces suggest laid-back style and comfort than a hoodie. If Pantone is correct to say that people "gravitate to [colours] that are honest and offer the promise of protection," then the Classic Blue hoodie is a return to familiar comforts. A cosy, old hoodie keeps you warm in chilly weather, all while ensuring that you stand out from your backdrops in photographs — no matter how stunning they may be! 
7. Travel bag or backpack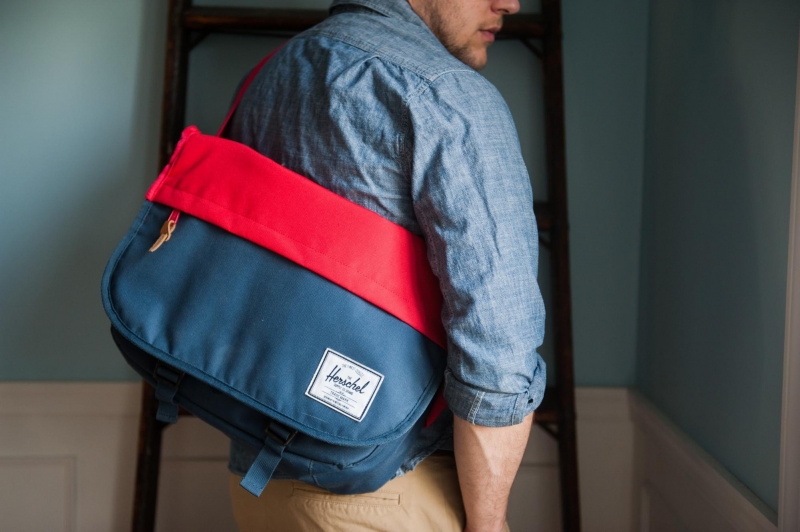 Whether you are trekking through the mountains or going for a coffee run in the neighbourhood, a stylish travel bag is a must-have. It comes in handy for many occasions, especially if you require several compartments to store up necessary items for travelling. Designed in an easy-going blue, the bag pictured above is well-loved for its utility, as well as its ability to look good for any kind of adventure! 
8. Swimwear
Classic Blue matches not only the sky above, but also the vibrant colour of the ocean. In short, it's the perfect colour for a beach vacation! This colour, according to Pantone, "brings a sense of peace and tranquility to the human spirit." You can splash right into the heart of summer, decked out in a bathing suit that exudes confidence and freedom. 
9. Eye shadow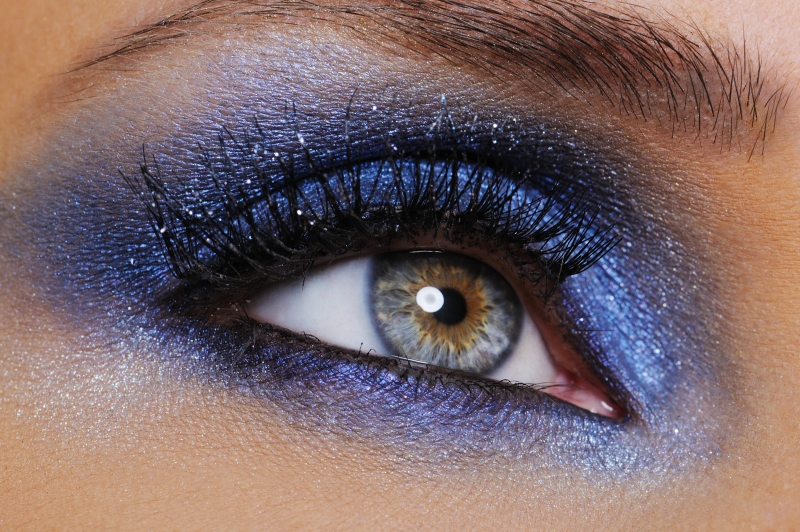 Who said Classic Blue couldn't be dramatic? For a bold and mesmerising look, paint a smidge of blue eye shadow around your eyes. Blend it with different shades of blue or purple. Up the ante with glitter if you want to look fierce! What follows is a glam, creative, and fearlessly expressive take on Pantone's Colour of the Year for 2020. The result? Almost like a mini galaxy!
10. Jeans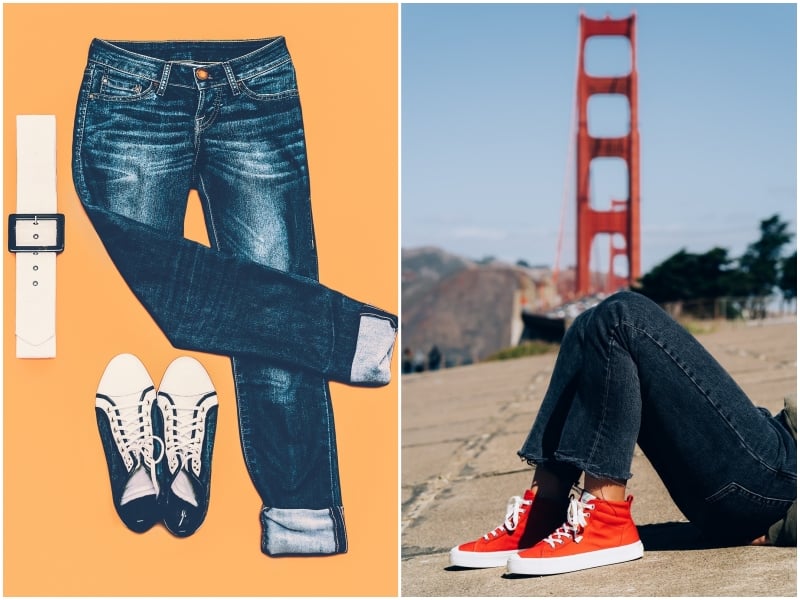 As soon as we heard that Classic Blue was Pantone's Colour of the Year for 2020, most of us probably thought of one thing only: jeans. Luckily, if you ever need proof of how reliable and durable this item is, you won't have to look any further than your own closet.
What we love most about Pantone's blue hue is that it is timeless. Not only can you wear something that's most likely already in your travel wardrobe, but the colour goes well with just about anything you pair with it. And of course, there's nothing more constant than a trusted pair of jeans! 
11. Shoes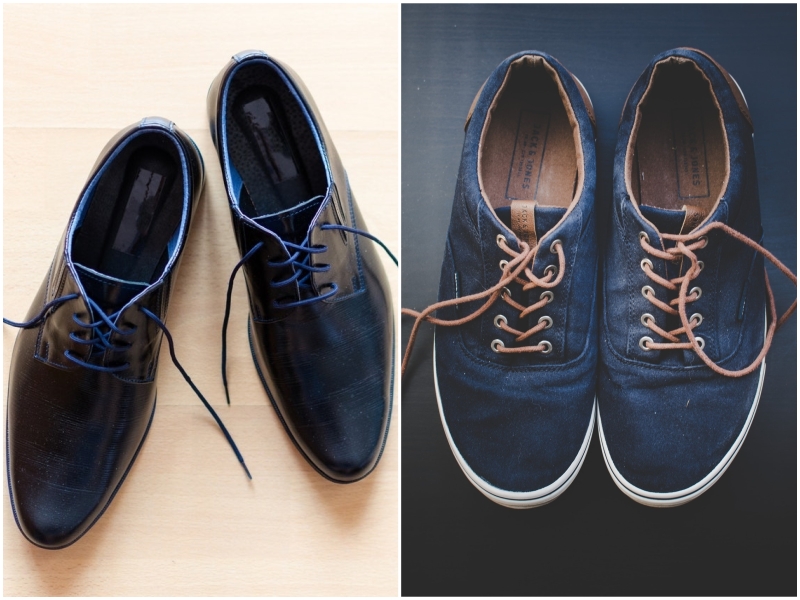 Why not jazz up your photos with Classic Blue shoes? You won't be dragging your feet anymore once you have a great set of kicks to keep you steady. Whether you are stepping out in a shiny pair of oxfords or casual trainers, it's important to look your sharpest as you usher in the new year. Be sure to invest in a solid brand of footwear that can accompany you for many journeys to come! 
12. Power suit
Slay the start of a new decade with a suit that tells people you mean business. Instead of going for a monochromatic or an overly garish suit, find a middle ground in Classic Blue — subtle, dignified, and powerful. Donning this colour in a sleek and dapper suit is the perfect finishing touch. Others will feel the subtle power coming off you in waves. 
Power dressing like this does all the talking for you; all you need to do is show up.
Also read: Travel in Style: 7 Easy & Instagram-Worthy Fashion Pieces for the Summer
As it turns out, the possibilities for mixing and matching Pantone's Colour of the Year 2020 into your wardrobe are endless! Hopefully, this list gave you enough style inspiration fodder to fuel your travel #OOTDs for the rest of the year.