What's better than watching a Korean drama for the first time? Listening to the soundtrack over and over again, so that you can remember your favourite moments from the series and keep that lovestruck, feel-good vibe going for just a little longer.
As a special treat to fans who are cooped-up at home, the On:tact K-OST Concert Snow Festa put together a virtual concert that aims to inspire people to dream of a winter adventure in South Korea. It highlights the outstanding music of K-dramas and their filming locations in Gangwon Province, while showcasing the stunning landscapes, festivals, and attractions you can look forward to next winter.
On:tact K-OST Concert Snow Festa delivers exactly what it promises: one hour and a half of phenomenal live performances from a live orchestra and popular artists such as Ailee, Hwang Chi-yeul, Ben, Baek Ji-young, and more.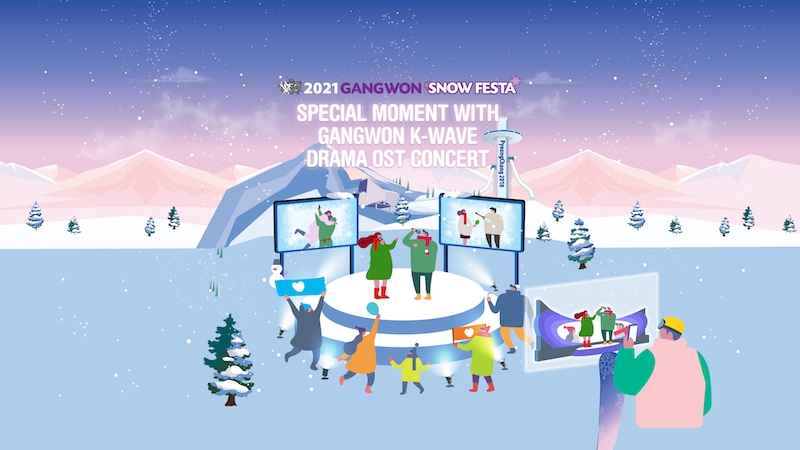 Additionally, the superb effects of virtual and augmented reality technology were used to simulate some stunning scenery around the stage — like the snow-covered trees in Goblin or a ski jumper leaping over the stage in Take Off as audiences watched from their screens. 
But don't just take our word for it! 
Catch the exciting concert here yourself: https://bit.ly/3jcdBSW  
Excited to follow in the footsteps of your favourite K-dramas? As you're serenaded by some of the best artists in South Korea, you can spot iconic filming destinations in Gangwon Province and discover some new ones along the way. Check them out below! 
Take Off (2009)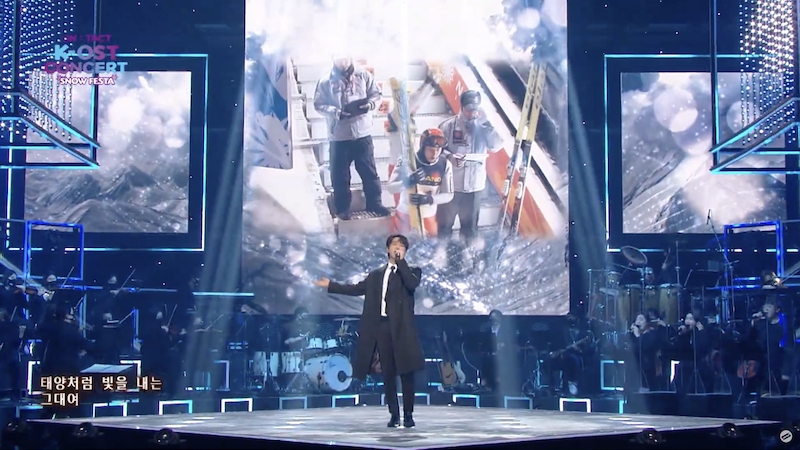 The On:Tact K-OST Concert Snow Festa began the program with an uplifting song from Hwang Chi-yeul, who performed Butterfly from the 2009 South Korean movie Take Off. Based on a true story, the movie is about the joys and struggles of South Korea's first ski jump national team as they trained for the 1998 Winter Olympics. 
As Hwang Chi-yeul serenaded the audience with his soothing voice, the screen flashed inspiring moments from the movie. At the end of the performance, there was even a whimsical AR reenactment of a man ski jumping across the stage! 
Alpensia Ski Jumping Stadium
Speaking of skiing, dreaming of hitting the slopes in Gangwon Province during the winter? Then there's no better place than Alpensia Ski Resort, a world-class ski resort that also hosted the 2018 Winter Olympics. Located in the township of Daegwallyeong-myeon in Pyeongchang County, it offers top-notch amenities and family-friendly facilities for visitors in Gangwon Province. 
Boasting an altitude of 700m, Alpensia Ski Resort has six slopes for skiers and snowboarders to enjoy, whether they are beginners or experts. This is also where you can find the multi-purpose Alpensia Ski Jumping Stadium that was featured in Take Off.
With its strategic location near the venue of the Pyeongchang Trout Festival — a famous winter festival in Pyeongchang — Alpensia Ski Resort also happens to be an excellent jumping-off point for your next winter getaway  in Gangwon Province. 
Speaking of winter festivals, we were overjoyed to learn about the many experiences that await us when we're ready to travel in Gangwon! 
In January, you can experience ice fishing and bare-handed trout catching at the Hongcheon Ggong Ggong Festival, an annual winter festival for families and friends. You can also pay a visit to the massive sculptural exhibitions during the Mt. Taebaek Snow Festival at Mt. Taebaek, one of the most famous mountains in South Korea. Or you might even want to try your hand at "curling," a sport that is likened to "chess on ice" in Gangneung!
Plus, you simply can't miss out on snow sledding or taking a stroll through the full-scale snow sculpture park at the Daegwallyeong Snow Festival, which is often described as the "Alps of Korea!"  
With a sneak peek of what Gangwon Province has to offer during winter, aren't you just itching to plan your next vacation there? Thankfully, it's never too early to start thinking about your next journey to this winter paradise! 
LEARN MORE ABOUT GANGWON PROVINCE  
Goblin (2016)
Up next in the K-OST concert line-up: a K-drama that comes to mind whenever we think of romantic scenery in Gangwon Province. Here's a quote to jog your memory: "Every moment I spent with you shined. Because the weather was good, because the weather was bad, and because the weather was good enough. I loved every moment of it." We're talking, of course, about Goblin!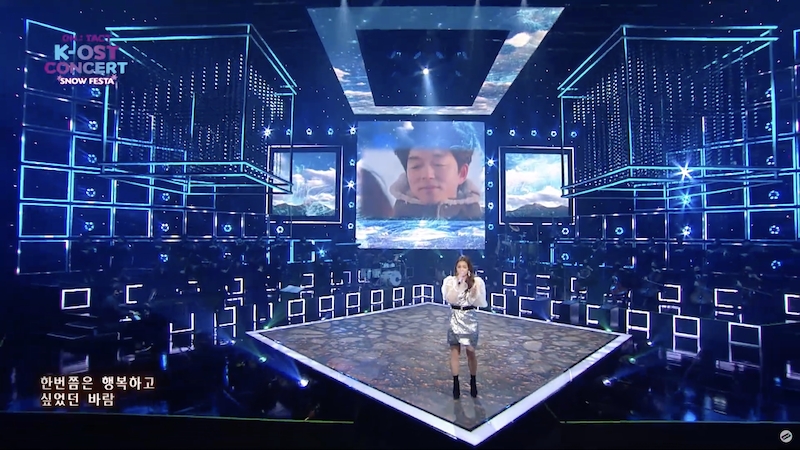 In a live performance of I Will Go to You Like the First Snow, Ailee infused emotion into this song from Goblin and impressed the audience with her heavenly voice. All the while, you could hear sounds of excitement ripple through the crowd as memorable moments from the K-drama were displayed on the screen. 
You're probably mentally transporting yourself to the filming sites of Goblin right now. Look no further, we've gathered the must-visit spots in Gangwon Province for your bucket list below: 
 Jumunjin Beach in Gangneung
In the northernmost part of Gangneung, the breakwater on Jumunjin Beach is the spot where Kim Shin (Gong Yoo) and Ji Eun-tak (Kim Go-eun) meet each other for the first time. With the coastal views and the calming sound of the waves, it is one of the most widely visited tourist attractions for K-drama fans in Gangwon Province. 
Many fans travel to this scenic pier just to recreate the scene from Goblin. In fact, some tourists even bring a red scarf like the one Eun-tak wears during their first meeting! 
Yongpyong Resort in Pyeongchang
Another popular destination to visit is Yongpyong Resort, a large ski resort located in Daegwallyeong-myeon in Pyeongchang County. Die-hard fans of Goblin will remember this as the ski resort where Eun-tak works part-time; and in episode 9, she and Kim Shin share a romantic embrace against a stunning backdrop of snow. 
This particular scene takes place at Dragon Peak, a Swiss-style building with a garden that tourists can visit by riding a gondola to the peak of Balwangsan Mountain. Along the way, you get to take in magnificent views of snow-covered fields and yew trees! 
With an average snowfall of around 250cm every year, Yongpyong Resort is a winter wonderland that earns its reputation as a top ski and snowboard resort in South Korea. At this vast resort, you can experience various outdoor activities such as sledding, skiing, snowboarding, and more. It's also great for families who are travelling with children, who will enjoy sledding down a 200-metre-wide sledding slope. 
Hotel Del Luna (2019)
How can we possibly talk about OSTs without mentioning the killer soundtrack of Hotel Del Luna? Many of the songs from this soundtrack topped the music charts in South Korea upon their release after all!  
At the On:tact K-OST Concert Snow Festa, South Korean singer-songwriter Ben sang Can You Hear Me? to a rapt audience. With her sweet, songbird's voice that never failed to hit the highest of notes, Ben took us back to our memories from this K-drama — a fantasy romance set in a hotel catering to ghosts with unfinished business on earth. 
 Mangsang Beach in Donghae
Thinking of taking a page from the Hotel Del Luna characters? Head out to Mangsang Beach, which appears multiple times in the series. This beach in the city of Donghae attracts tourists with its shallow waters and peaceful waves lapping at the shore. Just like Jang Manwol (IU) and Gu Chan-seong (Yeo Jin-goo) in the Hotel Del Luna, you can chill on the sand of this beach and enjoy a sunny day under an umbrella. 
Descendants of the Sun (2016)
Let's just put it out there: Descendants of the Sun had one of the most memorable OSTs of all time. And nothing brings back our feelings from the series — and its gorgeous cinematography — quite like hearing "You Are My Everything" performed on stage.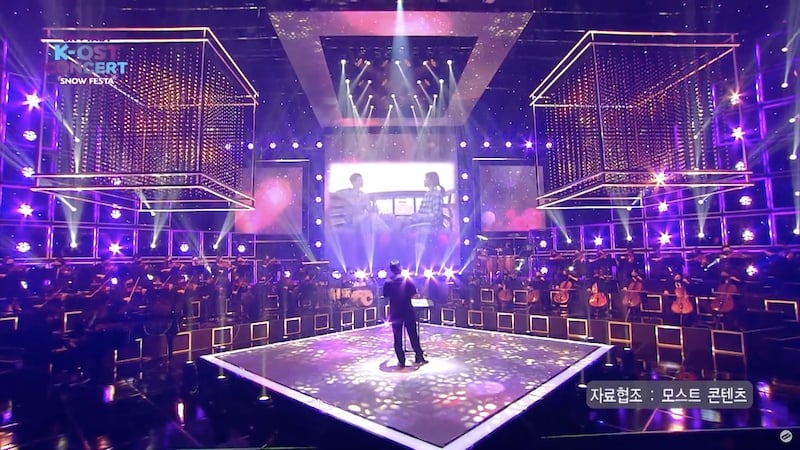 In an instrumental mash-up of You Are My Everything / Talk Love, the crowd whooped and cheered at the brilliant performance by the orchestra, which transitioned effortlessly from a heartfelt ballad to a more upbeat tune with guitars. If there was any doubt about the K-drama's enduring popularity to this day, the enthusiasm from the audience at this concert will surely put that to rest.
With a high-stakes plot involving doctors in emergency situations and an epic score, this K-drama led by Song Joong-ki and Song Hye-kyo created a K-drama craze that swept the globe. 
Did you know that important scenes in Descendants of the Sun were filmed in Gangwon Province as well? You can relive the magic of this K-drama at these spots below: 
 Hanbo Coal Mine in Taebaek
For the fictional country of Urk, the Hanbo Coal Mine in Taebaek City provided the backdrop for the star-crossed romance between Captain Yoo Si-jin (Song Joong-ki) and surgeon Kang Mo-yeon (Song hye-kyo). Scenes of the soldiers' military camp were also filmed at this abandoned coal mine in Gangwon Province. 
One of the emotional moments in Descendants of the Sun also takes place at this location during winter. After a critical special forces mission goes awry, Master Sergeant Seo Dae Young (Jin Goo) and Yoon Myung-joo (Kim Ji-won) — who are the drama's secondary couple — are tearfully reunited during "Urk's first snow in 100 years" in the final episode.  
 Samtan Art Mine in Jeongseon
If you're planning a Descendants of the Sun-themed tour in Gangwon Province, you might also want to visit the Samtan Art Mine in Jeongseon County. Formerly a coal mine that operated for 38 years since 1964, it is now a modern arts and culture complex divided into an art centre, the main building, and the outdoor garden.
The Samtan Art Mine is where they shot the earthquake scenes in Descendants of the Sun. Today, it serves as a filming location for dramas, movies, and music videos. You simply won't be able to resist taking photos here! 
Also read: A 5-Day Gangwon, Korea Itinerary: Exploring this Breathtaking Coastal Province
Crash Landing on You (2019)
All it takes is the first few tinklings of the piano, and within seconds of the orchestra playing The Song for My Brother from the Crash Landing on You, you could hear the audience cheer loudly. 
Allow us to refresh your memory! "The Song for My Brother" is the song that Captain Ri-Jeong hyeok (Hyun Bin) plays on the piano at a dock on Lake Brienz in Switzerland. While crossing the same lake on a boat, Yoon Se-ri (Son Ye-jin) hears this plaintive song and remembers it until the next time she meets Captain Ri-Jeong hyeok again.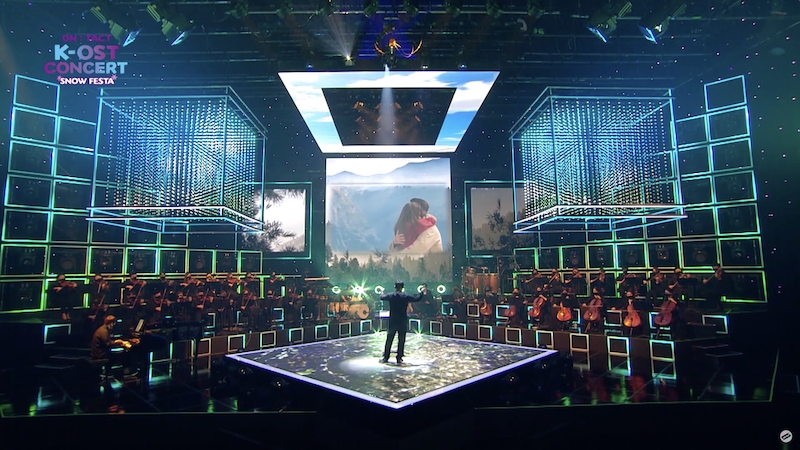 Featuring captivating scenes from Crash Landing on You, the On:tact K-OST Concert Snow Festa certainly rekindled our love for this ground-breaking K-drama. Take a trip down memory lane below by checking out some of the filming sites in Gangwon province! 
 Byeolmaro Observatory in Yeongwol
Remember how Crash Landing on You began? In the first episode, Yoon Se-ri tests her company's paragliding gear at the Byeolmaro Observatory. This is South Korea's largest astronomical observatory, perched at the peak of Bongnaesan Mountain. 
From there, Se-ri begins the paragliding adventure that would eventually take her all the way past the DMZ — but not before floating above lush forests and sweeping mountain sides with breathtaking views!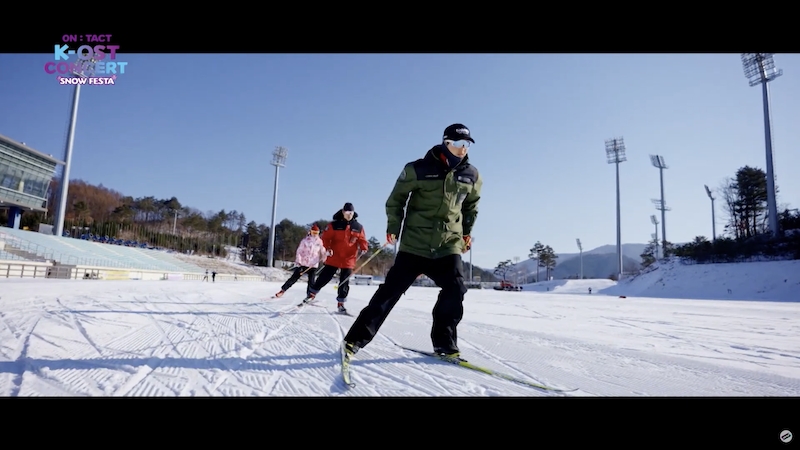 After showcasing heart-stopping moments from Crash Landing on You, the concert also promoted the unique and thrilling winter activities you can anticipate in Gangwon Province. These include snow shoeing, skiate, cross-country skiing, and snow mountain biking, just to name a few.
To say that all of these look really fun would be an understatement. Hurtling across snowy fields and having the time of our lives? Sign us up! 
Legend of the Blue Sea (2016)
Trust Lee Min-ho to give us butterflies any time of the day! During the On:tact K-OST Concert Snow Festa, LYn sang the heartfelt song Love Story from the soundtrack of Legend of the Blue Sea. In this K-drama, a swindler Heo Joon-jae (Lee Min-Ho) falls in love with a mermaid Shim Cheong (Jun Ji-hyun), and their love affair follows them all the way from the Joseon period to modern-day Seoul. 
Now, you might think that Legend of the Blue Sea was filmed entirely near beaches or bodies of water — the story being about mermaids and all. But did you know that this K-drama has some spectacular winter attractions, too? Check them out below! 
Sono Belle Vivaldi Park in Hongcheon
If you're looking for sweeping landscapes of pure white snow, we've found just the winter excursion for you. Located in Hongcheon County, Sono Belle Vivaldi Park is one of the most widely visited entertainment resorts in South Korea. It provides magnificent scenery all-year-round, but it's especially beautiful in the winter season. The best part? It's only approximately an hour and a half drive away from Seoul! 
Not only does Sono Belle Vivaldi Park offer a variety of slopes for skiers of all experience levels, but it also has a golf course, a shopping mall, and an exciting range of leisure facilities to explore. Truly, there's something in it for everyone.
The Heirs (2013)
How's this for another Lee Min-ho throwback? Performed by South Korean rap-rock band N.Flying, the song I'm Saying comes from the soundtrack of The Heirs, also known as The Inheritors. This K-drama about the 1% of South Korea follows a romance between Kim Tan (Lee Min-ho), who belongs to one of the country's top conglomerate families, and Cha Eun-sang (Park Shin-hye), a girl who comes from an ordinary family, while they attend the same high school. 
Fortunately, you won't need to wonder about where the scenes were filmed in Gangwon Province — we've tracked them down for you below! 
Nongoldamgil in Donghae
Eagle-eyed fans of The Heirs will remember this street where Kim Tan visits Cha Eun-sang at her home. Known as a mural village, Nongoldamgil Street lets you climb up the steps to enjoy streets decorated with murals in the seaside city of Donghae. Walking down this path also leads you to Mukho Lighthouse. 
Mukho Lighthouse in Donghae
On your next trip to Donghae, make sure to visit Mukho Lighthouse. A 12m-tall lighthouse with two floors, it serves as a beacon to ships at Mukho Port. Moreover, the surrounding area near the lighthouse is filled with relaxing spots for you to admire views of the sea.
Mr. Sunshine  
Hwang Chi-yeul returned to the stage of the On:tact K-OST Concert Snow Festa to sing How Can I Forget You, a rousing song from the Mr. Sunshine soundtrack. For those who might not know, this K-drama follows Eugene Choi (Lee Byung-hun), who finds himself in the United States after the 1871 Shinmiyangyo incident. He journeys back to his hometown in South Korea, where he falls in love with the daughter of an aristocrat. 
Imdangdong Cathedral in Gangneung
Want to check off a filming location of Mr. Sunshine from your bucket list? Imdangdong Cathedral is a must-visit spot for K-drama fans in the city of Gangneung. Constructed in the 1950s, the cathedral has a charming and well-preserved facade that invites visitors to enjoy a moment of peace and solitude inside.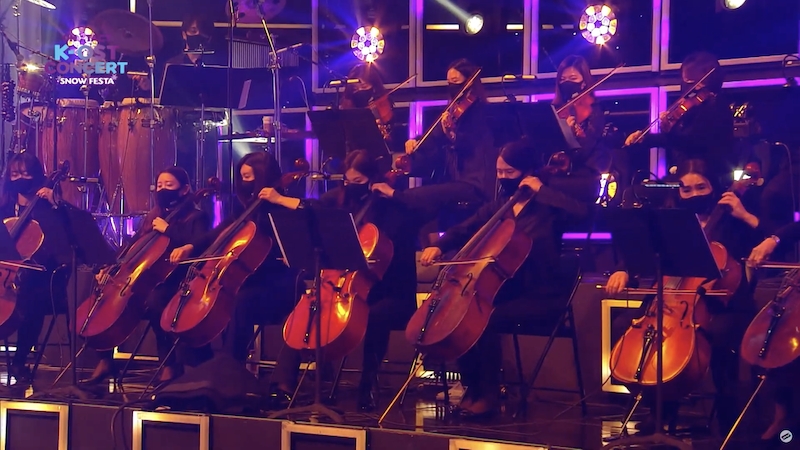 That wraps up our coverage of the line-up at the On:tact K-OST Concert Snow Festa! These are just a few of the mind-blowing performances at the concert, and we don't even come close to capturing how awesome it was to witness all the songs from these K-dramas. 
In addition to the K-dramas mentioned above, there were also performances from My Love from the Star ("My Destiny" by LYn), Ice Flower ("Queen of Ambition" by Ailee), It's Okay to Not Be Okay ("Puzzle" by YONGZOO), Welcome to Dongmakgol ("A Waltz Of Sleigh" performed by the orchestra), Secret Garden ("The Woman" by Baek Ji-young), Iris ("Don't Forget" by Baek Ji-young), and more.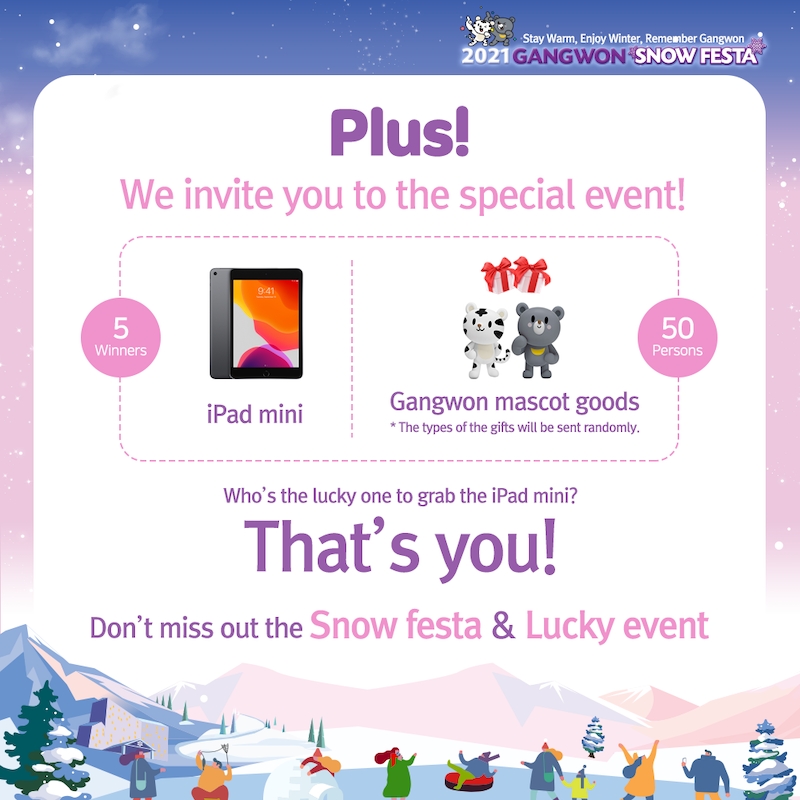 Good news, K-drama fans — the On:tact K-OST Concert Snow Festa has another special surprise for you! If you tune into the concert, you get the chance to win an iPad mini or different goodies based on the official mascots of Gangwon Province. 
Here's how you can participate in the contest giveaway from 1 Feb to 15 Feb 2021: 
Step 1: Watch the On:tact K-OST Concert Snow Festa on YouTube. 
Step 2: Subscribe to the channel and click the "Like" button on the video. 
Step 3: Post a screenshot of the concert, the YouTube link, and the hashtag (e.g. #SNOWFESTA2021) on social media. 
Step 4: Send an email with proof that you watched the concert to [email protected].
Remember to watch the entire concert to join the lucky draw. Special prizes are waiting for you! 
Why this popular filming destination for K-dramas should be your next winter escape
So, what makes Gangwon Province a memorable destination for filming K-dramas? Well, it all comes down to the spectacular natural scenery of this province that comes alive in the winter. As the On:Tact K-OST Concert Snow Festa progressed, we found ourselves falling a little more in love with this winter wonderland in South Korea. 
While it's remarkable to experience an event like this virtually, it only makes us more eager to explore Gangwon Province for real. Between the filming destinations and the winter sports galore, we have all the inspiration we need to dream of our future trips. Crossing our fingers for all our future adventures in Gangwon Province, the soon-to-be venue for the 2024 Youth Winter Olympics! 
---
Brought to you by Gangwon Province.