Sometimes, when the travel bug bites, you just have to pack your bags and go. While the idea of last minute travel brings to mind the words "stress" and "panic", it doesn't always have to be a frantic rush.
Even if you've only got a week or less to prepare, fret not! Here's our nifty list of last minute travel hacks for your next long weekend getaway. Whether it's finding tickets and accommodation, cutting costs or packing, rest assured we've got it covered!
With a card that rewards you as you spend, the
OCBC Titanium Rewards Card
is your best travel companion for your next last minute long weekend getaway. Earn 10x OCBC$ for every dollar spent shopping online and in stores, whether it's for travel essentials in Singapore or for your travel shopping overseas. That's equivalent to 4 miles per dollar!
1. Save your leave
While not an actual "hack", this tip is nonetheless crucial. After all, you can't possibly head off on any last minute adventures unless you've got leave to spare!
Make the best of all the long weekend holidays that 2019 has to offer you. Keep an eye out for last minute deals as the long weekend approaches and you might find yourself packing up for a quick getaway.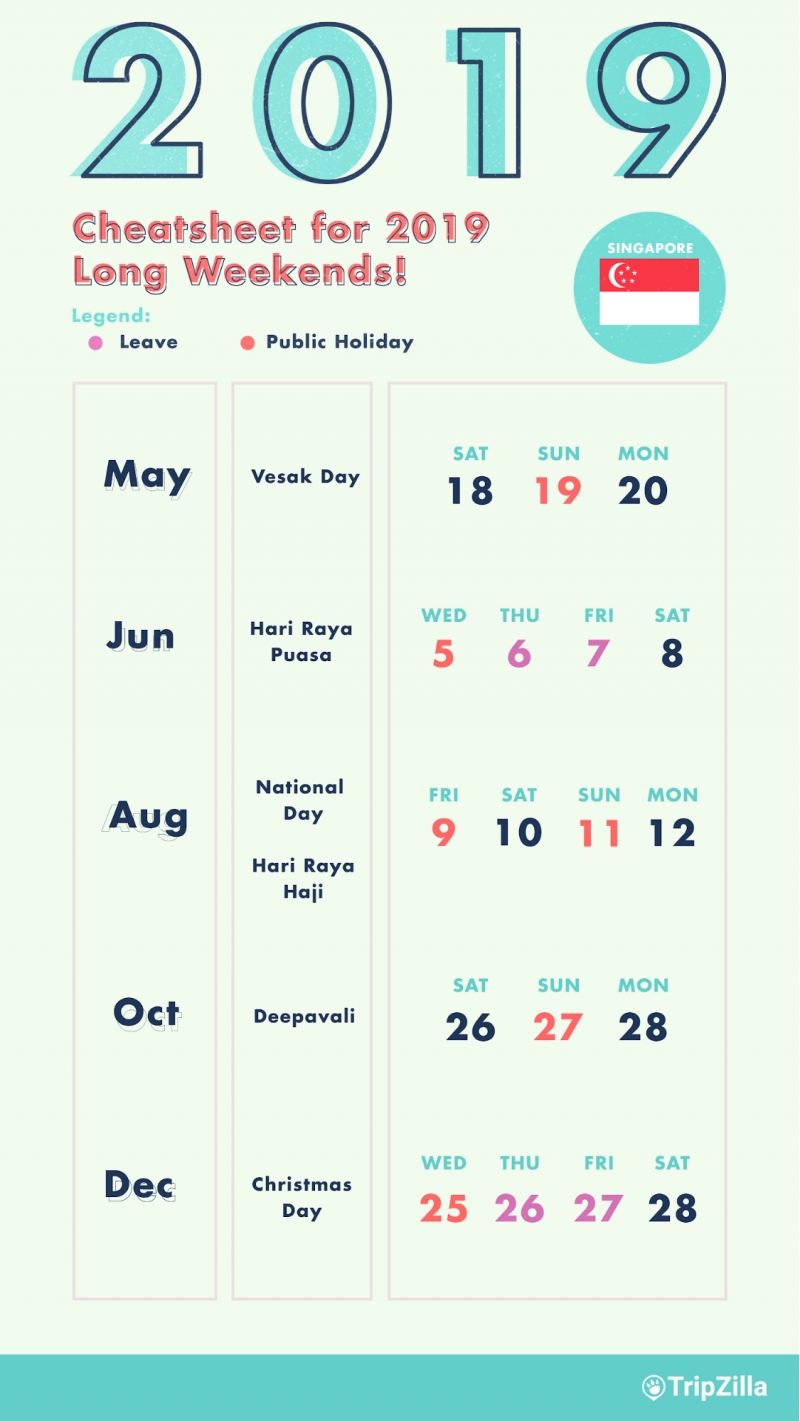 Saving your leave is also a great way to create your own long weekends for a longer getaway. Public holiday falls on a Thursday or Tuesday? Apply for leave on the Friday or Monday to create a 6-day long weekend! If you have leave days to spare, you can make an even longer weekend for yourself, even if the public holiday falls on a Wednesday! Just take the Thursday/Friday or Monday/Tuesday off! For added convenience, here's our handy guide to all the long weekend holidays in 2019.
2. Set fare alerts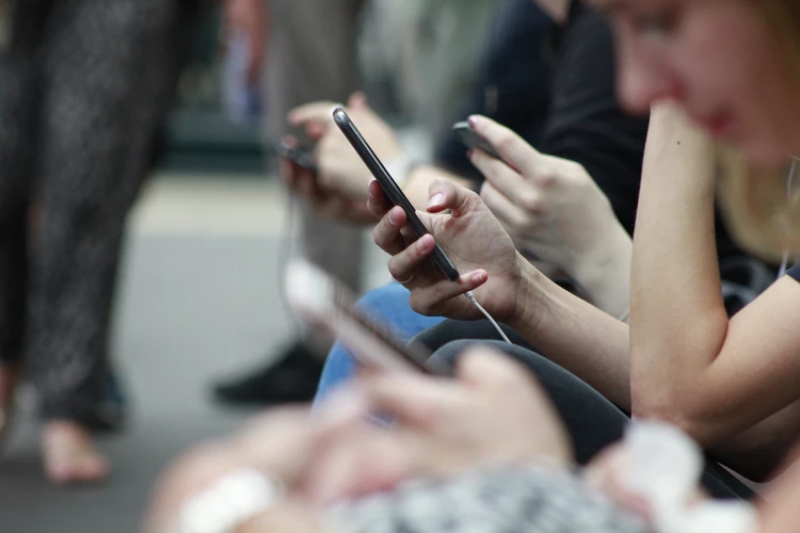 Fare alerts are your best friend. Once you've got your dates in mind, all you've got to do is key them in and receive notifications when the flight prices drop. That way, you don't miss out on all the cheapest deals and it's a sure fire way for you to get the lowest prices on your booking.
To make things even easier, you can also use flight aggregators to compare prices. Have a comprehensive overview of all of the lowest prices for the month across different airlines and ensure that you're getting the most competitive prices available.
And don't forget to stack on any additional discounts available before booking. Book your flights on Emirates with your OCBC Card and enjoy special fares on Business Class and Economy Class to all Emirates-operated destinations. Get 10% off Flex and Flex Plus fares, and 5% off Saver fares when you use the promo code <SGOCBC1>. Book from now till 31 December 2019 and travel by 31 March 2020.
3. "Pay" for your flights with rewards points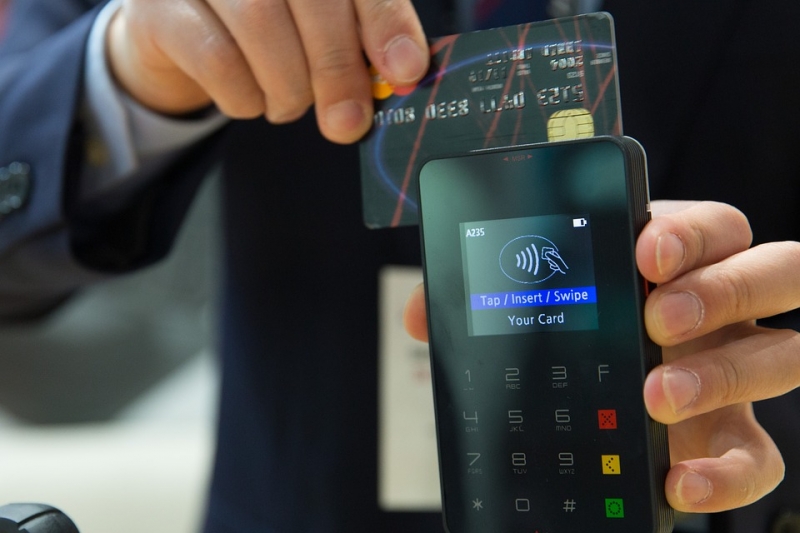 Like loyalty programmes, some credit cards reward you with points or miles for every dollar spent, which you can use to "pay" for your flight tickets. Enjoy discounts or even free flights for your next last minute flight out!
The OCBC Titanium Rewards Card rewards you with 10x OCBC$ when you shop online and in stores, both locally and overseas. That's equivalent to 4 miles per dollar! Charge your travel expenditure to your OCBC Titanium Rewards Card and accumulate OCBC$ that you can put towards your next weekend getaway.
4. Be flexible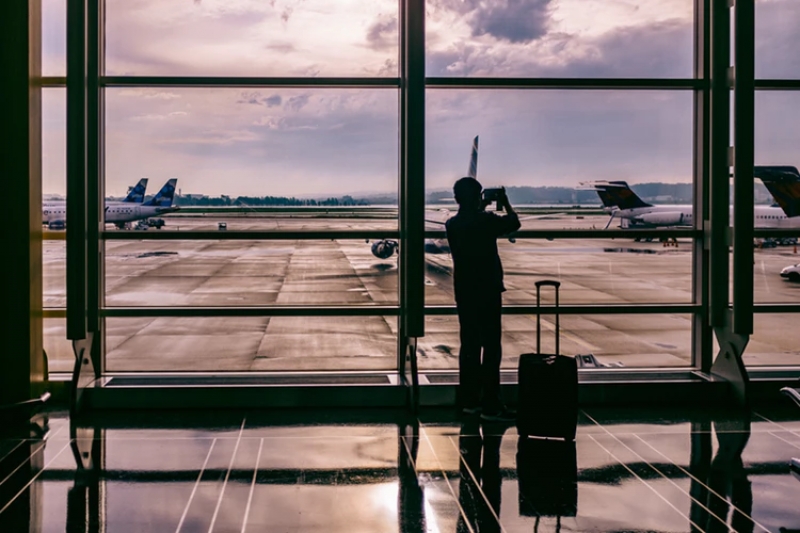 It goes without saying that beggars can't be choosers, so it's important to be flexible when it comes to last minute getaways. Let the deals decide the destination for you and you might find yourself exploring places that you've never visited before.
Sites like Trip.com have a plethora of travel deals and it's the perfect place to start searching for attractive last minute deals. Additionally, airlines tend to push out last minute deals to fill seats, so take advantage of these options to save some big bucks. Trip.com also has plenty of flight and hotel combo deals as well, so you won't end up in a situation where your flights are cheap but your accommodation costs an arm and a leg!
From now till 31 December 2019, new Trip.com users can enjoy up 8% off your hotel bookings (first 600 users monthly) using the code <OCBC8TRIP> when you pay with your OCBC Cards. But if you're an existing Trip.com user, fret not, there are great savings for you as well! You can enjoy 7% off your hotel bookings via the Trip.com app (first 500 users monthly) using the code <OCBC7> or 6% off hotel bookings via the Trip.com website (first 500 users monthly) using the code <OCBC6>.
With these tips, you'd definitely be able to embark on a dream holiday, even at the eleventh hour and without having to shell out a large sum of money!
5. Be spontaneous with your itinerary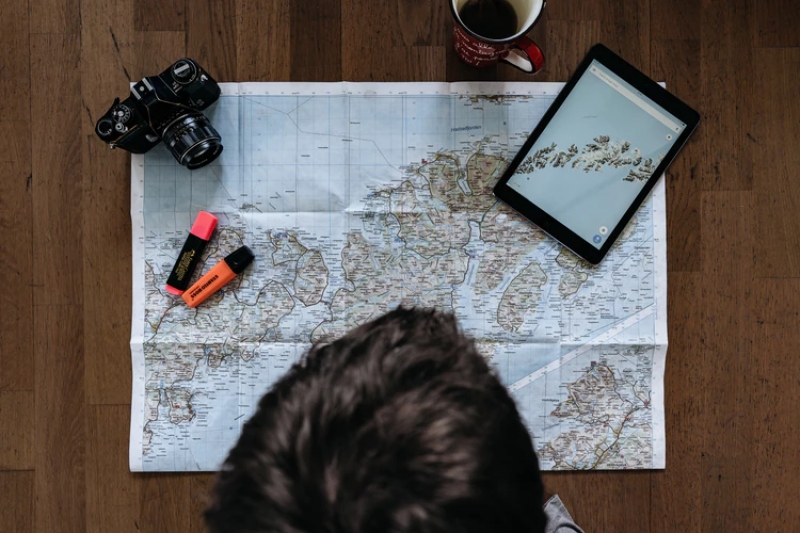 Chances are if you're going on a late minute holiday, you're probably an easy-going and spontaneous individual. As long as you keep an open mind and plan as you go along, you'll definitely discover an enjoyable experience only a last-minute adventure can offer.
Since you're in a rush for time, save yourself from the stress of planning the finer details of your itinerary and instead, highlight the must-do activities and plan around those. Browse for inspiration from travel blogs like KKday or search for the many ready-made itineraries available online.
And with sites like KKday, you can avoid the situation of visiting an attraction, only to discover that it's completely booked out – a common hazard of last-minute travel. Browse for available tours and attractions on KKday and book them online before embarking on your holiday; some activities only require you to book one day in advance! From now till 29 February 2020, enjoy 12% off selected travel activities in Taiwan, Japan and Korea using the code <OCBC12> or 5% off all travel activities using the code <OCBC5> (capped at 500 monthly redemptions). For new KKday users, you can also enjoy 7% of all travel activities using the code <OCBCNEW7> (capped at 500 monthly redemptions).
But even if you decide to wing it and embark on your last-minute holiday with zero planning, you can always ask the hotel concierge or the locals you meet along the way for travel recommendations. You'll be able to discover hidden gems that are not typically known to tourists!
6. The last-minute traveller's saviour – Pocket WiFi!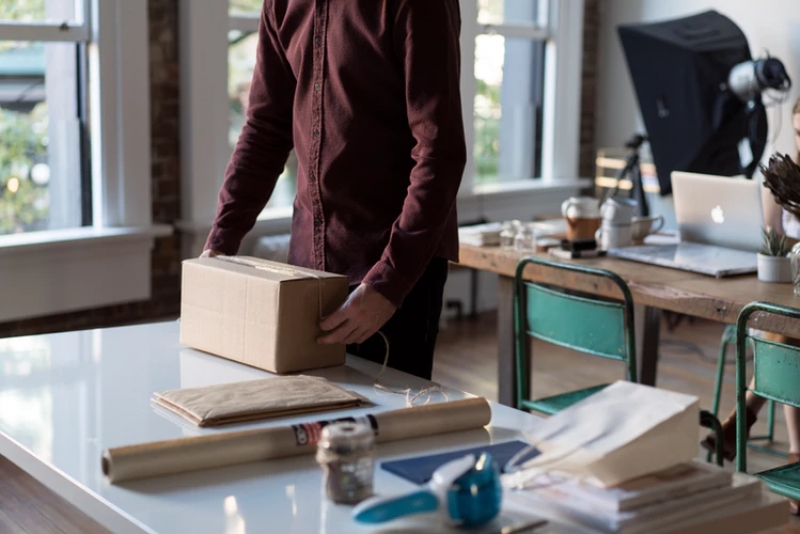 However, when you're travelling on the fly, probably the most important thing that you'll need is WiFi! How else will you Google for attractions nearby and find your way around with minimal prior planning? For a reliable and affordable WiFi connection, your best bet is using Pocket WiFi.
And before you start fretting about where to get one on short notice, Ready To Travel By SATS actually delivers their pocket WiFi straight to your doorstep! From now to 30 Nov 2019, they're offering an additional $10 off their Pocket WiFi Rental when you book with your OCBC Card using the promo code <OCBCWIFI10>. That way, everything you need for your trip is ready at your doorstep without you even having to leave the house!
7. Pack smart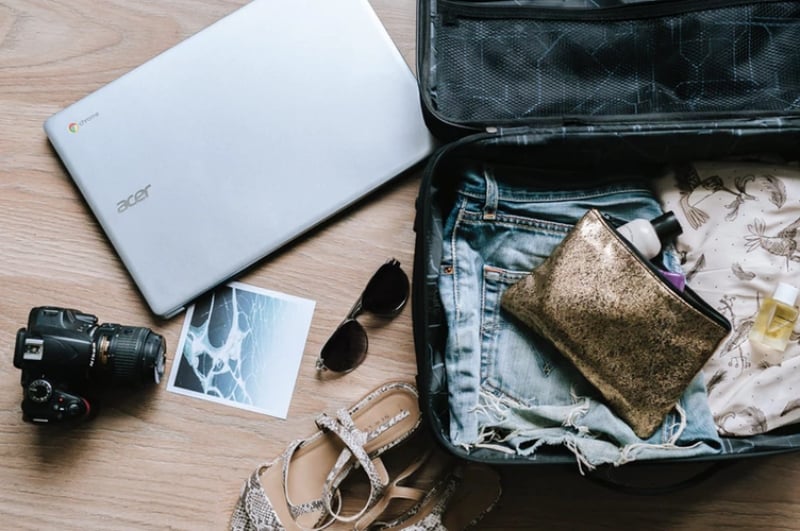 Assuming that you've booked your last minute flight on a budget airline, chances are that you don't have any check-in luggage allowance. With only a carry-on and limited time to pack, it's recommended to trim your baggage and bring only what you need. Following Marie Kondo's method, make a list and pack only what you need and sparks joy.
Start with the absolute essentials and don't fret too much about how many outfit changes you will need for the trip, especially when you might not have your actual itinerary planned out yet. Pack smart, pack light and save yourself that eleventh-hour headless rush. It's always a great excuse to go on a shopping spree in the event you missed out some essentials – but fingers crossed that you don't!
Alternatively, online stores like ZALORA provide next day delivery so you can still get some last-minute shopping done before you leave! Subscribe to ZALORA NOW and you will get unlimited Express Delivery with no minimum order spend for an entire year! What's more, from now to 31 December 2019 you can enjoy 15% off regular items with a minimum spend of $100 using the code <OCBC2019>. Especially with the OCBC Titanium Rewards card, you can even earn 10x OCBC$ when you shop online and in stores, both locally and overseas during your trip, equivalent to 4 miles per dollar!
Now that you're armed with these travel hacks, you're ready to embark on your own last-minute adventure! So plan your leave, set up your price alerts and get ready to jet off for your next long weekend getaway!
---
Brought to you by OCBC Cards.