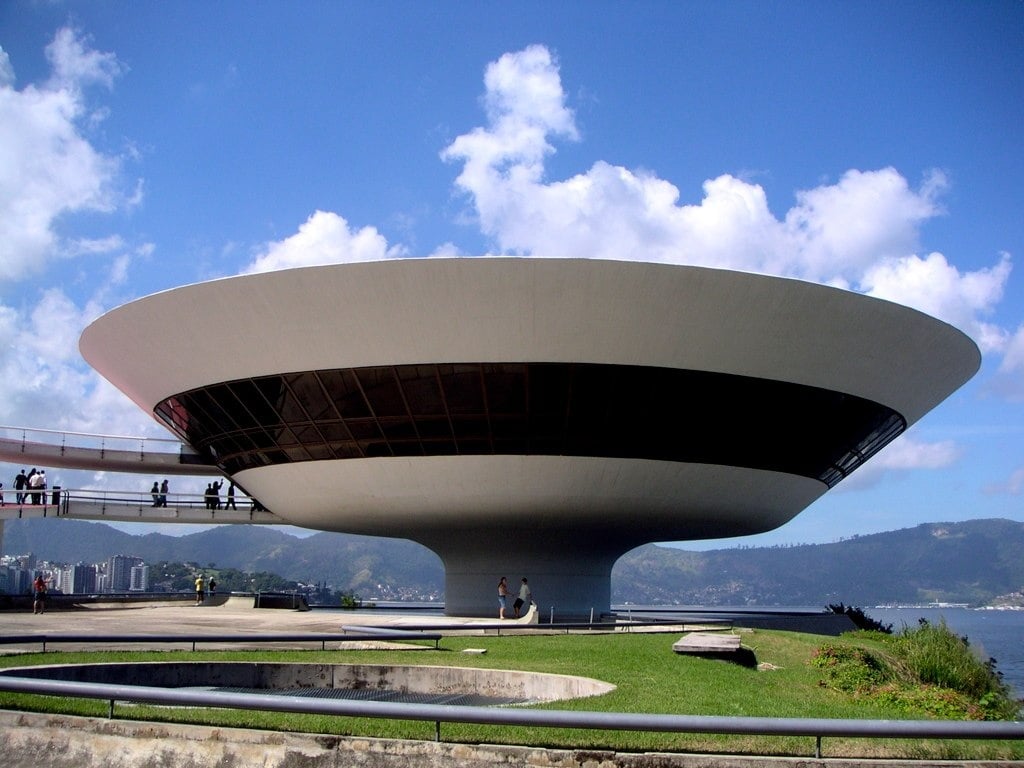 Perched on a cliff above a beach in the city of Niteroi, Brazil, Niterói Contemporary Art Museum (MAC) is one of the city's main landmarks. The path leading the way to the museum is surrounded by clear water, creating the illusion that you're walking along your own mini journey of self-reflection, earning its name, "Boa Viagem" (Good Journey). The modernist structure is set at the peak of a miniature cliff. Out of its glass-bound windows is a magnificent sight of natural beauty – of cliffs and forests separated by calming waters.
At night, MAC immediately catches your attention for its glaringly out of nature's order magnified by artificial lightings.
MAC Niteroi showcases contemporary art pieces primarily from the 20th century. The collection in the museum are on a renewable loan from Joao Sattamini, a Brazilian private collector who has collected one of the biggest private collections of contemporary art in the world.
This museum was completed in 1996 and was designed by world-renowned Brazilian architect, Oscar Neimeyer together with structural engineer Bruno Contarini. Its saucer-shaped cupola is easily recognisable even from a distance. It has a diameter of 50 meters and has three floors in it.
Inspired? Here's how you can make your travel happen:
TripZilla Travel Packages to Brazil
Image credits: http://bit.ly/1n22dGZ