Think Japan and travellers would start raving about cities like Tokyo and Kyoto. Commonly overlooked, though, is Nagano, a mountainous prefecture in Central Japan just a few hours (on the Shinkansen train) from its neighbouring sister cities that soak up the touristic limelight.
Thanks to the invitation by NHK WORLD for its Nagano Alpine Adventure screening, we got dibs on the wonders of Nagano told to us by a Nagano representative himself. This prefecture is a picturesque tangle of majestic mountains, post-card perfect castles, and everything in between, and here's why this unexplored destination needs to be on your bucket list.
Kamikochi
Nestled in the Japanese Alps, Kamikochi is a basin 1,500 meters above sea level, and doubles up as a dramatically gorgeous landscape which often attracts trekkers and photographers. Pictured here is one of the hiking trails in the area – you don't need to reach the summit to get a rewarding view for this climb!
Taisho Pond
Trekking through the Kamikochi area will also bring you to Taisho Pond, a lake that perfectly mirrors the Hotaka Mountains, making it one of the most scenic points in Kamikochi. For an optimal experience to drench yourself (do not take it too literally) in the beauty of Taisho Pond, rent a boat to course through the gorgeous waters.
Tip: time your visit at sunset for a real eye-feast!
Jigokudani Monkey Park
Give me 10 seconds to compose myself from these floofy balls of cuteness… *squeals*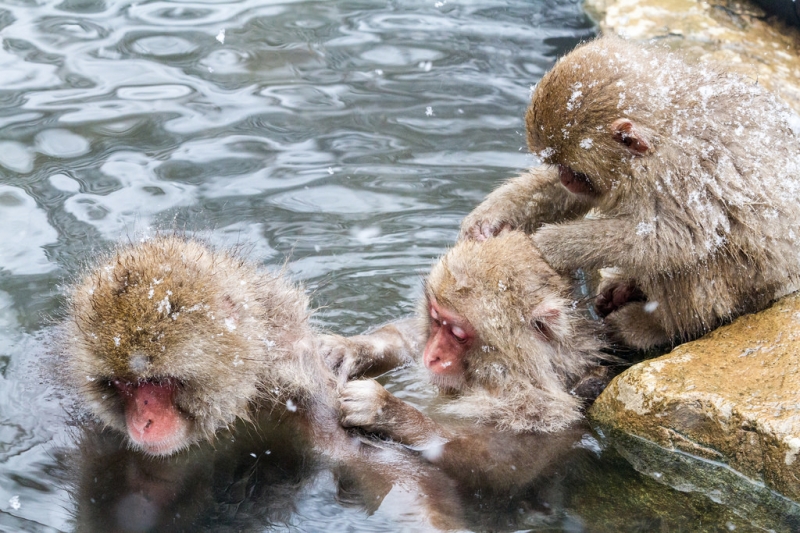 This adorable monkey haven is Jigokudani Monkey Park, which sees wild Japanese macaques blissfully soaking their afternoons away in the volcanic hot springs. Watch these amusing furry friends huddle up and help one another…clean their fur coats? Pick out dandruff? Pop back pimples? Nobody knows.
Matsumoto Castle
Matsumoto Castle is inarguably one of Japan's most beautiful historic castles, and is even recognised as a National Treasure of the country. With the starkly contrasting blacks and whites of its exterior, this architectural wonder is one that warrants a visit at any time of the day, and at any season of the year. It is most commonly awed at during springtime, when the Sakura blooms livens the grounds with their soft pink hues, transforming the area to the sweetest cherry blossoms viewing spot.
Onbashira Festival
Scenic landscapes and snow monkeys aside, Nagano has its fair share of action and festivities as well. One of which is Onbashira Festival, easily one of the most outlandish festivals around. This bizarre (and sometimes life-threatening) occasion involves Japanese men riding on fast-moving logs through rough terrains with the assist of thickly braided ropes. Onbashira Festival reportedly dates back to over 1,200 years ago, and is held with the purpose of symbolically renewing the Suwa Grand Shrine. As much as you can't wrap your head around it, this is one festival you won't want to miss.
Ski and snowboard resorts
With the Japanese Alps fringing the Nagano prefecture, no trip here is complete without giving a go at the winter sports in its mountainous areas. Hakuba is Nagano's biggest ski village, and makes a choice resort to hit the slopes and boast them Winter Olympian moves. If busting it out in the snow isn't your thing, Hakuba Village also offers après-ski (entertainment and social activities) and hot springs for its guests.
Nagano in different seasons
So when's the best time to visit Nagano, you might ask. There really isn't one, as every season in this prefecture offers a different charm that will win your heart over and over, four times a year. Unconvinced? We'll let the pictures do the talking:
Autumn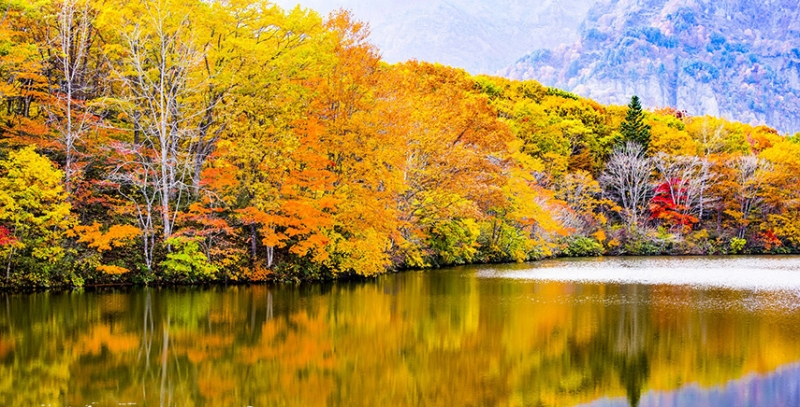 Spring
Summer
Winter
This little-known destination is a medley of regal mountains, stunning architecture, and an abundance of sights and sounds that will enchant even the most cynical traveller. While this list comprises of some of the best sights and activities Nagano has to offer, it certainly isn't comprehensive – check out the rest for yourself while you're there!
---
To uncover more about the wonders of Nagano, tune in to NHK WORLD's latest series "A Peak at Nagano" which features episodes on tourism in Nagano. Some of the recommended programmes are "Nagano Alpine Adventure", "Journeys in Japan" and "Japan Railway Journal", which are all available on NHK WORLD's video-on- demand (VOD) page.
For those new to NHK WORLD, it is the 24 hour English TV channel of Japan's only public broadcasting station, NHK. It airs Japan's latest news and trends, and a wide variety of programmes that covers topics like food, travel, culture and many more.
Tune in to NHK WORLD on TV, via Singtel TV (Ch. 157) or Starhub (Ch. 812). Alternatively, stream programmes LIVE or access its programmes via the VOD (video-on-demand) services which is available on NHK WORLD's official website, as well as the free smartphone app.
---
Brought to you by NHK World.