Come March 2016, the NATAS Travel Fair is once again back with a weekend of exciting travel deals and unbelievable promotions up for grabs! From 4–6 March (Friday to Sunday), the NATAS Travel Fair will be held at Singapore Expo Hall 7, from 10am to 9.30pm daily. Admission is free, so come down and seize the opportunity to grab some sweet travel deals!
Leading travel agencies – such as Citistate Tours, Jetabout Holidays, and Scenic Travel – will all be offering their latest travel packages at the fair. Should you wish to speak to a representative regarding the latest happenings in any particular destination, there will be representatives from various tourism organisations – such as the Tourism Authority of Thailand, Tourism Malaysia, and Wonderful Indonesia – present to ease your queries and to offer more information.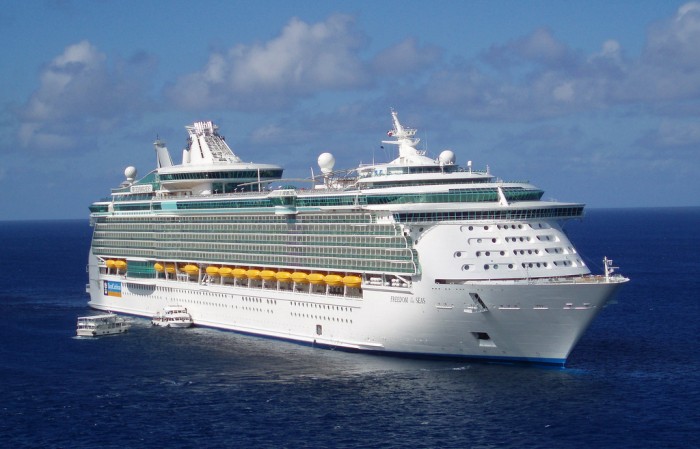 Image credit: Timothy Wildey
Should you be looking to do something unconventional, why not check out the various cruise operators and see what they have to offer! Cruise companies like Princess Cruises and Royal Caribbean have both come up with some irresistible cruise packages, perfect for adults and children alike! In addition, the event's official travel insurer, Travel Guard by AIG, gave a special free gift for every cruise package purchased; you never know what they might give out this year!
Also read: Best Asia Travel Deals Feautured for NATAS 2016
Get your game on! NATAS is happening tomorrow! Here's the map for you to plan your 'attack'.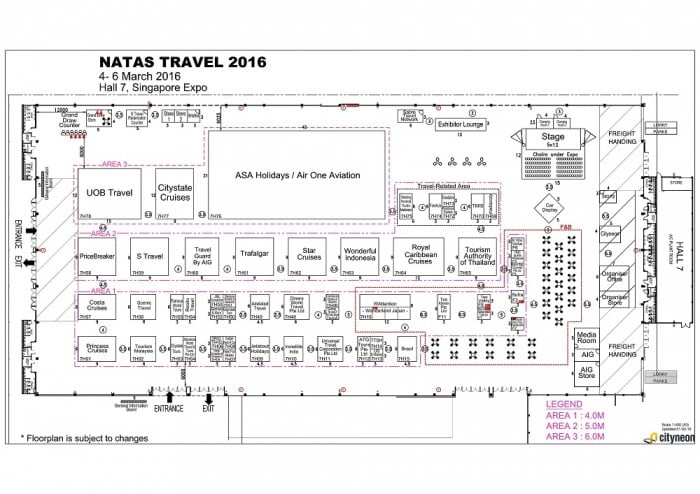 Here is a list of exhibitors with their booth and hall numbers to ease your planning. You're welcome!
List of Exhibitors
Travel Agents 
7H49 Airelated Travel Pte Ltd
7H04 Albatross World
7H76 ASA Holidays Air One Aviation
7H12 ATG Tours Pte Ltd
7H03 Citystate Tours
7H48 Diners World Travel
7H06 Ergo Travel
7H55 Famous World Tours
7H50 Green Island Tours S Pte Ltd
7H52 GuteReise! (Germany and More!)
7H53 J & L Vacation Pte Ltd
7H09 Jetabout Holidays
7H58 PriceBreaker Platform9 Cruise Arena
7H54 Reollo Travel
7H56 Scenic Travel
7H11 Universal Travel
7H58 UOB Travel
Car Rental
7H08 Budget Rent A Car
Cruises
7H77 Citystate Cruises
7H57 Costa Cruises
7H01 Princess Cruises
7H64 Royal Caribbean Cruises Asia Pte Ltd
7H62 Star Cruises
Hotels & Resorts
7H51 Berjaya Hotels Resorts
7H07 Hotel Puri Melaka
7H40B Careluxury Hotels Resorts
National Tourism Organisations 
7H10 Incredible India
7H05 Nepal Consulate in Singapore
7H15 Brazil
7H40A Kazakhstan The Land Of The Great Steppe
7H75 Shandong Provincial Tourism Administration
7H13 US Embassy
7H65 Tourism Authority of Thailand
7H02 Tourism Malaysia
7H63 Wonderful Indonesia
Official Travel Insurer 
7H60 Travel Guard by AIG
Partners & Sponsors 
MediaCorp Pte Ltd
Tour Operators 
7H61 Trafalgar
Others
7H16 WAttention – Wonderful Japan –
7H74 Fotohub
7H72 Photobook Express
7H73 Travellution
7H70 Tourism Management Institute of Singapore
Strategic Healthcare Partner
7H14 Tan Tock Seng Hospital (Travellers' Health and Vaccination Clinic)
Getting There
Address: Singapore Expo, Halls 7, 1 Expo Drive, Singapore 486150
By MRT: Singapore EXPO has a dedicated MRT station next to Hall 6. Trains arrive every 5 minutes from Changi International Airport and Tanah Merah MRT station while it takes about 25 minutes from the city. If you are coming from other parts of Singapore, transfer trains at Tanah Merah station (on the East West line) where the train will take you to Expo MRT in 3 minutes.
By Bus:  There are 3 bus stops from which you can alight to get to Singapore Expo.
Besides Carpark G on Upper Changi Road East (bus numbers 12, 24 and 38)

Outside Hall 1 on Upper Changi Road East (bus numbers 12, 24 and 38)

Besides Carpark J on Xilin Avenue (bus number 35)
By Car: You can click here to find out more about getting to the Singapore Expo by car. Find out more about parking at the Singapore Expo here.
Don't forget to mark out your dates in March to check out what exciting deals NATAS 2016 has to offer! For more information on brochures and deals, drop by Tripzilla.sg during this period.