Everyone gushes about the culinary scene in Hong Kong, famed for its delectable dim sum, roadside food stalls and all sorts of Cantonese delights. But no one really enthuses about Hong Kong's equally illustrious neighbour… Macao!
Known as the birthplace of fusion cuisine, Macao has just been designated as a UNESCO Creative City of Gastronomy and is home to plenty of unique and delicious Macanese dishes, incorporating Chinese, Portuguese, Indian and even African influences for an extra punch! Oh yes, there's more to Macao's culinary scene than the famed Portuguese egg tarts everyone raves about.
2018 has officially been declared as Macao Year of Gastronomy, so get your stomachs ready when you visit, because you'll want to visit all these restaurants for an authentic taste of Macanese cuisine!
1. Riquexo
This homely restaurant tucked away in an alleyway is helmed by 90-something-year-old Dona Aida de Jesus, a.k.a. the Godmother of Macanese Cuisine. 'Riquexo' is Portuguese for 'rickshaw', aptly encapsulating the restaurant's ethos of serving up humble, no-frills Macanese fare.
Similar to economical rice in Singapore, or Spain's tapas, Riquexo serves a selection of dishes every day from which you can choose what you like. We recommend the sensational grilled sardines, bacalhau a bras (salted cod and onion with scrambled eggs), and the national dish of Macao, minchi (minced pork and potato with soy, eaten with rice)! Riquexo is excellent for a simple and affordable lunch accompanied by a nice cold beer.
Address: 69 Avenida Sidonio Pais, Macao
2. Antonio's
Established in 2007, the comfy and well-decorated Antonio's Restaurant is well-known for its authentic Portuguese food with a delightful modern twist. Located in Taipa Village, you'll feel right at home here with its warm ambience and distinctive Portuguese tiles and paintings which adorn the walls.
Here, you definitely have to check out Chef Antonio Coelho's fried codfish cakes, a favourite snack amongst locals! Another standout is his Portuguese duck rice, with the subtle duck flavour and fluffy rice balanced out by salty slices of ham and a crisp surface. His signature favourite will also certainly whet up your appetite – Goat's cheese gratin with olive oil and honey served on toast.  It's no wonder Antonio's has picked up a string of international awards, including a Michelin star!
Address: Rua dos Clerigos 7, Macao
3. Albergue 1601
The grand and mysterious entrance of this al fresco restaurant will certainly draw you in, charmingly set in the courtyard of a bright yellow colonial house. The ambience is further enhanced by lilting Portuguese live music. Nestled in the heart of the Historical Neighborhood of St. Lazarus Quarter, indulge in traditional Portuguese-Macanese cuisine amidst the canopies of giant Camphor trees.
The food here is just as impressive, especially the classic deep-fried salted cod balls, tender squid stuffed with minced pork seasoned in tomato and paprika, and crispy roast pork skin. The portions are beautifully plated and small enough so that you can try as many dishes as you wish. Get a good Portuguese wine to add the finishing touch to your meal!
Address: 8 Calçada da Igreja de S. Lazaro, Macao
4. Restaurante Litoral
Emerging from the Portuguese "kitchen revolution" that saw women leaving their home kitchens to establish themselves in the men-dominated restaurant scene, Manuela Ferreira's Restaurante Litoral serves home-cooked food based on family recipes dating back almost 100 years!
Try the stewed pork with tamarind and shrimp paste, a favourite authentic Macanese dish. And you can't go wrong with Litoral's succulent galinha a africana, a chicken dish that the Macanese have made their own by incorporating African spices and piri-piri sauce for an added kick.
Address: 261 R. do Alm. Sergio, Macao
5. Educational Restaurant at the IFT
Even if the food here wasn't totally amazing (in fact, it is), we would suggest you give it a shot only because of its unique concept: the restaurant is in fact a training centre for culinary students at Macao's Institute for Tourism Studies!
This stylish restaurant lives up to its Michelin Guide recommendation as the chefs, with the help of students, whip up international dishes with a Macanese touch. Be spoilt for choice at the restaurant's Portuguese and Macanese buffet dinner, offered every Friday night! The African Chicken here is scrumptious too. It also supports the organic sourcing of ingredients, with much of its fresh produce grown on-site. Support Macao's next generation of chefs and hoteliers by paying this intriguing restaurant a visit!
Address: Colina de Mong-Ha, Macao
6. Restaurante Fernando
Opened to guests since 1986, Restaurante Fernando offers a quaint and cozy space for delicious Portuguese home cooked fare! Housed with a beautiful open-air backyard near Hac Sa Beach, indulge in a sumptuous meal whilst taking in the refreshing sea breeze – a truly idyllic dining setting in Macao. With amazing food and great service, it's a definite must-visit.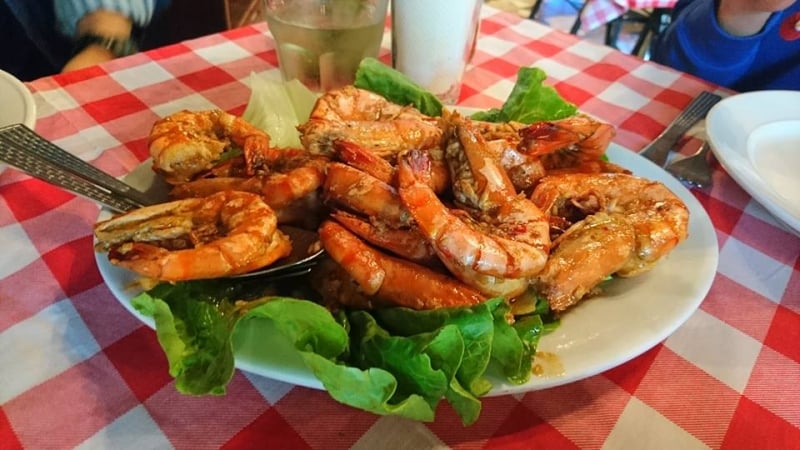 No true foodie would consider a trip to Macao complete without trying gambas a macao, Macanese-style prawns sauteed in garlic! Restaurante Fernando's version is intensely flavourful, perfect for a hearty lunch. Have a relaxing meal at the spacious alfresco dining area, or indoors at one of the wooden tables cheerfully decked out in a checkered tablecloth. Portions are filling and sangria flows freely, so be ready for a feast!
Address: 9 Praia de Hac Sa, Macao
7. Guincho a Galera
Originating in Portugal, Michelin-starred restaurant Fortaleza do Guincho has now expanded into Macao! Its Macanese branch, Guincho a Galera, boasts "Portuguese dishes that you won't find in Portugal". Need we say more?
The interior is lavishly adorned in classic orange and gold, but the food is innovative and contemporary: think mushroom soup with crab meat, bacalhau and snail croquette, or deep-fried salt cod with scrambled egg and asparagus (prepared tableside by the chefs)! For desserts, if you choose the tasting menu, you'll get a luxurious interpretation of Macao's iconic dessert: the Serradura (sawdust pudding) with Portuguese biscuit ice-cream.
Address: 3/F, Lisboa Tower, Hotel Lisboa, 2-4 Avenida de Lisboa, Macao
8. Root
Root's nostalgic wooden decor belies the modern sophistication of its European fusion dishes. Its menu changes seasonally according to the ingredients growing in its vegetable garden, giving rise to quirky yet original concoctions. Some of the highlights are the salted cod and avocado salmon in raptor crisps with black squid, clams with dehydrated tomato covered in a rich hollandaise sauce, and scallop carpaccio with cucumber and mustard cress.
What makes Root extra appealing is the artistry of its presentation, like its clams served in a tree-bark bowl, topped with a rice-paper sheet and sprinkled with green salt and chrysanthemum petals. It looks so good you'll almost not want to dig in. Delicious and Insta-worthy? Who could possibly resist!
Address: 323 Av. Xian Xing Hai, NAPE, Macao
9. Gosto
'Gosto' is Portuguese for 'like' – a catchy, memorable and apt name for a restaurant you're sure to like! Classy yet family-friendly, Gosto's menu features traditional treats like minchi and fried cod balls, as well as more unconventional dishes like codfish and chickpea salad with coriander.
These combinations may seem odd but fortunately, the risks pay off as the food is delectable! If you're spoilt for choice, you can get their signature Portuguese tapas set, served on a wooden board, which is a meal in itself.
Satisfy your dessert cravings with a selection of Macanese puddings and tarts from Gosto's dessert trolley too!
Address: G21 G/F East Promenade, Galaxy Macao, Macao
10. A Lorcha
A Lorcha prides itself on its beautiful interior which resembles a Portuguese lorcha vessel, developed in Macao in around 1550. This reflects its dedication to serving authentic Portuguese food that has been enjoyed for generations.
Don't miss their signature Clams Lorcha Style, with tomatoes, beer and garlic. The seafood rice is equally scrumptious too! The juicy grilled African Chicken, which is smothered with an intensely flavoured spicy sauce, is also worth savouring. To end your meal on a sweet note, opt for the serradura, a Macanese pudding made from biscuits and vanilla cream.
Address: Av. Almirante Sergio, no. 289 AA, G/F, Macao
Aren't you fascinated by Macao's rich and diverse culinary scene? Rest assured that Macao's gastronomical delights extend far beyond the Portuguese egg tarts we immediately associate it with! Indeed, it's the place to be for both home-cooked food that warms your heart and tummy, and elegant modern fusion cuisine that makes for a wholesome and delectable meal. All you need for your next trip to Macao is a full wallet and a ravenous appetite!
For more information on Macao's growing culinary scene, or to check out the latest happenings in Macao, visit Macao Government Tourism Office's official website!
Brought to you by Macao Government Tourism Office.