Mention a trip to Macao and you're sure to meet a couple of raised eyebrows from your friends and family, who'd think you're going to squander your fortune away at the casinos. But cast all those stereotypes aside, and you'll find the Las Vegas of Asia brimming with a captivating blend of influences where East meets West, courtesy of its colonial past. Modern-day Macao is a hidden treasure trove of delightful architectural buildings, heavenly food and historical wonders just waiting to be uncovered.
There are plenty of guides to this wonderful city already out there, but this one's for the foodies who love a good sugar rush. There's no end to the samples of local sweets and desserts you can get on the journey between Senado Square and ruins of St Paul's Cathedral, but it never hurts to know what to look out for before you get there. Read on to give your tastebuds a pre-tasting and discover a host of Macanese gastronomic delights!
1. Portuguese egg tarts
Ah, what wouldn't I give to crunch down on a light, crispy crust that gives way to a burst of creamy custard and crème brûlée aftertaste. First popularised by creator Andrew Stows back in the 1990's, the Portuguese egg tart varies in subtle notes of flavour and its signature lightly-torched top in comparison with Cantonese varieties.
Lord Stow's Bakery and Margaret's Cafe e Nata are by far the two most popular outlets to grease up your fingers with an authentic Portuguese egg tart. While each has their own base of loyal fans, we recommend that you read the reviews and let them sway you. It's much better to sample both versions and then decide for yourself!
Lord Stow's Bakery | Address: 1 Rua do Tassara, Coloane Town Square, Macao, China | Contact: +853 2888 2534 | Opening hours: 0700 – 2200 daily
Margaret's Cafe e Nata | Address: 17B, Goldlion building, Rua do Comandante Mata e Oliveira, Macao | Contact:  +853 2871 0032 | Opening hours: Mon-Fri 0830 – 1630 (Wednesdays closed), Sat-Sun 1000 – 1800
2. Egg rolls
Although egg rolls are not exclusively found in Macao, this crispy, sweet delight also enjoys immense popularity here. When served hot off the griddle, one bite of this snack is sure to leave you clamouring for more!
Pay a visit to Pastelaria Chui Heong, where the friendly staff would be more than happy to help you sink your teeth into this fragrant snack. If you like what you're tasting, feel free to bring boxes of egg rolls wrapped in beautiful, traditional packaging back home for your loved ones. Make sure not to pass up on their range of other specialty Macanese snacks such as their almond cookies, which are crumbly, topped with blanched almonds and a perfect blend of sweet, buttery flavour.
Be warned, Pastelaria Chui Heong can be a little hard to find and can get pretty crowded on the weekends. If you're in a rush, Koi Kei Bakery is another well-known brand where you can get your hands on popular Macanese delights including egg rolls, almond cookies and sweet pork jerky.
Pastelaria Chui Heong | Address: G/F, Block A, 12B r. Do Gamboa, Macao | Contact: +853 2838 3858 | Opening hours: Sun-Sat 1000 – 1900
Koi Kei Bakery | various locations |
3. Serradura
Serradura literally meaning 'sawdust' in Portuguese and this chilled dessert is a strong favourite in the hearts of many. The traditional Macanese dish is essentially a layered pudding consisting of heavy whipping cream, condensed milk and vanilla, with the topmost layer dusted with Marie biscuit crumbs (hence 'sawdust') and served semifreddo style.
Grab one at the acclaimed Gelatina Mok Yi Kei (an 80-year-old sweets shop located in the heart of old Taipa that also specialises in housemade durian ice cream) after a few hours of sightseeing, and you'll find yourself recharged and raring to go.
Looking for somewhere to have a hearty local meal? Then check out Ou Mun Cafe. It's a great place to seek refuge from the hordes of people, complete with very pleasant staff who would be delighted to offer food recommendations and take good care of you during your visit.
Gelatina Mok Yi Kei | Address: 9A Rua da Cunha, Via de Taipa, Macao | Contact: +853 6669 5194 | Opening hours: 0700 – 2300 daily
Ou Mun Cafe | Address: 12 Travessa de Sao Domingos, Macao Peninsula, Macao | Contact: +853 2837 2207 | Opening hours: 1000 – 2100 daily
4. Beancurd jelly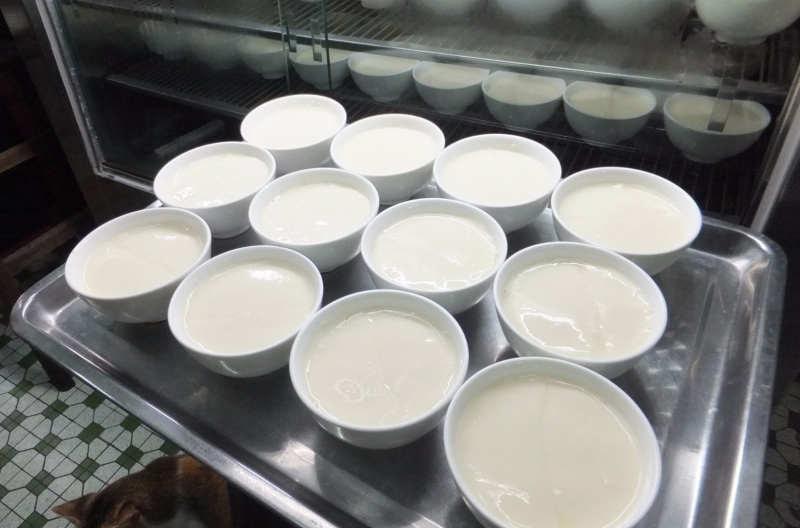 Rickety chairs, squeaky fans and an ancient refrigerator might not be one's idea of aesthetic in the Instagram era, but the delicacy served at this secluded 60-year-old shop has drawn droves of locals and travellers alike to sample or perhaps get their daily fix.
U Tac Hong (otherwise known as Lee Hong Kee) serves an ambrosial Macanese version of the jelly-like beancurd. The dessert is only served chilled at this store, topped with a condiment of your choice ranging from yellow cane sugar, ginger-infused syrup or a special twist of evaporated milk. Let the wobbly goodness take over your senses as the sweetness of the condiments leaves a saccharine taste on your tongue and the rest of the way down your throat.
U Tac Hong (Lee Hong Kee) | Address: 19D Rua Da Madeira, Macao (5mins from Largo do Senado) | Contact: +852 28920598
5. Milk Pudding
At first glance this looks like another bowl of beancurd jelly, but it is in fact a steamed fusion of milk, sugar and egg. As a variant of Guangdong's double-skim milk, milk pudding is another popular dessert in Macao.
When visiting the City Centre, don't miss out a chance to try the double-boiled steam milk and ginger milk custard from Yee Shun Milk Company! Famous for their milk custards, these puddings are wondrously smooth, creamy and milky. If you'd like something stronger, sample their equally-fantastic red bean milk pudding with a dash of extra sugary goodness that is sure to satisfy your sweet tooth.
Leitaria I Son (Yee Shun Milk Company) | Address: 381 Avenida de Almeida Ribeiro, Macao | Contact: +853 2837 3104 | Opening hours: 1100 – 2100 daily
6. Modern Chinese desserts
With Macao and Hong Kong within such close proximity of one another, it's hard to avoid the crossover of food cultures from one territory into another. No need to pull out your hair over sudden Hong Kong dessert cravings while in Macao – we've got your back as well!
At Yi Yan Tang Dessert, your cravings for Hong Kong delights will be satisfied at no expense of Macanese flavours.This store specialises in presenting traditional desserts with an innovative twist that leaves your mouth watering for more.
Pamper your skin by ordering their bird's nest barley water, or perhaps a serving of their bird's nest coconut steamed milk, served in an actual coconut shell and filled to the brim with rich pudding loaded with bird's nest toppings. If you're feeling adventurous, why not try their take on the traditional cheung fan, a typical breakfast staple in Macao – the mango roll? Instead of rolling rice sheets, heaps of fresh mangoes are rolled up with a thin sheet of coconut jelly and covered with a rich mango sauce, guaranteed to have mango-lovers raving for days.
Yi Yan Tang Dessert |  Address: G/F, 1 R. da Felicidade, Avenida de Almeida Ribeiro, Macao | Contact: +853 6660 2916 | Opening hours: 1230 – 2330 daily
7. Egg waffles
Call it what you will – egg waffles, eggettes, egg puffs, or gai dan zai – nothing changes the way longing sighs leave the body when you mention this quintessential staple of traditional comfort food in Macao. Egg waffles are a bafflingly-simple dish and are made just by pouring batter into a heated dimpled iron. Crispy on the outside and yet soft and mochi-like on the inside, it's literally the best of both worlds.
We recommend checking out Hing Yi Waffle Stall and have your egg waffles fresh – right after they're made. Noteworthy creations include the banana waffle; and all varieties are drizzled with a generous amount of condensed milk and peanut butter sauce, ready to warm up your insides.
Hing Yi Waffle Stall | Address: Patio das Flores Alley, Macao | Opening hours: 1200-1800 daily.
8. Ice cream sandwiches
Are you ready for a blast to the past? Dropping by Lai Kei Ice Cream will definitely take you back to the good old days. The store has operated in the same location for over four decades, one of the last old-style establishments still standing that was really popular in the 60s.
The Lai Kei shoppe is as much a historical relic of its past as it is a dessert outlet, its interiors lined with trinkets such as old packaging, vintage ice cream scoops and glass drink bottles. Have a seat and bask in the nostalgia of childhood that Lai Kei invokes as you munch on their signature ice-cream sandwich, which contain a mix of three different random flavours into one, or their red bean ice popsicles to cool down from a hot summer afternoon.
Lai Kei Ice Cream | Address: Rua Conselheiro Ferreira de Almeida, nr. 12-12 A, Macao | Contact: +853-28375781 | Opening hours: 1200 – 1900 daily
9. Gelato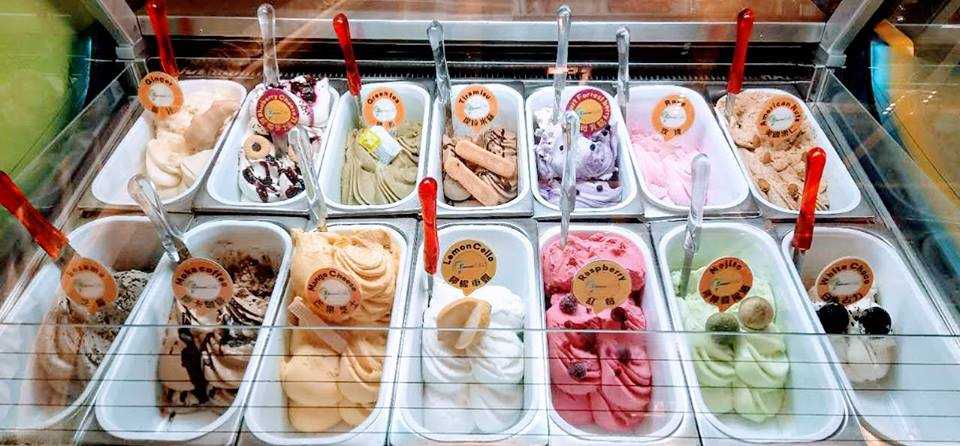 Lai Kei's ice cream is refreshing and certainly takes us back to good times, but sometimes we need to retreat towards our creature comforts. Step away from the humid streets and into the blessing of an air-conditioned environment when you visit Lemoncello Gelato, the pioneer of gelato in Macao.
The owners are local Macanese residents who went to Italy to learn the art of gelato and brought back this icy treat back to Macao. The rich and creamy dessert along with its plethora of flavours are reasons that make Lemoncello Gelato one of the most popular dessert outlets in the city, especially on a hot day. While the gelato is pricier than the usual mom-and-pop ice creams, paying a little extra for their specialty flavours such as guava and grapefruit or their seasonal flavours, is well worth it.
Lemoncello gelato | Address: Rua do Regedor. No. 115 R/C J, Taipa, Macao | Contact: +853 2833 1570 | Opening hours: 1100 – 2300 daily.
10. French specialty desserts
To continue on the list of 'exotic' desserts, nothing screams high tea more than an afternoon spent indulging in French patisseries. Once you've had enough of the crowds, hop onto a taxi or take a walk down from Taipa town to Kafka.
The cafe is an inviting space adorned with long tables and elegant designs which pair perfectly with their range of exquisite, highly-Instagrammable dessert creations (check out their house special range of layered cakes, chestnut cakes, lemon tarts or their St Honore cake). Their caramel macchiato is also a must-try here, courtesy of their divine homemade caramel sauce. Almost everything is worth a shot if it catches your eye; even plain fluffy waffles and dessert toast. There is something on the menu for every sweet tooth, so get ready for the most indulgent sugar high of your holiday!
Kafka French Patisserie | Address: 152 Rua de Braganca, Taipa Ilhas, Macao | Contact: +853 2882 0086| Opening hours: Tue-Sun 1330 – 2000
For major sugar cravings, Chop Chop is right up your alley. You can't rest your feet at this streetside store, but you'll want to wolf down your adorable mini-puffs while standing outside the shop so that you can go for seconds. Specialising in – you guessed it – puffs, Chop Chop offers assorted puffs with rich and smooth fillings waiting to burst out of their crispy shells.
We recommend trying the pistachio cream puff with fresh watermelon on top, or if you're not that adventurous, the classic chocolate eclair with brownies is always a good shot. For that extra sugar kick, try the milk tea mini-puffs with a milk tea syringe.
Chop Chop | Address: 9 Rua da Madre Terezina, Macao | Contact: +853 6683 9984 |  Opening hours: 1200 – 2100 daily
Got your tummy rumbling? Head down to Macao for a learning journey of culture, history and saccharine dessert wonders! There's more to Macanese traditional desserts than just Portuguese egg tarts, and armed with this list of goodies to look out for, you can be assured your sweet tooth will always have something to sink into.
For more information on Macao's major cultural and history sites, or to check out the latest happenings in Macao, visit Macao Government Tourism Office's official website!
---
Brought to you by Macao Government Tourism Office.