I've been fortunate enough to have had the opportunity to travel extensively throughout Southeast Asia for extended periods and I have had so many wonderful experiences in a region I have loved since my first time there.Here are just four of my favourite memories as well as four more memories I hope to make in the future.
Experiences that I'll never forget: 
1. Climbing Rinjani, Lombok, Indonesia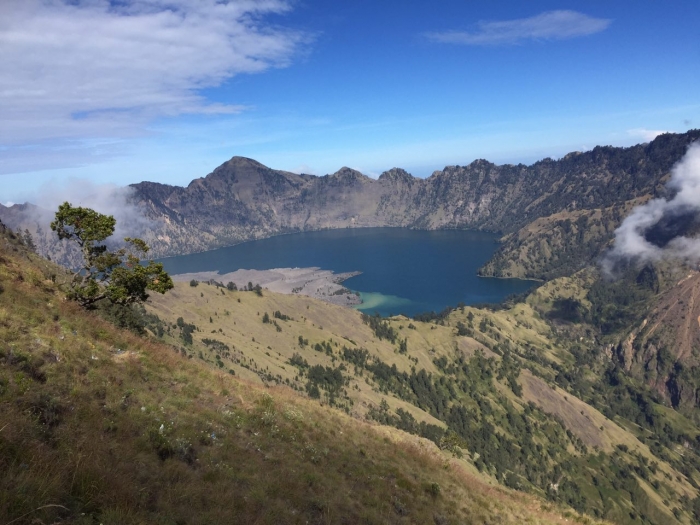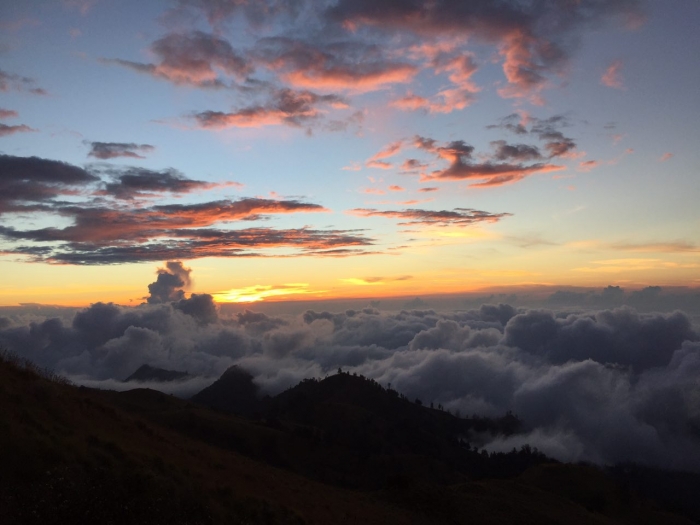 Dominating the island of Lombok, at 3726m, Rinjani is Indonesia's second highest volcano and the ascent is widely considered to be the most challenging trek on either Lombok or Bali. For those who wish to test themselves, a popular option is a gruelling three-day and two-night trek to the summit combined with a descent to the lake in the caldera.
After the interminable first day of climbing, I was rewarded with tantalising glimpses of the dazzling blue crater lake below through gaps in the mist while my group made the first camp on the rim. Next came the punishing night assault on the summit. After a few hours' sleep, we awoke after midnight and joined the procession of twinkling torches as we picked our way for an hour in the darkness through the scarred mountainside up to a ridge. Once on the ridge, it was another hour of walking until the start of the final ascent.  
The steep path up to the summit consists entirely of volcanic scree; for every two steps up you slide back down one and the progress is slow and exhausting. I managed to reach the top just when the sun was appearing over the horizon as the first rays of dawn lit up the rugged desolation of the terrain I had traversed below. On one side, I could see the crater lake containing Gunung Barujani, the smaller volcano that has grown in Rinjani's caldera; on the other side, in the distance, was the sea, and it was just possible to make out the tiny specks of the Gili islands offshore.
Following the ascent to the summit, I still had two more days of walking ahead of me. It was by far the hardest trek I have ever done but the views from the top as well as the feeling of having succeeded in conquering the mountain were ample recompense for my efforts.
2. Diving in Komodo National Park, Indonesia
I went to Komodo in search of dragons and I didn't plan to dive there; but while I was there I decided to enquire in some of the dive shops to see what was available.  I signed up for one day – and so just by chance, I ended up diving in the spectacular waters of the Komodo National Park.
Even from the boat, I could see that it was like no other place I had dived before, and just being in the water for only a few seconds was enough for me to decide I was going to do more than one day.  On my first dive, the water was so clear and so still that I felt I was swimming in a giant aquarium.  I was surrounded by huge growths of coral and an abundance of marine life, and there were so many turtles I stopped counting.
On other dives, I found myself swimming past dozens of white tip reef sharks or sitting on the bottom as a giant manta ray with a three-metre wingspan hovered gracefully beside me.  On another dive, I experienced the exhilaration of clinging desperately to a rock in current so strong I was unable to look round for fear of my mask being torn from my face.  If there is one place I would choose to dive again, it would be Komodo.
3. Celebrating Songkran in Chiang Mai, Thailand
Songkran is the festival marking the Thai New Year and one of the best places in the country to celebrate it is in the northern city of Chiang Mai. During this time, the whole city engages in a five-day water fight in which everybody is a participant and anybody walking the streets between sunrise and sunset is a potential victim.
Everybody is armed with water pistols and you need to you buy the biggest one possible. Pickups patrol the streets with kids and adults on the back who throw buckets of water over passers-by, sparing nobody. What I really loved about this festival is that complete strangers were having so much fun together, everybody was involved, everybody was friendly and nobody was ever angry when they found themselves being drenched. I remember seeing an elderly Thai lady cycling along a street when a group of kids ran out and emptied buckets of water over her. She laughed as if it were quite normal and just carried on cycling.
4. Seeing a wild crocodile, Sabah, Malaysian Borneo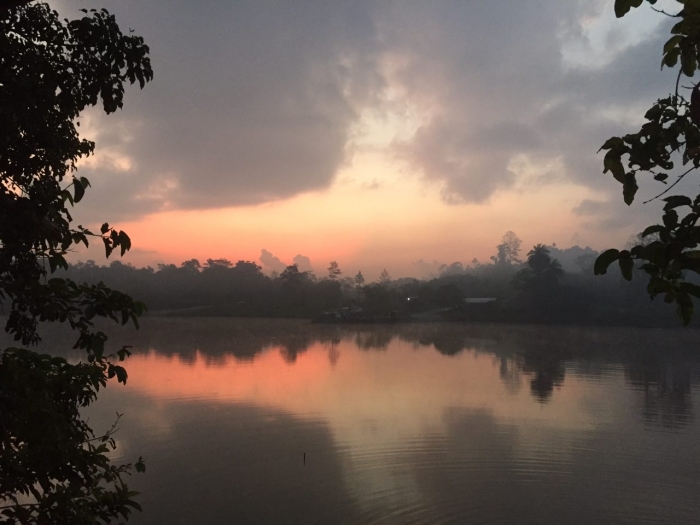 With rampant deforestation and global degradation of natural habitat, seeing animals in the wild is becoming more and more difficult but there is no comparison between seeing them in a zoo and seeing them outside and free where they belong. There is something almost sinister about the reptilian coldness of crocodiles, in their soulless, staring eyes and the purposeful menacing languidness with which they swim. Seeing a wild one had long been on my list and I finally had my chance on the Kinabatangan river in the Malaysian state of Sabah in Borneo.
This river cuts through a jungle that is teeming with animals and it is possible to organise boat trips up and down the river to try to spot some of them. While I was there, I took three trips, one in the afternoon, one at night and one early in the morning. I was lucky enough to see a range of wildlife, including troops of endangered proboscis monkeys endemic to Borneo, a very rare slow loris and several species of hornbill. I wasn't lucky enough to see elephants or orangutans which are also present in the area – but on both the night trip and the early morning trip I saw my crocodiles, two big adults of between three and four metres in length basking on the riverbank. I wasn't disappointed.
At the top of my list of experiences to have: 
1. Dive with hammerhead sharks at 'the Magnet', Lombok, Indonesia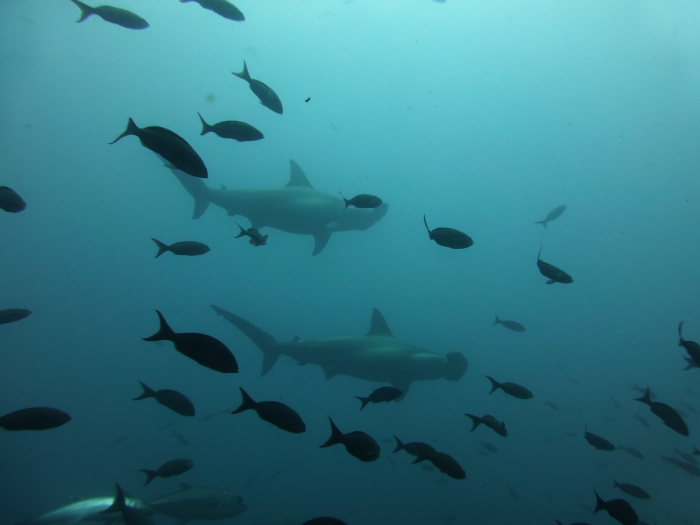 It had long been an ambition of mine to see a shark while diving and I finally saw my first bamboo sharks and black tips while diving off the Perhentian Islands in Malaysia. Having achieved this goal, I had to add other species to my diving wish list and currently at the top is the hammerhead.
In Lombok, there is a notorious dive site called the Magnet where hammerheads are common. Diving schools won't take anyone with less than a hundred dives as there are extremely powerful down currents that can suck divers into the depths of the ocean. I have heard stories of people being caught in the current and being dragged down even with BCDs fully inflated. The only way they could escape was to cling to the rock face and drag themselves up hand over hand. After Komodo, I understand what strong current means and to me, that sounds terrifying.
I still need another thirty dives to reach my hundred – after that, next time I'm in Lombok I will need to decide if I dare to dive in such dangerous conditions in order to catch a glimpse of this most enigmatic of sharks.
2. Climb Mount Bromo, East Java, Indonesia
Mount Bromo is one of the most famous volcanoes in Indonesia and is an essential stop for most travellers in East Java. It is part of the Tengger massif and is reached by crossing the evocatively named Sea of Sand. The air there is often heavy with ash and the ground can be felt vibrating periodically as the Bromo rumbles malevolently, reminding you that this volcano is very much active. The dramatic prehistoric scenery is the subject of countless photos and there can be very few places on earth that even resemble this primaeval landscape.
Unfortunately, when I was in the area, the volcano was restless and I was unable to visit at that time. I will have to wait until I return to East Java to make my ascent of Bromo.
3. Experience the Full Moon Party, Ko Pha Ngan, Thailand
Maybe I'm too old for this now but I've never done it and I'd like to experience it at least once in my life. It may be commercial, the guesthouses may be overpriced and the whole event may have become the epitome of banana pancake trail backpacking – but the sheer spectacle of a beach party attended by up to 30,000 revellers wearing psychedelic neon paint dancing until the sun rises from the sea the following morning is something that needs to be witnessed at least once.
4. See Naga Fireballs, Mekong River, Thailand
Every year in late October, people gather along the Mekong River, especially around the northern Thai town of Phon Phisai near Nongkhai, in the hope of catching sight of Naga Fireballs. This strange and still unexplained phenomenon sees silent balls of flame rising from the river and floating off into the sky, sometimes reaching up to 300 metres, before disappearing silently.
Nobody knows what they are but there are several theories. Some believe the fireballs are naturally-occurring bubbles of methane which ignite as they are released from the river; others believe they are balls of fire breathed by the mythical naga serpents which supposedly inhabit the river; the more sceptical believe them to be man-made, either flares fired into the air by Lao soldiers on the other side of the river of maybe even by local Thai authorities in an attempt to promote tourism. Whatever the reason, I reserve my judgement until I have witnessed the spectacle for myself but I am very curious to see such a strange occurrence which is, as yet, unexplained by science.
What are your favourite experiences and which ones are still on your list? Please feel free to leave a comment – I'm always on the lookout for new ideas too!