Macao – besides being home to the famous Portuguese egg tart, you may already know that the place represents a beautiful combination of Chinese and Portuguese culture as a former colony of the latter country.
Hunting down delicious egg tarts is on the list for sure, but you should definitely pay a visit to the Historic Centre of Macao to see the magnificent and vigorous East-West cultural blend for yourself before you head home.
DID YOU KNOW? The Historic Centre of Macao is currently the oldest, and the most complete and consolidated array of European architectural legacy standing intact on Chinese territory today. As a UNESCO World Heritage Site, the Historic Centre of Macao features a long list of archaeological remains and old buildings that all add up to a great city.
Also read: 3-Day Macao Itinerary: Top Things to See and Do to Experience the Best of the City
1. A-Ma Temple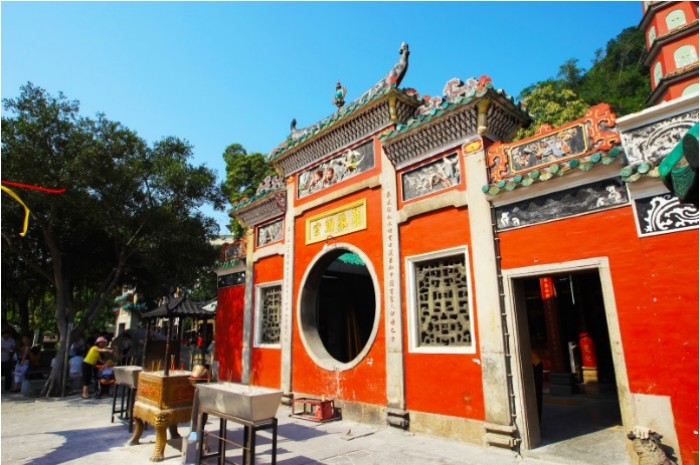 This is the temple on the 10 Macao Patacas note, reflecting its special status among the Macanese – local worshippers from all field visit the temple on a daily basis.
Small as it may seem from the outside, A-Ma Temple is full of surprises behind the walls. It consists of a variety of pavilions dedicated to the worship of different deities including Guanyin and Ma Zu. It is not common to find all Confucianism, Taoism and Buddhism influences in one single complex, not to mention a few other folk beliefs. So be sure to grab your chance to visit this small but huge melting pot of different beliefs while you visit Macao!
2. Mandarin's House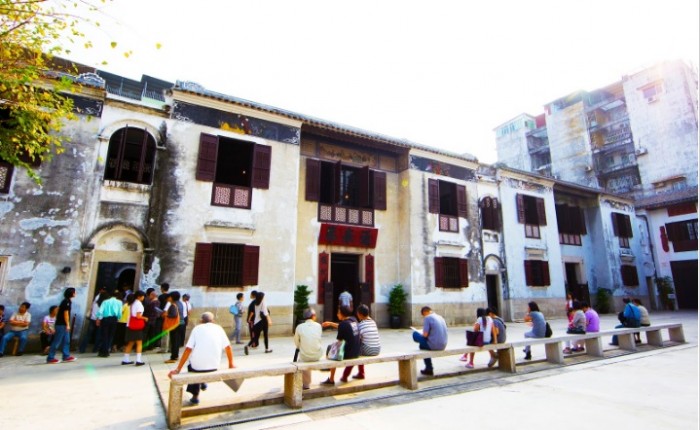 As suggested by the name, it is a Chinese-style compound which has the characteristics of traditional Guangdong's residences. Interestingly, as chinese as it displays on the surface, one can always find western detailing in almost every corner of the house. Mandarin's House was once own by Zheng Guanying, a late-Qing celebrity who completed the acclaimed masterpiece Shengshi Weiyan (Words of Warning in Times of Prosperity) in the house.
With the humanistic values, the western architectural influences, the instagram-worthy vintage background……you definitely have all the reasons to put Mandarin's House in your Macao itinerary!
3. Dom Pedro V Theatre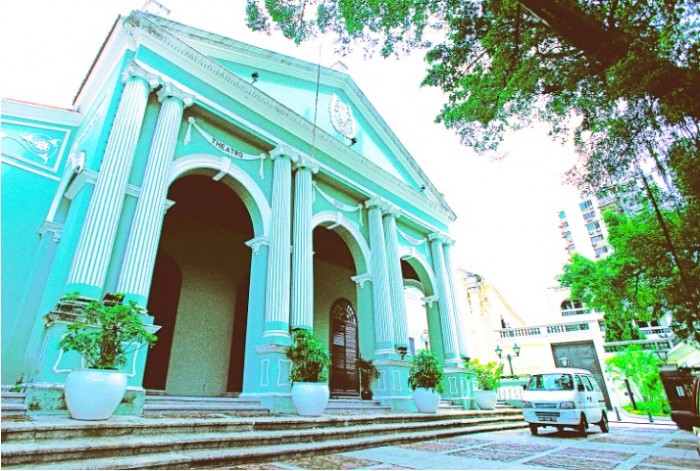 Built in 1860 as the first western-style theatre in China with a seating capacity of 300, Dom Pedro V theatre has survived as a highly significant cultural landmark in Macao. Having spent over a century in vivid use by the Macao community, it remains a venue for important public events and celebrations. Come here to enjoy the old romantic or take a picture with the contrasting white and green colour palette!
4. Holy House of Mercy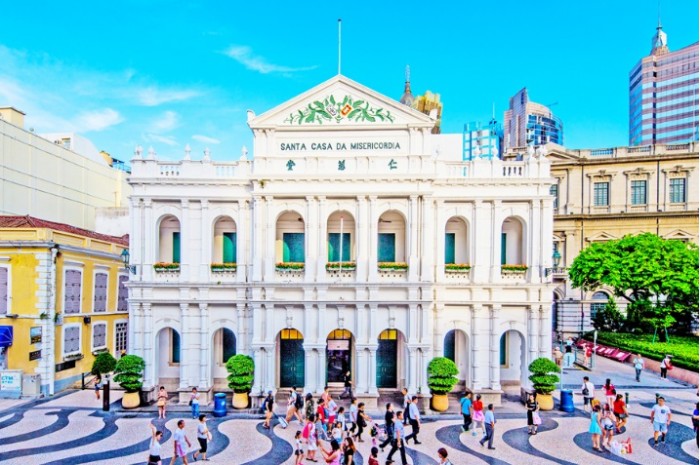 Many will notice this iconic building of Macao while wandering around the city, but do you know that it is still functioning to this day with a museum and a wide range of regular social-service facilities? This place serves as a vitally important institution of Macao's Portuguese community that it even offers pre-school education in both Chinese and Portuguese! If you are up for some challenge, learn a few Portuguese words to say hi to the local-born Portuguese when you visit the Holy House of Mercy.
Also read: 5 Amazing Hotel Experiences in Macao That'll Make You Come Back for More
5. Senado Square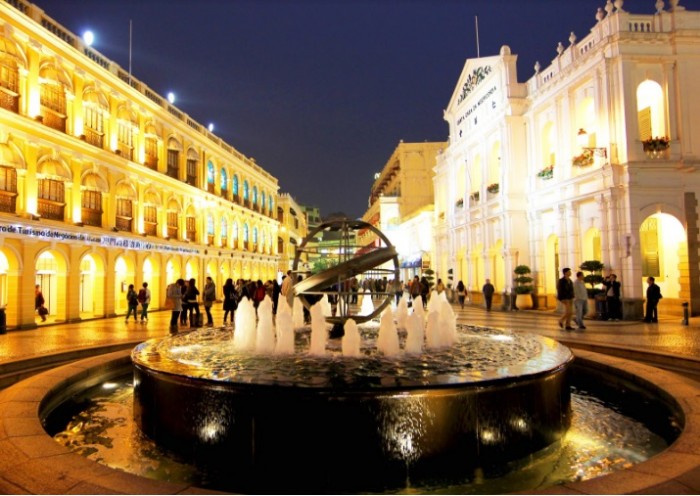 As the urban hub of Macao, Senado Square has been the most popular venue for public event and celebrations across the centuries. The square is surrounded by pastel coloured neo-classical buildings, creating a consistent and harmonious Mediterranean atmosphere. Walking around Senado Square during daytime will be relaxing and rewarding as you enjoy an exhibition of Portuguese-styled architecture, with pretty windows and colourful mosaic stones. While at night the warm, yellow-orange glow in the square adds a sense of romance.
6. Ruins of St. Paul's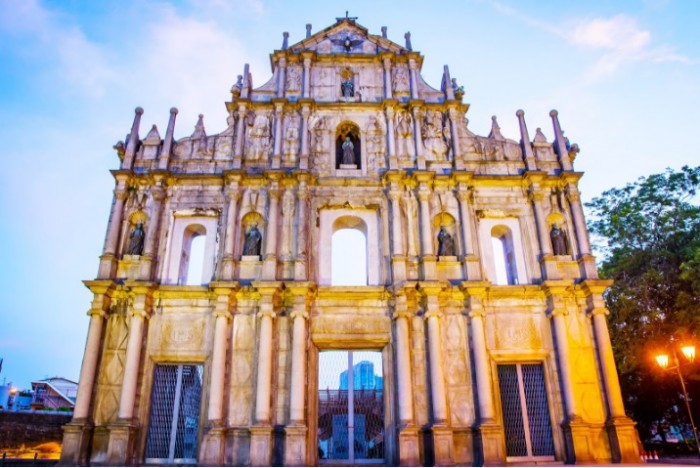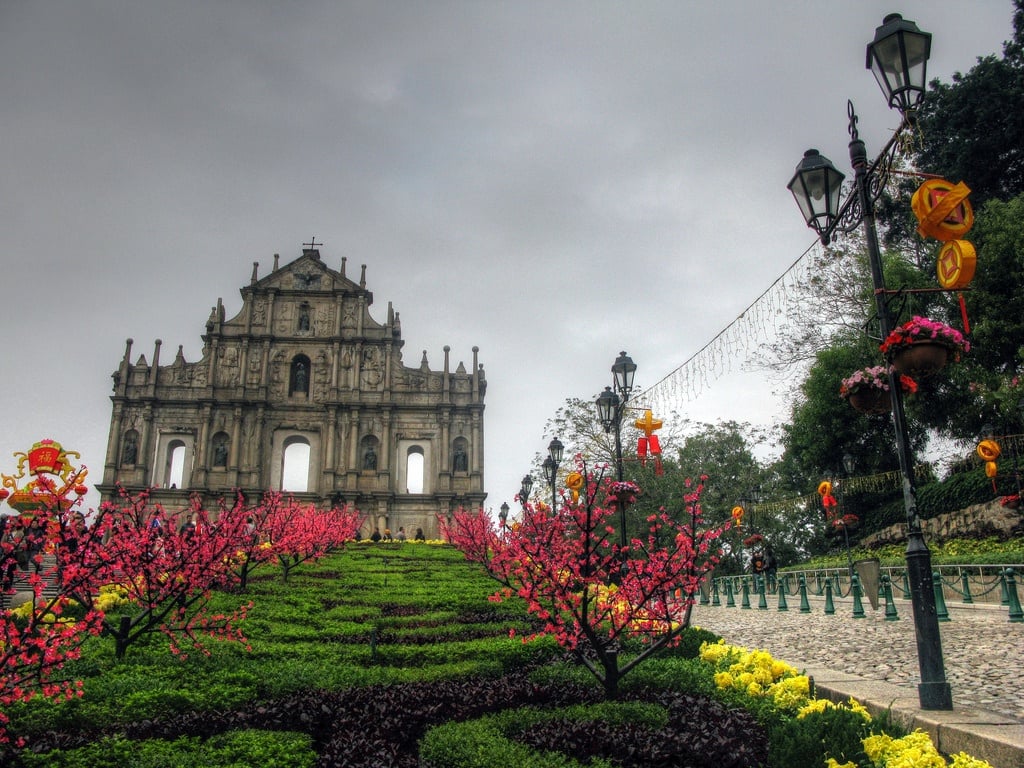 Image credit: Robert Lowe
The Ruins of St. Paul's is literally everywhere – on every travel brochure, everyone's Macao travel album, in the souvenir shop where they sell the landmark magnets – no one can miss this! It is the archaeological remains of the Church of Mater Dei and the old College of St. Paul, which was the first western-style university in the Far East with an elaborate academic programme. Do not hesitate to join the crowd to marvel at the city's symbolic altar!
7. Guia Fortress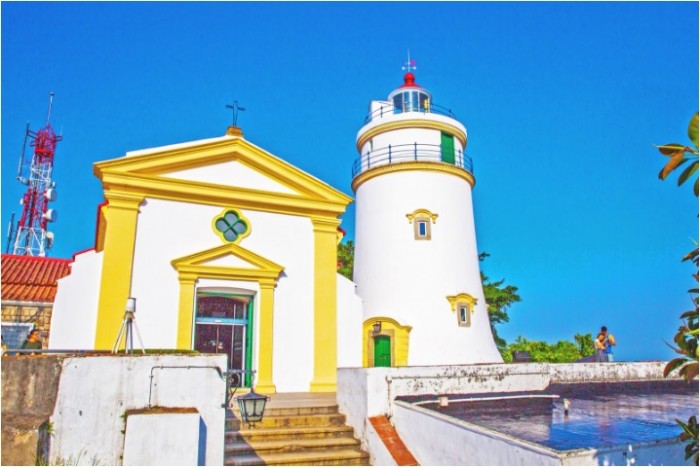 Guia Fortress is another perfect example of Macao's multicultural dimension, featuring Guia Chapel where motifs of religious and mythological inspiration are displayed. On the other hand, the Guia Lighthouse with more than 150 years of history is the first modern lighthouse on the Chinese coast.  Do pay Guia Fortress a visit to have a good grasp of Macao's maritime, military and missionary past.
8. Casa Garden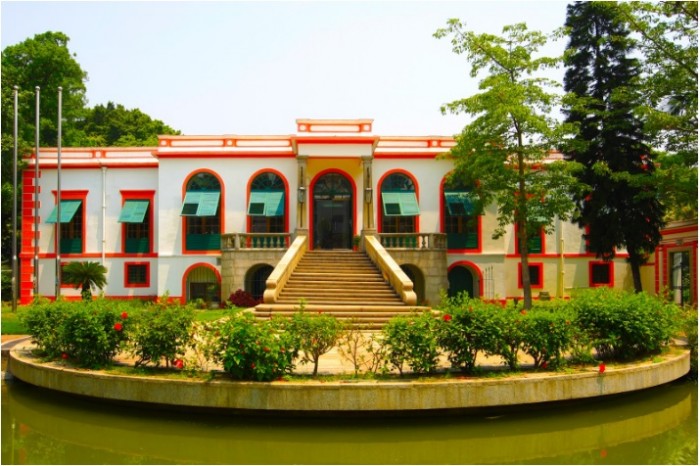 The house at Casa Garden is one of the oldest surviving building in Macao, which was originally the residence of a wealthy Portuguese merchant. It was also the former British East India Company and now stands as the headquarter of the Oriental Foundation.
You can spend 10 minutes walking around in the garden where you could relax amidst the greenery and enjoy some fresh air. If there is an exhibition taking place, be sure to take the opportunity to enter and explore the historic Casa Garden House.
9. St. Anthony's Church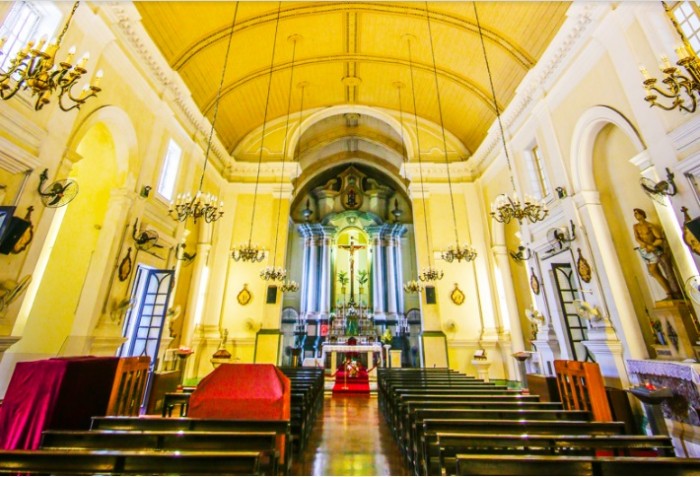 As one of the oldest church in Macao, St. Anthony's Church was first built of bamboo and wood before 1560, and reconstructed in stones several times to the present scale. This beautiful, quiet colonial church is notable for its tortured statue of St. Sebastian, a must-see for all artist and writers.
St. Anthony Church not only offers you a moment of meditation but also a number of gorgeous religious artefacts. It also has an interesting Chinese name – Fa Vong Tong (Church of Flowers) as it was a popular venue for Portuguese wedding ceremonies.
Also read: 7 Exciting Events and Festivals in Macao You Don't Want to Miss
These places are recognized as World Heritage Sites for reasons, be it historical, cultural or architectural. Pack your bag and make your way to Macao now to see these beauties for yourself! And yes, don't forget to indulge your stomach with one (or two) Portuguese egg tarts when you travel around this lovely city!
---
Brought to you by Macao Government Tourism Office.