Hey parents! Dreaming of taking a vacation Down Under with the kids in tow? You're probably thinking about how fantastic that idea sounds, until your mind works its way down to the nitty-gritty details. And just like that, all your enthusiasm disappears into a puff of smoke.
Yes, we know… Planning for the ideal vacation can be tough, especially with children. There are just so many things to consider – is this place kid-friendly? Will the kids enjoy themselves here? Well, fret not, because we've come up with the perfect family-friendly itinerary for a roadtrip around Melbourne to get you inspired!
But hold up! Before you head to the airport, don't forget to activate your
M1 Data Passport
,
which allows you to use your local data plan overseas!
How this works: Your data roaming usage will be deducted from your local data bundle, allowing you to enjoy instant connection upon touchdown in Australia! All you have to do is to pay a one-time SGD2 activation fee, on top of a SGD10 monthly subscription fee for Australia.
It's incredibly convenient and fuss-free! You'll even get to track your data usage via My M1 app to ensure you don't exceed the limit. Awesome or what? Say goodbye to lugging around a wireless router that provides intermittent connection all day – with M1 Data Passport, you can travel with ease and embark on your road trip without any worries! Stay connected, all day, every day!
Are you ready? Then grab those luggages, dump them in the trunk and let's go!
Day 1: Melbourne City
G'day mates! On your first day in Melbourne, you'll be exploring the heart of the city and what it has to offer! Australians love their coffee. You'll find cozy little cafes at almost every corner of the street. Having brekkie (breakfast) at a cafe is definitely one of the quintessential things to do for an authentic Aussie experience!
For starters, why not head over to Degraves Street (opposite Flinders Street Station), which is one of the more popular coffee strips in Melbourne. Here you'll find cafes and eateries like Grill'd, Cup of Truth, Seedling Cafe and Duke's Coffee Roasters. If you can't decide, take your time to wander around and browse through the menus of different cafes before you settle for your desired one!
Another great cafe strip to visit would be between Chester and Portman Street where Oakleigh Market is located, opposite Oakleigh Station! There are a few cafes around the area, with Vanilla Lounge being the most renowned for their delicious cakes and aromatic coffee!
No matter which cafe you choose, get ready to be wow-ed as you sit back and enjoy a hearty meal with an excellent cuppa before heading out!
Your first stop after breakfast? To the seaside! These vibrant bathing boxes at Brighton Beach are on the must-see list when in Melbourne. A total of 82 bathing boxes line the shore of Brighton Beach, each one decked in bright cheery colours and some with distinctive patterns and designs too! How cute are they? Let the kiddos build sandcastle forts on the pristine beach and snap some cute family photos with these colourful beach huts after!
Price: FREE
Address: 4 Esplanade, Melbourne Victoria, Brighton, South Australia 3186
Feel like you could go for a short spin? Bundle everyone back into the car and head to Werribee Open Range Zoo, which is just a short half an hour drive away from the city!
Werribee Zoo is an African-themed zoo, so what better way to explore than to get on a safari tour bus? Go on a 40 minute safari bus ride around the zoo grounds where you'll be able to spot animals like hippos, zebras, rhinoceroses and giraffes. Alternatively there are also independent trails that you can go on, which are the Pula Reserve Walking Trail which showcases African animals, as well as the Australian Journey Walk which focuses on animals native to Australia, like the koala and cassowary!
The best part about this zoo is that it also has a Ranger Kids zone, which is an indoor play space for the little ones where they can dress up like wildlife rangers or vets! Kids can romp around three inspired play areas: the African village, the savannah or a field hospital!
Price (excluding Safari ride):
Adult tickets: AUD36 (~SGD38)
Children: FREE (weekends), AUD18 (~SGD19) (weekdays)
Address: K Road, Werribee South VIC 3030, Australia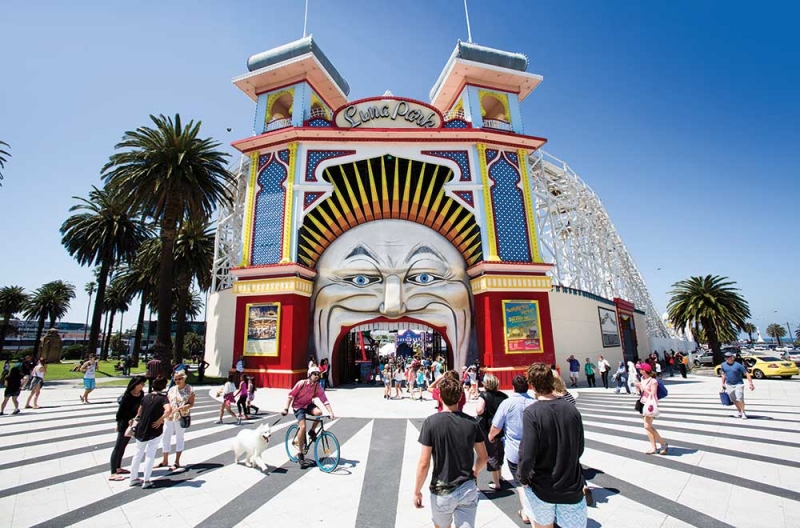 If you and your family prefer a fun day out to the theme park instead, swap the Museum and Zoo for Luna Park! Thrill-seekers would definitely enjoy all the wild rides that this theme park has to offer. Be it screaming your lungs out on the Great Scenic Railway rollercoaster or spinning and flipping on The Power Surge ride, Luna Park has something for adrenaline junkies of all ages!
Price: 4-person Family Pass: AUD149.95 (~SGD159)
Address: 18 Lower Esplanade, St Kilda VIC 3182, Australia
No matter which afternoon activity you pick, rest and recharge tonight because we'll be touring the Great Ocean Road tomorrow!
Day 2: Great Ocean Road
Begin bright and early for your road trip out on the Great Ocean Road! Don't forget to stop by a convenience store and pack loads of snacks and bottles of water, just in case! The drive from the city out to the Twelve Apostles takes about 4 hours. If you need to stop around for a bathroom break or a quick bite, Colac Park is a good place around 2 hours into the drive. Just key it into your GPS to make sure you won't miss it!
Continue driving till you pull up to the breathtaking sight of the iconic Twelve Apostles, standing majestically along the shore of Port Campbell National Park. Marvel at these rugged limestone stacks set against the gorgeous blue skies and turquoise seawaters. What a dramatic view indeed! Needless to say, a family photo with these beauties in the backdrop is a must!
Next, head to the Gibson Steps to see what's left of the Archway, and take in the view of the famous Loch Ard Gorge. Tours to Loch Ard are always accompanied with the tragic story of a shipwreck back in 1878. The tale follows a ship named Loch Ard, that had beached on nearby Muttonbird Island, leaving only two out of fifty-four passengers alive. When young 15 year-old Tom Pearce and 17 year-old Eva Carmichael were washed ashore, Tom raised the alarm to nearby locals, thus, saving Eva's life.
And that was how the rock feature got its name, Loch Ard! If Loch Ard Gorge looks familiar to you, that's also because it's quite a rockstar, having been the official location in two films – The Pirate Movie (1982) and Journey to the Center of the Earth (1999)!
The best way to get those iconic shots of the Great Ocean Road? Whip out a
Samsung Galaxy Note8
for some gorgeous photos!
The 2x optical zoom allows you to zoom in clearly on the iconic Twelve Apostles without compromising on photo quality. In addition, both cameras even have Optical Image Stabilisation (OIS) that allow you to capture crisp and clear photos – so you don't have to worry about shaky hands from the strong sea breeze!
Address: Great Ocean Rd & Booringa Road, Princetown Victoria 3269, Australia
After savouring the views and taking postcard-perfect photos, drive on to Kennett River Holiday Park where you'll get to spot wild koala bears, parrots and kookaburras!
The Grey River road in Kennett River Holiday Park also leads up to the temperate rainforest of Great Otway National Park, which has become a popular sight to see colonies of glow worms at night! How cool is that?
With everyone tired but happy, drive to your accommodation around the area. Kennett Park has Beachview Cabins that are perfect for families, or you can choose from other accommodation options around the Port Campbell area too!
Address: 1-13 Great Ocean Rd, Kennett River, Victoria 3234
Can't wait to share all your awesome travel photos with your family and friends on social media? Stay connected even while on the go overseas, with
M1 Data Passport
! Simply pay a one-time SGD2 activation fee and a SGD10 monthly subscription fee (for Australia) – and
voila!
You'll be able to use your local data plan overseas, as and when you like.
In addition, simply download My M1 app to keep track of your data usage – to ensure that you won't exceed your data limit. Yes, it's that simple!
Day 3: Great Ocean Road + Phillip Island
Rise and shine! After a good night's rest, it's time to hit the road again! But before that, soak up all that sunshine and have a brunch by the sea!
Bell's Beach is famed for its massive waves and breaks that surfers love to get on. So parents, if you've got the moves and the surfboard, this is the place to be!
If not, move on to Torquay Front Beach, or affectionately known as 'Cosy Corner', for its sheltered, family-friendly waters. Have a picnic brunch on the spacious, grassy foreshores and let the kids wade around in the sea. What a perfect way to spend the morning, don't you think?
Next, take a 40-minute drive to Queenscliff and take a ferry to Sorrento via Searoad Ferries. Enjoy the splendid ocean view and sit back while the ferry takes you to Sorrento, a more convenient alternative rather than driving back to the city to get to Phillip Island. Don't worry, the ferry has drive-on and drive-off facilities too, so you won't have to leave the car behind. Kids will be entertained at the children's playground and colouring corner onboard while you can kick back and have some coffee and pastries.
From Sorrento, drive down to Phillip Island and spend the rest of the day exploring what this little island has to offer!
You can opt to take everyone on a helicopter tour which will bring you across Seal Rocks aka The Nobbies. Keep your eyes peeled for the friendly Australian fur seals perched on the rocks and lazing out in the ocean spray! Alternatively, you can also get a good view of The Nobbies from The Nobbies viewing platform, which also offers a stunning panorama of the coastline. Be sure to have your cameras at the ready!

Address: The Nobbies, Summerlands 3922
Come evening, make a beeline for Penguin Parade which is one of Melbourne's top attractions. Every night at sunset, crowds gather to watch these little penguins return ashore into their tiny homes after a day's work of fishing. The main viewing area at Summerland Beach has an elevated view of the penguin parade, while the Penguin Plus option offers a closer view of the penguins, with additional ranger commentary.
To catch all these adorable penguins waddling out of the sea waters clearly, you'll definitely need a
Samsung Galaxy Note8
for incredible image clarity! For those who dislike travelling with bulky DSLRs and having to lug them around the entire day, the
Samsung Galaxy Note8
is perfect for that depth of field previously only possible on DSLRs.
Use the Live Focus tool to bring the attention to the penguins while blurring the background, allowing them to stand out! You can even choose to adjust the blur after the picture is taken, for that artificial depth effect previously only possible on DSLRs. The Penguin Parade also happens at night, which means greater difficulty in getting clear shots of them due to bad lighting, but the Samsung Galaxy Note8 low-light camera tackles that with ease! The wide-angle camera with f1.7 lens captures more light while focusing swiftly with the DualPixel sensor to give you spectacular shots that shine, even at night.
Price:
Family ticket (2 Adults + 2 Children): AUD25.75 (~SGD27.20) (Behind the Scenes, excludes General Viewing)
AUD64.20 (~SGD67.90) (Family ticket for General Viewing)
Address: 1019 Ventnor Rd, Summerlands 3922
Stay at Phillip Island for the night before going on to Dandenong the next day!
Day 4: Dandenong
From Phillip Island, we'll move on to Dandenong, which is roughly a 1.5 hour drive away. Upon reaching delightful town of Dandenong, a 40 minute drive will take you to the ravishing Warratina Lavender Farm. You'll find hedges of lavender in bloom, as a fragrant sea of lilac rises to greet you as you stroll towards it. Located at the foothills of Dandenong Ranges, this lavender farm is a family business which takes pride in producing home-grown lavender products.
Boasting over 10,000 lavender plants, you'll get to stroll along the rows of lavender and breathe in its sweet scent and country air. Afterwich, you can also buy natural lavender items and gifts from their gift shop, Lavender Cottage Tea Rooms. You can even have a tea break here with some lovely lavender infused scones too!
Price: Book Online, from AUD5 (~SGD5.30) per person
Address: 105 Quayle Road, Wandin Yallock, 3139, Victoria
For an afternoon of fun, we highly recommend going for the… Puffing Billy Train Ride! Little Thomas the Tank Engine enthusiasts will be absolutely thrilled to get on Puffing Billy!
Puffing Billy takes you through the spectacular Dandenong Ranges. As you dangle your legs from the side of the carriage, admire the beautiful view of the temperate rainforest's luscious greenery and take in the crisp clean air as the train chugs along. Make sure you hold onto your cameras tightly and snap awesome photos as Billy crosses over the historic monbulk Creek Testle Bridge! Get the whole family aboard for the ride of a lifetime!
Price (Puffing Billy): Book online to avoid disappointment, seats sell out quickly
Family ticket (2 Adults and up to 4 Children): from SGD114

Address:
Emerald Lake Park: Emerald Lake Road Emerald Victoria 3782
Puffing Billy: 1 Old Monbulk Rd, Belgrave Victoria 3160
The fun doesn't stop at Puffing Billy! Take your trip around Dandenong up a notch and head for Trees Adventure at Glen Harrow Park for more playtime madness! Look at this glorious treetop wonderland nestled high above! From rope bridges, to tunnels and even flying fox zip line features, an exciting time awaits!
With their easy-to-use safety harness, parents can enjoy their own treetop challenges and let the kids stomp around the obstacle course on their own! Watch them build their resilience and overcome fears as they take different challenges head on! Sessions run for 2 hours, where you can cram in as many courses as you like. After a brief training session, start from the easiest course and work your way up to the difficult ones, or start straight at the most difficult course – the choice is yours! Be prepared to let your inner Tarzan loose!
Price:
Adult: AUD48 (~SGD50.80)
Child (8-17 years old): AUD38 (~SGD40.20)
Kids (4-7 years old): AUD25 (~SGD26.40)
Address: Old Monbulk Rd Belgrave Victoria 3160 (just beside Puffing Billy Station)
We bet that you're definitely all tuckered out after today! Grab some dinner and retire for the night before getting ready for your last day.
After a long flight, all we want to do is head straight to the hotel for a good rest. With
M1 Data Passport
, you can skip the hassle of having to join a snaking queue just to get a SIM card at the airport; instead, your connection starts the
minute
you touchdown.
For all those technology dependents out there who can't stand a minute being disconnected – this one's for you.
Day 5: Yarra Valley
On your last 24 hours here, make your way to the picturesque landscapes of Yarra Valley, the region around Yarra River. Known for its vineyards, the Yarra Valley's cool climate makes it suitable for production of wines like chardonnay and pinot noir!
With so many different vineyards and wineries around, parents can take your pick before going to the kid-friendly areas! One place to check out would definitely have to be Rayner's Orchard, a fruit orchard where visitors can do their own fruit picking!
From apples to peaches, lemons and plums, pluck and harvest seasonal fruits at the Orchard with your own hands!
While you're here, why not seize the opportunity to go on a Fruit Adventure Tour? Hop on a trailer and go around the fruit orchards with your friendly guide. They will teach you more about the Orchard's farming practices, fruit varieties and fruit trees before teaching you which fruits are ready to be picked! You can pick as much as you like and pay by the weight. Fruits cost AUD5 per kilogram (~SGD5.30).
There are also other activities like fruit bottling where you'll be able to learn more about fruit canning and fruit preservation. No matter whether you choose to create your own flavour combination or stick with traditional fruit flavours, you get to bring home your own fruity creations. How fruitastic!
Price: Book online, differs with activity
Address: 60 Schoolhouse Road, Woori Yallock, 3139 Victoria
Next, head for Hedgend Maze for fun galore at a maze mania! Navigate through over 20 acres and find the secret message embedded deep within, or go for other park attractions including Native Maze, 18 holes of mini-golf, fossil dig and frog hollow farm!
If mazes aren't your thing, why not head for a Laser Sport session with the whole family instead?  Kids above 7 years old get to enjoy team bonding, speed and coordination as well as communication skills in this laser sport game that mimics a real battle! Choose from realistic weaponry and aim for your enemies with the infra-red laser light that will reduce your opponent's health points. Sounds exhilarating, doesn't it?
Price:
Adult: AUD25 (~SGD26.40)
Child: AUD20 (~SGD21.20)
Laser Sport: Minimum team of 12
AUD20 (~SGD21.20) per player for 1 hour session.
Address: 163 Albert Road, Healesville, Victoria 3777
After all the fruit frenzy and maze madness, end the day on a sweet note and take the kids to Yarra Valley Chocolaterie and Ice-Creamery for an extra treat to satisfy your sweet tooths! There are plenty of free chocolate and ice-cream tastings so everyone can indulge in their favourite desserts!
You also get to watch the chocolatiers working away in a showroom and wander around the adjacent lawns, gardens and wetlands conservation area once you're done with your tasting session! However, if you still can't get enough, the cafe also serves up scrumptious chocolate dishes like chocolate fondue – yum! Oh and of course, don't forget to snap up some of these delicious titbits as souvenirs for your friends and loved ones back home!
Price: FREE
Address: 35 Old Healesville Road Yarra Glen Victoria
With everyone well-fed and satiated, take a slow one hour drive back to Melbourne city to enjoy your evening or head straight to the airport to catch your flight home!
BONUS: Stay connected on the go!
P.S. We know that staying connected is of utmost importance on this trip. After all, this is a road trip itinerary, and your car is the only means of transport you're relying on to get the whole family around! You'll definitely need data for plugging in locations into your GPS, as well as searching for downloadable guides and maps while you're out and about!
Well,​ ​we've​ ​got​ ​you​ ​covered​ ​again!​ ​If​ ​you​ ​haven't​ ​checked​ ​it​ ​out​ ​already,​ ​we​ ​totally recommend​ ​getting​ ​a​n
M1 Data Passport
​.​ ​Yes,​ ​​your​ data ​roaming​ ​usage​ ​can​ ​be​ ​deducted​ ​from​ ​your​ local ​​data​ ​plan!​ ​Say​ ​goodbye​ ​to​ ​those​ ​exorbitant​ ​data​ ​roaming​ ​fees!
Still​ ​not​ ​convinced?​ ​Think​ ​about​ ​how​ ​you​ ​wouldn't​ ​need​ ​to​ ​fear about​ ​having​ ​your​ ​portable​ ​Wifi​ ​device​ ​run out​ ​of​ ​battery. Or not having to worry about​ ​accidentally​ ​losing​ ​your​ ​Wifi​ ​device. Plus, you can skip the hassle of having to queue for a local prepaid SIM card – now you can get connected, immediately! Easily activate your M1 Data Passport before or during your trip, and your data roaming charges will be deducted from your local data bundle. Plus, track your usage via My M1 App. Staying connected has never been this easy! Also, did we mention that M1 Data Passport​ is available in 56 destinations across Asia, Europe and the United States from just SGD10/month?
Lastly, make sure you capture all the special moments during your vacation with the Samsung Galaxy Note8! With a whole host of travel-friendly features such as the infinity display that allows you to do more with the multi windows, the enhanced S Pen that lets you express yourself uniquely with Live Message, so that you can send customised animated GIF messages to your loved ones from anywhere in the world, and the DualCamera with Dual OIS that captures stunning sharp and clear moments – this smartphone makes travelling a breeze and more fun!
How's that for a 5D4N road trip? From beaches to animal encounters, sightseeing nature's finest and all sorts of fun attractions and activities, we are sure that our itinerary has provided more than enough fun for everyone in the family! Plus, you even have the inside scoop on how to stay connected overseas, so what are you waiting for? Marvellous Melbourne awaits!
---
Brought to you by M1 and Samsung.