Heads up, travellers! If you love taking photos during your adventures around the globe, we have exciting news for you! The future of mobile photography is soon to be launched, and it comes in the form of a little device called LyfieEye.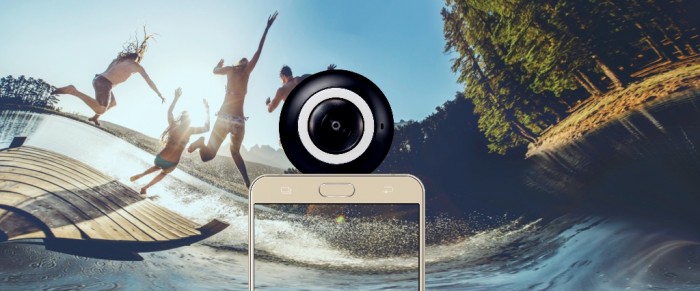 LyfieEye is a small 360° video camera that allows you to snap spherical 360° photos and videos on your Android smartphone. Pair this with the LyfieView app and you can preview your videos live as you record and instantly share it on Facebook, Youtube and other platforms.
This awesome device is currently on Kickstarter, and we've actually had the chance to view and test its prototype. Here's the verdict: LyfieEye is easy-to-use, compact and downright cool. Everybody with an Android smartphone can simply plug in LyfieEye and start recording. It's so simple that we're convinced 360° travel videos will soon be the next big thing for everybody – including YOU – and not just reserved for tech-geeks and professional (or semi-professional) photographers.
To top it off, LyfieEye is also surprisingly affordable compared to other 360° cameras in the market, making it one of the most exciting projects we've seen on Kickstarter. Save to say, it's definitely worth it to back this campaign – the earlier you pledge, the cheaper it is!
Lyfie for Life & Travel
So what's the whole hype about 360° videos?
Well, for one, it allows you to capture and share the entirety of life before your eyes. When you snap your precious moments in 360°, you capture not just yourself but everything around you. A Lyfie is a huge upgrade from the usual selfie. Your viewers are able to step in your shoes and immerse themselves in your adventures.
Whether you're enjoying the New York skyline from Brooklyn Bridge or exploring the cobblestone streets of Prague, you can simply plug in, record and share. It's as simple as that.
Key features that TripZilla loves
Easy to use: As mentioned, LyfieEye is a device that's so simple to use. There's also no need for external batteries or memory.

Compact & portable: LyfieEye is the smallest 360° video camera for Android phones. So small, it can fit easily in a pocket.
Live preview: View your shots as you record them and not after. This feature is not available in other 360° cameras, so LyfieEye definitely deserves some bonus points!
Quality: Despite the small price tag, LyfieEye does not compromise on quality. It records videos up to 30 frames per second, and the built-in video stitching works seamlessly in real-time for a 360° HD capture.
Affordability: Set to retail at $149, LyfieEye will be one of the most affordable 360° cameras in the market. Back up this Kickstarter campaign before it hits the market to snag it up to $40 off the retail price! And don't just get this for yourself – LyfieEye makes a great gift for your friends and your family too!

We don't know about you, but we can't wait to get our hands on LyfieEye once it has officially launched! Be among the first to record and share amazing 360° videos during your travels with a LyfieEye by backing their campaign. On top of getting the LyfieEye at a discount, you'll also get a LyfieLink (selfie stick), which allows you to place your phone down as you record. and a USB-C U to C Converter!
360° videos are about to take the world by storm. Be a creator at the forefront of this exciting new technology and inspire people by sharing your immersive Lyfies on social media. The possibilities are endless!