Economy vs premium economy – they sound pretty similar, don't they? A common notion going around is that it's not worth it to upgrade from economy to premium economy as the differences between them are minimum at best. Well, let us tell you that that's where you're SO WRONG!
Not convinced? I just flew from Singapore to Frankfurt on premium economy – by paying just a tiny bit more, I got a pleasant flight experience that was SO WORTH IT.  Now I'm never going back to economy!
Let me tell you why! With Premium Economy…
1. I got extra space to stretch and move about
Image credit: Lufthansa
Cramped legs? Aching back? Kid lashing out against the back of your seat? Nah, I didn't get any of that with the premium economy seats. That's right –  I got to enjoy up to 50% more space! I could stretch my legs out and let them rest on the cushy leg rest, or lean against my own designated armrest. Even when I needed the toilet, there was no need to clamber over the person sitting at the aisle seat anymore. How convenient!  All I had to do on the flight was to sit back and RELAX. The flight simply whizzed by in a jiffy!
2. I had more check-in baggage allowance than usual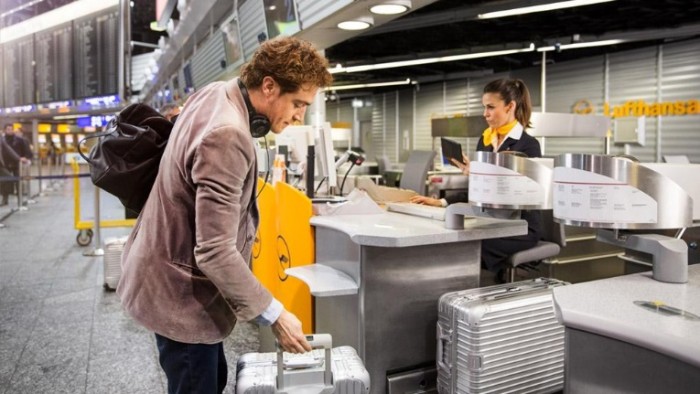 Image credit: Lufthansa
I know there are times where we might have a lot of things to bring along and we end up worrying if it'll all fit into our checked baggage. Case in point: Lugging along bulky winter clothings in anticipation of the harsh European winters. What if I told you that you don't have to worry about that anymore with the premium economy class? Yup, that's right. Instead of checking in just one bag, I got TWO in premium economy. That's double the weight! I had more than ample space to pack in all my crazy shopping, in addition to souvenirs for family and friends, that's for sure. Totally didn't have to worry about leaving some things out either, because there was more than enough room for me to pack everything I needed!
3. The food will be so. Good.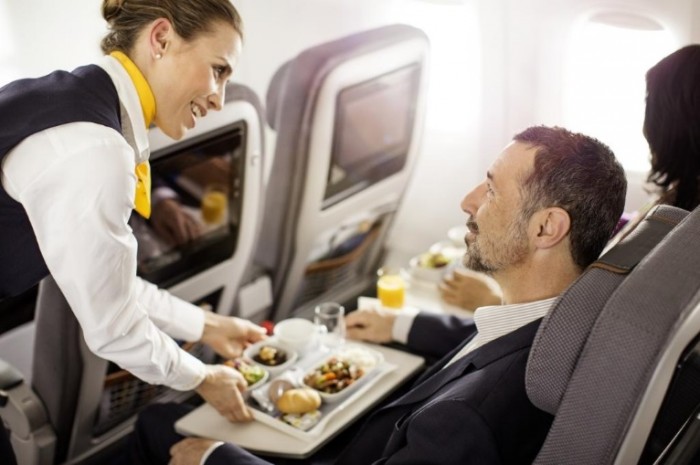 Image credit: Lufthansa
You don't have to buy a first-class or business-class ticket to be treated like royalty. I felt like a queen with the detailed and friendly service!  As soon as I reached my premium economy-class seat, there was a welcome drink and a menu awaiting my perusal. And the food! It was served on pristine china wares – wait,  was this a plane or a restaurant? I almost couldn't tell!
4. I could entertain myself as much as I wanted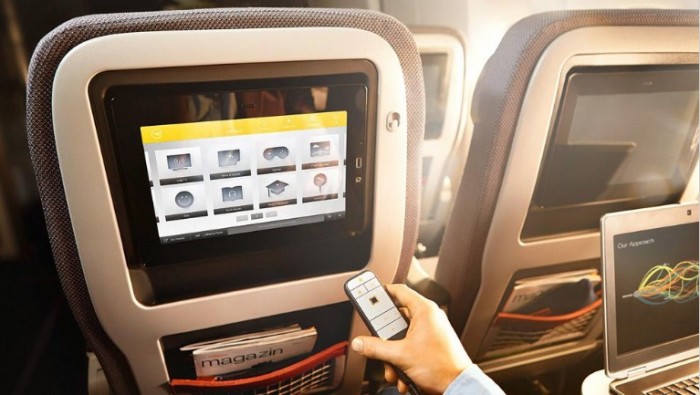 Image credit: Lufthansa
"In Premium Economy Class, everything is one size bigger" –  true to their promise, everything was indeed bigger and better! I thoroughly enjoyed having a personal 11-12 inch touch-screen monitor stuffed to the brim with lots of movies and television programmes. Almost like having my own private cinema! I also got my own power socket – perfect for charging my phone or camera, in preparation for my holiday.  It was an absolute lifesaver for entertaining myself, especially since I was in for a seriously long flight.
5. I got my very own travel kit – how cool is that!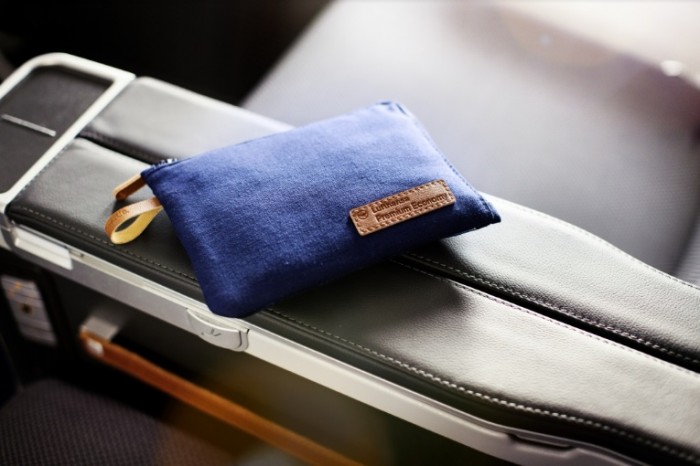 Image credit: Lufthansa
I bet that we can all relate to those moments when we'd get off the plane all tired and crusty-eyed. Not a great feeling, right? Well let me tell you, those moments will be faaar from reality on a premium economy-class flight! I was given a travel kit with extra travel accessories as soon as I reached my seat – with a toothbrush, sleep mask and face wipes to refresh myself. Neat, isn't it? I left the flight bright-eyed and bushy-tailed this time, ready for my travel adventure!
Also read: Travel Hack 101: How to Survive Long Haul Flights in Economy
6. I definitely won't go thirsty during the flight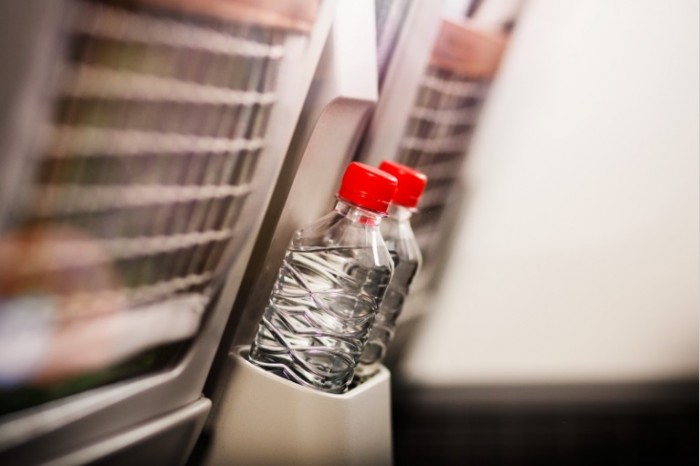 I know that we're able to fill up our water bottles and bring them onboard, but how long will that last you? Probably not very long. It'll get annoying to repeatedly call the stewardess just for a drink, too. Guess what, I didn't have to worry at all! A water bottle was readily available right at my seat. Pretty handy, huh? I could drink my fill as and when I liked!
7. I could unwind in the airport lounges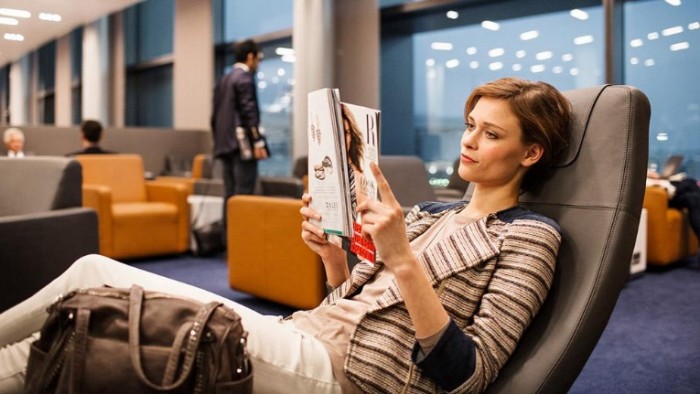 Image credit: Lufthansa
Recall those moments where you're waiting for your next flight and you're just bored out of your mind? Say goodbye to those times with a premium economy-class flight! For a small fee, I got to access selected Lufthansa lounges, and boy – I thoroughly enjoyed my waiting time in comfort. No more waiting while babies scream and wail – I got the peace and quiet I deserved while leaning back on a lush, comfortable armchair. Reading a magazine and sipping on my cup of coffee, mmm…it felt like pure bliss.
These are the things that I truly LOVED about premium economy. You don't always have to splurge to get the royal treatment, you know. If you want a luxurious treatment like the one I experienced, book yourselves one of Lufthansa's Premium Economy seats right now! If you've already booked your Economy tickets, don't fret, HERE's how you can upgrade from Economy to Premium Economy in a jiffy – you're welcome!
---
Brought to you by Lufthansa.