Take it from us, it's NEVER TOO EARLY to start planning for your next trip! Besides, booking early always means more savings – who can say no to that? If you're not sure where to head to next year, let us make your life easier. With 10 long weekends for Singaporeans in 2017, you can start planning for your 2017 holidays right now: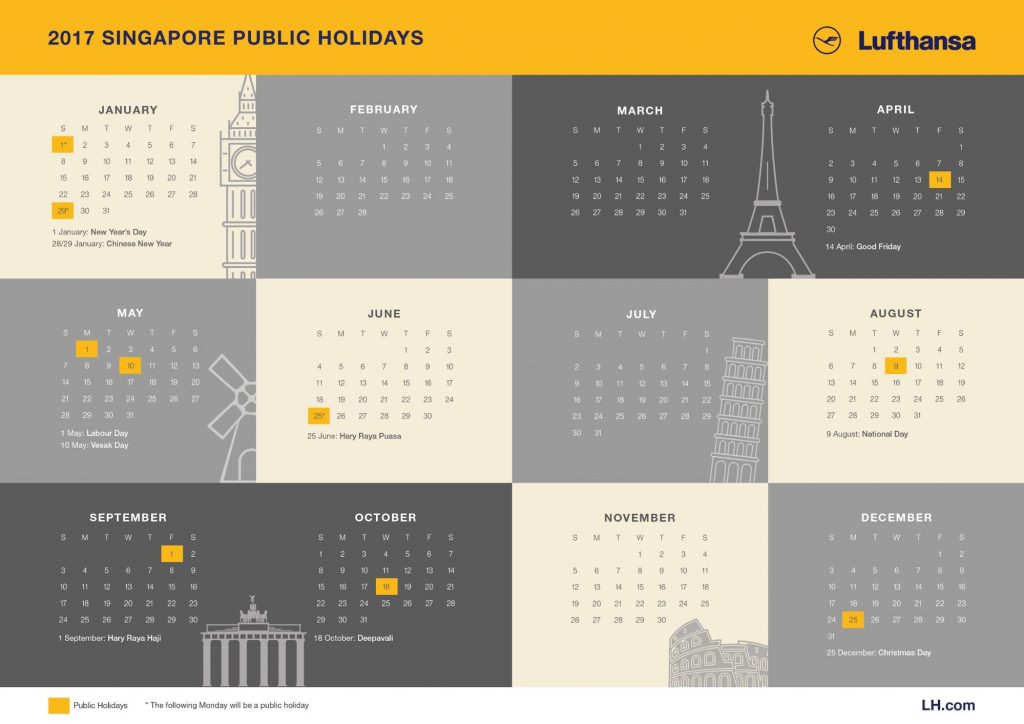 In addition, with the continued depreciation of the British Pound, seasonal festivals to participate in, and an assortment of delicious food everywhere – Europe is the perfect choice for a magical vacation. To give you that extra push, here are 17 awesome experiences to tick off your 2017 Europe bucket list, no matter the season!
Experiences to have in 🌸 SPRING 🌸:
1. Cycle along the beautiful canals of Amsterdam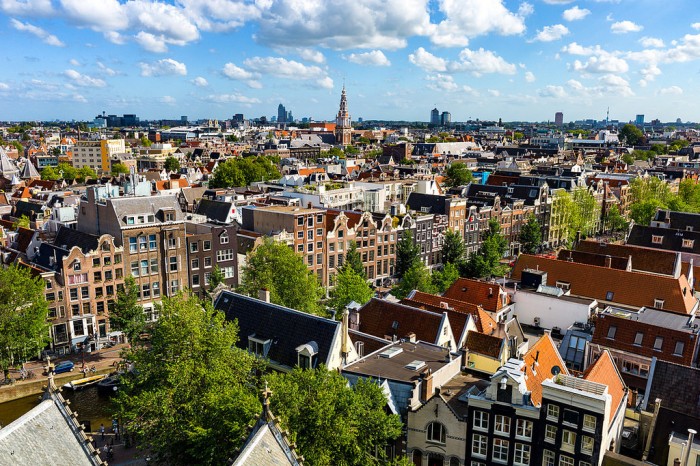 Image credit: Alessandro Grussu
Famous for its beautiful canals and idyllic fairytale houses – there's more to do in Amsterdam than just snapping a typical tourist selfie with the iconic "I Amsterdam" sign. Visit the Van Gogh museum, cycle around the city or treat yourself to a Heineken experience – you'll never be bored in this bustling city.
2. Admire Gaudi's majestic architectural works in Barcelona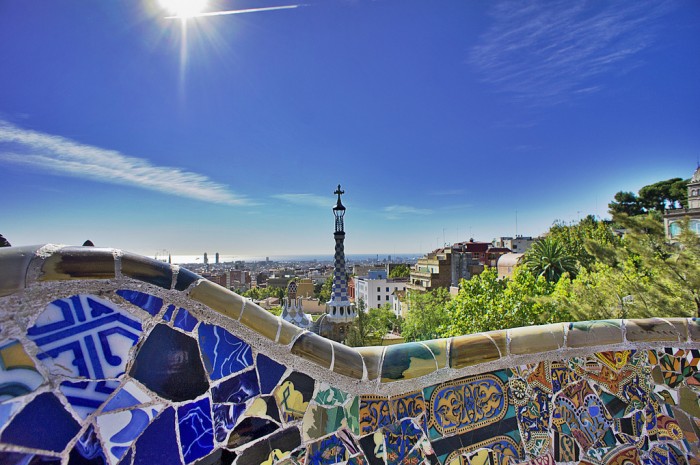 Image credit: Richardjo53
Other than being a haven for FC Barcelona fans, Barcelona is a bustling cosmopolitan city with a vibrant culture and interesting architecture. Any visitor from around the world will fall in love with Barcelona's buzzing metropolitan lifestyle and world-renowned museums. Visit the spectacular Sagrada Familia or Park Güell and be blown away by the brilliant (and in some parts, delightfully eccentric) mind of Antonio Gaudi!
3. Explore the ancient ruins of Athens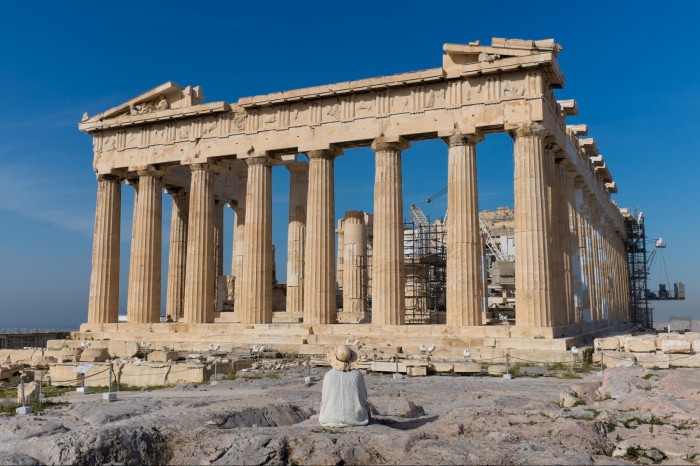 Image credit: Kristoffer Trolle
Go back in time and explore the heart of ancient Greece, home to the magnificent Parthenon, Acropolis and Ancient Agora. The seamless dichotomy of the ancient and the modern will surprise you like no other city has before. Aside from the archaeological treasures, you can frolic at picturesque beaches, enjoy cocktails at terrace bars and shop at the chic neighbourhood of Kolonaki.
4. Be awed by the beautiful Gothic-style buildings in Brussels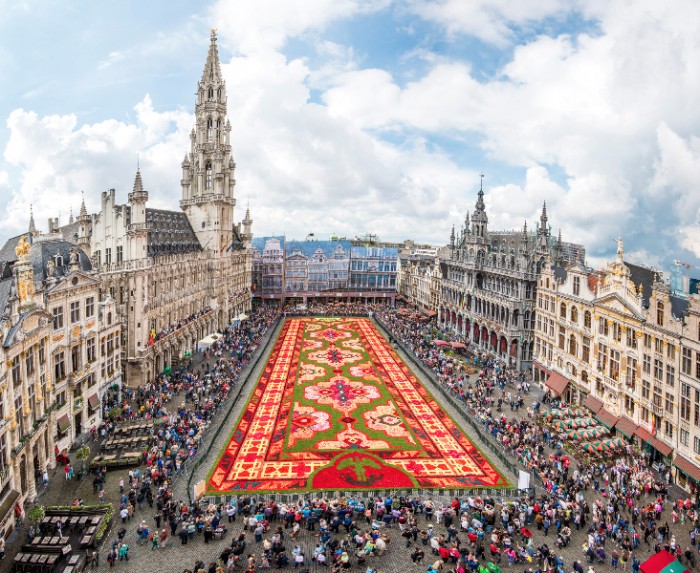 Image credit: Flower Carpet
The historical heart of Brussels is undeniably the Grand Place, where Gothic or neo-Gothic style buildings stand adjacent to neo-classical opulent baroque buildings – culminating into the world's most beautiful central square. It looks even more splendid when illuminated at night so be sure to check that out. Also, be sure to check out Manneken Pis, one of Brussels' landmark bronze sculptures of a little boy. The statue is even dressed in costume several times each week!
5. Catch resplendent sunsets above red-tiled roofs in Prague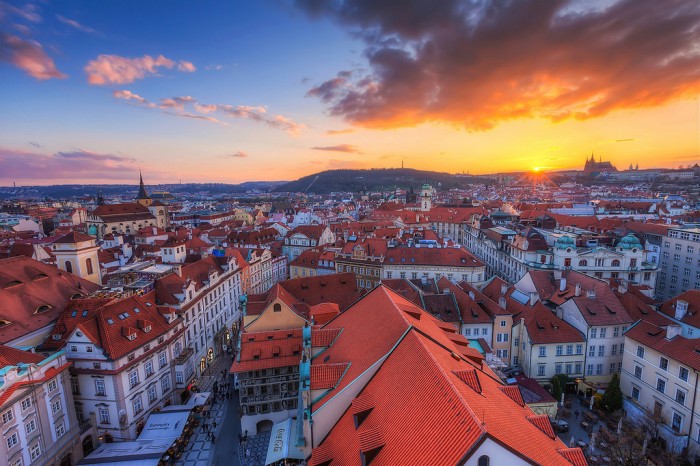 Image credit: Miroslav Petrasko
Prague is undeniably one of the most beautiful cities in Europe. Nicknamed the "City of a Hundred Spires", it is a paradise for wandering travelers. Explore the Old Town Square, and discover ancient chapels, quaint cafes, and old-fashioned bars around every corner. Visit the famed Astronomical Clock and be awed by its intricacy, or spend an evening strolling along Charles Bridge amidst buskers.
Experiences to have in 🌴 SUMMER 🌴:
6. Soak in the Szechenyi Baths of Budapest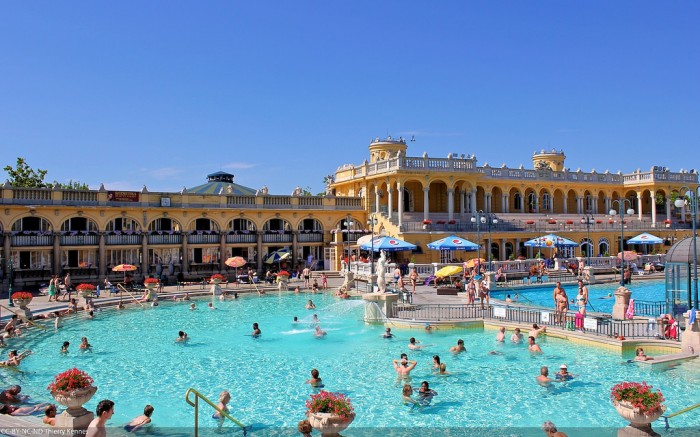 Image credit: Thierry Kennes
You can't say you've visited Budapest without soaking in the Szechenyi baths! Blessed with an abundance of hot springs, Budapest is an amazing place to just soak in the outdoor sun and relax. Aside from being rejuvenating, the hot springs are also said to be the best cure for a hangover! After your languid soak, take a stroll along the Danube river and be awed by the Gothic architecture of the Parliament building.
7. Go cycling and cafe-hopping in Copenhagen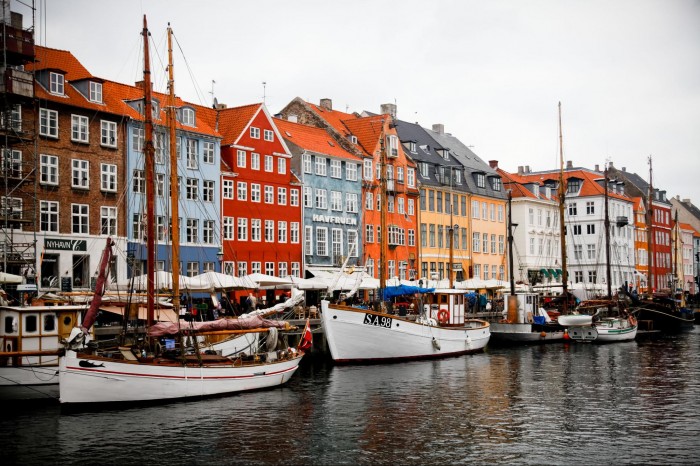 Image credit: Vic Xia
Copenhagen has one of the world's most dedicated biking cultures – there are actually more bikes than people in the city! The best way to experience the city like a local would naturally be on two wheels.
The colourful town houses along the shore in Nyhavn, coupled with the magical wonderland of Tivoli Gardens, make Copenhagen a vibrant city full of creativity. Home to industrial-chic cafes and impeccable restaurants such as Noma, you'll be in for a gustatory treat when you visit.
8. Watch Russian ballet or opera at the Bolshoi Theatre in Moscow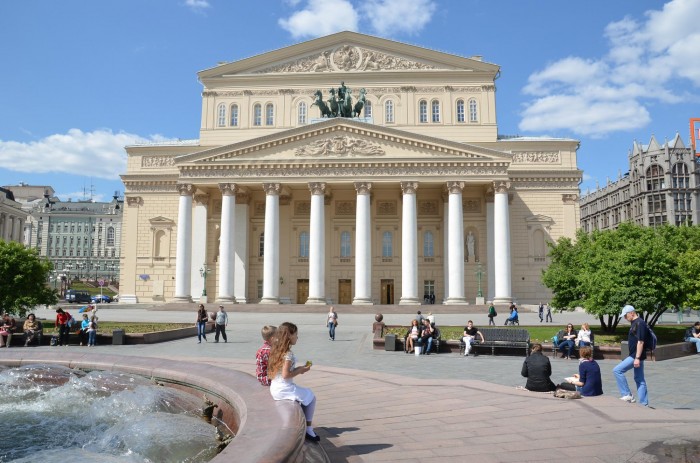 Image credit: Robert Nyman
Aside from visiting the Kremlin and the Red Square, your Moscow experience will not be complete without catching a Russian ballet or opera performance at the Bolshoi Theatre. The resplendent and decadent interior combined with a solid, breathtaking ballet performance will make for a perfect evening. In addition, the St. Basil's Cathedral in Moscow is renowned for its colourful, onion-shaped domes that are a striking contrast to the rest of the city.
9. Walk up the roof of the Opera House in Oslo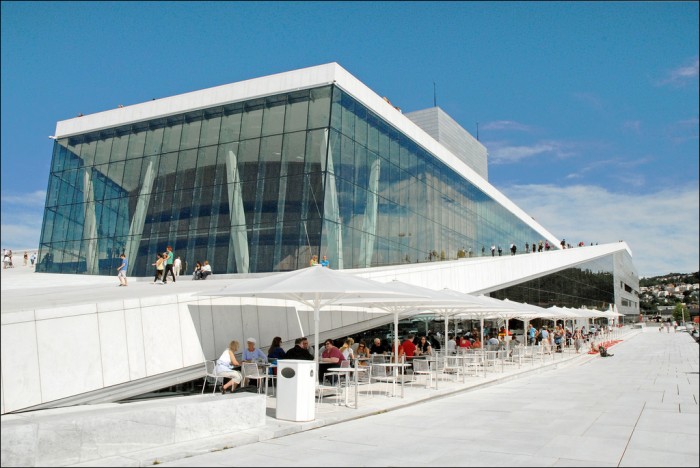 Image credit: Jean-Pierre Dalbéra
This magnificent building – the Opera House – is one of the iconic buildings in Oslo that transformed the city into a world-class cultural centre. Isn't the architecture of the building just so unique? What's more, you can choose to walk up onto the roof or even lie down and sunbathe on it.
10. Be floored by the interior of St' James Church in Stockholm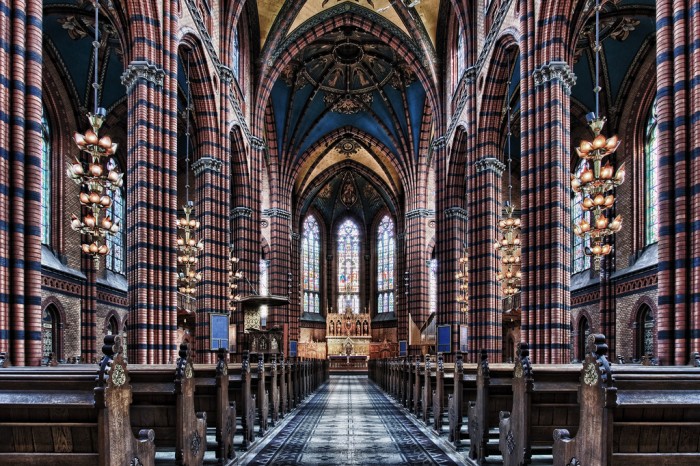 Image credit: Lin Kah Wai
A magnificent church comprising late-Gothic, Renaissance and Baroque styles, the St' James Church in Stockholm is a sheer feast for the eyes! Aside from visiting this church, explore the Old Town of Gamla Stan, which is one of the most preserved and medieval city centers.
11. Be fascinated by colourful graffiti at the Berlin Wall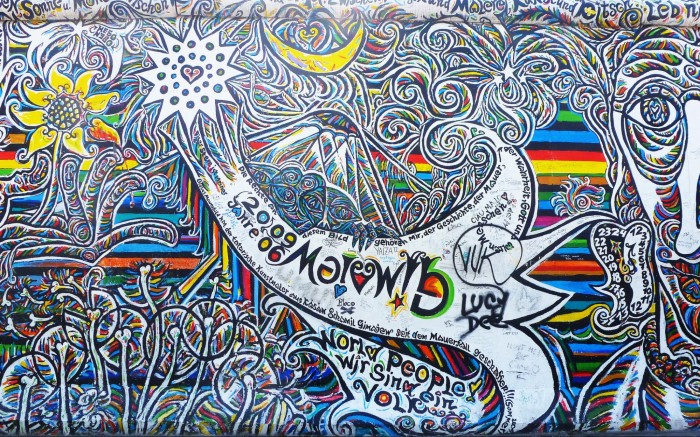 Image credit: Laura Cuttler
The East Side Gallery, a 1.3km long stretch that used to represent nothing but a grim divider of humanity, has now been turned into the world's largest open-air mural collection! Instead of a plain dusty grey wall, it has since become more vibrant and colourful with a kaleidoscope of graffiti artworks that celebrate equality, freedom and acceptance.
Experiences to have in 🍁 AUTUMN 🍁:
12. Shop till you drop in London – especially with the depreciation of the GBP!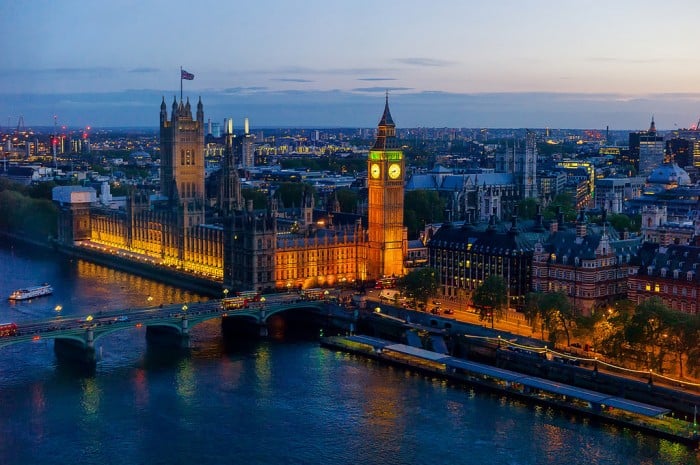 Image credit: Alessandro Grussu
What better time to visit London than in 2017? With Brexit and the subsequent depreciation of the British Pound, you can go crazy shopping at Oxford Street! Grab a photo with their iconic red telephone booths or visit the Big Ben and London Eye to finally cross them off your bucket list.
13. Snap your most creative shots with the Eiffel Tower in Paris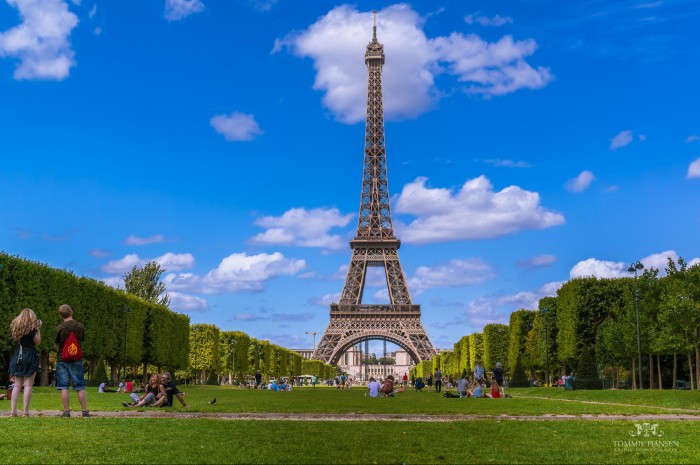 Image credit: Tommie Hansen
Oh, Paris. We've seen countless photos of the Eiffel Tower all over the Internet, but seeing it in real life is an entirely different story. It just feels so SURREAL; you'll have to pinch yourself to convince yourself that you're not in a dream. Maximize your creativity and snap your most unique shots with the tower, or climb up the tower for a 360-degree panoramic view of Paris. Also, visit it at night to witness the tower illuminated with thousands of twinkling lights.
14. Make a wish at the Trevi Fountain in Rome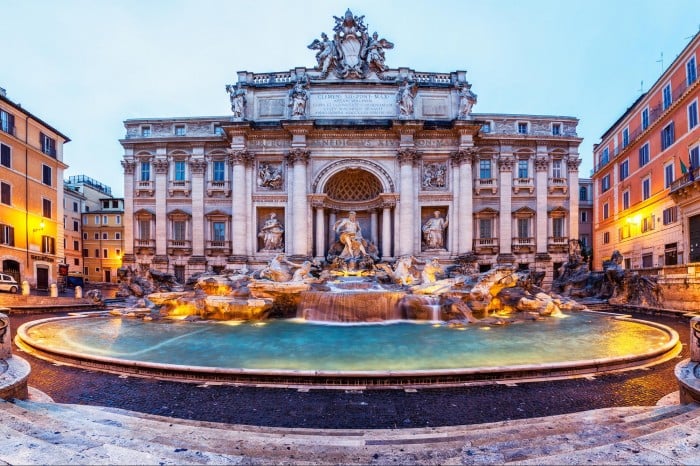 Image credit: Michael Matti
Rome is a quaint and charming city that you'll never want to leave! Italy's capital city is home to the revered Vatican City, the Colosseum, the Pantheon and of course, the stunning Trevi Fountain. Its rich history will draw you in, along with its alluring Renaissance, Baroque and neoclassical architecture. Go back in time and be truly amazed by the intricacies and grandeur of Roman cathedrals. Remember to eat as many gelatos as you want – you can just walk them off later!
15. Brighten your day with coloured houses at Burano Island in Venice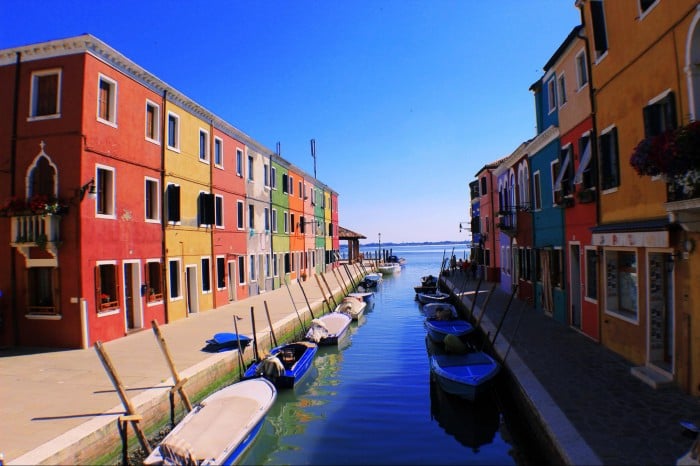 Image credit: Elena Zamprogno
Trust us, no one can resist the unique beauty of this city that is unlike any other. No matter how many times you've seen it in photos and movies, coming to Venice is like fulfilling one of your biggest dreams. There are no roads at all – only canals, and a quintessential part of exploring Venice is getting lost in its narrow alleyways.
16. Immerse yourself in soul-stirring music in Vienna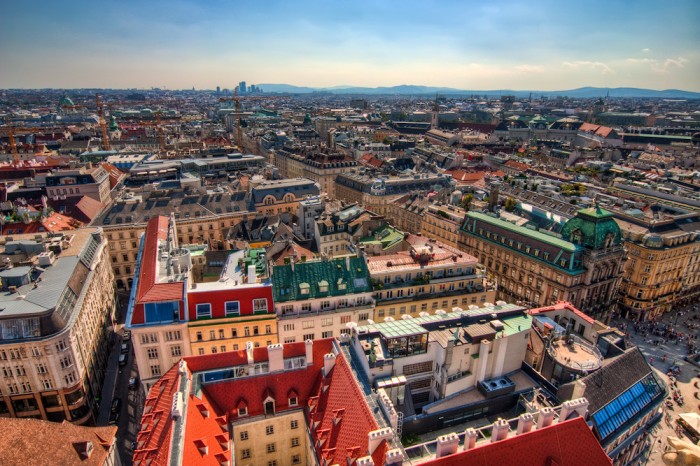 Image credit: Miroslav Petrasko
Vienna is known as the City of Music, and rightly so! With a musical heritage comprising some of world's greatest musicians such as Wolfgang Amadeus Mozart, Ludwig van Beethoven, Franz Schubert and many others, this is the place to be for every music lover.
Experiences to have in ⛄ WINTER ⛄:
17. Go on a hunt for the Northern Lights in Reykjavik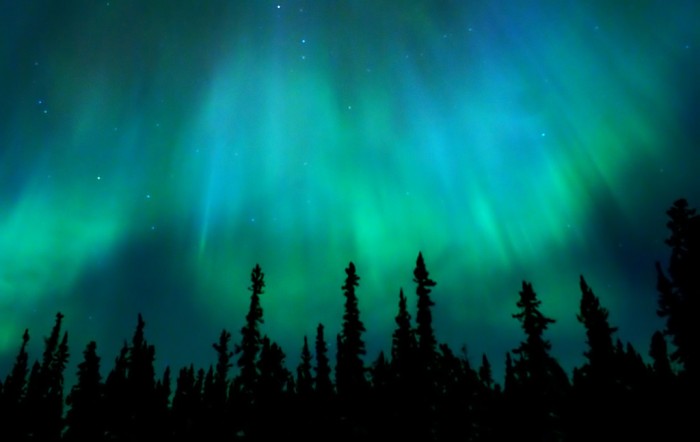 Image credit: Studiolit
Need I say more? Just take a look at how breathtakingly beautiful it is! Words can't even begin to describe how splendid these coloured lights look, especially when they're dancing in the sky. Tourists all around the world flock to Reykjavik, Iceland to chase this elusive and unpredictable aurora phenomenon – and it's no easy feat. As aurora activity is said to become less frequent over the next few years… You better make your way down as soon as you can!
Tempted yet? Fly to Europe in style and absolute comfort with Lufthansa; the adventure starts the minute you take off. Book your flights to Europe with Lufthansa and start checking things off your 2017 Europe Bucket List!
---
Brought to you by Lufthansa Airlines.