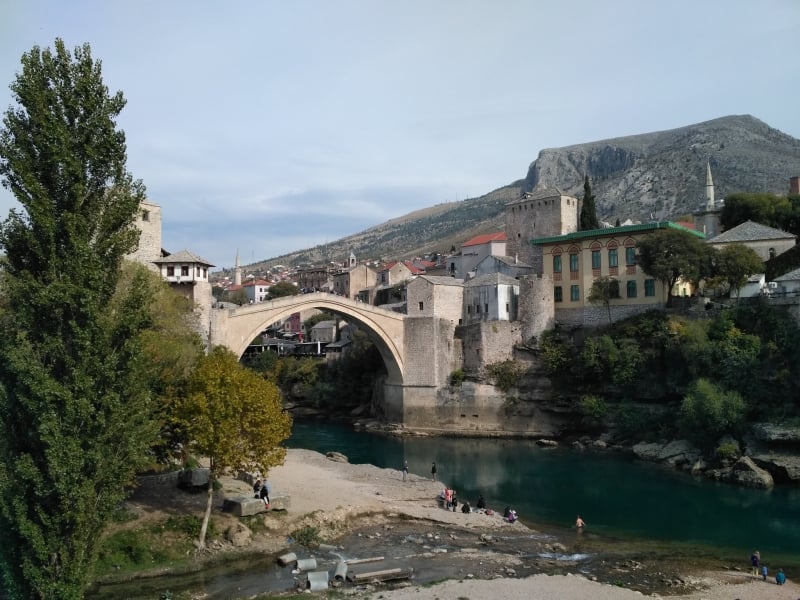 Today, Mostar is one of the most popular destinations for travellers in Bosnia as well as the greater region of Southeastern Europe. It has experienced a tourism boom that has contributed much to its local economy in the recent years. Visitors are charmed by the classic Ottoman architecture in its Old Town, its laid-back vibe and tranquillity. What people may not realise is that peace was extremely far-fetched back in the rather recent past at this very location.
Mostar came to world attention in the 1990s for all the wrong reasons. At the height of the Bosnian War, offensive forces laid siege to the city and much of it was destroyed by heavy shelling and gunfire. The three-sided conflict involving Muslims, Croats and Serbs left many civilians killed, wounded and displaced. The ethnic nature of conflict has resulted in a lasting legacy up till today and beyond. What used to be a multi-ethnic landscape has now become a city divided, with Muslims and Croats residing in the East and West respectively.
I visited Mostar during the autumn of 2017 and I only planned to explore this destination for one full day. Upon reaching my hostel accommodation, I made a booking with Miran, my friendly host of Islamic faith who would eventually bring a few of us travellers to go on an exclusive tour the next day. Having read numerous positive reviews of his tour, I eagerly looked forward to it. Little did I realise that it would become the most memorable tour in my lifetime. It was indeed an eye opener to hear from someone who has personally experienced the brutality of war right in his hometown.
A road trip to the picturesque towns of Blagaj and Pocitelj made up the first part of our tour, followed by a chill time at Kravice Falls. After a late lunch, we drove to what looked like an abandoned underground bunker opposite the runway of Mostar International Airport.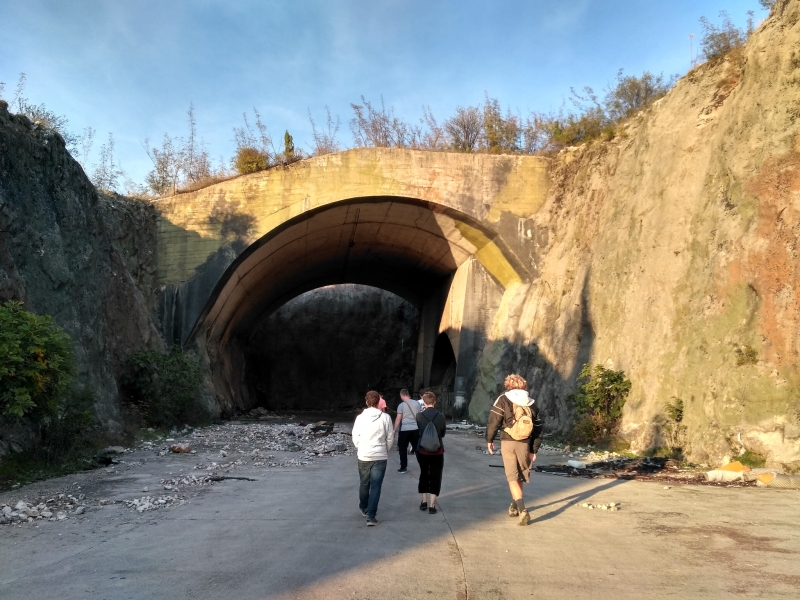 This was what we had all been waiting for. It was a story telling time in a perfect setting, from one who had seen and experienced all the horrors of war that fortunate travellers never knew back in developed home countries. Long story short, Miran recounted the good old days when the former Yugoslav government provided education, healthcare, housing and jobs for all. Everything was good until "external forces" meddled with the country's affair and resulted in all the hardship and devastation that followed. He also detailed on how the conflict became an ethnic affair and one of alliance turned betrayal which led to many being killed, including his own family members. Being someone who had lost so much during that era of helplessness and desperation, it was indeed heart wrenching to share such personal stories. We inevitably felt sorry for him as he teared up at points.
After touring the abandoned air base, we headed back to the city area whizzing past bullet-scarred buildings that still stand around. Although war is a thing of the past, parts of the city still feel like a chilling conflict zone. We stopped in front of this apartment that was basically an empty shell save for some occupied units at the top. It is unthinkable how people would still live in this apartment despite being heavily damaged.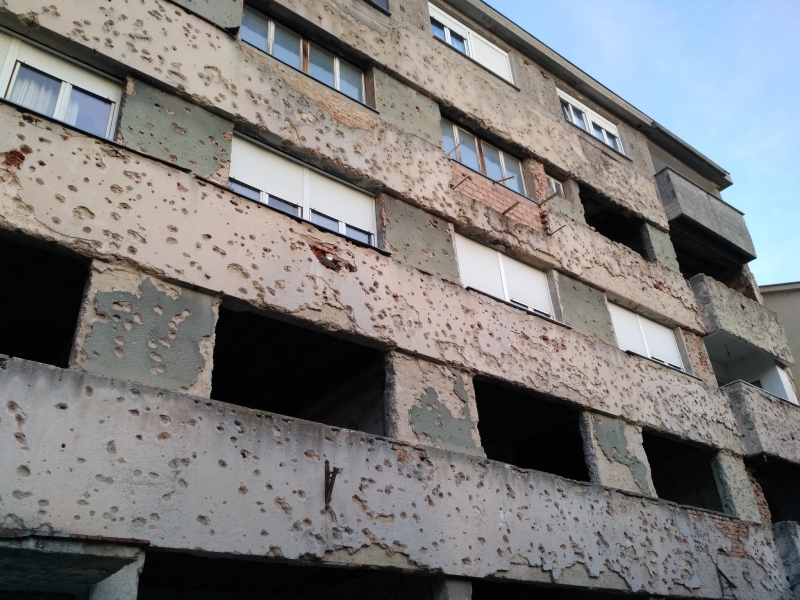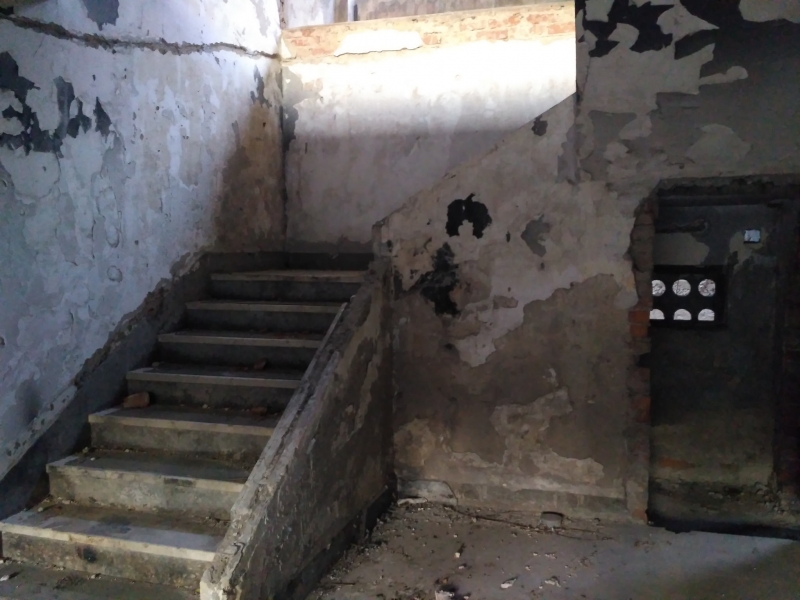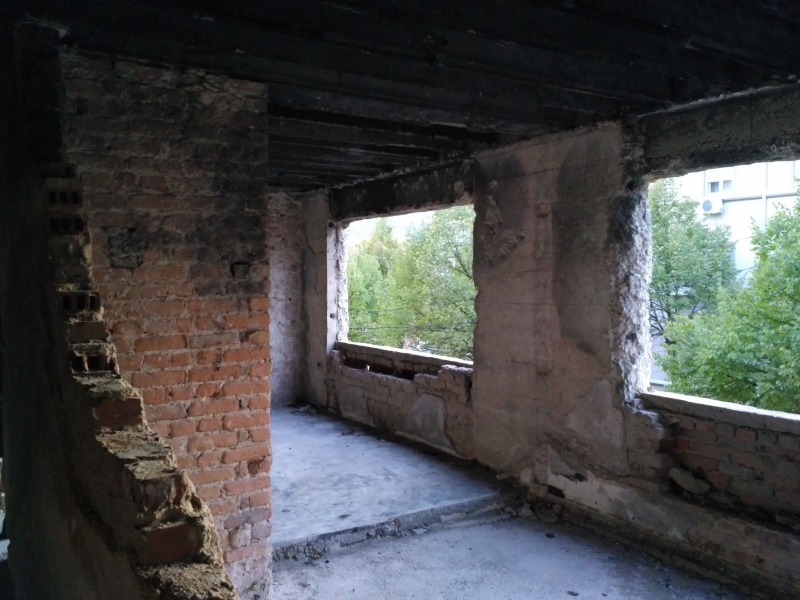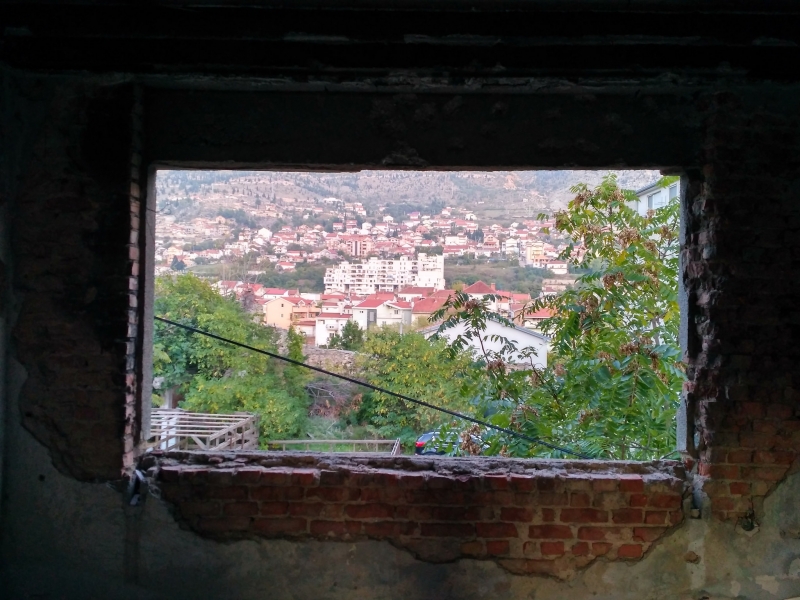 For our last stop of the day, we were brought to this educational institution. With its clean, cheery façade, it looked like a place where everyone would come in together to learn and play under the same roof. Except, it isn't quite like that.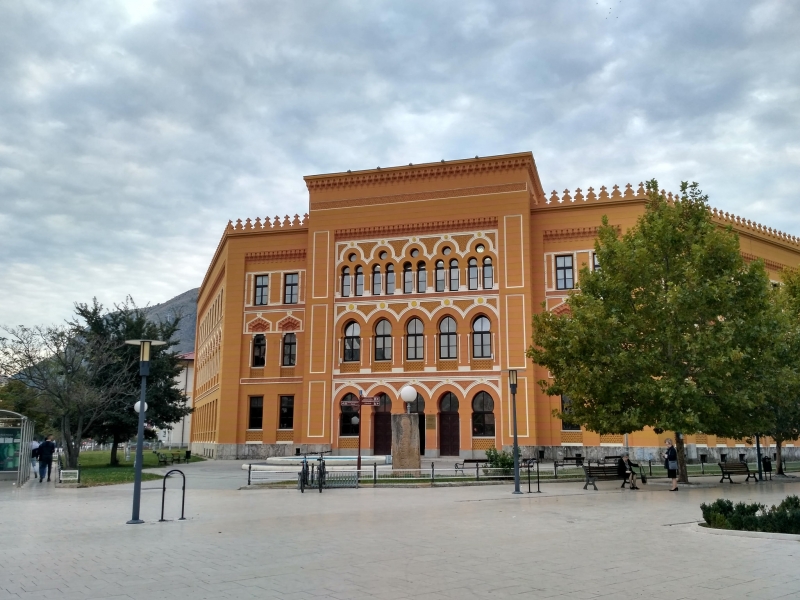 Miran called me over to listen to his story before I could properly snap a photo of it. I was glad that I did, because what he was going to share was a shocking revelation for someone who has grown up in a multicultural society. In this school, Croat and Muslim students are segregated and they don't actually attend lessons together. I was in disbelief, and I asked him again to confirm if that is really the case. He gave a positive affirmation.
For some reason, there is still resistance to integration from both parties, just like how the city is still divided after the war. Coming from a modern, pluralistic world where differences are embraced, it is indeed perplexing to know how two different communities never really come together since ceasefire despite living in the same city. The prospect of conflict would stay on unless both sides make effort to break down those institutional and social barriers.
I decided to extend my stay for one more night so I had one full day to freely explore on my own. My first objective was to get to the iconic Old Bridge of Mostar, a hot tourist spot today. The centuries-old tradition of diving off the bridge is still very well alive, in which many young men would do so as a rite of passage to adulthood.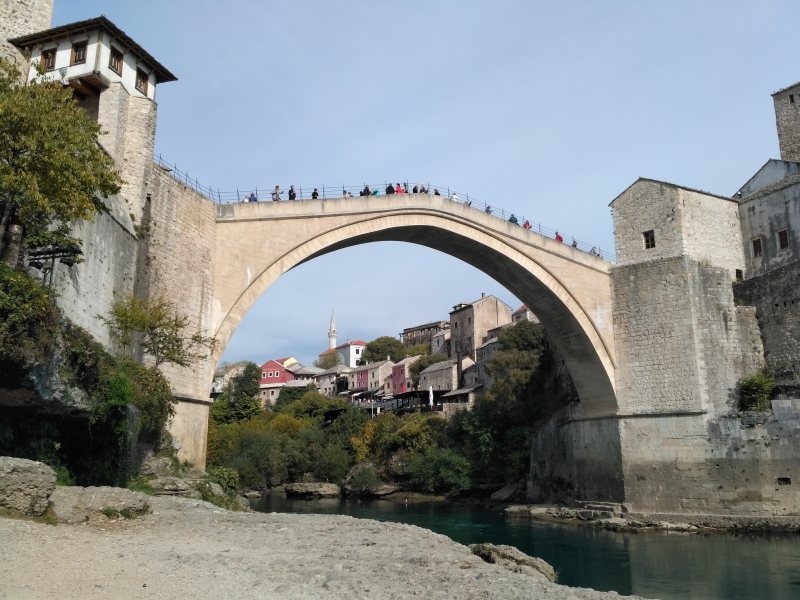 The Old Bridge has always been a symbol of unity reflecting the multi-ethnic landscape dating back to the previous centuries. What people may not realise is that this is actually a "new" Old Bridge. In fact, the original one was totally destroyed during the height of the siege. It was rebuilt and reopened in 2004 with assistance from the global community, and it was to be seen as a renewal of unity that had long existed prior to the war. However, that hasn't really matched the reality on ground even till now. The war had altered the social fabric of this community with a seemingly irreversible effect. The bridge seemed to have already lost its significance.
As I ventured towards the outskirts of the Old Town, I couldn't help but notice the common sight of those haunting, bullet-razed buildings once again. Beyond that touristic area, the chilling reminder of war was real.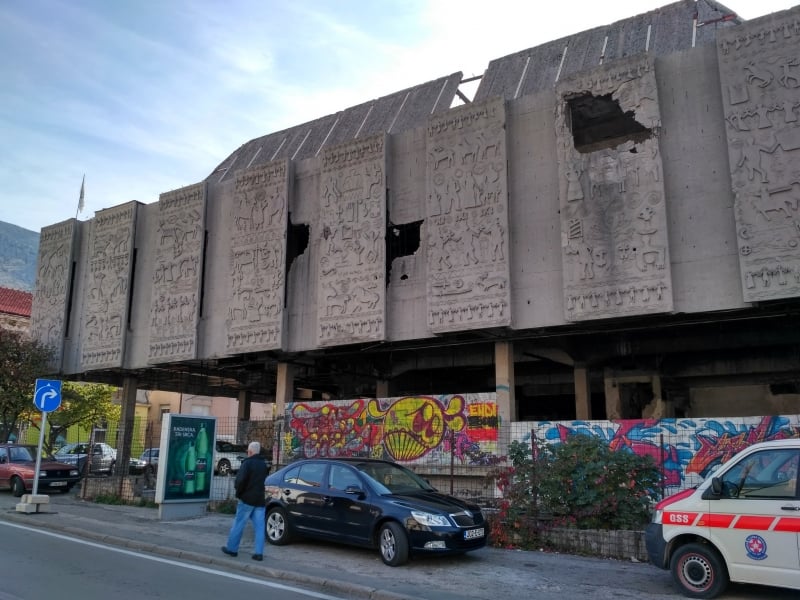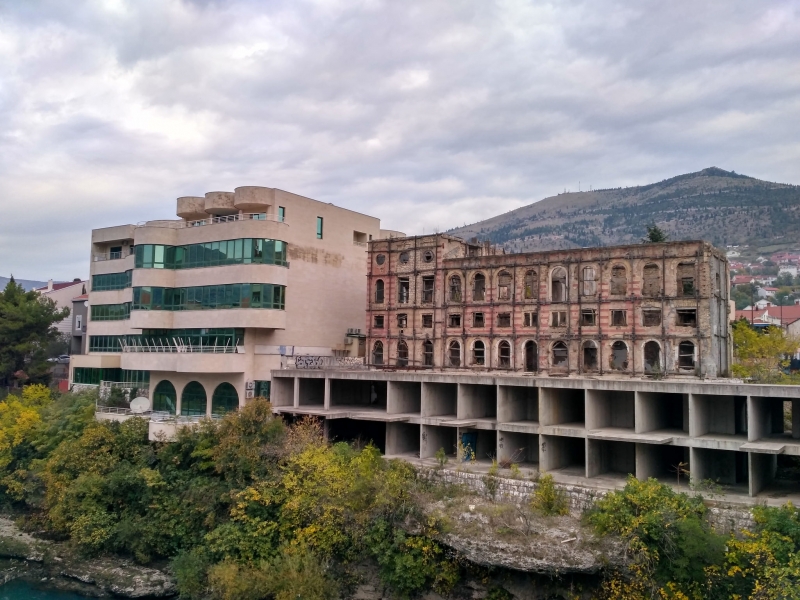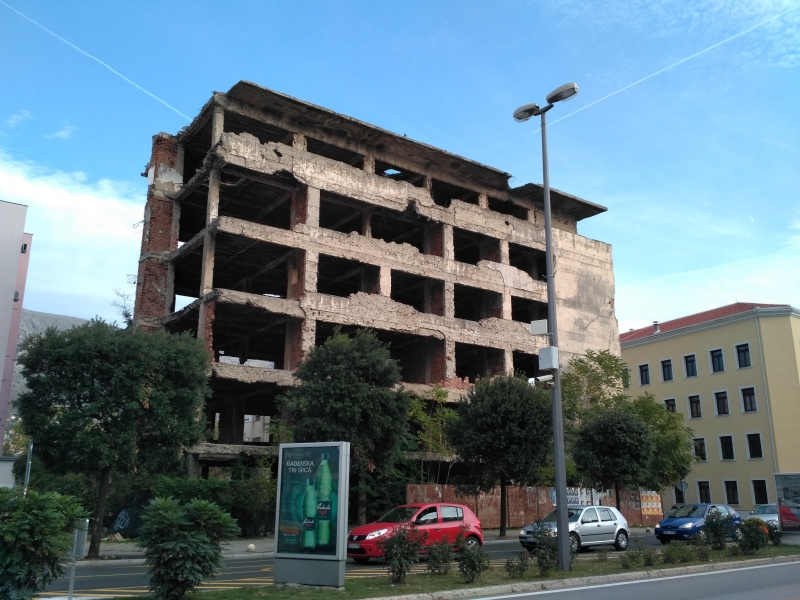 A trek further past the residential areas brought me to this looming empty shell building that used to be a bank complex. Notoriously known as the Sniper Tower, it has been like that ever since the war.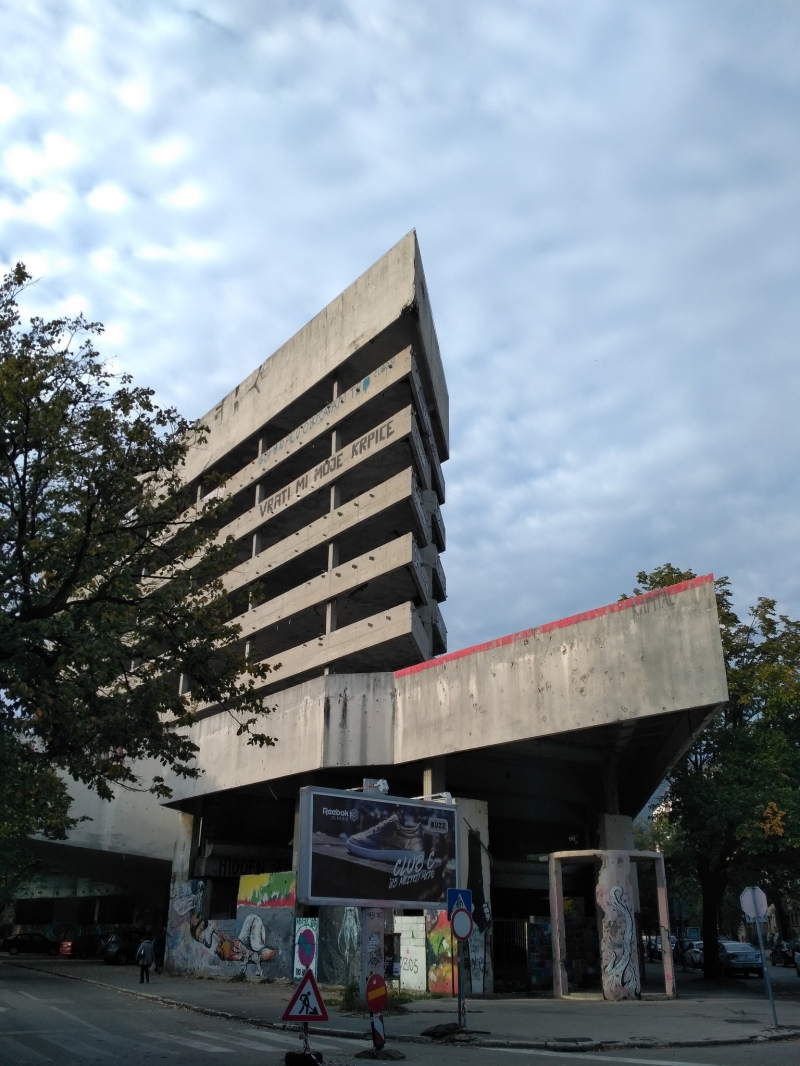 These jarring reminders of the brutal past still plague the city's population today despite efforts to integrate all members of the community and uphold its glorious past of cultural interaction. Is the city doomed to be segregated for good?
Not really. Amidst all these negativity, glimmers of hope presented in the form of street art, presumably created by the younger generation. I snapped a few of these street arts that deeply resonated with the current state of affairs, as well as that dream for this city to be reunited again.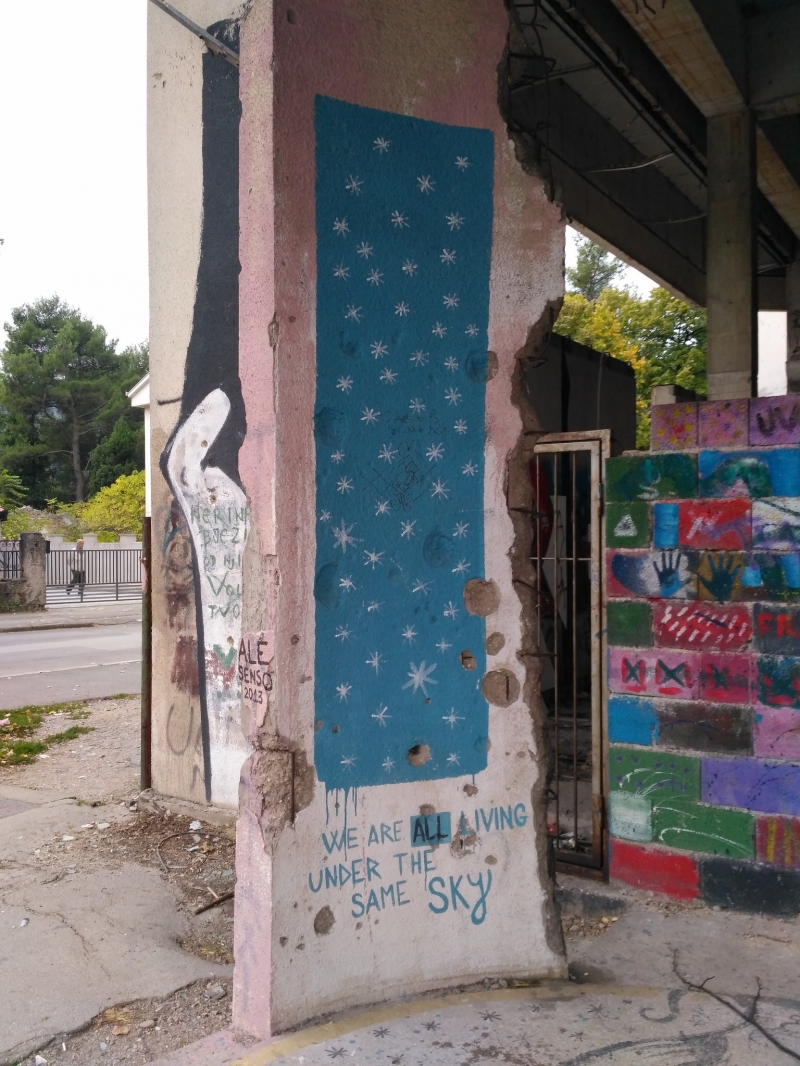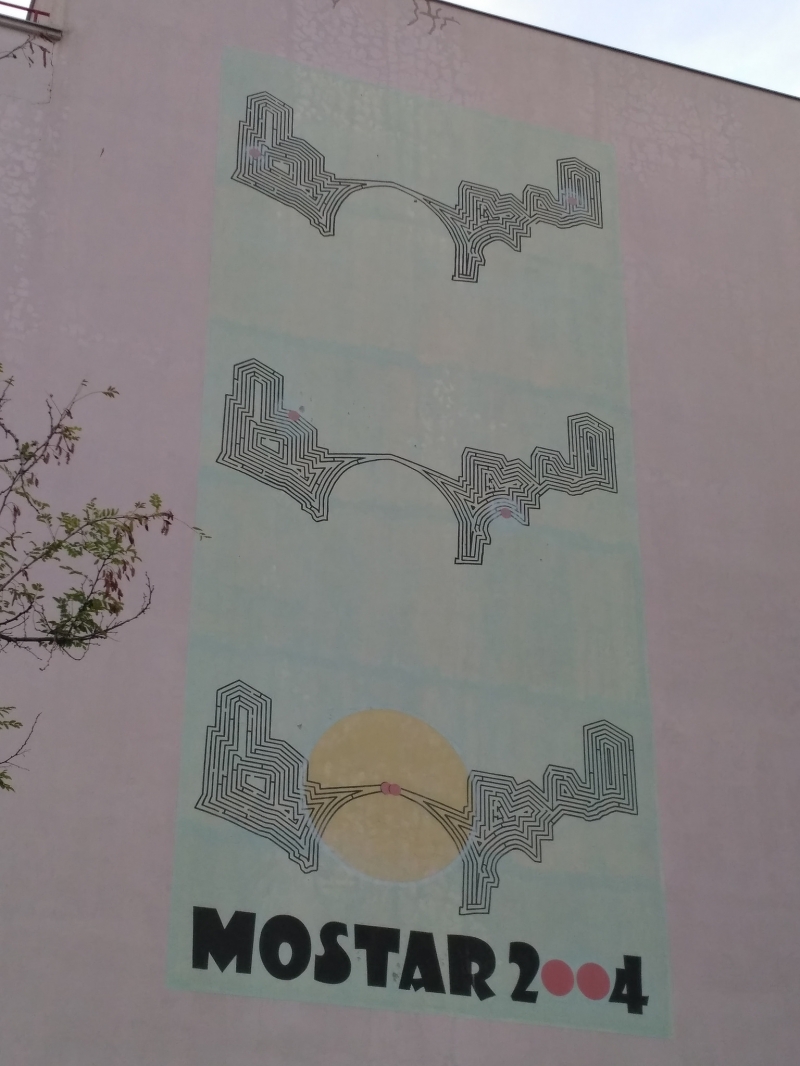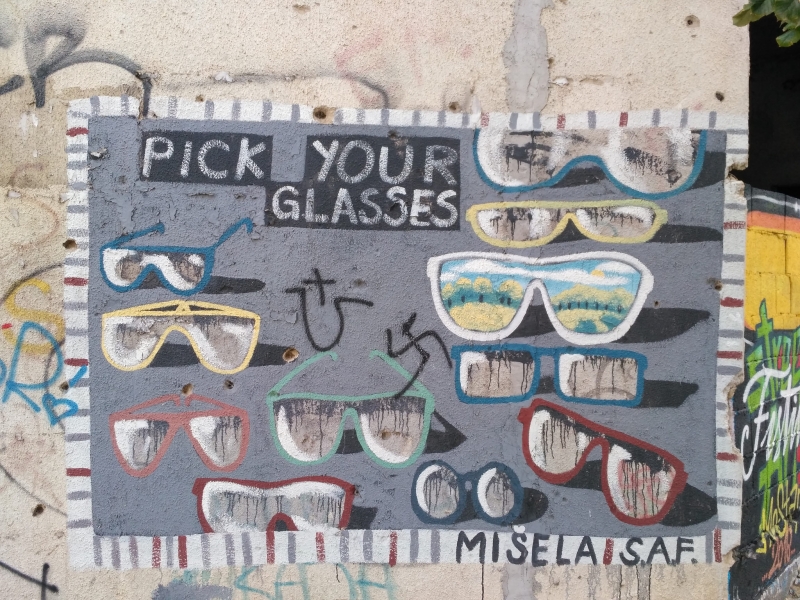 As I strolled within a local park nearby, I chanced upon a Bruce Lee statue that seemed out of the place given the local cultural context. Two young boys spotted me together with these statue and they cheekily exclaimed "Bruce Lee"! It caught the attention of their father and both of us eventually struck a conversation that would provide a more balanced perspective of the current state of affairs. An Englishman married to a Croat wife, he too had experienced that period of turbulence first hand when he actually come over for family reasons despite the mortal peril. With numerous parties involved in the conflict, there would be many different versions of stories depending on who I listen to. Nevertheless, we both agree that those who suffer the most are the civilians, regardless of race, who had to unwittingly bear the brunt of extreme hardship and subsequent post-trauma.
Ending with an optimistic remark, he shared that things are actually getting better with both sides already starting to interact and get along with each other. That's a nod to my earlier presumption about those street arts representing a forward-looking attitude towards unity. All is not lost.
As I reflect those very few days spent in such faraway and unfamiliar place, I realised how its history is so much relevant to me as a proud citizen of a modern, multicultural city state that also had a similar setback but to a much smaller extent. The Bosnian War is an extreme example of how racial relations, if left unchecked, could easily degenerate into unrest if just one group decides to stir up supremacist sentiments. In fact, this has been happening throughout the course of world history; it's not the first and it's definitely not the last. Even in the liberal world, tensions have been rising in response to immigrations and refugee crises and these could potentially become flashpoints if such concerns are addressed emotionally rather than objectively.
The situation in Mostar today is also a bitter reminder of how it is extremely difficult to reinstate the warm relations once inter-racial trust has been breached. It is an important lesson to learn that no matter how fortunate we are to have good inter-racial relations, we shouldn't take it for granted. Safeguarding racial harmony is everyone's responsibility and it should act as a resilient deterrence to any situation that could undermine our solidarity.
My visit to Mostar was no doubt memorable in a way that reminded me of the reason why I travel. We often do not realise how fortunate we are until we step out of our comfort zone and actually see other parts of the world for ourselves. It is also an occasion for us to be humbled by discovering how people from other communities overcome all odds in circumstances that are all too familiar to them. Hearing their stories in their actual home environment enhances our experience of gaining perspectives that could often relate to our lives back home. I was glad to have learned so much during my stay there and I look forward to more of such travel experience.