Yesss! I've finally ticked South Korea off my bucket list. After years of dedicating all my free time glued to Korean dramas and listening to the latest K-pop music, I finally managed to save enough to fly off to the Land of the Morning Calm.
My itinerary was chock full of attractions that I couldn't wait to visit. First, the N Seoul Tower, where Boys over Flowers filmed that iconic awkward date scene trapped in the tower's cablecar. Thereafter, the rustic Korean Folk Village's traditional courtyards, where many historical dramas have been filmed. And all that before my train to Busan (movie reference intended) to stuff my face with scintillatingly fresh seafood at Jagalchi Market.
I booked my flight with Korean Air, which was having a promotion whereby flights to Seoul were going from just S$687.90. I considered booking a cheaper flight with other budget airlines, but the Korean Air flight would come with baggage and food all-in. I'd also heard that their seats were way more comfortable so hey, why not? I'd rather pay a little more if it means I won't suffer backaches from being cramped in a tiny seat.
On the overall, I thoroughly enjoyed the flight and definitely started my trip on a good note. So, looking back, here are 5 things that I loved about Korean Air.
1. The impeccable service standards aboard
Korean Air made quite the first impression. From the moment I stepped through the boarding gate onto the aircraft, everything was impressively efficient. The stewardesses were extremely courteous (and extremely pretty too! Some really looked they belonged in SM Town) and quickly directed me to my seat.
Throughout the flight, the service staff were diligent and patient, working round the clock to ensure our comfort. While travellers would expect international airlines like Korean Air to maintain high service standards by default, I've encountered my fair share of disinterested tones and snappy attitudes on other "big name" airliners before. While you can't expect Korean Air's staff to be everywhere doing everything the entire flight, they do come close and I landed a satisfied customer. If you fly with Korean Air, they really take "service with a smile" to the next level.
2. Their Economy Class seats are actually BIGGER
Economy Class is notorious for being super cramped. But surprisingly, the seats on board actually felt more spacious than usual! I flipped through "Beyond", the airline's magazine and that's where I learned that the B747-8i fleet I was flying on actually had 34 inch seats, which are bigger than other airlines.
I bet you've hardly ever taken your seat dimensions into consideration before, have you? With the bigger seat, I didn't need to frantically squeeze to make way when the lady next to me needed to use the washroom. I had more legroom and didn't have to twist myself into uncomfortable positions to sleep. I slid the headrest to a cosy height, wrapped myself in the blanket and quickly dozed off like a baby. The best part? When one of the stewardesses nudged me awake about two hours later for dinner, I didn't wake up to an aching back or with stiff legs – both of which I'm sure many of you are familiar with during a flight!
3. The scrumptious and authentic in-flight meal
Speaking of food, I'm always one to eagerly await my meals, even those served aboard planes. So one thing Korean Air definitely impressed with was the food! I'd say my bibimbap dinner on board was one of the most scrumptious airline meals I'd ever tasted. And that's saying something! The dishes were authentic and savoury. I may not have been sitting in first class, but I definitely ate food fit for royalty like Scarlet Heart Ryeo's 4th Prince Wang So.
I chomped down on my food so fast that I had to refill my drink thrice! But of course, I didn't just wash it down with plain water or soft drink. I went all the way, even choosing from their specially selected list of wines, which included smooth alcohols from Chile, Australia and France.
4. Korean Air's broad in-flight entertainment also included K-drama
Flying on Korean Air towards Korea and having eaten my Korean dinner, there was only one thing left to complete the experience — binge-watching my K-Dramas! Switching the in-flight entertainment on, I scrolled past the wide selection of Hollywood blockbusters and lengthy list of music and found an impressive lineup of K-Dramas. From the recent "She was Pretty" rom-com to popular hits like "The Return of Superman", I was spoilt for choice!
"She was Pretty" is about two past acquaintances who have gone through a reversal in fortunes and appearances. "The Return of Superman" is a reality TV show where dads have to survive 48 hours with their babies without the help of their wives. After much thought, the latter was to be my choice of entertainment all the way to Incheon International Airport. It turned out that the lady seated next to me was also a massive fan as well! We soon divulged in animated K-drama discussions, with Superman talk digressing to Weightlifting Fairy debates.
5. Their Skypass programme has some extremely enticing perks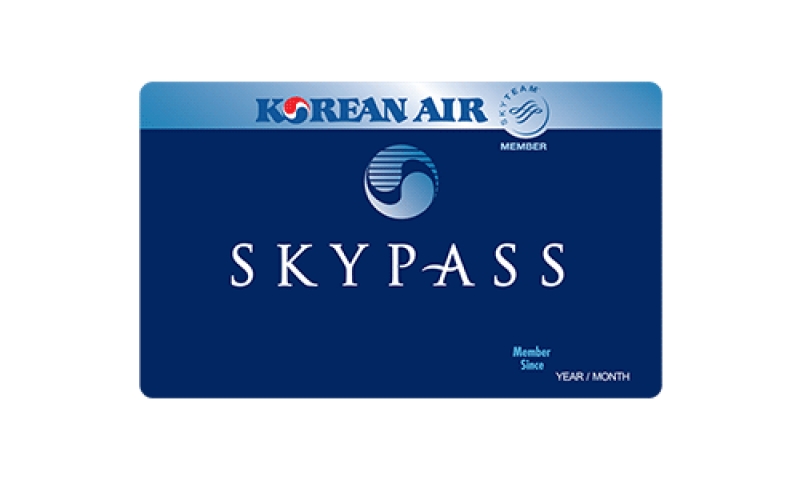 The airline magazine also highlighted Korean Air's Skypass frequent flyer programme, which entitles travellers to some extra privileges. Unlike me, who had to contend with crying infants in the packed boarding gate, members can peacefully sip on their coffee or peruse a magazine in the quiet private lounge. They even get to check in one extra baggage…what?! Man would I have loved that. Imagine not having to worry about squeezing all your shopping bags and clothes into your luggage. Furthermore, by accumulating miles, stays with hotels and car rental services could even be redeemed. If you frequent Korea, be it for business or leisure, I'd definitely recommend Korean Air's Skypass programme.
All in all, my flying to Seoul on Korean Air was incredibly pleasant. From the amazing service standards and my beyond comfortable seat that I snugly tucked into, to the riveting dramas I could watch on board, it was one of my best ever flights!
Don't believe me? Check it out for yourself! Korean Air is having a promotion whereby
flights to Seoul are going from just S$687.90
, with baggage and food ALL-IN.
Book your flights to Seoul on Korean Air right now
, and you'll see exactly what I mean.
Booking your flights online and unlocking this special offer can be a piece of cake. You just have to follow these simple steps:
Step 1: Locate their special offer here to select your city of arrival from their wide array of destinations.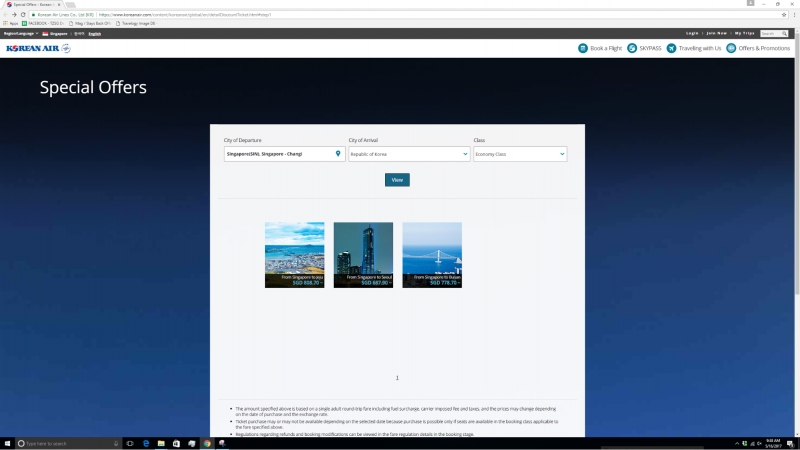 Step 2: Select your preferred date of departure off to Seoul from Singapore (Valid for bookings 90 days before departure).
Step 3: Search for the lowest fares and reserve your ticket for that selected travel period.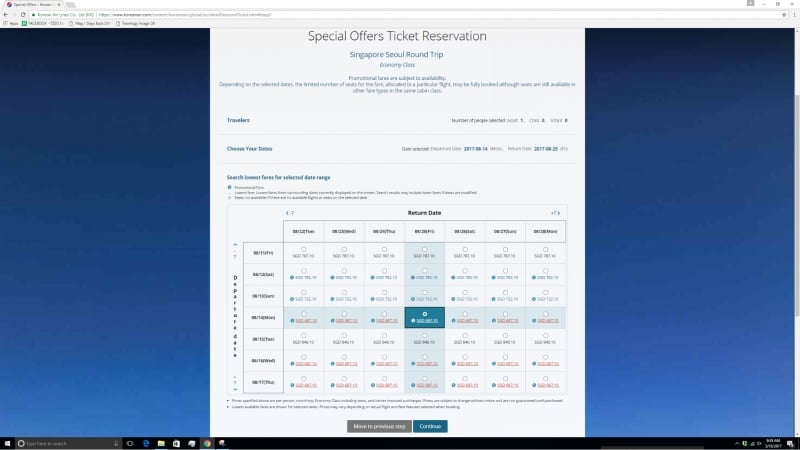 Step 4: Confirm the bookings you have made, key in your personal particulars, make the payment and viola, your flight is confirmed!
Korean Air's online booking platform is user-friendly and efficient. I had no trouble booking my flight so you don't have any need to worry as well!
A flight doesn't have to be a means to an end, it can very well be part of the journey as well. Book your flights with Korean Air and now you can enjoy your holiday from start to end!
---
Brought to you by Korean Air.