The land of the rising sun has been a perennial favourite holiday destination among tourists. However, visit popular attractions like Universal Studios, Fushimi Inari Shrine and Nara Park one too many times, and you'd be left wondering what else is there to do in Japan. And the answer to that is: PLENTY~
From experiencing the traditional customs of Buddhist monks and sumo wrestlers to discovering hidden sights in the ocean, these activities will show you a whole new side of Japan that you never even knew existed.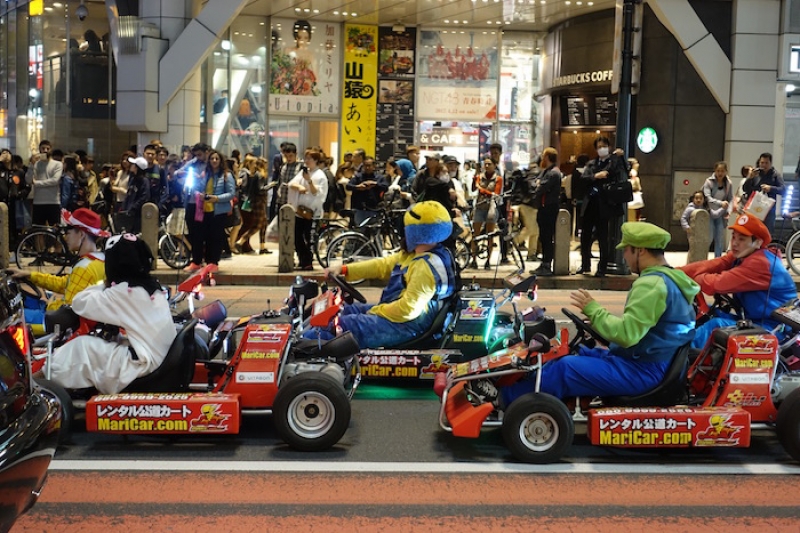 Want something different from your usual shopping trips to downtown Tokyo? Spice up your visit to the city's hub by taking a thrill ride on a go kart! At up to 60km/h, you can explore the bustling streets of Akihabara at the envy of regular pedestrians. For an even more immersive experience to the Japanese otaku culture, dress up as a variety of manga and anime characters as you drive past other cosplay fans on the road. Be sure to have your camera ready to snap loads of pictures because this is an experience you definitely don't want to forget!
Address: Building Sasage B1F, 2-4-6 Sotokanda, Chiyoda-ku, Tokyo
Nearest train station: Tokyo Metro Akihabara Station
Opening hours: 10:00am-10:00pm. Arrive at your scheduled time between 10:00am and 7:00pm!
Unless you've been living under a rock for the last ten years, you've probably heard of Japan's extravagant urban culture. Apart from the familiar electronic synth pop music and cult-forming manga franchises, robot show numbers are as famously well-known. These robot restaurants put up high-energy laser light shows complete with gigantic machines and performers dancing to loud glitzy techno music. It's a gaudy spectacle splattered with bizarre theatrics that's guaranteed to give you a unique and entertaining experience when you're in Tokyo!
Address: 1-7-1 Kabukicho Shinjuku-ku Tokyo, Japan
Nearest train station: JR Shinjuku Station or Tokyo Metro Shinjuku Sanchome Station
Opening hours: 3.30-11.30pm. Last performance at 9:45pm. It's advisable to arrive at least half an hour before your designated show time!
BOOK A ROBOT EXTRAVAGANZA NOW!
A sport that is still being professionally practised in Japan today, sumo wrestling is Japan's national sport with its origins dating back to the early 1600s. But because most sumo stables are usually not open to foreign visitors, tourists usually miss out on the action that happens behind the scenes. Wrestlers live in communal stables with their lives dictated by strict customs, etiquette and traditions as per those before them. This sumo stable, however, welcomes foreign visitors to come inside and watch the training routine of wrestlers. Although there are stringent rules that visitors have to follow, this truly is a novel experience not to be missed. Think about it: How often can you say that you've been to an actual sumo stable and watched sumo wrestlers train?
Meeting Location: Ryogoku Station, Exit A2, outside Oedo Line (Subject to change)
Meeting Time: 7:30am. You can expect to be back at Ryoguku Station around 10am to 10:30am.
WITNESS SUMO WRESTLERS TRAIN PROFESSIONALLY!
Sushi is one of those iconic Japanese foods that is popular in Japan and recreated across the world. During your time in Japan, it's safe to say that you'll be gobbling down lots of sushi because let's face it: there are sushi shops every corner you turn. But you know what's going to make this trip better than any other? Learning how to make these delectable rice goodies from professional chefs themselves – meaning you get to take these skills with you back home and whip up some delicious-tasting sushi when you start craving for a taste of Japan! 
Address:
(Nara Umemori Sushi School) 221 Hokkejichō Nara-shi, Nara-ken 630-8001
(Kyoto Umemori Sushi School) 8 Takeda Matsubayashichō Fushimi-ku, Kyōto-shi, Kyōto-fu 612-8371
Nearest train station:
(Nara Umemori Sushi School) Shin-Omiya Station
(Kyoto Umemori Sushi School) Takeda Station
LEARN HOW TO MAKE YOUR OWN YUMMY SUSHI NOW!
Japan's temples and shrines are iconic landmarks that mark the country's religious history. Their characteristic features like their recognisable roofs, torii gates, and breathtaking gardens have become a synonymous image to the country itself. Whether it's for a religious pilgrimage or to admire the natural and architectural beauty atop Mount Koya, a visit to these historical temples will immerse you into the peaceful tranquility of Japan's traditional culture.
Tickets and Itinerary Collection: Nankai Information Centre
Nearest train station: Nankai Namba Station
Following the itinerary, the self-guided tour will start and end at Nankai Namba Station.
EMBARK ON YOUR SPIRITUAL JOURNEY NOW!
Relive your childhood days and dress up as a ninja warrior or samurai fighter when you take this traditional fighting lesson in Osaka! Under the masterful guidance of trained Japanese masters, you'll learn about the cultural principles behind the tate-dou sword-fighting techniques, and will soon be able to amaze your friends with your newfound agility and fighting skills! 
Address: 3F Imai Building. 1-1-27 Kitahorie, Nishu-ku, Osaka-shi, Osaka
Nearest train station: Yotsubashi Station or Shinsaibashi Station
Opening hours: 10:00am-5:00pm
MASTER THE ART OF NINJITSU NOW!!
Otaru is a small but romantic port-city located northwest of Sapporo. For an unconventional perspective of the endearing town, go back in time and hop on a rickshaw tour! Onboard this traditional mode of transport, you can choose between 3 different customised tours, and a guide will take you on a scenic journey past numerous historic buildings and piers to discover the town's quaint nooks and crannies. It'll definitely make for a different experience in this historic harbour city.
Meeting and End Location: Chuo Bridge
Nearest train station: JR Otaru Station
BOOK YOUR OWN PRIVATE RICKSHAW TOUR!
Chiba Mother Farm is a farm, amusement park and zoo all combined in one! Located right in the heart of Tokyo, you don't have to travel all that far out of the city to get away from the hustle and bustle of city life for a bit. There is a myriad of activities that can be enjoyed here – horse-riding, ziplining, alpaca feeding and visiting a petting zoo, among many others. If you're here with your family, Chiba Mother Farm is the perfect place to go as there is something for everyone! And once you're done cooing over all the adorable animals, you can make your way over to the café or any of the restaurants to grab a bite before you head off to your next destination.
Address: 940-3, Tagura, Futtsu-shi, Chiba, Tokyo
Nearest train station: Kimitsu Station or Sanukimachi Station
Opening hours: (From February to November) 9:30am – 4:30pm on weekdays, 9am – 5pm on weekends and holidays, (From December to January) 10am – 4pm on weekdays, 9:30am – 4pm on weekends and holidays
Sake is Japan's locally-produced alcoholic beverage made from fermented rice. Traditionally, the rice wine is drunk during ceremonial Shinto purification rituals to keep evil spirits away. and also as an offering to solicit harvest for the coming year. Now, sake is the national beverage of the country and is drunk at all sorts of celebrations and occasions. With over a hundred different bottles to choose from, this exclusive all-you-can-drink sake tasting will let you discover the wide array of intricately-processed flavours. This is especially recommended for wine connoisseurs or solo travellers, as you'll get to meet other sake-loving guests at top notch state-of-the-art bars in downtown Tokyo!
Addresses:
Shibuya – 3F, 2-9-10 Dogenzaka, Shibuya-ku, Tokyo
Ikebukuro – 4F, S&K Building, 3-27-3 Nishi-Ikebukuro, Toshima-ku, Tokyo
Shinjuku – 4F, 3-9-9 Shinjuku, Tokyo
Ueno – 3-36- Higashi-Ueno, Taito-ku, Tokyo
Opening hours: 5:00-11:00pm on weekdays, 12:00-11:00pm on weekends (last order at 10:00pm)
The village of Onna is a popular resort destination for tourists due to its picturesque white sand beaches and spectacular sunsets over the horizon. For a different experience, why not feast on your eyes on an aerial view of the stunning Okinawa coast from high up in the sky? Parasail over 50 metres above the sea for a thrilling ride like no other!
Meeting Location: Naha Miegusuku Port White Building, or Motobu Port
Departure Times: 11:00am/4:00pm from Naha Miegusuku Port White Building, 10:00am/11:00am/12:00pm/1:00pm/2:00pm/3:00pm from Motobu Port. Meet at least 15 minutes before you selected departure time!
Ever wondered how Mount Fuji looks upside down? Take the Eejanaika roller coaster at Fuji-Q Highland to find out! With a whopping 14 turns, twists and rolls, the ride holds a Guinness World Record as the roller coaster with the most number of inversions. Also in the park are the world's fastest accelerating roller coaster and the world's steepest roller coaster! From the moment you enter Fuji-Q Highland, brace yourself for a perpetual gush of adrenaline as you visit the many hair-raising haunted houses and exhilarating carnival games. The amusement park is a definite bucket list topper for any thrill-loving junky!
Since you'll be at the foot of Mount Fuji, why not further explore the area with a JR rail pass? With the Mt. Fuji Shizuoka Area Tourist Pass Mini, you'll be able to have unlimited rides on trains, buses and ferries all around the majestic mountain!
Address: 5-6-1 Shin-Nishihara, Yamanashi Prefecture, Fujiyoshida
How to get there: Take a highway bus from Shinjuku Station, Tokyo Station, or Tokohama Station.
Opening hours: 9:00am-5:00pm on Weekdays, and 9:00am-6:00pm on Weekends and Public Holidays
Journey up the central alps in Nagoya to witness the gorgeous natural mountain landscape of Japan. Starting from Shirabidaira Station, the Komagatake ropeway will leave you breathless as it ascends to the 2616-metre high Senjojiki peak. You'll be treated to a panoramic view of Mount Fuji and Lake Ashikono, as well as a floral paradise of blossoms in the summer. This deal includes round-trip bus tickets between Nagoya and the ropeway's base station for a hassle-free vacation. With such phenomenal sights, this aerial adventure is not something you want to miss!
If you're planning on travelling around Japan, consider getting the nationwide 7-Day JR Pass! With it, you'll get unlimited access to most train routes, including the shinkansen (except the NOZOMI and MIZUHO variety), which otherwise cost a bomb.
Meeting Location: Meitetsu Bus Centre
Nearest train station: Meitetsu Nagoya Station or JR Nagoya Station
The tour departs from Meitetsu Bus Centre at 7:30am (meet up at 7:10am), and ends at Meitetsu Nagoya Station at 6:05pm.
TAKE A RIDE ON A PANORAMIC CABLECAR!
Travel different this time round and have a holiday that's, simply put, quite extraordinary. Start booking your activities now!
---
Brought to you by Klook.