Klook x TripZilla: Introducing our "Klook & Save" series!
We know the pain of budgeting for trips. There's just so much to see and so much to do! Quit putting yourself through all that headache; with Klook, you'll be guaranteed quality experiences at more affordable prices. Travel paperless and hassle-free – just the way we like it.
If you're a first-time user of Klook, use the promo code "TZKLOOK5" to get US$5 (~S$6.50) off any of your activities. Adventure starts NOW!
---
A couple that travels together, stays together. And where better to have your next romantic holiday than at the city where most romantic dramas today are filmed at? Korea's capital of Seoul has garnered the reputation of being affordable, picturesque, dynamic, absolutely romantic and, above all, perfect for a lover's getaway.
The year-end holidays are just around the corner, and this 5D4N romantic Korea itinerary might be just the thing both of you need to take your relationship to the next level. Whilst you're there, take your pick from lots of activities and trip inspirations from Klook, and use the promo code "TZKLOOK5" at check out to enjoy US$5 (~S$6.50) off* your purchase!
*Only available for first-time Klook users
Day 1: Seoul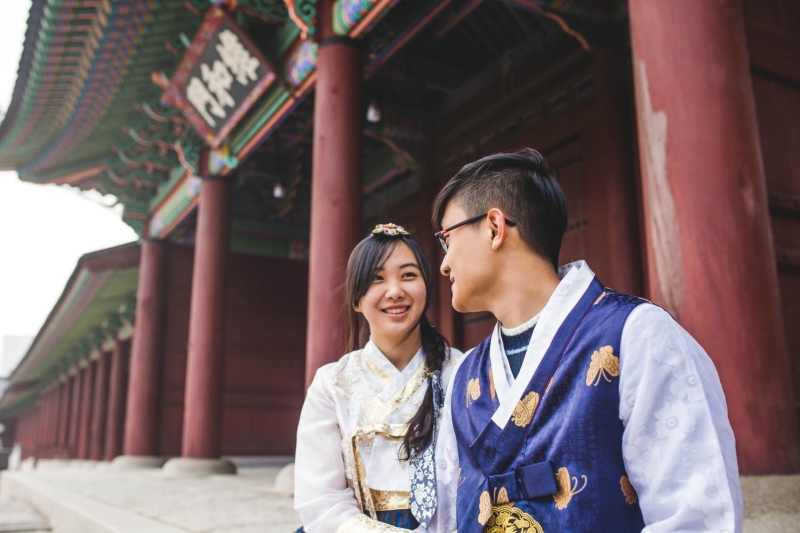 Highlights:
✓Time travel and become a Prince and Princess at Gyeongbokgung Palace
✓Enter winter wonderland at Onemount Snow Park
✓Set off a wish lantern at Seoul Lantern Festival
Start your adventure in Seoul by stepping into the shoes of royalty at Korea's most iconic landmark, Gyeongbokgung Palace. Being the country's main and largest royal palace, Gyeongbokgung is definitely one stop not to be missed. Marvel at the Korean traditional architecture as you walk hand-in-hand through the sprawling huge palace grounds.
Address:
161 Sajik-ro, Sejongno, Jongno-gu, Seoul, South Korea

Nearest Train Station:
Exit 5 of Gyeongbokgung Station
(Seoul Subway Line 3)
, or Exit 1 of Anguk Station
(Seoul Subway Line 3)

Opening Hours:
9am-6pm daily (closed on Tuesdays)
Enhance your experience by renting and wearing matching hanboks (Korean traditional clothing). There are many places where you can rent a hanbok near the palace! Some rental options, like this one, even allow you to pre-book a slot online first before your arrival. Do note that rentals are usually charged per blocks of four hours, and can also be extended to a full day.
Klook Pro-tip: Rent your hanbok for the whole day instead of four hours to get the cheapest per hour rental price! Did I also mention that entrance to all palaces in Seoul, including Gyeongbokgung, is free if you wear a hanbok? The more savings, the merrier!
And if you travelled to Seoul in search of some respite from our tropical climate, the Onemount Snow Park is the place to be! The first and largest indoor winter theme park in South Korea, the Onemount Snowpark is the perfect place to spend the afternoon. And in case you think that such a theme park is just for kids or families, think again! There's plenty to do with your other half here. Go ice skating, visit Santa Village, slide down snow hills or even go on a thrilling dog sled ride. Now, this is something that you won't experience back home!
Address:
300 Hallyuwoldeu-ro, Daehwa-dong, Ilsanseo-gu, Goyang-si, Gyeonggi-do, South Korea

Nearest Train Station:
Exit 2 of Juyeop Station (Seoul Subway Line 3)

Opening Hours:
Dependent on season; check the
official website
for more information
Klook Pro-tip: Can't wait to show off all your gorgeous winter photos on the go? Rent a WiFi egg and you'll be able to upload your Insta-worthy snaps wherever you want, whenever you want! Enjoy unlimited 4G WiFi coverage across Korea, and connect up to 3 devices – plenty to go around for the two of you. If you, however, do not want to carry an extra device around, get a local 4G sim card with unlimited data and ditch those roaming charges for the next five days in Seoul.
Have an early night and recharge for the rest of your trip!
Day 2: Gangchon Rail bike + Nami Island + Petite France
Highlights:
✓Recreate lovey-dovey moments from Winter Sonata with your other half in Nami Island
✓Enjoy a rail bike ride through stunning landscapes
✓Teleport to France and have your 'My Love From The Star' moments at Petite France
The next day, head out of Seoul and venture to Gapyeong, an area near Seoul home to many iconic (and definitely romantic!) places like Nami Island and Petite France.
Challenge your ability to work together as a pair by trying out the Gangchon Rail Bike. Spend some quality time with your other half whilst traversing through stunning scenery and basking in the serene ambience. The best part? Both of you will be able to burn some calories from all the delicious Korean food and snacks while you're at it!
Address:
14 Jangteo-gil, Gapyeong-eup, Gapyeong-gun, Gyeonggi-do, South Korea

Nearest Train Station:
Take a bus from Gapyeong Station

Operating Hours:
Winter: 9am, 11am, 1pm, 3pm (winter)

Other seasons: 9am, 11am, 1pm, 3pm, 5pm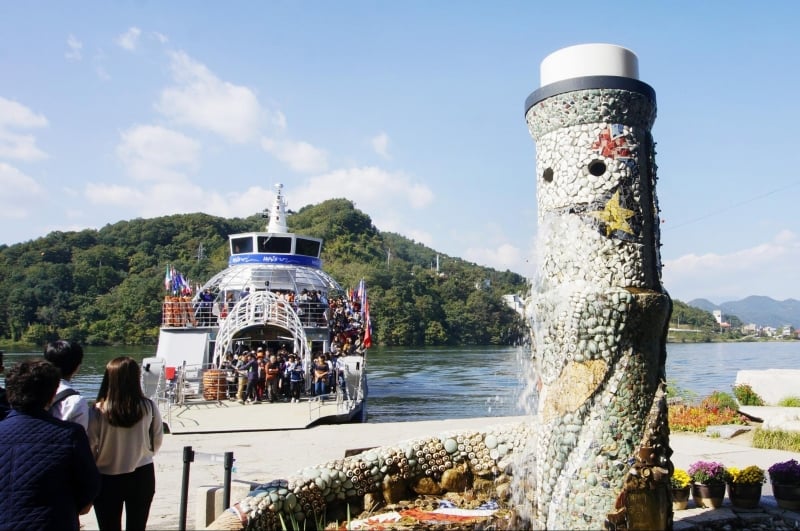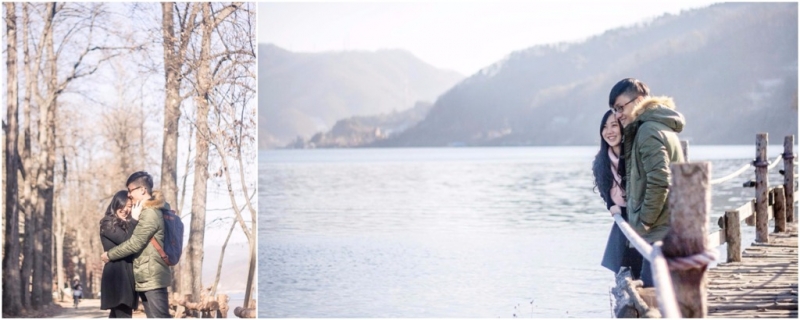 Afterwards, hop on a scenic 10-minute ferry ride to Nami island and enjoy a leisurely stroll at the filming site of the Korean drama, 'Winter Sonata'. The scenery at Nami Island is picture-perfect in any season – enjoy a warm embrace by the banks, or take a stroll through an avenue of towering trees. For a fuss-free way to get to and from Nami Island, book yourselves a flexible round trip transfer from Seoul – board the shuttle in central Seoul at 9.30am, have the rest of the day at leisure to explore, before departing Nami Island at 4pm. Even better, from now to 31 December 2017, book this transfer with Klook and enjoy an exclusive Shinsegae Duty Free Bonus Package on top of a shopping coupon worth KRW45,000 (~S$53).
Address:
1 Namisum-gil, Namsan-myeon, Chuncheon, Gangwon-do, South Korea

Nearest Train Station:
Take a shuttle bus from Gapyeong Station

Opening Hours:
7.30am-9.45pm daily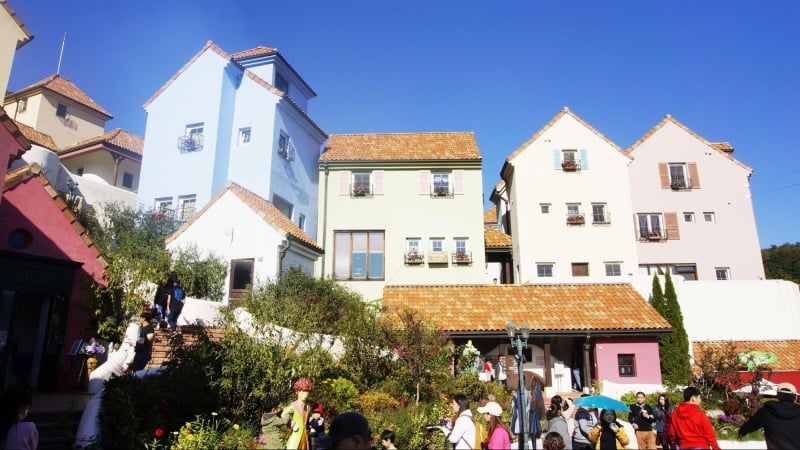 The last stop for the day is Petite France, a mini town that is modelled after a small town in France with many of its own unique charms. This 'town' was also featured in many dramas like 'My Love From the Star' and 'The Liar and His Lover'. Re-enact the romantic scenes with your lover, or walk around the town and see if you and your partner are able to find the many hidden museums around the set!
Address:
1063 Hoban-ro, Oeseo-myeon, Gapyeong-gun, Gyeonggi-do, South Korea

Nearest Train Station:
Take a taxi from ChungPyeong Station

Opening Hours:
7.30am-9.45pm daily
With so many places to visit, transportation can be rather tricky. Save yourself the research (and the hassle) with this day trip to Gapyeong – where everything will be settled for you. Choose between two-in-one or three-in-one combos, and tailor your romantic escapade just the way you like it!
Klook Pro-tip: If you are visiting in winter, be sure to dress extra warm because Nami Island does tend to get particularly windy.
Day 3: Daemyung Resort Vivaldi Park Ski World
To fully immerse yourself within a magical winter wonderland, make your way to Daemyung Resort Vivaldi Park Ski World, a resort located in the city's outskirts. This resort is extremely popular due to its close proximity to Seoul – it can be reached within eighty minutes, making for the perfect wintry day trip. In fact, the resort has been voted to be Korea's most visited ski resort for seven consecutive years!
Besides making matching snow angels and engaging in snowball fights, both of you can opt to try various winter sports like skiing, snowboarding or sledding. If you aren't confident of your skills, opt to go for a refresher ski lesson, or even have the chance to learn from scratch. Spend the morning and afternoon racing each other down the slopes, before heading back to Seoul! Sign yourselves up for multiple snow sled, ski or snowboard packages, as well as basic ski lessons, and use the promo code "TRIPZILLA5" to enjoy S$5 off your purchase.
How to get there:
The resort offers free shuttle buses, which departs from Hongdae (7.30am), Myeongdong (8am) and Gangnam City Air Terminal (8.30am) to reach the ski resort at 9.45am. For the return journey, the free shuttle buses depart Daemyung Resort Vivaldi Park Ski World at 6pm, and drop passengers off at Gangnam City Air Terminal (7.30pm), Myeongdong (8pm) and Hongdae (8.30pm). Make a reservation on their
official website
to guarantee a spot!
You can also opt to visit the ski resort on a combined day trip to Nami Island – should you be unable to get enough of the picturesque island. If, however, you prefer something with a little less adrenaline rush, you can still enjoy the winter vibes at the various ice-skating rinks in Seoul! Some popular ones are the Grand Hyatt Ice Rink and the rink at Seoul Arts Center.
Highlights:
✓Ranked on CNN's '50 Reasons Why Seoul is the World's Greatest City'
✓Explore a variety of saunas, baths, swimming pools and relaxation areas
When in Korea, do as the Koreans do! Back in Seoul, complete your day with a visit to the quintessential Korean bathhouses, also locally known as Jjimjilbang. Having been ingratiated into the Korean way of life, these bathhouses are popular weekend getaways for the Koreans. These bathhouses are segregated by gender, so you'll have to part with your significant other – if only just for a few hours!
If you're not sure where to begin, why don't you visit the Yongsan Dragon Hill Spa for a start! A charcoal sauna imbued with an oak fragrance that has been created by traditional heating techniques, this would be perfect for you to rest and rejuvenate after a long day. Have a go at the various sauna and bathing facilities from outdoor pools and baths to massages, scrubs and sleeping areas! Plus, you could even take a break at the amusement facilities and snack bars during your stay there.
Klook Pro-tip: Situated in a convenient location and paired with multiple transport links, the spa is an ideal place to spend a night before you travel to your next destination.
Address:
40, Hangang-daero 21na-gil, Yongsan-gu, Seoul

Nearest Train Station:
Exit 4 of Sinyongsan Station (Seoul Subway Line 4) or Exit 1 of Yongsan Station (Seoul Subway Line 1 & Jungang Line)
Day 4: Gangneung
Highlights:
✓ Escape the city and have a romantic trip to Gangneung
✓ Enjoy beautiful picturesque coastal scenery of the Korea's East Sea
Gangneung is a coastal city located on the eastern side of South Korea just 3 hours drive from Seoul,  and is known for its incredible sea view. For your fourth day in Korea, we strongly recommend exploring Gangneung on a day trip.
On the trip, delight in visiting the filming location of the recent Korean drama 'Goblin' at Jumunjin beach. Take this opportunity to re-enact the iconic scene from its drama poster with your other half – it's a once-in-a-lifetime opportunity!\
If you are the adventurous type, be sure to try the unique zip wire experience – where both of you can fly from one tower to another over the clear waters of Gangneung. Of course, this can be a rather chilly experience during winter, so do remember to layer up.
Back in Seoul, head up to the Observatory at the top of N Seoul Tower and be treated to a panoramic view of Seoul. At the same time, participate in the N Seoul Tower Cultural Hanbok Experience, where both of you can learn about life during the Joseon Dynasty, learn about the different kinds of hanbok, and even have your own couple hanbok photoshoot! Do note that last entry is at 7pm.
Address:
N Seoul Tower

Nearest Train Station:
Various ways to get here, see
here
for more information

Opening Hours:
10am-11pm, daily
Klook Pro-Tip: Whilst you're at N Seoul Tower, don't forget to lock your love for each other in with a padlock. Purchase your locks from any Daiso store in Seoul before heading up to save some money. The locks sold at the mountain are, as expected, very overpriced. Do not forget to bring a marker too if you want to mark the lock with your initials or names!
For a more budget-friendly dinner, head to Myeongdong and enjoy a galore of local street food instead. The street food stores in Myeongdong open from 7pm all the way to midnight so come down any time you are ready. Myeongdong is also chock full of cosmetic stores, many of which give out multiple free samples. Do bring a bag with you to carry all your loot!
Day 5: Seoul
Highlights:
✓Make your own couple ring as a souvenir from your sweet escape with your Seoulmate
✓Go on a hunt for cosmetic, clothes and souvenirs for your loved ones at home
✓ Dine at Café Kinnor, one of the most popular cafés in the Myeongdong district
Seoul is home to many unique themed cafés, and one of our personal favourites is the Ring Village Café where visitors are able to design and make their own couple rings! Purchasing rings are always an option too, but what can be more meaningful than personalising your own? Besides, these rings would make an awesome souvenir from your trip!
If you are not good with arts and crafts, fret not! There will be an instructor to teach and help you carry out the activity. Since there are limited tools and space in the cafe, it's definitely recommended to book a slot first before visiting.
Address:
South Korea, Seoul, Mapo-gu, 362-14, 3F 반지마을

Nearest Train Station:
Exit 1 or 2 of Sangsu Station (Seoul Subway Line 6)

Opening Hours:
10am-8pm daily
While you are in the area, why not explore the lively and youthful Hongik University Area? Besides the many themed cafes like the one you just visited, get the best deals for the trendiest clothings in Korea right here.
To top if all off, there's always room for dessert! Enjoy some delicious Korean ice flake desserts, pancakes or even an American brunch set at Café Kinnor, located right in the heart of Myeongdong. Opened from 8:00am to 11:00pm daily, head there at any time of the day to satisfy your cravings.
Klook Pro-Tip: If you have a late flight, time your visit after dusk, where lots of student buskers take to the streets to showcase their talents.
Hongik University Area
Nearest Train Station:
Exit 9 of Hongik University Station (Subway Line 2)

Myeongdong
Nearest Train Station:
Take Exit 7 or 8 of Myeongdong Station (Subway Line 4)
Bet your next romantic Korea getaway just can't come soon enough! We know that travelling on a budget isn't easy, so take your pick from a wide variety of activities with Klook – with discounts of up to 60%! Don't forget to use the promo code "TZKLOOK5" upon checkout to get US$5 (~S$6.50) off your bookings. Do take note that this is valid for first-time Klook users only! If you're not sure which activity is for you, simply browse through 600,000+ user reviews to get an accurate gauge. There's bound to be something for everyone!
Besides, booking with Klook guarantees you the lowest prices in the market. Find something cheaper? Just let them know and they'll refund you the difference. Besides, with booking confirmations sent seamlessly to your mobile phones, you can cut through all the noise and booking hassle, and simply focus on creating priceless memories with your other half. Quit settling for the usual dinner and movie date, and take it up a notch with a romantic getaway. Both of you can thank us later!
---
Brought to you by Klook.