While holidays are what most of us look forward to during hectic periods, the worst thing that comes along with them is the inevitable planning process. Not only is budget often an issue, the hassle of camping on various airline and hotel sites for days in a row can be a pain if you're dead set on getting a good deal. Sure, some might end up just winging it, but when you have anxious parents on your back or fussy traveller friends, outlining minimal plans is just not an option.

How can you avoid making a nightmare out of your pre-holiday planning? That's where KAYAK Singapore comes in. If you haven't heard of KAYAK, it is essentially your nifty all-in-one travel price comparison and planning tool that helps you sift through other travel sites for the best travel deals!

It doesn't matter what kind of traveller you are, we could all use a little help. Here's how KAYAK can turn your pre-holiday ordeals into child's play. Download the app now to give it a try.
1. You can compare flight, hotel, packages and car prices all at once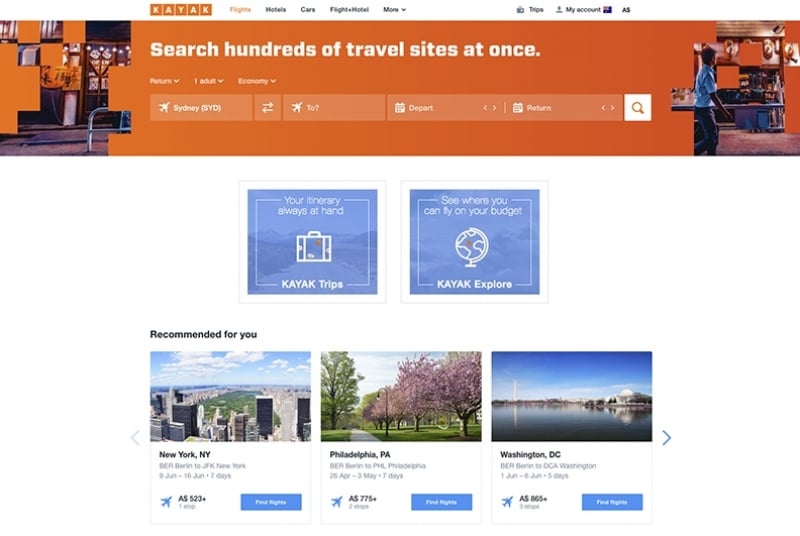 Instead of opening so many browsers at once to compare prices, this tool alone lets you compare hundreds of travel websites at once. Whether you're looking for good deals on flights, hotels, holiday packages or car rentals, you get to make a fair price comparison before you hit the purchase button. Have a loyalty programme with a certain travel website, airline or hotel provider? No problem! KAYAK lets you search and compare all of them at one-go before you select your favourite.
2. Take advantage of the Price Forecast and Price Alerts tools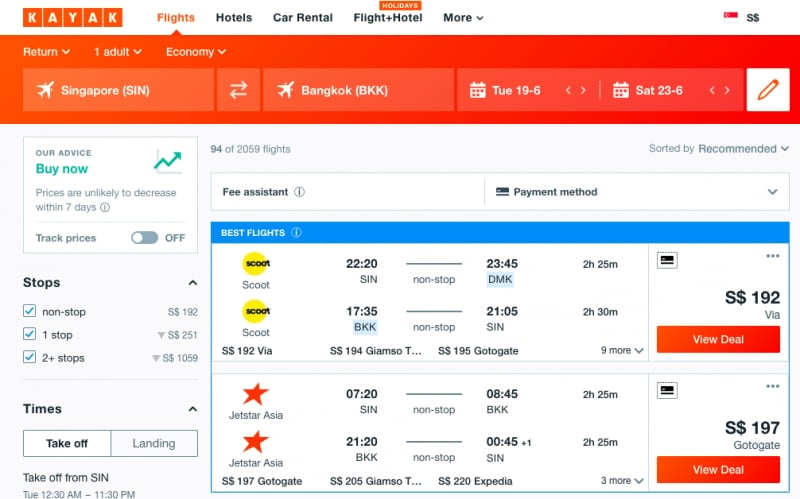 What if we told you there was a better way to track prices on flights and hotels than repeating the same search every day? KAYAK's Price Forecast will give you advice on whether to 'Buy Now' or 'Watch'.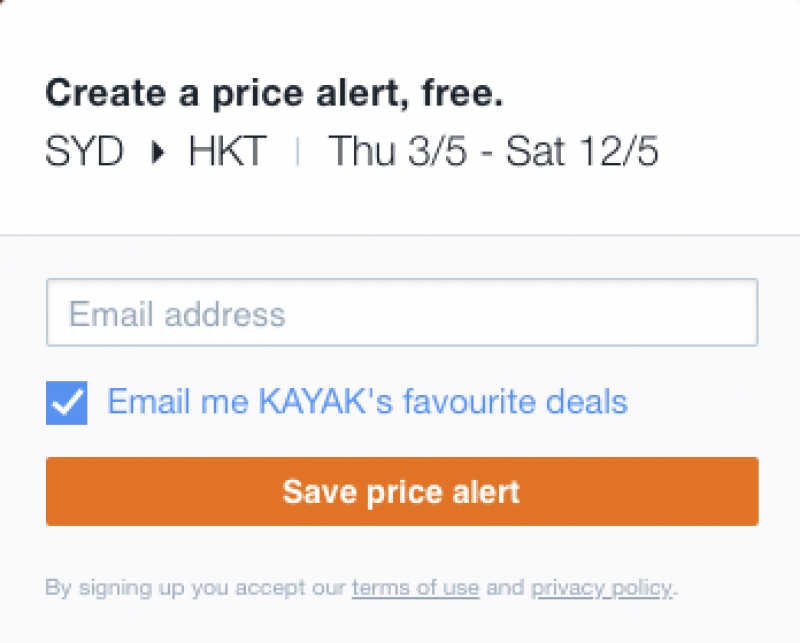 We all love monitoring prices to strike when the time is right. To save you time, KAYAK's Price Alerts function will send you a notification as soon as the price drops or increases. If a cheap flight is more important to you than your travel dates, set up a Flexible Flight Price Alert.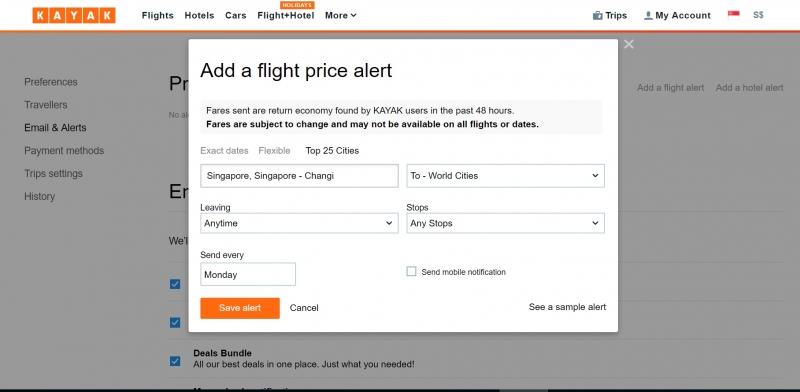 If you prefer Price Alerts to the most popular cities worldwide instead, select the 'Top 25 cities' option. This is often a win for long-haul flights, which regularly have huge fluctuations in prices.
3. Your bookings will all be organised into an itinerary for you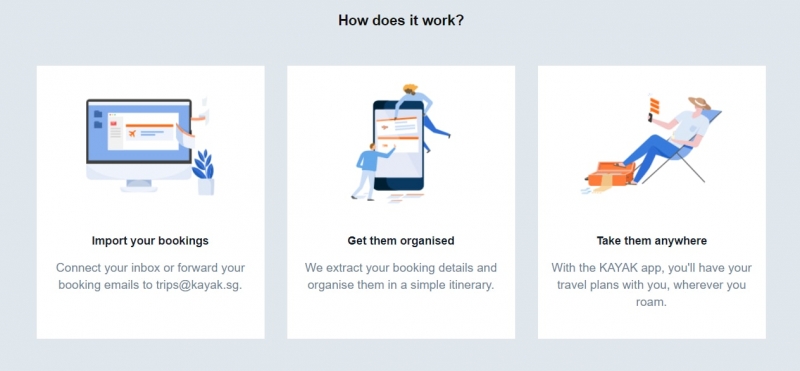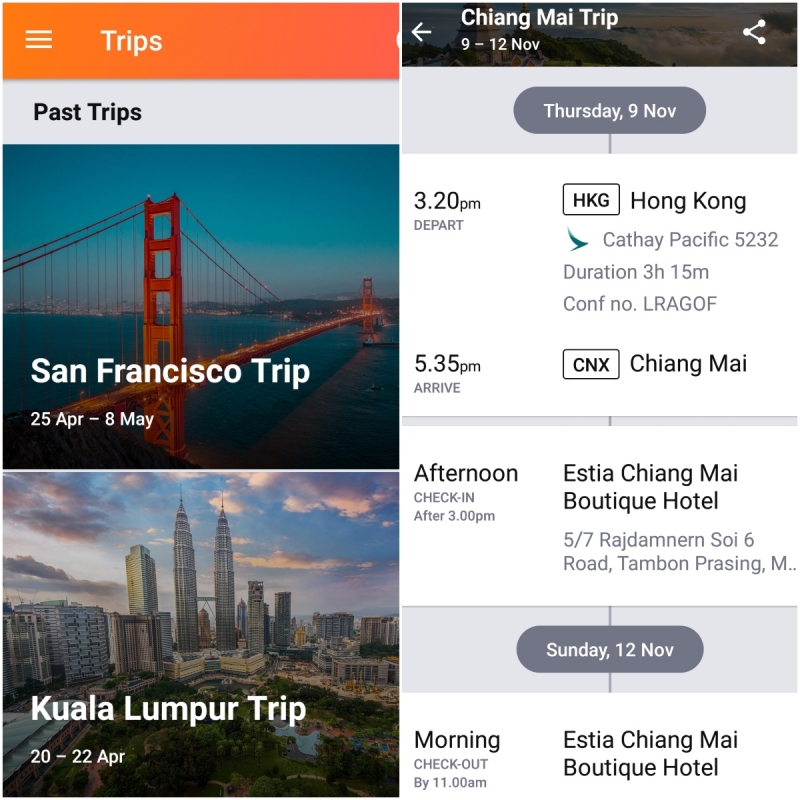 This one's for the disorganized! Ditch those pesky receipts that always seem to go missing when you need them most and let KAYAK Trips take care of them by keeping them neatly organised in an itinerary. Trips can be used easily by syncing your email address with the app. In addition to real-time updates on your check-ins, flight statuses, and gate changes, and which luggage carousel your bags are on the moment your flight lands, your KAYAK itinerary can be easily shared and collaborated upon with your loved ones and be accessed anytime, anywhere — even without an internet connection.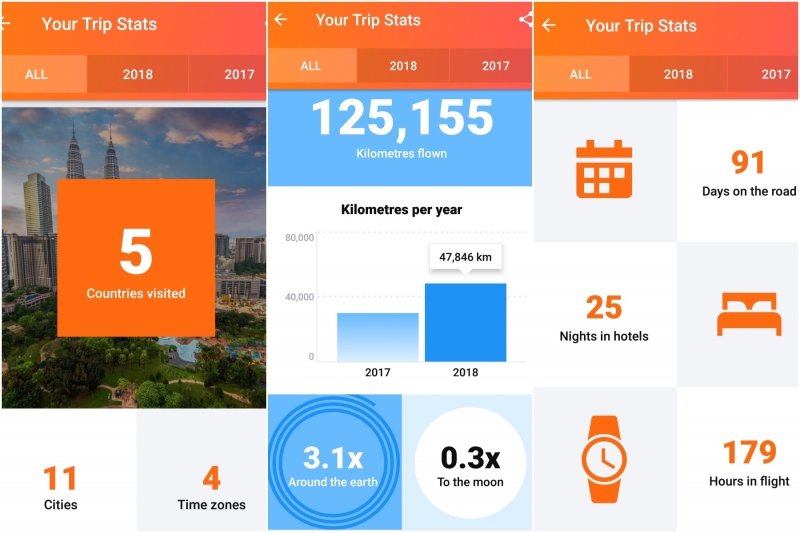 It even has interesting statistics about your past trips, such as how many times you've flown around the earth, the time zones you've crossed, nights spent in a hotel room and so forth. How awesome is that?
4. Get the best flight, hotel and car choices with useful search filters
Have we mentioned KAYAK's incredibly-detailed search engine and filter functions? For flights, use the Flexible Date Option to find the cheapest times to fly. The flexibility to travel on another day can result in dramatically lower fares. The Fee Calculator also lets you see the final flight prices based on your payment method. This is to avoid any nasty surprises with hidden fees!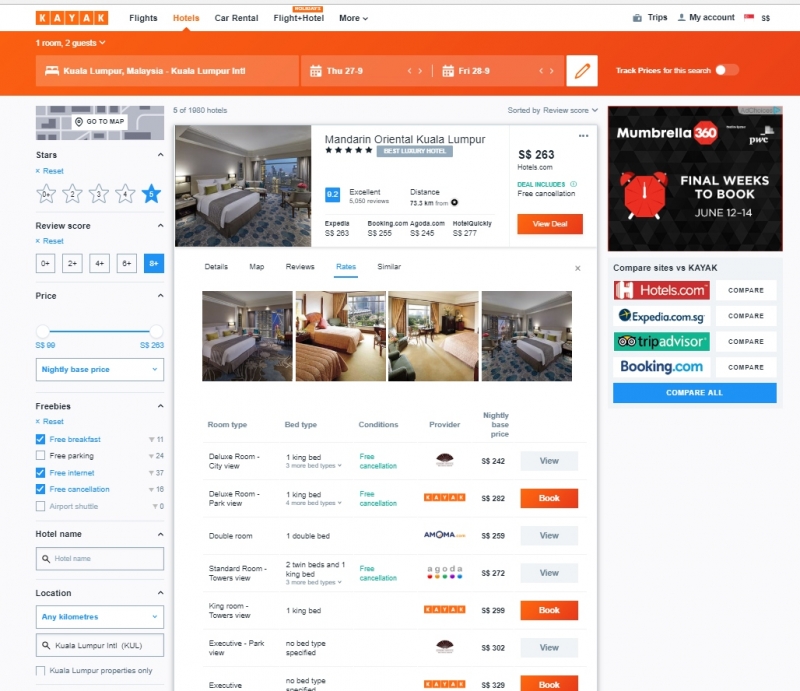 For hotels, start off with custom filters related to star ratings and verified reviews to narrow down your search according to your preferred travel lifestyle and expectations. For those on a strict budget, the drop-down menu features an option to break down the full costs of a particular establishment to ensure that you don't get caught out with sneaky fees and undetected taxes.
Do your ears perk up at the sound of freebies? Don't shortchange yourself and utilize those handy filters to reveal the best hotels that feature free breakfasts, WiFi and parking. Make the location and neighbourhood filters your best friends!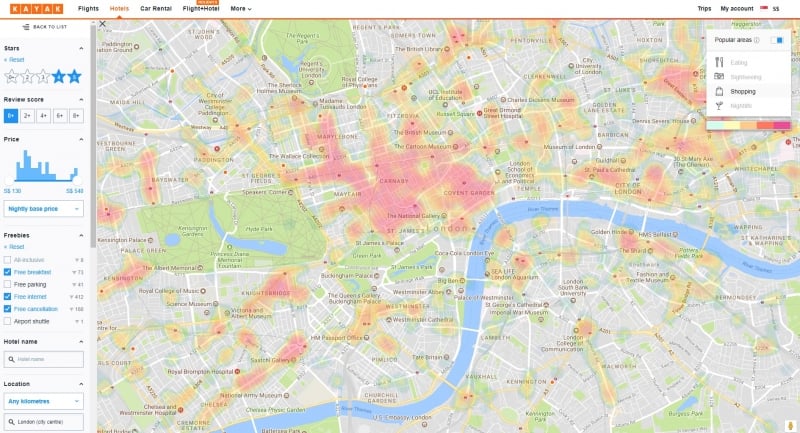 That's not all — the highlight of the entire engine has to be KAYAK's Heat Map. This interactive map shows all available hotels in your city, matched to any previous filters that you might have added. Simply select from a list of interests such as eating or sightseeing, and explore in awe at the response map that highlights the most popular places related to your choice through a heat imprint. Now you don't have to waste time searching around for hot spots in your area!
5. Take your pick & save with cheap flight + hotel bundle packages and car rentals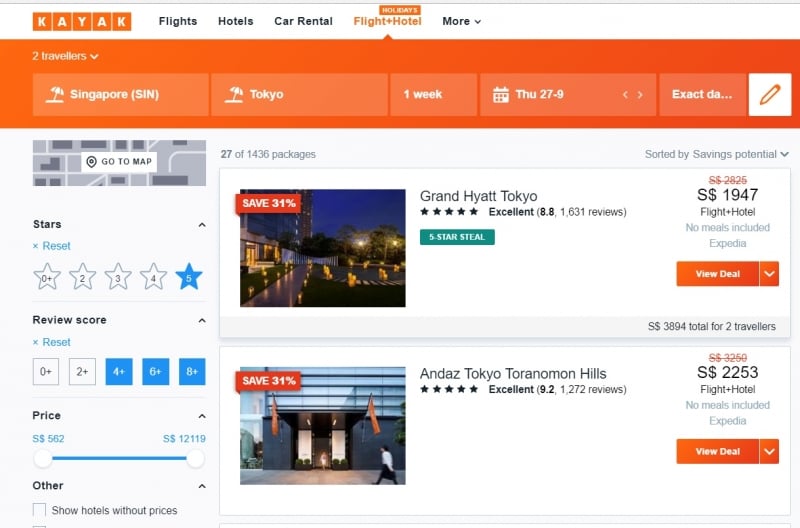 In addition to being a superb time-saver, browsing through KAYAK's flight + hotel packages could land you hefty discounts. Take your time to filter through the system for your needs and prepare to be wowed by the luxuries you can enjoy for unbeatable prices.
If you can book your flights and accommodations under one roof, there's no reason why you can't do the same with transportation as well. Instead of meandering through tons of websites (sometimes in a completely different language!), save yourselves the trouble and browse through hundreds of choices through KAYAK's Car Rental feature. As always, KAYAK offers a wide variety of filters to pick the rental service that best fits your needs, such as airport pickups, car type and car capacity.
6. You get to choose your destination by budget or by random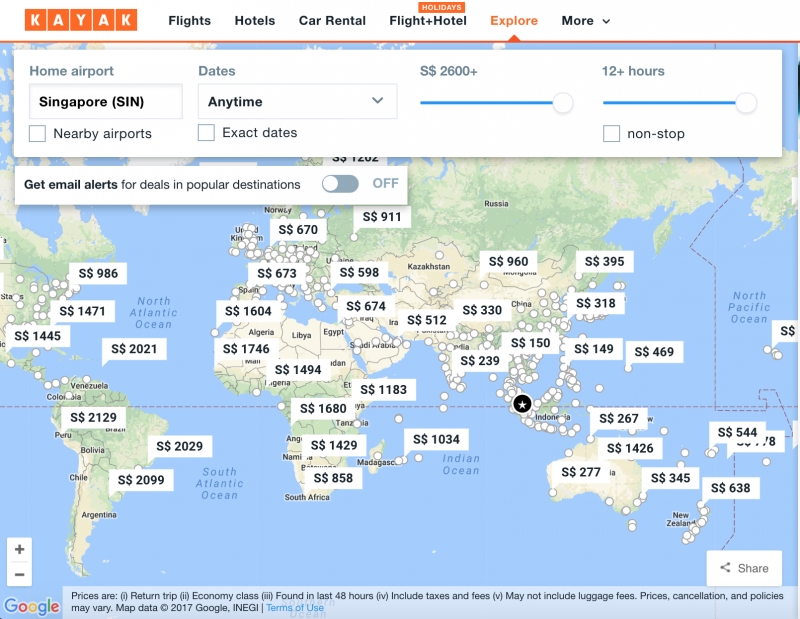 It's all fine and dandy if you've got a plan and know where you're about to scoot off to, but what if you're desperate for a getaway right this instant and have no idea where to go or what to do? Simply squeezing your eyes shut and pointing to a random spot on the globe isn't going to do your wallet any favours. Why not take advantage of KAYAK's versatile booking options, where you can select a destination based on your budget?
If you're flexible on when to fly, KAYAK's search functions include one that allows you to browse for flights by seasons so that you can take advantage of the best deals possible. Of course, if you're feeling adventurous and want to leave things up to fate, you're free to select the random option on KAYAK as well — just keep shuffling through until you find somewhere you want to go.
7. You get to choose your destination based on your interests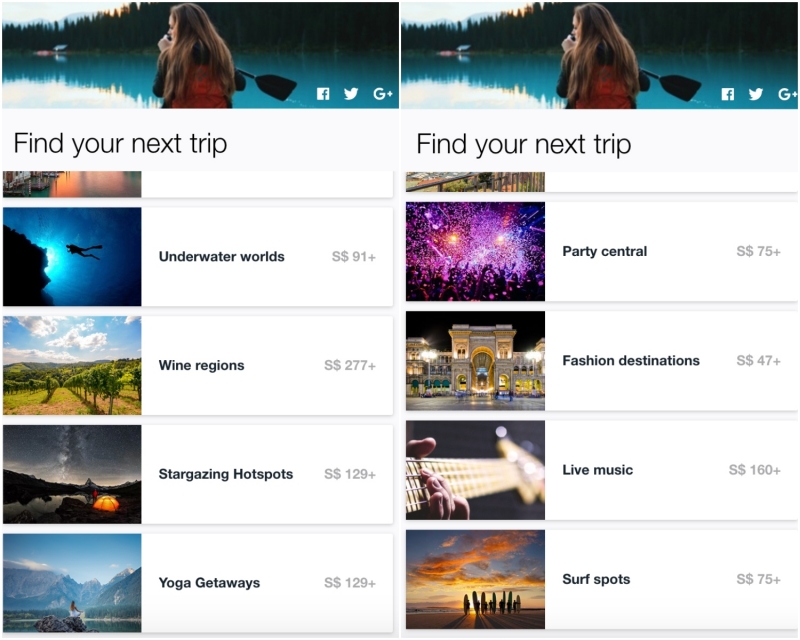 Exotic countries and dirt-cheap flight tickets, we see you — but sometimes we've got zero clue on what to do in so many of these holiday destinations, and not enough motivation to do the necessary research. Yet no one wants to drop a bomb on air tickets and accommodation to a destination that turns out to be popular for activities not quite to our liking.
That's where KAYAK steps in to do the work for all you indecisive or lazy travellers. Do you like the great outdoors? Are you a party animal? Or do you want to shop till you drop? You can easily find your next trip using KAYAK's multitude of search functions with as little as your vacation objectives in mind! For example, if you're lusting after some waves, a good tan and hot sand, click on categories such as 'Surf Spots' or 'Amazing Beaches' to be led to an exciting list of suggestions from any location around the world!
8. Get inspired with travel ideas, secret hacks for cheap flights and staycation deals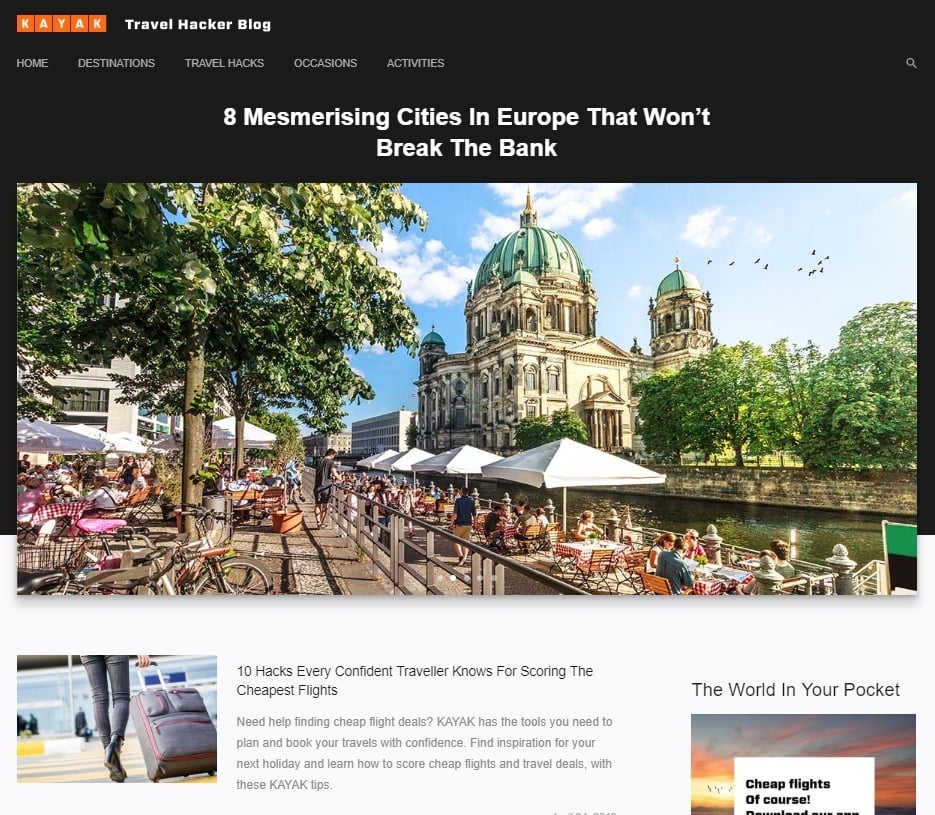 In case we don't have what you're looking for, did you know that you can also hop on to KAYAK's Travel Hacker Blog and browse through their bonanza of fascinating articles filled with travel ideas and little-known tricks to secure that cheap flight or best times to book that much-awaited holiday?
Browse from contributions like Grape Expectations: Tickle Your Taste Buds With These Top 5 Australian Tipples to Greece is the word! 7 Incredible (Secret) Greek Islands Only Known To The Locals; you'll never know where your next adventure might be.
9. Browse through their variety of comprehensive travel guides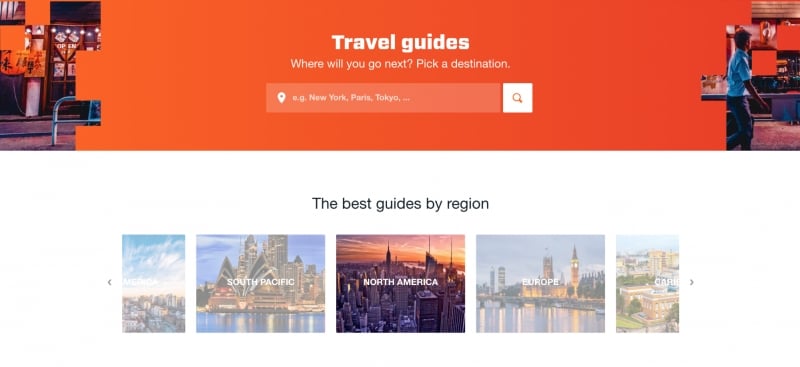 You have your heart set on New York, but you're not ready to make a final decision. Why not help yourself by collating some background information regarding your target destination?
With KAYAK's exhaustive array of Travel Guides organised by region, you can say goodbye to sieving through dubious guides on a certain destination just to find one decently-written piece. In just a few minutes, you can uncover not just the basic information but advice on when to book based on years of data and millions of searches, and local costs of living!
10. Plan and manage your travel on the go with KAYAK's very own mobile app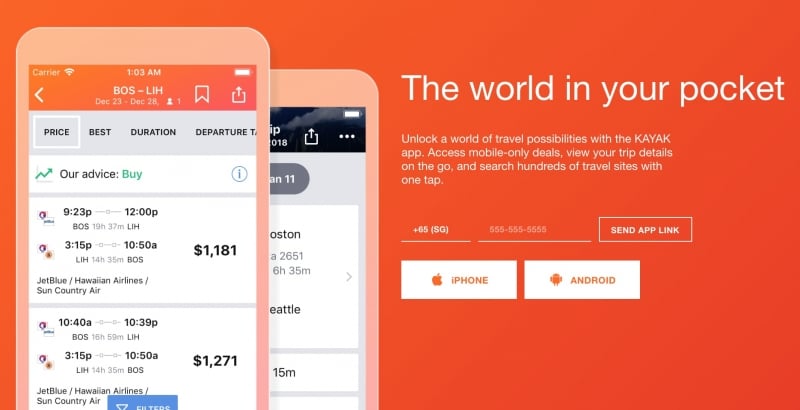 As if all these perks weren't enough to impress you, KAYAK also has its own Mobile App! Downloading the app gives you access to exclusive mobile-only deals, which can help stretch your dollar even further. It's just so convenient when you're on the go — things load a whole lot faster, especially when you're poking around their heat map interfaces or choosing a holiday destination based on budget.
With KAYAK as a one-stop service for all your travel booking and inspiration needs, you can forgo the hassle of toggling between multiple hotel, airline and travel research tabs. All that hair-pulling for your pre-holiday woes will come to an end with KAYAK. With flight+hotel packages, user-friendly filter options and more, your trip planning will be an absolute breeze. Seasoned travellers and newbies alike, it's time to get on board with KAYAK!
---
Brought to you by KAYAK Singapore.