Ah, Japan — everyone's favourite destination! Don't believe us? Just scroll down your Instagram feed each holiday season and your timeline will be completely flooded with everything Japanese. The country is clearly a fan favourite, and for good reason too; from sprawling technicolour landscapes to buzzing urban jungles punctuated by quaint countryside towns serving sensational sushi… Really, what's not to like!
But as the saying goes, too much of anything is good for nothing. After you've sat through one Disneyland ride too many or taken photos of the Fushimi-Inari shrine's iconic orange gates from all possible angle, you may think that meh, Japan? Done and dusted.
However, you can't be more WRONG! In fact, you're only just scraping the tip of the iceberg. Delve beyond your commonplace attractions, and discover these unconventionally amazing experiences Japan has to offer.
 1. Visit a wasabi farm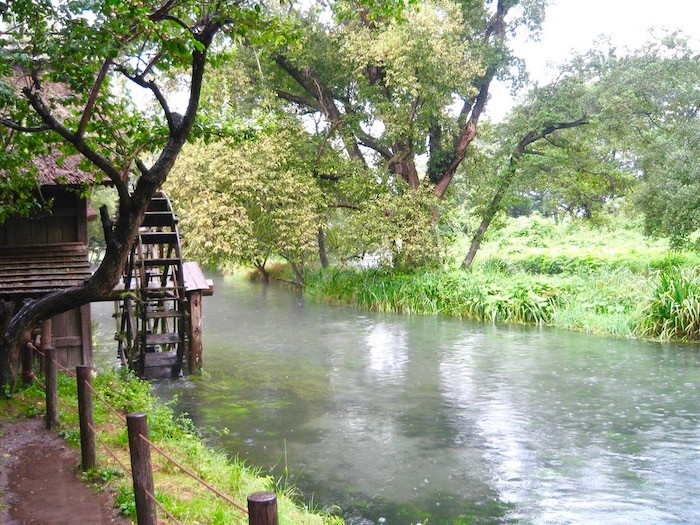 Image Credit: Vera46
Everyone loves the spicy goodness of wasabi, but we bet that most people are not aware of how the condiment is even manufactured. Bring out the curious traveller in you and explore how Japan's favourite dip is made by paying a visit to a wasabi farm! Walk through idyllic trails along Daio Wasabi Farm and learn about the meticulous process behind its cultivation. Thereafter, test your limits with some crazy food like wasabi beer and ice cream!
2. Feast your eyes on a towering snow wall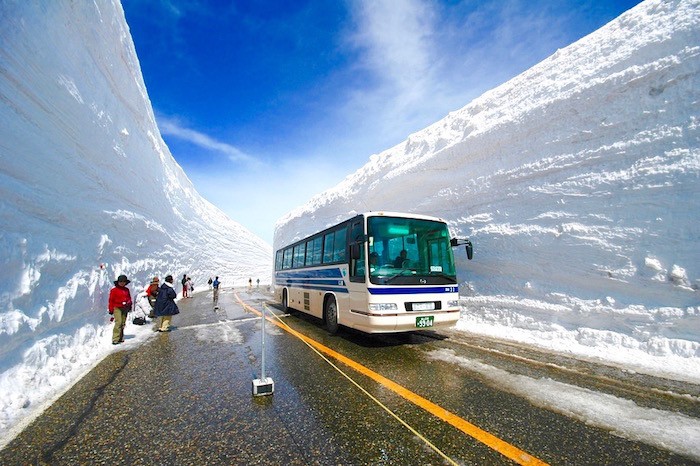 Image Credit: Pietro Zanarini
Teleport yourself to a seemingly otherworldly setting at Mt. Norikura, where you can feast your eyes on the staggering Norikura Snow Wall which goes up to almost 10m high! This was something that we never thought we'd find in Japan, and we spent the afternoon taking photos of the icy abyss or simply strolling along the snow wall. Angle your photos properly, and you may even manage to trick your gullible friends into thinking that you were off vacationing in some far off Nordic country.
Getting to the Norikura Snow Wall can be tough. You need to take a bus, then a train and to top it all off, you have to take a really long walk to reach the wall. By the time you get there, you'll probably be too exhausted to even take in the magnificent sight in all its splendour.
Why not cut short all that hassle and journey to the snow wall in air-conditioned comfort? With JTB Singapore's 8D5N Purely Japan in Sado Island Central Japan package, save yourself the transportation headache and just sit back and relax. You'll even be served a bento lunch box on the way up!
3. Visit quaint old towns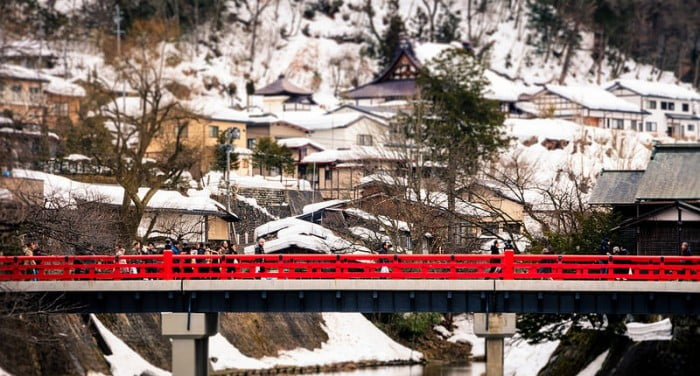 Image Credit: Reginald Pentinio
On your next trip to Japan, we recommend that you venture out from and take a breather from the stuffy urban jungles. Don't get us wrong, concrete giant cities like Tokyo and Osaka are still amazing but there's just so much to discover in Japan! With their neat rows of cosy houses, historic towns like Takayama and Shirakawa-go in the Gifu Prefecture retain their rustic rural elements and are beautifully picturesque places to visit.
4. Float in a Tub Boat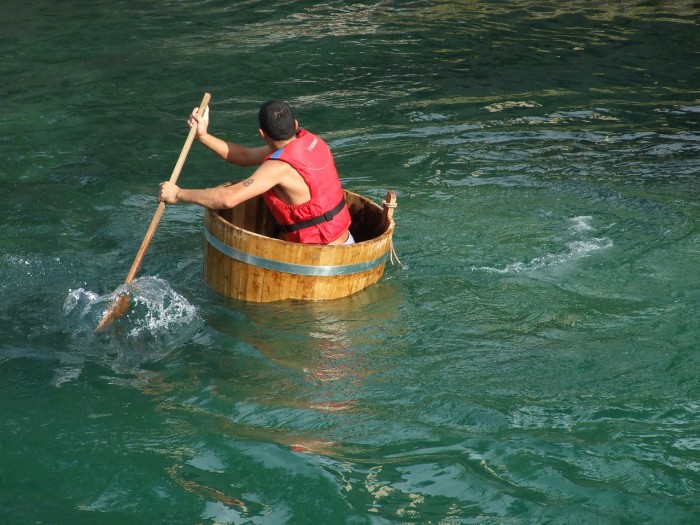 Image Credit: Domenico Mattei
How cute are these tub boats! Tub boats, or Tarai Bune, have been traditionally used as laundry tubs but are now used in the local fishing industry as modes of transport. The tubs are incredibly stable and easily maneuverable; imagine how romantic it will be to float through snowy landscapes on one of these! For a mere 200 yen, you can even try your hand at rowing it through the gentle waters of Sado in the Niigata Prefecture to receive your full-fledged Tarai Bune pilot license.
5. Admire the cherry blossoms from a sakura train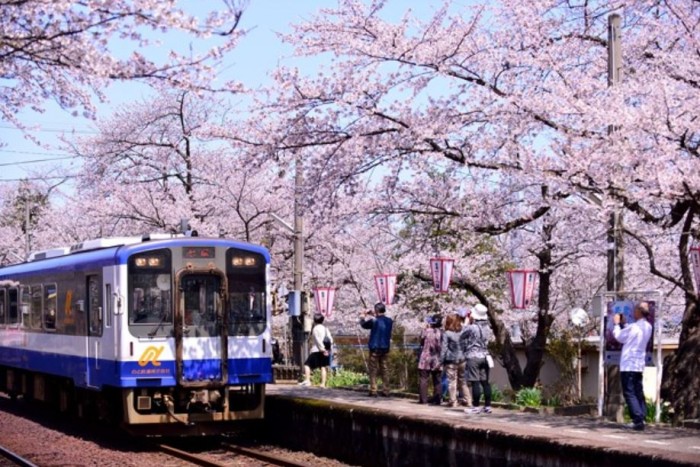 Image Credit: か~ず
Japan's cherry blossoms attract flocks of eager tourists each year, unfortunately resulting in any photos being filled with tons of wandering photobombers. Why not avoid all that and hitch a ride on the Noto Satoyama Sakura Train for an unobstructed view of the blossoms? Come Spring, Ishikawa Prefecture's Noto Kashima Station becomes 'Sakura Station'. Hop onto the train for a refreshing sakura sojourn; blooming sakura flowers shroud the train throughout the journey, creating a magnificent champagne-pink filtered tunnel!
6. Have a gold leaf making experience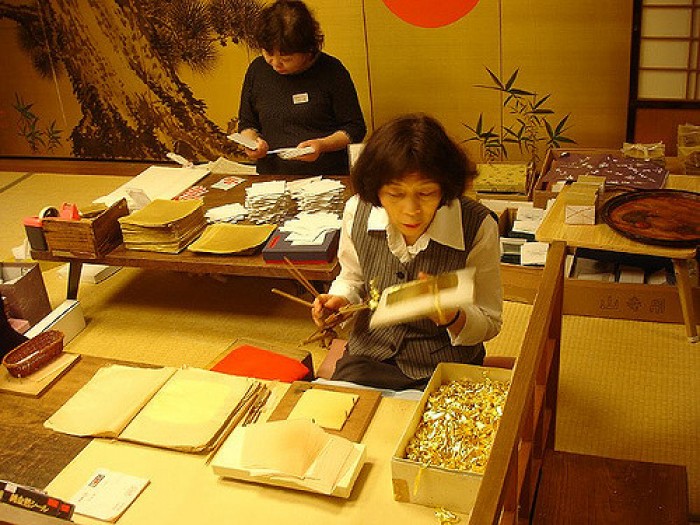 Image Credit: David Lisbona
Gold leaves were a shimmering representation of power for great Japanese rulers back in traditional times. As a result, many of Japan's resplendent shrines and castles are plastered with gold leaf ornaments! Have a taste of regal life and experience making your own gold leaf in Kanazawa, which manufactures 90% of Japan's gold leaf products.
Kanazawa is known for having all of Kyoto's charm, but without the crowds. On your trip to this darling city, make sure to visit Higashi Chaya Street – a quaint district filled with rustic teahouses – and Kenrokuen, one of Japan's three most beautiful gardens. To make the most of your time, embark on JTB Singapore's
9D6N Central Japan Noto Peninsula Spring Flower & Discovery
package where you'll get to discover Kanazawa's main attractions and more!
7. Try your hand at baking Japanese rice crackers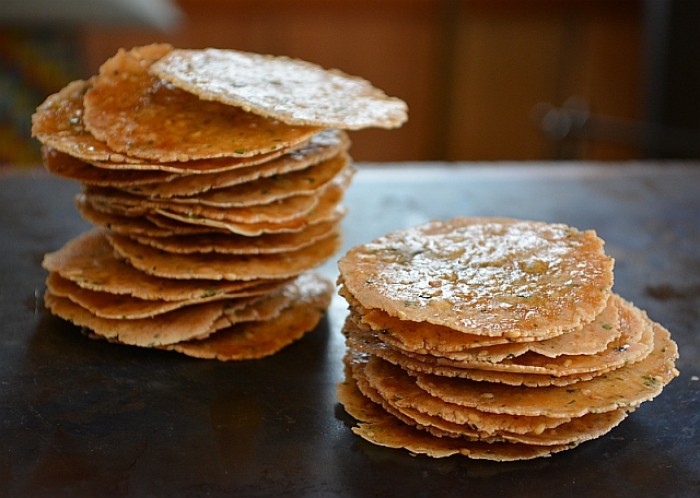 Image Credit: Andrea Nguyen
Japanese rice crackers are a yummy fan-favourite souvenir to pack home. Golden, crunchy on the outside and seasoned with an array of flavourful spices, Japanese rice crackers definitely beat your regular crisps – hands down! Since we bet that everyone has tried this snack on more than one occasion, why not go a step further and try baking them. Plus, the process will also be a whole lot of fun!
8. Mine for your own gold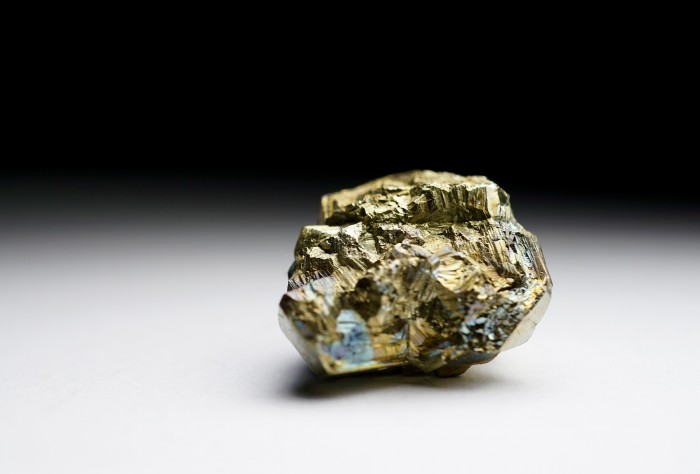 Image Credit: Florian Pircher
Don't miss this golden opportunity to strike a pot of gold at Nishimikawa Gold Park. Continue on in your journey through Sado to what is said to be the region's oldest gold dust mine! Trawl through piles of sand in hopes of finding as many flecks of gold as you can within an hour. You can even take a look at various gold artifacts and purchase some shimmering souvenirs.
9. Make your own soba and have it for lunch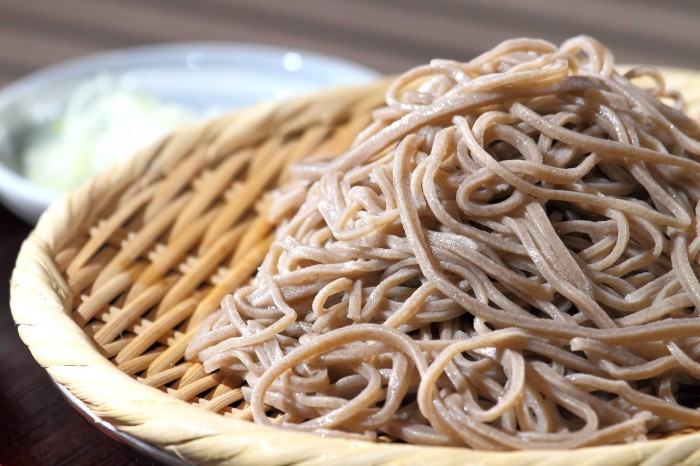 Image Credit: K2-Kaji
We're pretty sure you love chowing down cha soba just as much as we do. This japanese dish is easy to eat, but embark on a soba noodle-making experience and find out whether it's as easy to make! During the hour-long class, learn to create a dough with correct consistency, roll and slice it into thin noodle strips using a special knife… it's definitely not as easy as it all sounds. Dig into your own creation for lunch after. Soba you up for the challenge?
10. View stunning flower panoramas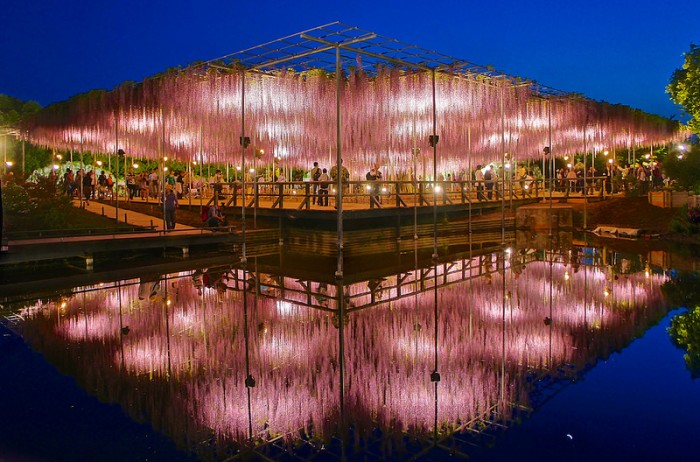 Image Credit: Manish Prabhune
Marvel at the sprawling flowery spectacles in many of Japan's gardens, but Ashikaga Flower Park has to be our favourite of the lot. The park has been voted by CNN to be one of 2014's nine dream locations, and is where you can stroll through rows of flowering wisteria blossoms. Watch as the feather-light petals cascade to the ground – it's literally like a fairytale come true.  
So the next time you visit Japan, ditch the usual Mt. Fuji and Hokkaido kaleidoscope and make a beeline for these novel experiences instead. Only when you take the road less travelled will you discover more! If you wish to try all of the above and more, we've got just the thing for you:
[DEAL ALERT] DISCOVER CENTRAL JAPAN WITH JTB SINGAPORE
These two packages with JTB Singapore – 8D5N Purely Japan in Sado Island Central Japan and 9D6N Central Japan Noto Peninsula Spring Flower & Discovery – have left us pretty much spoilt for choice. Which to choose, however?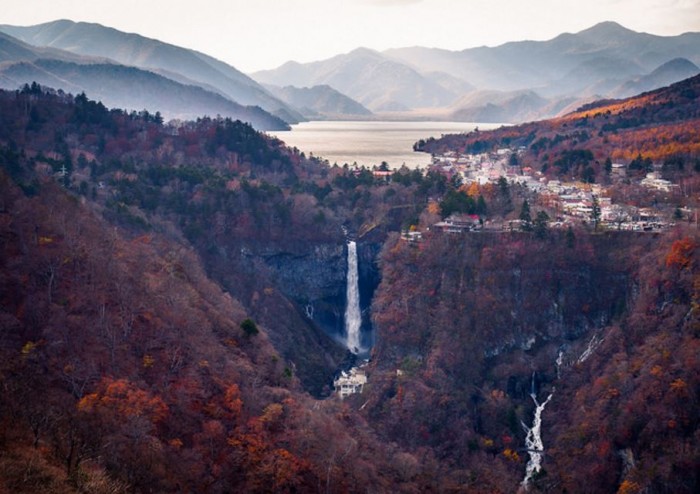 Image credit: Reginald Pentinio
On the 8D5N Purely Japan in Sado Island Central Japan tour, you'll get to experience Japanese rice cracker baking, viewing of the Kanzo water lily, the Taraibune Tub Boat, mining for gold at the Nishimikawa Gold Park, Daio Wasabi Park and the Norikura Snow Wall. On top of all those, you'll also get to visit Nikko (a UNESCO World Heritage site), the Kinugawa Onsen hot spring town, Tsuruga Castle and more!
On the 9D6N Central Japan Noto Peninsula Spring Flower & Discovery, you'll get to ride on the Noto Satoyama Sakura Train, visit Kanazawa (Higashi Chaya Street, Kenroku-en, Kanazawa Castle Park and Japanese Gold Leaf Making), the quiet mountain villages of Shirakawa-go and Takayama as well as Ashikaga Flower Park. Plus, you'll also get to visit Shirayone Senmaida (a national scenic spot), Kamikochi (the crown jewel of the Japanese Alps) and the Hill of Golden Acacia flower park.
Pick either package depending on your preference! However, be rest assured that whichever you choose, you'll be in good hands.
What are you waiting for? Start planning your trip with JTB Singapore today!
---
Brought to you by JTB Singapore.