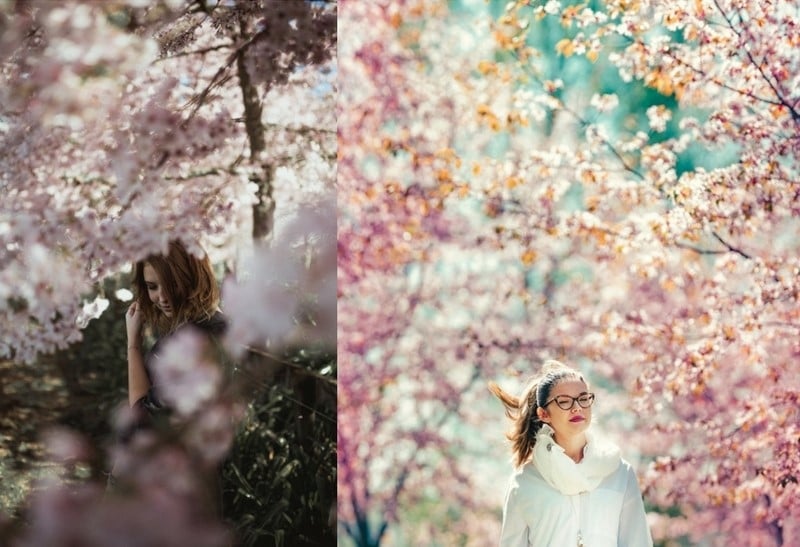 Easily said to be one of the world's most intriguing countries, Japan is brimming with patterns, colours and art. From lush flora fields and rustic traditional monuments to the magnificent Mount Fuji, this destination is simply made to be photographed. And what a better season than spring to bring out the inner Insta-holic in you and capture the natural grandeur of Japan? Get clicking and score some unique shots at these 8 specially curated spots in Japan that are guaranteed to give your Instagram profile a complete makeover.
Tip: Bring extra memory cards and battery packs – you'll need them!
Spring is finally here! Get the best of what Japan has to offer this season by checking out JTB's
7D6N Spring Flowers and Onsen Indulgence Tour
.
Choose to depart on 18, 19 or 20 April and look forward to viewing spectacular sceneries. You'll even get to indulge in novel experiences such as fruit picking and music box making!
Ready to make all your Insta followers jealous? Leave the planning to the experts, charge your cameras and book your tour with JTB now!
1. Hitachi Seaside Park
One of the most breathtaking natural displays takes place on the famous seaside Miharashi Hill located with Hitachi Seaside Park. When spring comes around, as many as 4.5 million nemophila flowers paint the rolling Miharashi-no-oka hill a bright blue, the colours of which blend seamlessly into the sky.

The Hitachi Seaside Park is Ibaraki Prefecture's horticultural highlight and poster attraction.  It is located on the Pacific Ocean side of the Japanese coast and offers a unique natural environment of sand dunes, grasslands and flower hills. The park is also home to numerous walking and cycling trails, as well as an amusement park.
Although the nemophila – colloquially known as baby blue eyes –  are the park's iconic flowers, a huge array of other seasonal flowers also bloom all year round. In autumn, the hill, which is covered by green Kokia bushes, slowly turns red as the weather cools off. These dramatic autumnal colours are best viewed from early to mid-October.
2. Ashikaga Flower Park (Great Wisteria Festival)

The JTB's Spring Flowers and Onsen Indulgence Tour departs on either 18, 19 or 20 April, which is just in time for you to catch the Great Wisteria Festival which is happening from 18 April to 20 May! One of the top places to view wisterias is at the Ashikaga Flower Park, located in Tochigi Prefecture. The Ashikaga Flower Park boasts a month-long visual spectacle of beautiful wisteria blooms. From blue, purple and pink to white and yellow, you're in for an enchanting and colourful treat!
In addition, don't miss the rare opportunity to take in the beauty of a 143-year-old wisteria tree, which is Ashikaga park's pride and joy! The tree is so huge that its canopy needs 1000 square metres of trellis support! Be ready to be stunned by large wisteria vines and a unique 80 metre-long tunnel of white fuji flowers that'll give you the illusion of walking under wisps of clouds.
The gnarled branches contrasted with whimsical, luxuriant blossoms hanging above you definitely makes for a unique photo opportunity! When night falls, the lighted up canopy of wisteria racemes will indeed be a sight to behold. For movie buffs, this scene is somewhat reminiscent of Avatar's Tree of Souls!
There are also numerous other floral attractions throughout the year: from mid-May to early June, feast your eyes on Roses, Rhododendron and Clematis at the park's Rainbow Garden. From early June to early July, enjoy the beauty of the bi-colour landscape formed by the Iris, Hydrangea and the late-blooming Clematis.
3. Suwa Takashima Castle
Did you know that the Suwa Takashima Castle is also known as Suwa's Floating Fortress? This castle in Nagano Prefecture was built by Lord Hineno in 1592 and is the highest elevated castle in Japan. It was originally built on a peninsula extending into Lake Suwa, with the lake forming parts of the moats. Hence, it is said that it looked as if it floated on the water of the lake!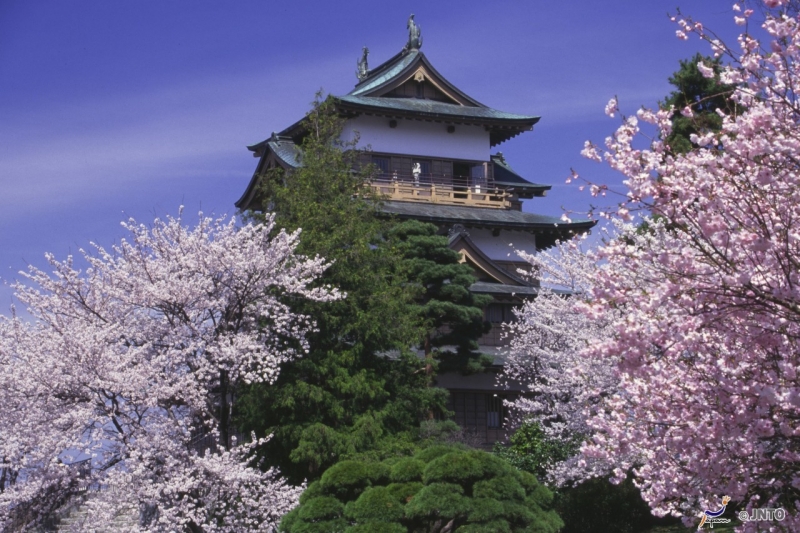 Although the castle was partly destroyed during the Meiji era, it was later reconstructed in the 1970s. The first two floors of the castle host a museum of exhibits related to the Suwa area, and the third floor serves as an observation deck to view the surroundings.
The Takashima Castle offers many spots with scenic views for photo-taking opportunities. Wear your own Kimonos or Yukatas and live out your royal fantasies as you strut some poses! A park is also set up within the premises for visitors to revel in the charm of the attraction. The castle will be in its full splendour every spring with a sea of cherry blossoms in full bloom.
Not a fan of tour packages? Here are 6 compelling reasons why JTB will change your mind:
Well-paced itinerary

Small group size

Trilingual guide

Authentic experiences

Premium hotel/onsen selection
Convinced already? Create perfect moments always with JTB's quality tours today and thank us later!
4. Lake Motosuko (Fuji Shibazakura Festival)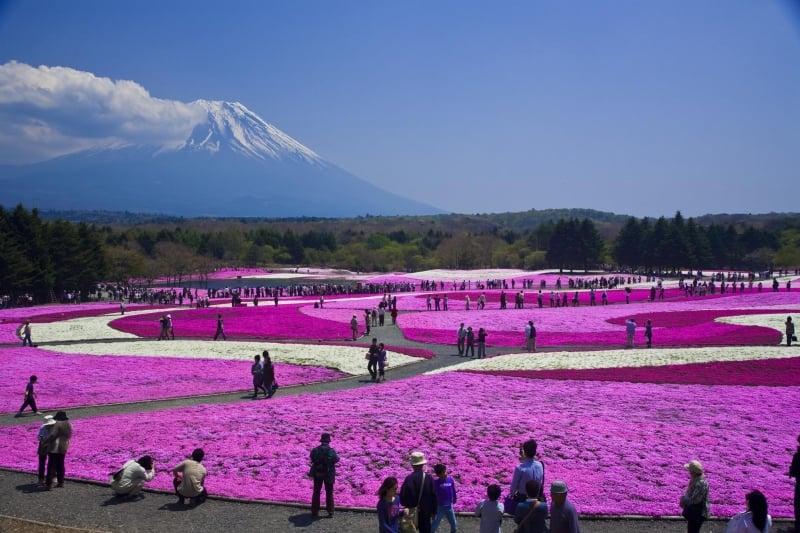 Shibazakura, or pink moss/phlox moss, is one of the most popular spring flowers in Japan. In fact, there is a whole festival dedicated to it! The Fuji Shibazakura Festival, which happens at a site located 3-kilometres away from Lake Motosuko in the Fuji Five Lakes area. A popular and exciting event in spring, the festival is indeed Mother Nature's fashion show!
This spectacle of nature typically happens from mid-April to early June. A staggering number of almost 800,000 stalks of Shibazakura of five different types can be viewed, creating a magnificent, colourful carpet of varying shades of pink, purple and white.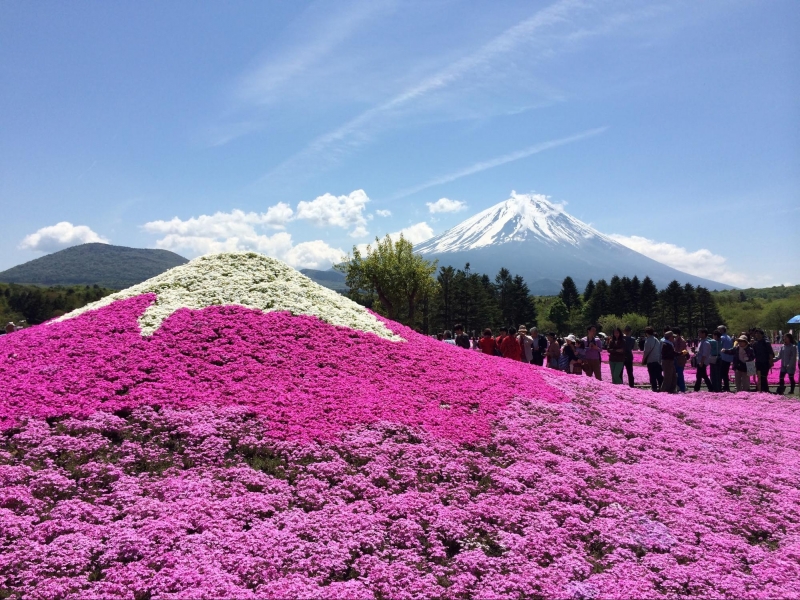 On clear days, be greeted with breathtaking views of the vibrant Shibazakura fields of shibazakura, contrasted with azure blue skies against the backdrop of Mount Fuji. There will certainly not be any spot in the vicinity that is NOT Insta-worthy! Be sure to keep your camera handy and do visit earlier in the day to avoid the crowds!
Tired from all the photo-taking? Fret not, there'll be a food festival site nearby offering scrumptious local street food and drinks to fuel your photoshoot.
5. Oshino Hakkai (Sakura Viewing)
Cherry blossom trees in full bloom, a serene river and a picturesque bridge with the magnificent Mount Fuji in the background. Sounds like that 10/10 Instagram post, doesn't it?
A quaint little town located at the foot of Mount Fuji, Oshino Hakkai is a prime location for avid photographers and Insta-holics. It has been declared a UNESCO Heritage Site and offers beautiful views of the sakura blossoms and Mount Fuji from mid to end April. The most well-known view of the blossoms and Fujisan is from a bridge not far from the Shibokusa Sengen Shrine. To top it all off, cherry blossom trees line a 400-metre stretch of the river on the northwestern side of the town.
Located in the famed Fuji Five Lakes region between Lake Kawaguchiko and Lake Yamanako, Oshino Hakkai is actually what remains of the now dried out sixth lake. All that is left are 8 ponds, which contain crystal clear water originating from the snowmelt on Mount Fuji and filtered through the porous lava layers for 80 years. It is no wonder that the water is highly revered.
There are also numerous rustic and traditional thatched houses which offer alternative photo opportunities. The town also houses several old temples and the Museum of History and Folklore, the building history of which can be traced back to the 1800s. A truly authentic experience for those tired of Tokyo's dynamic and bustling atmosphere!
6. Golden Gai Shinjuku
Amidst the dense high-rise buildings in Shinjuku, there is a tiny section comprising about 6 narrow alleyways connected by even narrower paths – all of which remain in a time capsule from the early 20th century.
Famous for its architecture, skyscrapers, and some may say "seedy" nightlife, this popular local haunt in Tokyo is getting more international attention in recent years. Despite appearing to be one of the scruffiest and most run-down parts of Tokyo, the patrons that Golden Gai attracts tend to be anything but that! Indeed, it's a favourite hangout place amongst celebrities and the artsy types.  
The apparent "secrecy" and lack of foreigners make visitors feel that they may have stumbled upon one of Tokyo's hidden gems. Its streets are home to approximately 200 tiny bars that are papered with an eclectic selection of posters, artwork and obscure logos. Think cute cats and acoustic guitars to even nudes, leaving a sense of mystery about what is to be discovered.
As Golden Gai comes alive at night (and usually only after 9 pm), keep your cameras handy for some LIT shots as the area is lighted up with hipster neon lights, tube-lights and cosy filament bulbs. The various artworks also make for a perfect background to up your Insta-game. Once you're done with photographing every inch of this place, be sure to try the Yakitori chicken and wash it down with a can or two of Asahi beer.
7. Gunma Flower Park (Tulip Festival)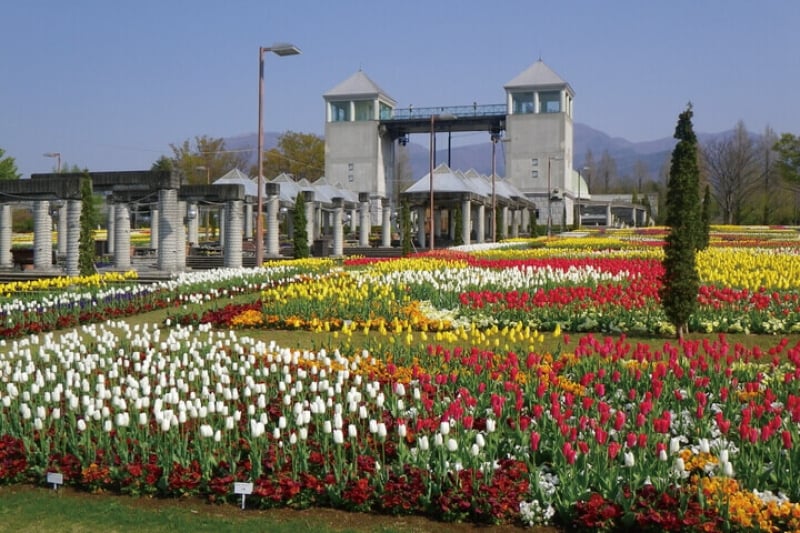 What if I told you that you didn't have to go all the way to Amsterdam to see the incredible tulip fields? Yup, that's right. Instead, make your way to Japan's Gunma Flower Park to experience (almost) the same thing! This botanical garden is located in the rural southside of Mount Akagi-yama in Maebashi, Gunma Prefecture. No matter the season, be sure to be greeted by a variety of seasonal flowers!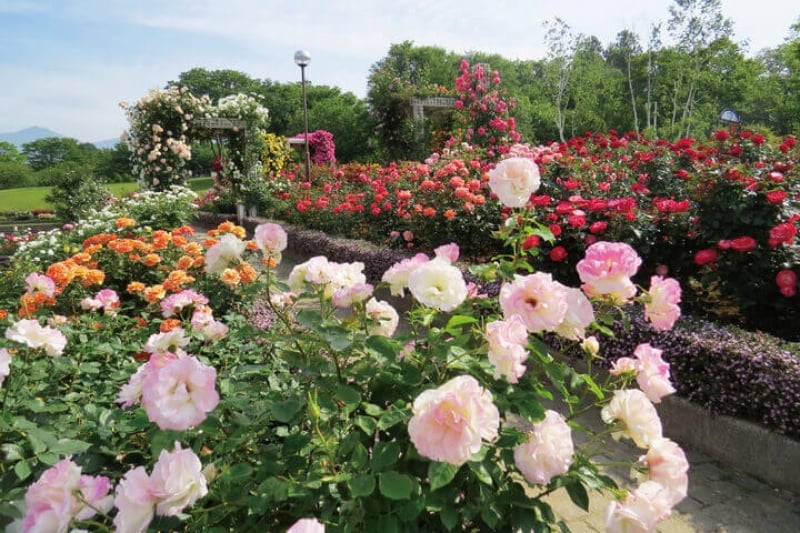 Gaze in awe at over 190,000 tulips from 50 different species at the Gunma Tulip Festival, which is happening from 7 to 30 April! The scenic view of the large flower bed of vibrant, colourful tulips is almost like seeing a poster out of a travel brochure – perfect to up that Insta grid game! Behind the flower beds, there is an 18 metre-tall Park Tower against a background of Mount Akagi and even Mount Fuji (if the weather conditions are right!).
There's something to enjoy all year round; revel in the natural artistry of over 250 exquisite species of roses in the Rose Garden in early summer and impressive dahlias in summer under the scorching sun.
8. Kawaguchiko Music Forest
Travel back in time to Medieval Europe, but with a twist – the twist being the great Mount Fuji in the background! Kawaguchiko Music Forest is a unique museum of music that houses quirky items like the biggest dance organ in the world, antique music boxes and even automatic music instruments that were meant to board the Titanic!
To the social media-holics – Kawaguchiko presents to you some of the best photo opportunities! Straight out of a children's fairytale, its medieval European architecture is complete with mansions and medieval-themed streets. It's just like entering into a fairytale!
Alternatively, the forest also houses more than 3,500 rose bushes of over 700 different varieties. Along with the captivating scenery, take in the sweet aroma of the roses as you stroll along the premises. There is a special viewing area of the roses with Mount Fuji in the background, perfect for that Insta hit that you need!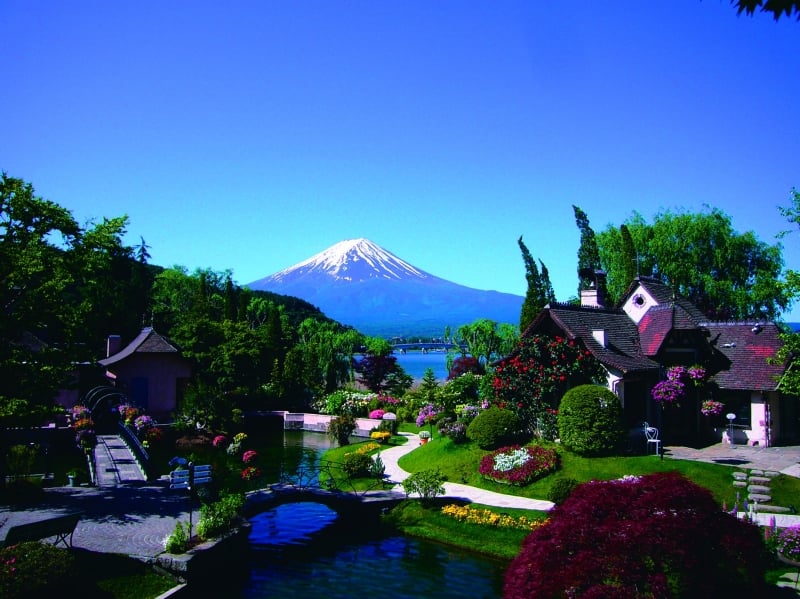 With views of Mount Fuji and lush landscapes interspersed with lakes and dancing musical fountains, the Kawaguchiko Forest offers a refreshing atmosphere to all that visit. Don't be surprised if you end up spending almost a whole afternoon at this endearing musical forest!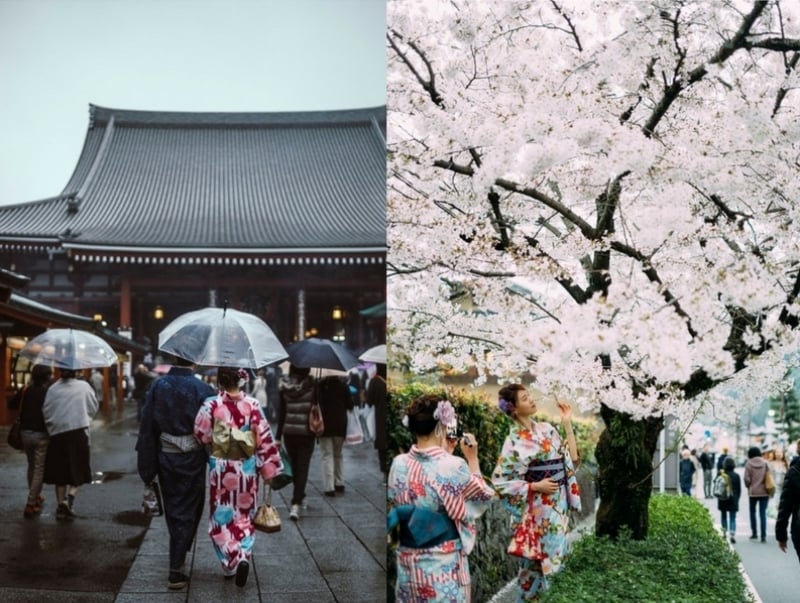 I'm sure that this list of top Insta-worthy spots in Japan would have woken up the inner shutterbug in you. Almost every corner in Japan is begging for a photo – be it the bustling roads of Shibuya or the traditional streets of Kyoto. Finding the ideal location to click that perfect Instagram picture has almost become a widely pursued sport in today's digital age. And if you don't know where to start, JTB's Spring Flowers and Onsen Indulgence tour is just the thing for you!
Book your tour with JTB now and get ready to snap away!
---
Brought to you by JTB Singapore.