All aboard! One of only two steam locomotive (SL) trains running in the Tohoku Region, the magical SL Ginga (SL 銀河) brings to life Miyazawa Kenji's beloved classic "Night on the Galactic Railroad".
The fairy tale tells the story of a young boy traversing the galaxy on an enchanted railway, and along the way learning about true happiness and the meaning of life. Similarly, the SL Ginga hopes to take you on a fantastic journey through the countryside of Iwate Prefecture, and to bring happiness to its riders and the people it passes by.
The JR EAST PASS (Tohoku area) offer incredible value for unlimited rides all over Eastern Japan. What's more, all JR East shinkansen, express and regular trains, and even Joyful Trains within the valid area are available to travel on!
Explore each destination to its fullest before you head off to your next, as the Pass allows for any 5 days of usage within a 14-day period.
Also read: Rail-ly Fun Rides: Your Comprehensive Guide to 13 JR East Joyful Trains!
Origins of the SL Ginga
Running along the JR Kamaishi Line in Iwate Prefecture, the SL Ginga was restored from the C58 239 SL train, in order to revitalise the disaster-stricken region after the 2011 Great Eastern Japan Earthquake and Tsunami.
A native of Iwate Prefecture, Miyazawa Kenji hailed from the region of Hanamaki, and the SL Ginga plies the route between JR Hanamaki Station and JR Kamaishi Station. Taking inspiration from Miyazawa's works, the train's exterior is a deep galaxy blue emblazoned with stars and constellations.
Originally built in 1940, the C58 239 SL train was retired in 1972 and kept on display in a prefectural park, where it remained well-preserved for decades. Restoring it to a functional train still took considerable time, but thanks to the hard work of the crew, in April 2014 the train was reborn as the SL Ginga, making its debut to the delight of the local community. In 2020, the SL Ginga celebrates its 6th anniversary.
Reborn from the love and dreams of the Tohoku people, the SL Ginga doesn't only connect you to your destination, it also connects the hearts of the people who encounter it. When you ride the train, along the journey you will see and feel the welcoming hospitality of the locals, which will surely bring a smile to your face and warm the cockles of your heart.
Inside the SL Ginga
Being a huge fan of themed trains, I had always wanted to ride the SL Ginga, but never got to, as it does not run frequently. In August 2019, I finally got to ride this much-loved train—my first ever SL train experience.
Once I boarded the SL Ginga, it felt like I had stepped back in time to the early 20th century, when Miyazawa Kenji lived. As you take in the atmosphere of the vintage-style booth seats covered in red velvet, complemented with metallic hardware and stained-glass style windows, you will be hit with a wave of nostalgia.
A red carpet is rolled out in the middle of the aisle, providing a luxurious path to your seat. You can visit this site for a virtual panoramic tour of the interior of the SL Ginga.
All 176 seats on board this four-carriage train are four-person boxed seats, which sets you up for spontaneous conversations with fellow passengers. I travelled alone, and seated with me was a couple with their train-loving young son, headed to Hanamaki for a weekend getaway to relax at the onsen (hot springs). Seeing that I was a foreign tourist, they shared with me a simplified version of "Night on the Galactic Railroad", and recommended some of their favourite places to visit around Iwate. Sometimes, it is unplanned encounters like these that make a trip memorable.
Activities on the SL Ginga
Eat ekiben
For avid rail travellers, ekiben (lunch boxes for eating on trains) is an essential part of the train ride. Usually bought at stations before boarding the train, most ekiben feature ingredients or dishes that are unique in the region they are sold in. As the SL Ginga runs in Iwate, many of the ekiben feature seafood caught from the Sanriku Coast.
Planetarium Show
In line with the train's galaxy theme, there is an optical planetarium in Car 1, and passengers can sit in for a short planetarium show. Did you know? SL Ginga is the first Joyful Train to have its own planetarium on board. The second is the HIGH RAIL 1375, which features a domed planetarium. For me, this is definitely a must-see when riding the SL Ginga.
Once you enter the planetarium, it turns pitch-black and the show begins, projecting constellations and thousands of stars onto the ceiling. In an instant, I felt like I was transported into space. In order not to disturb the show, photography is not permitted inside the planetarium.
The planetarium shows are free, but tickets are required (first-come-first-served). Once you get on the train, head over to Car 1, look for the attendant on duty and ask for a ticket to the show. Do take note of the times on the ticket; the first time is the gathering time (please gather outside the planetarium room), and the second time is the time that the show starts.
Miyazawa Kenji Galleries
All over the train are mini galleries dedicated to Miyazawa Kenji and the Tohoku region. Revolving around three main themes, the galleries bring Miyazawa's world to life. There is a section on Ihatov, Miyazawa's ideal city, which he talked about in his poems. You can also find items associated with Miyazawa's beloved Tohoku region on display.
In Car 3, there is a showcase of Nambu ironware pots. Nambu ironware is a traditional cast iron craft from Iwate Prefecture, and is considered by many to be one of the best metalwork in Japan. It is said that water boiled in Nambu ironware pots are extra delicious due to the iron and minerals that get released into the water. I personally have not tried it yet, but if I can afford to buy a Nambu ironware pot someday, perhaps in the future I will give it a taste and let you know!
Beside the planetarium in Car 1 is a corner dedicated to astrology lovers, which has Miyazawa's interpretation of horoscopes.
Gachapon
In Car 2, there is a small library corner where you can read some of Miyazawa Kenji's works. In addition to the books, there is also a gachapon (capsule) machine, where each try is only ¥100. Inside these capsules are pin badges with quotes from Miyazawa's literary works. Not just an author, Miyazawa was also a philosopher who incorporated his ideals into his works.
There is a total of 50 designs for the badges, and the colours represent the category of the quotes. I tried three times, getting one yellow, and two dark blue badges. Dark blue represents the galaxy, and has quotes relating to galaxies, the universe, moon or stars.
Memories of a trip on the SL Ginga
Commemorative postcard
Riders will get a commemorative postcard as a souvenir of their ride on the SL Ginga. After receiving it, head over to Car 4 to stamp the back with an old-school stamp press! The back of the postcard also has illustrations of the specially decorated station signboards for the stations that the SL Ginga stops at.
Souvenirs and gifts
Car 4 is also where the souvenir gift shop is located. Here you can get your fix of exclusive SL Ginga-themed items to bring home for your family and friends (or for yourself). There are A4 files, candies, tote bags, keychains, pens, and more.
Commemorative photo
The friendly train attendants will also be going around the carriages with a conductor's cap and signboard props, to help you take commemorative photos of your journey on board the SL Ginga. As souvenirs, I took this photo and bought some SL Ginga-themed keychains.
SL Ginga confectionery at major stations
Kamome no Tamago is perhaps Iwate's most famous souvenir. It is a delightful sponge cake filled with sweetened white bean paste, and coated with white chocolate, resembling the egg of a seagull, which is what its name literally translates to.
In a special collaboration, you might spot this limited-edition SL Ginga version of Kamome no Tamago, which has a chocolate filling and dark chocolate coating instead. There is even a version that comes in special packaging shaped like a train!
Another popular souvenir from Iwate is nanbu senbei, which also has a limited-edition SL Ginga version.
Train photography and warm welcomes at Miyamori Station
SL trains run infrequently, and they have garnered many fans and enthusiasts, who prefer to take photos of the train instead of riding it. The most scenic and well-known photo-taking spot for the SL Ginga is a short 700m walk from JR Miyamori Station. From this viewpoint, you can see the train crossing the Miyamorigawa Bridge, which is affectionately nicknamed "Glasses Bridge" due to the shape of its arches.
The view of the steam billowing from the train as it crosses the arched bridge is a magical sight to behold, and will take you back to the stories you read as a child. To Harry Potter fans, it might even remind them of the Hogwarts' Express.
You might think that only photographers would camp out and wait for the train to pass by, but more often than not, most of the people waiting are everyday people from the local community, gathering at the viewpoint to welcome visitors with their energetic waving. Give them a wave back when you see them!
A recharging break at Tono Station
Along the route, the SL Ginga makes a 1-hour stop at JR Tоno Station, where it replenishes its water and coal supply, and disposes of ash waste.
Unlike modern electric trains, SL trains consume large amounts of water and coal to run. For a 251km round-trip, the SL Ginga consumes 34 tonnes of water and four tonnes of coal, more than it can carry. As the train cannot carry so much water for the entire journey, the train makes pit-stops at Tono Station on both the inbound and outbound journeys for refuelling.
Since train stops for more than an hour at Tono Station, don't miss your chance to get up-close and witness the behind-the-scenes hard work that goes into the upkeep of an SL train, a rare sight that is definitely a treat for locomotive fans! You can even witness the cars decouple and couple as the train is refuelled at this station.
Many Japanese SL enthusiasts buy special entrance tickets that let them enter Tono Station when the SL Ginga stops there. These ¥150 tickets allow them to enter the platform and get close to the SL Ginga, even if they are not going to ride the train.
Learn about Japanese folklore at Tono
Tono is said to be the hometown of Japanese folklore, and is well-known for the legends of spirits and supernatural creatures originating in the area.
Perhaps the most popular creature is the kappa, which is said to be a water-dwelling troll that kidnaps and eats children. The tale of the kappa serves as a reminder for children to be careful when around bodies of water.
Tono's local legends and stories were mostly passed down orally, until they were collected and published into a book, "Legends of Tono" in 1910. This book is said to be one of the first collections of Japanese folk tales, and you can find out more about the stories mentioned in it at the Tono Monogatari no Yakata, a local museum where videos, live readings, sculptures and exhibits bring these treasured tales to life. Since the museum is within walking distance from Tono Station, why not take a short detour here while you wait for the train to refuel?
Tono Monogatari no Yakata
Address: 2-11 Chūō-dōro, Tōno, Iwate 028-0523
Access: The Tono Monogatari no Yakata is an 8-minute walk from JR Tono Station.
Opening hours: 9:00–17:00
Admission: ¥510
Grand send-offs and welcomes at Hanamaki and Kamaishi
You're in for a special treat if you board the SL Ginga from the starting station of Hanamaki, or if you get off at Kamaishi Station on a Saturday. At Hanamaki Station, you will be sent off with a shishi odori (deer dance) performance, a traditional performing art from Hanamaki. At Kamaishi Station, you will be welcomed by a toramai (tiger dance) performance. These performances are arranged by local volunteers, town councils and tourism committees, who are eager to welcome you to their cities.
Relax at a hot spring at Hanamaki
Surrounded by abundant nature, Hanamaki Onsen is best known for its outdoor hot springs, beautiful rose garden, and the flowerbed sundial designed by Miyazawa Kenji. Roses are in season from late June to September, when some hotels even have rose baths. The hot spring village is easily accessible from both JR Hanamaki Station and JR Shin-Hanamaki Station.
Hanamaki Onsen
Address: 1-125 Yumoto, Hanamaki-shi, Iwate 025-0304
Access: Free shuttle bus (20-minute ride) from JR Shin-Hanamaki Station for staying guests, or a 20-minute ride on a local bus from JR Hanamaki Station.
Explore the world of Miyazawa Kenji at Shin-Hanamaki
If you are a fan of Miyazawa Kenji's works, then you would not want to miss these two places, which are both easily accessible from JR Shin-Hanamaki Station. The Miyazawa Kenji Fairy Tale Village is where you can get immersed in the world of Miyazawa's fairy tales. Built according to his works, the four areas of the village bring you characters and settings from the novels.
Miyazawa Kenji Fairy Tale Village
Address: 26-19 Takamatsu, Hanamak-shi, Iwate 025-0014
Access: From JR Shin-Hanamaki Station, take a 2-minute bus ride to Miyazawa Kenji Kinen-kan Bus Stop. The Fairy Tale Village is a 2-minute walk from the bus stop.
Opening hours: 8:30–16:30
If you'd prefer to learn more about the life and times of Miyazawa, the Miyazawa Kenji Memorial Museum is where you can find out about the man's ideas and imagination.
Miyazawa Kenji Memorial Museum
Address: 1 Chiwari-1-36 Yasawa, Hanamaki-shi, Iwate 025-0011
Access: From JR Shin-Hanamaki Station, take a 2-minute bus ride to Miyazawa Kenji Kinen-kan Bus Stop. The Museum is a 10-minute walk from the bus stop.
Opening hours: 8:30–17:00
Admission: ¥350
A Trip on the SL Ginga
Getting there
The SL Ginga plies the route between JR Hanamaki Station and JR Kamaishi Station on the JR Kamaishi Line.
Due to the large amount of resources required to operate the train, the JR East SL Ginga only makes a one-way trip for each day of operation, which is mostly on weekends. Usually, the SL Ginga will make the outbound trip from JR Hanamaki Station to JR Kamaishi Station on a Saturday, with the inbound trip from JR Kamaishi Station to JR Hanamaki Station on the following day.
Check out the timetable and schedule here. All seats on board this special train require reservations, which can be made here.
From Morioka:
If you're coming from Morioka, JR Shin-Hanamaki Station is only 10 minutes by bullet train on the Tohoku Shinkansen from JR Morioka Station.
From Tokyo:
If you're coming from Tokyo, JR Shin-Hanamaki Station is around 3 hours by bullet train on the Tohoku Shinkansen from JR Tokyo Station.
JR EAST PASS (Tohoku area) 
If you are visiting the Tohoku region to ride the SL Ginga and explore the rest of Iwate Prefecture, check out the JR EAST PASS (Tohoku area), an affordable pass offering unlimited rail travel on JR East lines (including bullet trains) in the valid area for any 5 days of your choice within a 14-day period. At only ¥19,350 when purchased overseas, it costs less than a round-trip between Tokyo and Shin-Hanamaki (~¥27,000), and the 5 days do not have to be consecutive. You can also make seat reservations for bullet trains, some limited express trains, and Joyful Trains online for free, up to 1 month in advance, here.
This article was brought to you by JR East (East Japan Railway Company), and was originally published on JR Times.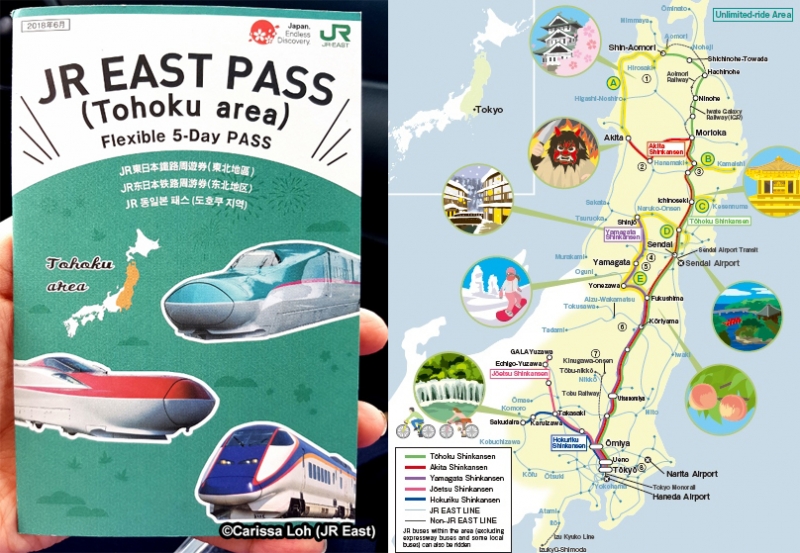 Great news! The JR EAST PASS (Tohoku area) offers UNLIMITED RIDES on all JR East Rail Lines in the designated area, and is also valid for the Narita Express to/from Narita Airport, Tokyo Monorail to/from Haneda Airport and all JR East Shinkansen lines.
Did we mention you also get free rides on the uniquely-themed Joyful Trains, like the SL Ginga mentioned in this article, with a JR EAST PASS?
The pass is valid for use for any five days within a 14-day period after collection, giving you flexibility and ample time to explore each area without rushing to the next.
Secure advance seat reservations for free up to one month before departure so you won't have to deal with peak tourist seasons once the holiday rush sets in.
A friendly reminder — you can purchase your JR EAST PASS in Japan, or through licensed sales agents overseas. But before you go, here's a budget hack: The pass is about ¥1,000 cheaper if you purchase it from travel agents.
Contact the travel agencies below to get your very own JR EAST PASS today!
JTB
Tel: 6595 0600
Website (Singapore)
Website (Malaysia)
H.I.S.
Tel: 6222 1230
Website (Singapore)
Website (Malaysia)
Wendy Tour
Tel: 6225 8324
Website
---