Remember choo-choo trains from your childhood? When you think of them, what is the first thing that comes to mind? I'm sure many will think of the choo-choo sound of the train's steam whistle, or the plume of smoke billowing out of the train. If you want to ride a real choo-choo train, don't miss the SL Banetsu Monogatari (SLばんえつ物語), one of the few steam locomotive trains still in operation in Eastern Japan!
 The JR EAST PASS (Tohoku area) and JR EAST PASS (Nagano, Niigata area) offer incredible value for unlimited rides all over Eastern Japan. What's more, all JR East shinkansen, express, and regular trains, and even Joyful Trains within the valid area are available to travel on!

Explore each destination to its fullest before you head off to your next, as the Pass allows for any 5 days of usage within a 14-day period.
Beloved by locals since decades ago, the C57 180 steam locomotive train offered nostalgic and unique experiences. Originally built in 1946, the train was nicknamed Kifujin (noble lady) due to its graceful appearance. Although discontinued, the train was pulled out of retirement in 1999 due to popular demand and was revived as the SL Banetsu Monogatari, plying the Ban'etsu West Line between JR Aizu-Wakamatsu Station in Fukushima Prefecture and JR Niitsu Station in Niigata Prefecture.
A major breakdown in 2018 caused the SL Banetsu Monogatari to be suspended, but after undergoing maintenance for almost a year, it pulled through and resumed regular service again from late July 2019. 2019 also celebrated the 20th anniversary of the SL Banetsu Monogatari, and hopefully, it will continue to chug along for many more years. Today, I will introduce you to this iconic train's special features, as well as some of the fun and scenic sightseeing places you can enjoy along the Ban'etsu West Line.
Before the train departs JR Niitsu Station, a limited number of passengers can enter the engine car to have a look! This is where coal is fed into the engine, ensuring that the train produces enough steam to move the locomotive. Unsurprisingly, this was a very popular activity, and is first-come-first-served. The train departs at 10:05, and this photo was taken at 9:47, but all the slots were filled by the time I noticed it, so I did not get a chance to have a look.
Inside the SL Banetsu Monogatari
Spanning seven cars, the SL Banetsu Monogatari has one of the greatest seat capacities amongst the Joyful Trains, seating up to 346 passengers across its seven cars.
Cars 2, 3, 5, and 6 have regular reserved seating, all of which are four-person boxed seats. The crimson velvet seat covers and the wooden finishes on the armrests, walls, and hooks create a nostalgic atmosphere reminiscent of Japan's beloved Taishō Era (1912–1926).
Onboard, the friendly train staff organise fun events like janken taikai (rock-paper-scissors contest). To join, just put your hand up with either rock, paper, or scissors. The winning hands of each round continue on until there is only one person left. The last person remaining gets a special souvenir! Unfortunately, I'­m not a very good player, and didn't even make it past the first round.
The SL Banetsu Monogatari is the only steam locomotive train with Green Car seats. Car 7 is the Green Car, which features comfortable 2+1 seating in each row, and has its own Panorama Observation Room. Being the end car, Car 7's Panorama Observation Room gives you a wide and panoramic view of the outside scenery with its floor-to-ceiling windows.
Car 1 is the Okojo Observation Car, which consists of two areas. There is the Okojo Room, a play area for children, and the Okojo Observation Room, a free-seating area with wide windows for passengers to enjoy the passing scenery.
All over the Okojo Room are cute images of okojo (ermine), which are small animals related to the weasel. They have become like a mascot for the SL Banetsu Monogatari, and you will see them all over the train, its pamphlets, and station signs.
If you're craving a bite to eat, head over to the SL Chaya sales counter in Car 5, which sells drinks, snacks, and a plethora of limited-edition SL Banetsu Monogatari souvenirs. A big part of train rides, and one of my favourite train experiences, is eating ekiben (lunch boxes) made with locally-produced ingredients onboard the train.
Car 4 is the Observation Car. Here you can plop yourself in front of the many benches facing the windows, to gaze at the view outside. There is even a post box on board the train, where you actually can send mail from.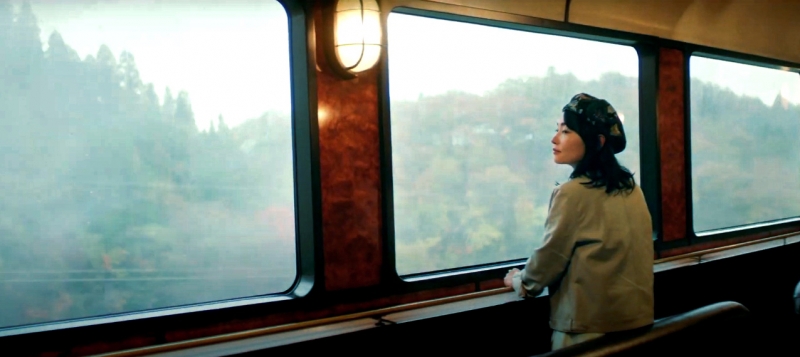 The Ban'etsu West Line passes through some amazing mountains and rivers, and the scenery is definitely one of the highlights of this train!
Even though it was raining when I visited, and the view from windows was obscured by rainwater, the little bits of scenery I managed to get a glimpse of was still beautiful. I rode this train in October, when it was almost autumn, so tinges of orange were starting to appear on the trees.
Stopping at Tsugawa
The SL Banetsu Monogatari makes a brief 15-minute stop at JR Tsugawa Station, where you can have a look Okojiro's House on the platform. Outside it, there is also a model of Okojiro, an okojo mascot. Okojiro's House is a waiting room decorated like a house, where passengers can relax while waiting for their trains.
Steam locomotive trains consume a large amount of water and coal to run. For a round-trip journey between Niitsu and Aizu-Wakamatsu, the SL Banetsu Monogatari uses 26 tonnes of water and five tonnes of coal! As the train cannot carry 26 tonnes of water for the entire journey, the train makes pit-stops at Tsugawa Station on both the inbound and outbound journeys.
At Tsugawa Station, the maintenance staff check the train and replenish the water supply used for the engine. Don't miss your chance to get up-close and witness the behind-the-scenes hard work that goes into the upkeep of a steam locomotive train, a rare sight that is definitely a treat for locomotive fans.
Although it still brings wonder to children and a blast from the past for older passengers, steam locomotive trains are pretty old and require a lot of care and hard work to maintain. Because of this, steam locomotive trains are also sometimes called running miracles.
It is thanks to the dedicated care and expertise of the crew that steam locomotive trains are able to run today, so give them a shout-out of otsukaresamadesu (Thank you for your hard work) when you see them, they will surely appreciate it!
Friendly train attendants will also help you take photos with the SL Banetsu Monogatari, providing a driver's hat and a board with the day's date as props to complete your look.
The Kitsunebi Myth
Tsugawa is known as the hometown of the myth of kitsunebi (fox fire), and many foxes are said to inhabit the nearby Mount Kirin. In Japanese myths, foxes are believed to be animals with power over fire. Kitsunebi literally means "fox fire", and refers to mysterious lights seen on the mountains at night.
In the past, weddings were held at night. When many kitsunebi was visible at the same time, it was thought to be a fox's wedding parade, as the numerous floating lights at night resembled the paper lanterns of a wedding ceremony.
Although "fox fire" sounds ominous, it is said that seeing the fox's wedding parade brings a year of good harvest, so these lights have been treated as auspicious signs since long ago. It is even said that the number of kitsunebi sightings in Tsugawa is the highest in the world.
In Tsugawa, there is a festival held on 3 May every year, the Kitsune no Yomeiri Gyoretsu (Fox's Wedding Parade), which based on the kitsunebi myths.
A 20-minute walk from Tsugawa Station is the Kitsune no Yomeiri Yashiki. Here you can experience the Kitsune no Yomeiri Gyoretsu festival through videos, as well as participate in hands-on activities like putting on fox make-up, creating your own fox mask, or straw and bamboo crafting experiences.
From Kitsune no Yomeiri Yashiki, you can also see a view of Mount Kirin and beautiful nature in the background. On some days, you can even see the SL Banetsu Monogatari passing by. Did you know? Other than just riding the train, the SL Banetsu Monogatari also has fans who prefer to take photos of the train together with the region's beautiful scenery.
A favourite among train photographers
The Ban'etsu West line is fondly nicknamed the "Railway of Forests, Water, and Romance", and you can truly enjoy the different colours of the four seasons along this line. The beautiful scenery along the Ban'etsu West Line offers many locations for train-spotting and train photography.
Springtime is a popular period for photographing the SL Banetsu Monogatari, as the bright flowers add a pop of colour and contrast with the deep black body of the train.
Taking photos of the train crossing a bridge with mountains in the background is also a much-loved set-up, especially with the steam billowing above. One of the fan-favourite bridges for snapping away at the SL Banetsu Monogatari is the Ichinoto River Bridge.
There are many more things to see and do along the Ban'etsu West Line, which is especially beautiful in spring. I had planned on visiting the area again earlier this year, but unfortunately, my travel plans were interrupted. Let me introduce a few of my recommended places:
Gosen
Gosen is a city in Niigata Prefecture that is famous all over Japan for its tulips. The tulip is the prefectural flower of Niigata Prefecture, which was the first place in Japan to produce flower bulbs. With fertile soil and favourable weather, Niigata is the second top producer of tulips in Japan.
Every spring, you can enjoy many tulip festivals all over Niigata, with the Gosen City Tulip Festival being one of the largest and most well-known. From mid to late April, frolic among the 1.5 million tulips blooming here. You can also enjoy a festive atmosphere with the food and drink stalls around. The Gosen City Tulip Festival venue is a 10-minute taxi ride from JR Gosen Station.
Other than its tulips, Gosen also has some good photo spots for taking pictures of the SL Banetsu Monogatari.
Kitakata
Exuding a rustic charm, Kitakata is filled with narrow streets and old storehouses used historically for keeping sake, miso, and soy sauce. One place that has been gaining popularity in recent years, especially among train photography fans, is the weeping cherry blossoms trees along the Nicchu Line Memorial Cycling Pedestrians' Path.
The Nicchu Railway Line's old tracks have been repurposed into a 3km path for cyclists and pedestrians, lined with 1,000 weeping cherry blossom trees. Unlike the common someiyoshino cherry blossoms, weeping cherry blossom trees have branches that hang downward, and petals that are a more vivid pink. Along the path is a retired SL train on display, which makes for stunning photographs with the pretty pink blossoms.
The Nicchu Line Memorial Cycling Pedestrians' Path is a 20-minute walk from JR Kitakata Station, and the weeping cherry blossoms can be seen from mid to late April.
Mention Kitakata to any Japanese person, and the first thing that comes to their mind is probably ramen. Along with Sapporo in Hokkaido Prefecture and Hakata in Fukuoka Prefecture, Kitakata is known as one of Japan's three great locations for ramen. However, unlike the other two which are large urban cities and the capitals of their respective prefectures, Kitakata is a small town with a population of only 50,000 people. Despite this, the city has over 100 ramen shops!
Due to the region's historical use of soy sauce, Kitakata ramen has a soy sauce soup base, with sardines, pork bones, and vegetables added to the stock. The noodles are thick and wavy, and have a softer consistency compared to other ramen noodles.
Aizu-Wakamatsu
Aizu-Wakamatsu is a former samurai castle town built around Tsuruga Castle, a unique castle featuring red roof tiles—the only castle in Japan to do so. Tsuruga Castle is one of Aizu Wakamatsu's best cherry blossom viewing spots. The castle's park has nearly 1,000 cherry blossom trees which bloom around mid to late April, and are illuminated during the full bloom period. Tsuruga Castle is a 20-minute bus ride from Aizu-Wakamatsu Station.
Also read: Rail-ly Fun Rides: Your Comprehensive Guide to 13 JR East Joyful Trains!
Bonus: Niigata City
While the SL Banetsu Monogatari's route does not pass by JR Niigata Station, chances are that you will make a stop there if you are taking the SL Banetsu Monogatari from or to Niitsu Station, which is a 20-minute ride from Niigata Station. If you're not staying overnight, how about at least grabbing a bite to eat or a drink to quench your thirst?
Did you know? Niigata is the top producer of sake (rice wine) in Japan. Niigata is known to produce some of the finest sake and rice in Japan, and this is due to the high amount of snowfall that the mountains surrounding Niigata receives each year. Water is an important ingredient in the production of sake and rice, and the pure melted snow provides pristine water for the rice fields to flourish and grow. Due to the top-quality rice that Niigata grows, rice-derived products like sake and senbei (rice crackers) are also very tasty.
As it is located along the coast, many prized fish can be caught at Niigata. Put rice and fish together and you get delicious sushi, a must-try in Niigata. Kiwami sushi is a special dish that features 10 pieces of sushi made of premium seafood items like sea urchin, fatty tuna, salmon roe, and other local or seasonal fish.
Whether you prefer to ride this iconic steam locomotive train or to take scenic photos of this train, the JR Ban'etsu West Line offers beautiful sights for all train enthusiasts. The next time you visit Japan, why not take a trip along this Railway of Forests, Water and Romance?
A trip on the SL Banetsu Monogatari
Getting there
Running mostly on weekends and Japanese public holidays, the SL Banetsu Monogatari makes one round trip per day between JR Aizu-Wakamatsu Station in Fukushima Prefecture and JR Niitsu Station in Niigata Prefecture along the JR Ban'etsu West Line. Check out the timetable and schedule here. All seats on board this special train require reservations, which can be made here.
JR Niitsu Station is a 20-minute ride from JR Niigata Station on the JR Shin'etsu Main Line, which is about 2 hours by bullet train from Tokyo. If you prefer to start on the other end, JR Aizu-Wakamatsu Station is a 65-minute ride on the JR Ban'etsu West Line from JR Kōriyama Station, which is 80 minutes by bullet train from Tokyo.
If you are thinking of riding the SL Banetsu Monogatari or exploring Niigata Prefecture and Fukushima Prefecture, check out the JR EAST PASS. JR East Passes offer substantial discounts, and unlike other passes, are flexible—choose any 5 days within a 14-day period. There are two types, with both offering unlimited rides on JR East lines (including bullet trains and Joyful Trains like the SL Banetsu Monogatari) in their designated areas for any 5 days of your choice.
The JR EAST PASS (Tohoku area) is only ¥19,350 when purchased overseas, costing less than a round-trip between Tokyo and Aizu-Wakamatsu (~¥20,000), while the JR EAST PASS (Nagano, Niigata area) is only ¥17,310 when purchased overseas, costing less than a round-trip between Tokyo and Niigata (~¥21,000).
Both the JR EAST PASS (Tohoku area) and JR EAST PASS (Niigata, Nagano area) cover different halves of the SL Banetsu Monogatari's route, so be sure you have the applicable pass for your journey.
This article was brought to you by JR East (East Japan Railway Company), and was originally published on JR Times.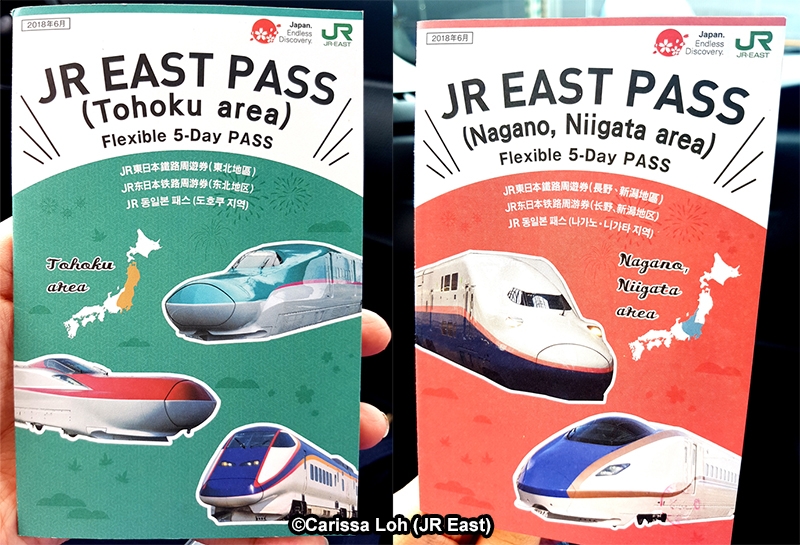 Great news! The JR EAST PASS (Tohoku area) and JR EAST PASS (Nagano, Niigata area) offer UNLIMITED RIDES on all JR East Rail Lines in the designated area and is also valid for the Narita Express to/from Narita Airport, Tokyo Monorail to/from Haneda Airport and all JR East Shinkansen lines.
Did we mention you also get free rides on the uniquely-themed Joyful Trains, like the ones mentioned in this article, with a JR EAST PASS?
The pass is valid for use for any five days within a 14-day period after collection, giving you flexibility and ample time to explore each area without rushing to the next.
Secure advance seat reservations for free up to one month before departure so you won't have to deal with peak tourist seasons once the holiday rush sets in.
A friendly reminder — you can purchase your JR EAST PASS in Japan, or through licensed sales agents overseas. But before you go, here's a budget hack: The pass is about ¥1,000 cheaper if you purchase it from travel agents.
Contact the travel agencies below to get your very own JR EAST PASS today!
JTB
Tel: 6595 0600
Website (Singapore)
Website (Malaysia)
H.I.S.
Tel: 6222 1230
Website (Singapore)
Website (Malaysia)
Wendy Tour
Tel: 6225 8324
Website